This Margaritaville Paradise Island Lake Float is the Ultimate Party Oasis
By Ryan on 07/28/2023 10:50 AM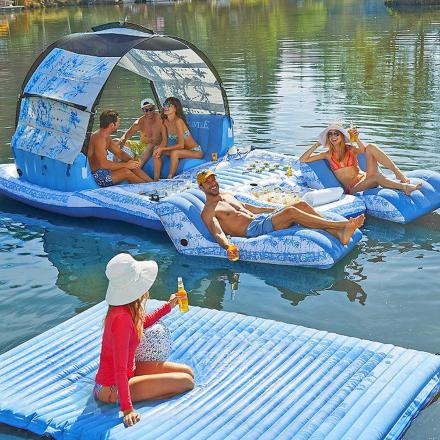 Dive into paradise with the Margaritaville Paradise Party Island, a sprawling aquatic haven that boasts the combined comforts of your favorite resort and your neighborhood pool party. This colossal, aquatic comfort zone has been designed with the ultimate summertime bash in mind - and we mean ultimate.
Imagine a colossal pool float measuring a whopping 15 feet long by 10 feet wide, with enough room to seat between 6 to 8 fun-loving, margarita-sipping people. The size is jaw-dropping, yes, but we're only getting started.
One of the Island's exceptional features is a grand canopy that shades nearly half the float. This canopy, propped up by an 8-foot-tall tent-pole, offers an oasis of coolness in the scorching summer heat. Whether you're sipping a margarita or engrossed in a beach read, you'll be doing so in the cool, shaded comfort that your sunburned friends will surely envy. Nestled under this spacious canopy, we find two plush sofa seats that take lounging on water to a whole new level. These seats are the epitome of floating luxury, designed with the express purpose of keeping you comfortable while you float your worries away.
On the opposite side of the sofas, two luxurious loungers await. These are your front-row seats to the great outdoors, perfect for sunbathing, people-watching, or simply admiring the breathtaking lake view. Between these lounge seats and the sofa seats, you'll find a versatile flat spot that caters to both relaxation and entertainment. Here's the fun part: it can serve as an additional spot to lie down and catch some rays, but flip a switch, and it transforms into a full-blown beer pong board. Yes, you heard right, a beer pong board – on a pool float! With built-in cup inserts, it ensures your game remains uninterrupted, even on the choppy waters.
Located conveniently between the two lounge chairs is a cooler. Say goodbye to warm beer and hello to an endless supply of chilled beverages within arm's reach. This cooler is just one of the numerous thoughtful touches that the Margaritaville Paradise Party Island offers. One of the biggest banes of pool floats is the time and effort it takes to inflate them, but with the Margaritaville Paradise Party Island, that's a concern of the past. Included with the float is an electric air pump that gets the job done in just a few minutes. Time saved here can be spent on the more important things in life, like deciding whether you want your margarita frozen or on the rocks.
Around the entire perimeter of this enormous float, you'll find handles. These are not only excellent for maintaining balance while navigating through a vigorous game of beer pong but are also ideal for helping you clamber back aboard after a refreshing dip. The Margaritaville Paradise Party Island is not just a pool float, it's a miniature floating island where friends can gather, relax, and party. It captures the spirit of a lakeside getaway, transforming an ordinary summer day into a memorable party. When you're on the Paradise Party Island, life isn't just a beach—it's a continuous vacation.
With its unique features and smart design, the Margaritaville Paradise Party Island sets a new standard for water-based fun. Where else can you enjoy the serenity of a pool, the excitement of a beach party, and the comfort of a luxury resort—all while floating on a lake? So grab your swimsuits, your sunscreen, and your friends because this summer, we're partying in Paradise!
You can snag one of these Margaritaville party island lake floats from Frontgate!