Machete Spatula
By Ryan on 05/14/2015 2:01 AM (Updated: 04/26/2017 2:59 PM)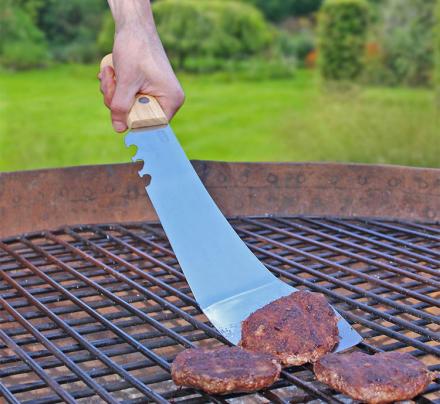 If you're looking to make yourself look as bad-ass as possible while you grill your 30 oz steak on your 8 burner grill, you've come to the right place. On the other hand, if you're cooking veggie burgers, turn back now. The machete spatula is pretty much what it sounds like, a spatula that looks and feels just like a real machete, although probably not quite as sharp and deadly as a real machete.
Best of all the machete comes with three ridges near the handle which all act as bottle openers, so in case you find yourself in some sort of beer-mergency where you desperately need to open 3 beers at the same time, this machete spatula will work out great for you.
The Machete Knife BBQ Spatula is made with a stainless steel blade and a wooden oak handle, is not actually a knife so don't bring this into the jungle looking to clear a path, and measures 19 inches long x 4.3 inches wide x 0.8 inches thick.