There's a Life-size King Tut Sarcophagus That Opens Up To a Hidden Bookcase
By Ryan on 08/01/2019 8:59 AM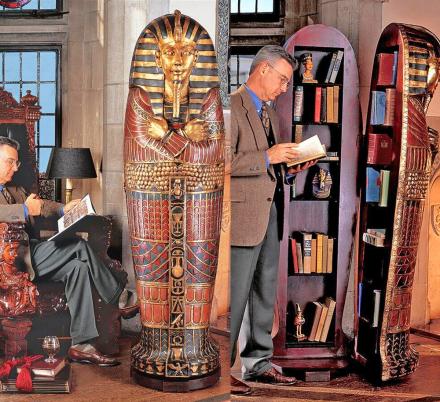 If you're trying to make your office or study look like an arty elitists haven of pretentiousness, look no further than this life-size king tut sarcophagus statue that contains a secret hidden bookcase inside of it. Your friends may call you a Frasier wannabe, but only you know deep-down that your actual bookcase doesn't have any books in it at all, but is instead just a bookcase wallpaper made to look like you have an entire library on your wall.

Versions:
King Tut | Queen Ankhesenamun | King Tut Mini
The King Tutankhamun Sarcophagus was of course the most famous of all the Egyptian pharaohs thanks to the discovery of his pyramid tomb by Howard Carter back in 1922. The company Design Toscano, recreated the Sarcophagus into an extremely detailed replication that you can open up to reveal many levels of book storage shelves on each side of the tomb.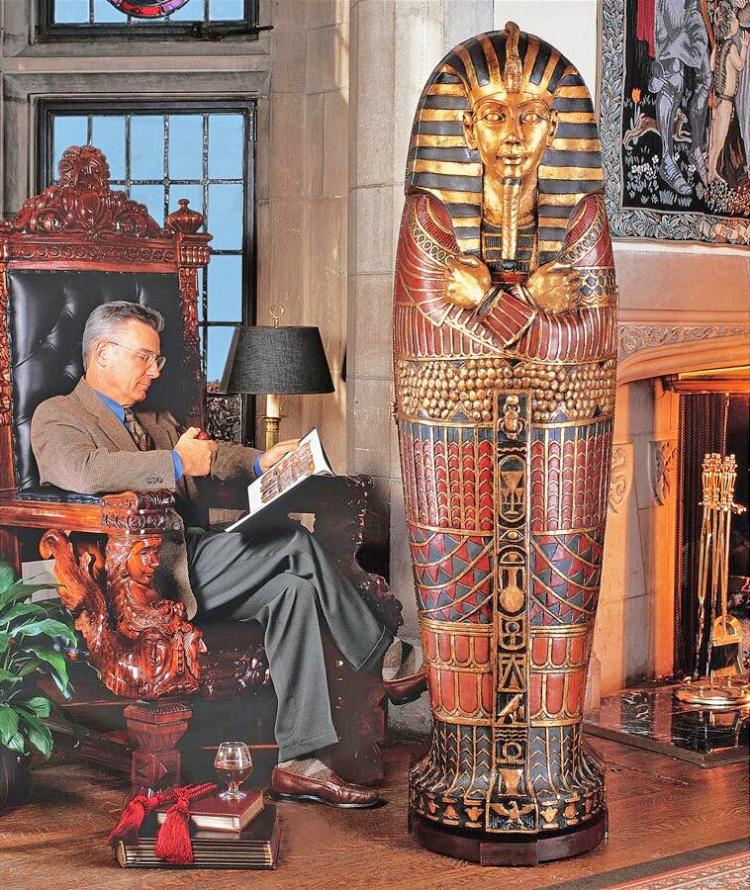 The King Tut statue bookcase measures over 6 feet tall and opens up to reveal 14 different storage shelves (7 on each side of the sarcophagus). The unique bookcase is hand-cast using real crushed stone, bonded with durable designer resin over a wooden constructed body. It's then hand painted in an Egyptian palette with real gold leaf accents.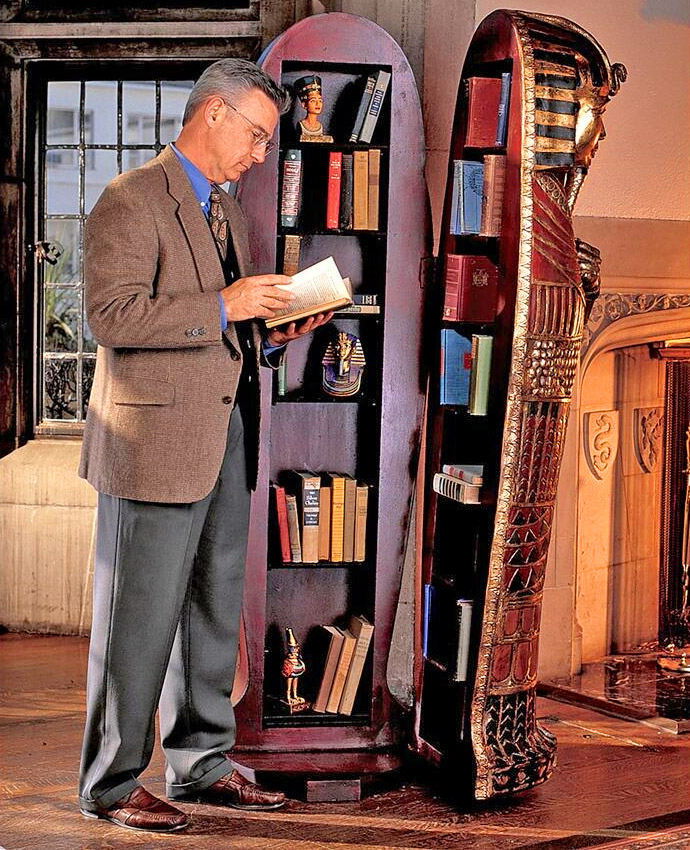 A perfect addition to any Egyptian themed movie room, study, or office, the Design Toscano King Tut cabinet is sure to give a unique and exotic style anywhere it's place. Plus, it's sure to be an instant conversation starter for anyone who lays eyes upon it.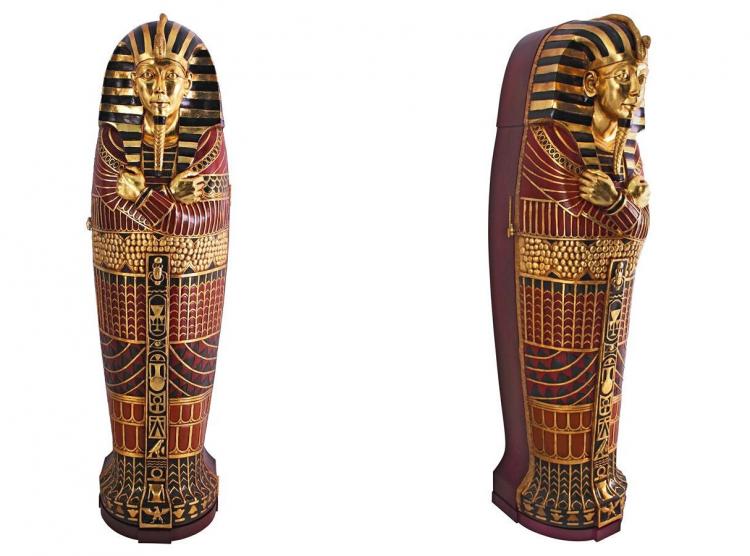 The life-size king tut secret bookcase cabinet weighs 140 lbs, stands completely upright and is incredible sturdy, is extremely realistically sculpted, it measures 21 inches wide x 20 inches deep x 75 inches tall. It's the perfect gift idea for any Egyptian history buff.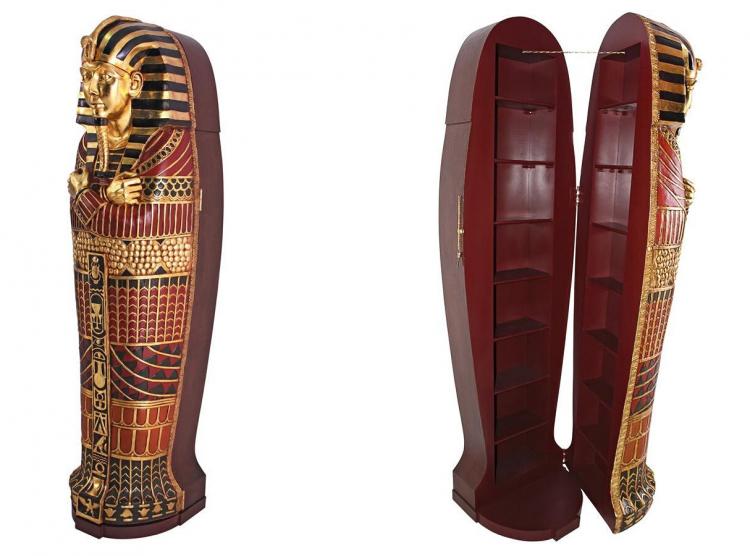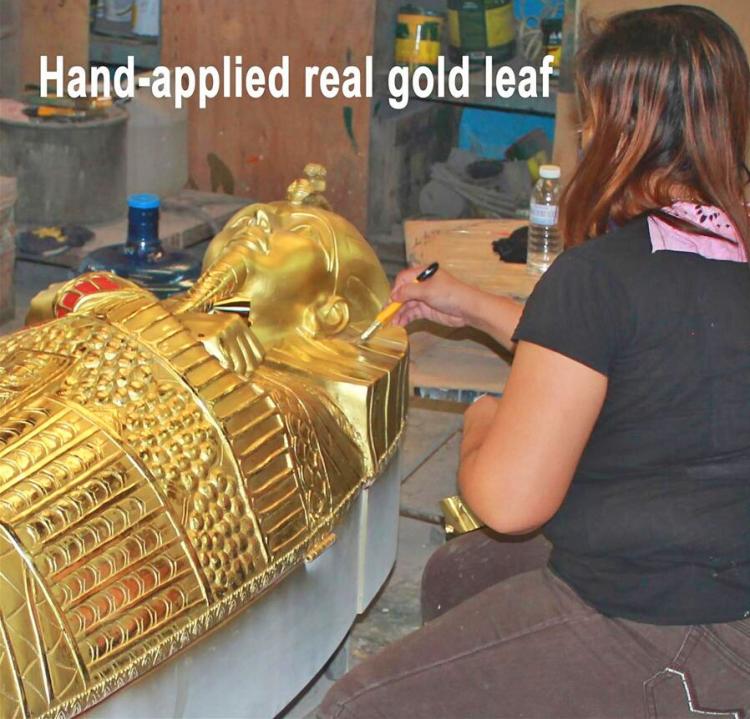 The same company also offers a similar life-size replica of the Queen Ankhesenamun Egyptian mummy sarcophagus coffin. Ankhesenamun was a queen of the Eighteenth Dynasty of Egypt, and became the Great Royal Wife of her half-brother Tutankhamun.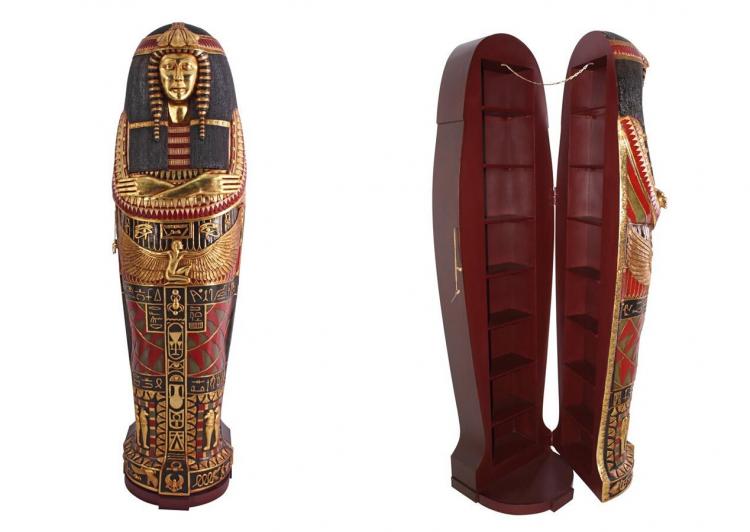 They also offer a mini version of the King Tut Sarcophagus coffin, which is meant to hold DVDs, but can really be used for holding any small items. There's also a version that you can hang on the wall.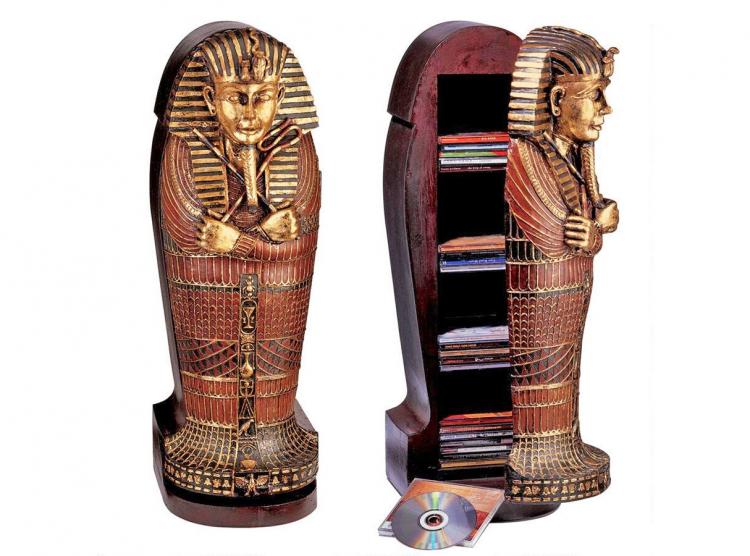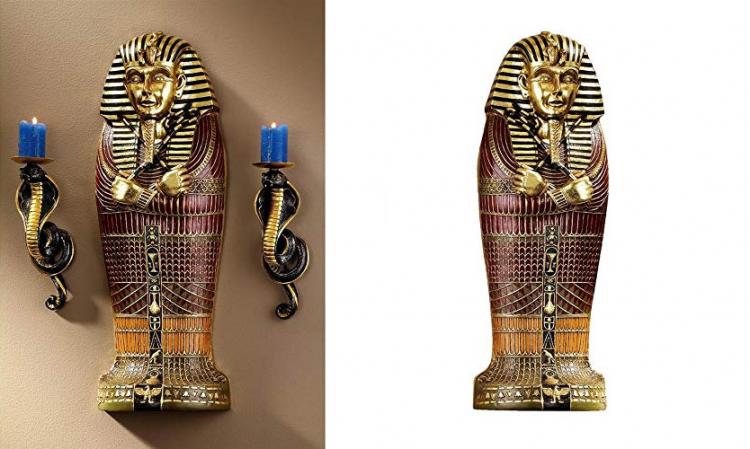 If that isn't enough, they also offer a King Tut toilet paper roll holder, a King Tut tissue box, a mini replica of King Tut's golden throne in the form of a jewelry box, a King Tut lamp, and even a King Tut golden mask replica statue. So pretty much however into King Tut you may be, they have the essentials to design your room or study around him!