Leather English Bulldog Ottoman
Date Published: 11/26/2015 4:04 AM
Your dog is like your best friend, and like a best friend they should help you with chores around the house like doing the dishes, laundry, cleaning around the house, and listen to you complain about your significant other. But since, you know, he's just a dog, he can't really do that. So next up in line for a best friend is to help you relax. At least he can stand there and hold your feet up while you relax on the couch. This fake stuffed animal bulldog acts like an ottoman for you to rest your legs on while on a couch or chair, or you can just set things on the back of the bulldog like books and stuff to look extra classy. Just don't let your real English Bulldog look the ottoman in the eyes or you'll have a shredded ottoman when you get home.
Perfect for any dog lover, English Bulldog owner, or someone trying to keep the memory alive of a lost bulldog they had owned, the English Bulldog Ottoman not only will class your home up with it's distressed leather look, but is a hell of a lot easier to care for than an actual bulldog.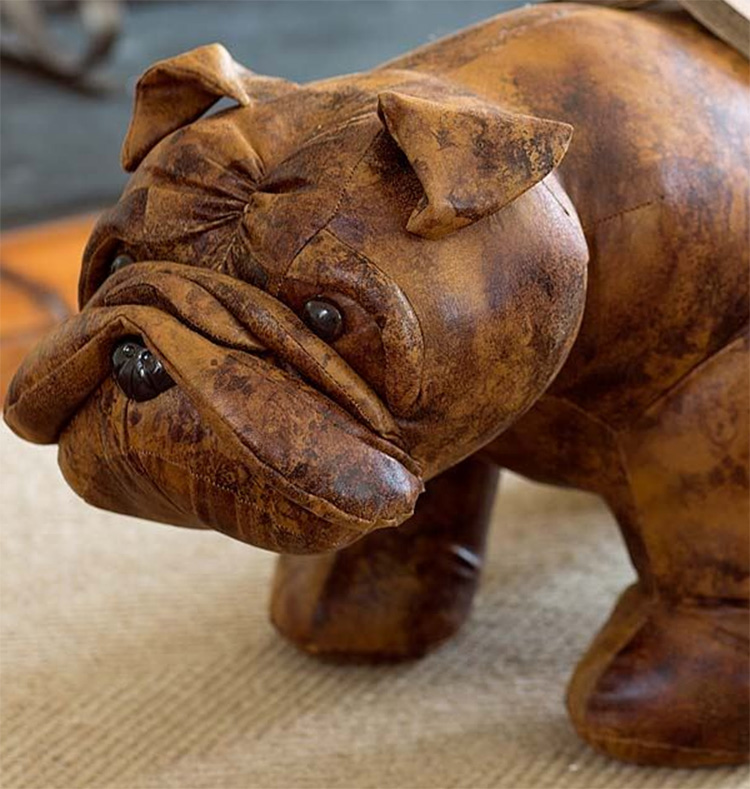 The English Bulldog ottoman is made from polyester to give it a distressed leather kind of look, and is stuffed inside and uses an MDF wooden frame to keep the dog upright and securely hold the weight of your legs without collapsing. The English Bulldog Ottoman comes with the facial characteristics that are known for an English Bulldog including the extreme wrinkles, stubby face, and cropped ears, and in total measures 31.5 inches long x 13.5 inches wide x 15.75 inches tall.