Leather 6-Pack of Beer Bicycle Carrier
By Ryan on 12/10/2015 6:02 AM (Updated: 10/19/2017 4:51 PM)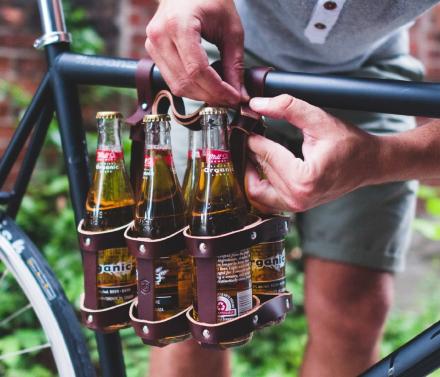 This leather 6-pack of beer carrier allows you to take your favorite 6 beers to a destination using your bicycle. The leather strap easily snaps onto any bicycle using the middle of the bike frame. Sure to be a hipsters wet dream, this leather beer holder that straps to your bike is not unlike a similar bicycle beer holder we've featured in the past. So it seems people are surely in dire need of transporting their precious craft beers on their bicycles in a fashionably leather sense. Plus, I suppose it could act as a cup holder on your bicycle so you could crack one open while you're riding and have somewhere to set your drink.
Designed and created by Fyxation, a bicycle and bike accessories shop based out of Milwaukee Michigan, the 6 pack bike carrier is just one of their booze holding leather bike straps that they offer, with others including a leather wine holder that attaches to your bicycle, as well as a leather growler holder that attaches to your bicycle. Surely, the only way people who drink booze get around in Milwaukee is on a bicycle, which I suppose makes more sense than driving...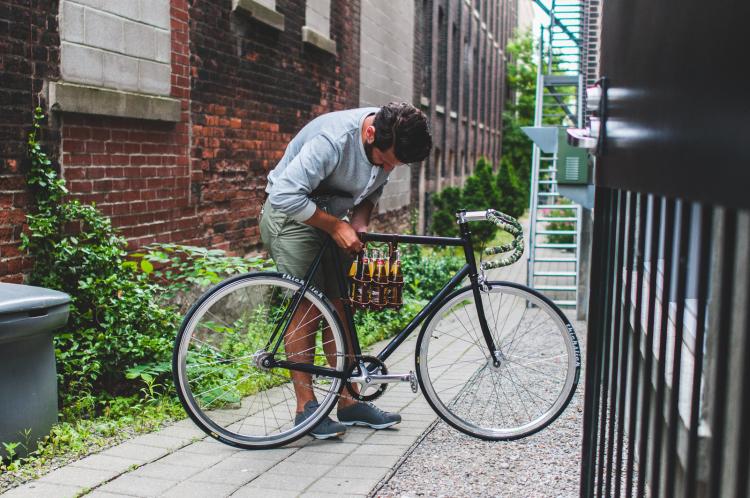 The leather 6-pack of beer bicycle carrier is made in Milwaukee Michigan from full-grained leather, connects to the top tube of your bicycle as well as the seat tube so that it doesn't slide back and forth when you brake and accelerate. The leather strap is able to accommodate bicycles with a 1.75 inch diameter top tube, comes in brown or black colors to choose from (available here), and leaves plenty of room for your legs to pedal without rubbing up against the bottles.