This Inflatable Backseat Lounger and Bed For The Car Is Perfect For Long Road Trips
By Ryan on 09/26/2023 11:24 AM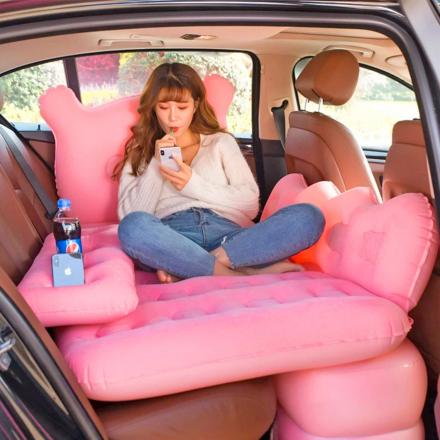 Are you ready to embark on the ultimate road trip experience? Buckle up, my friends, because we are about to introduce you to the coziest, comfiest, and most versatile travel companion you'll ever need: the Inflatable Car Backseat Lounger!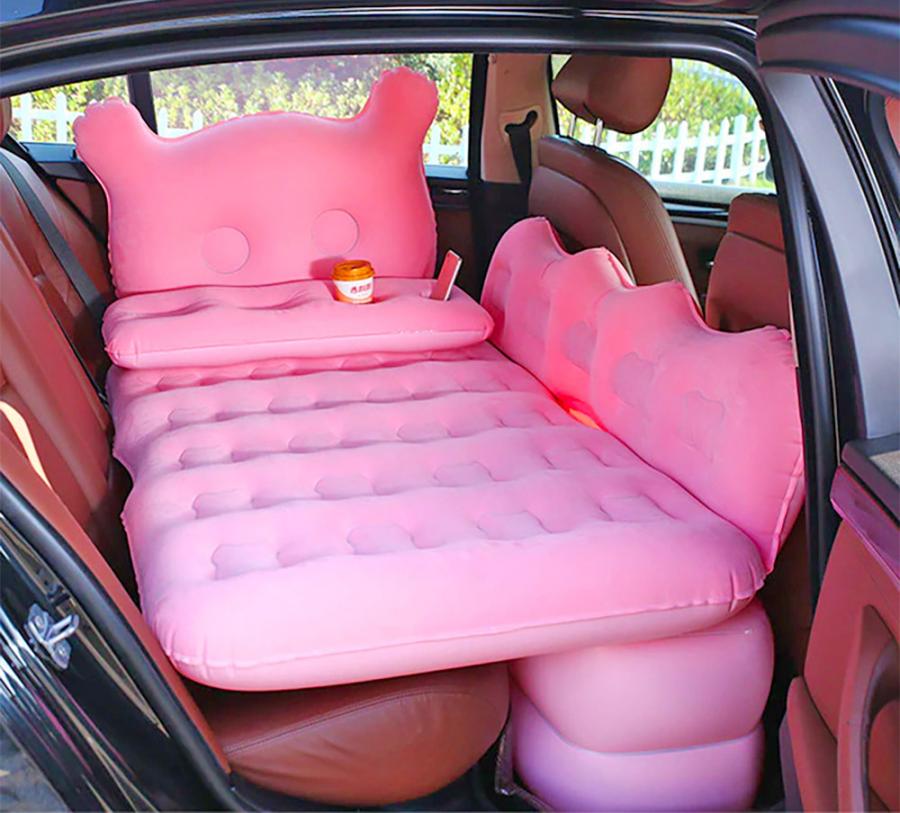 Imagine this: it's been a long day on the road, and all you want is to kick back and relax. Enter our superhero, the Inflatable Car Backseat Lounger!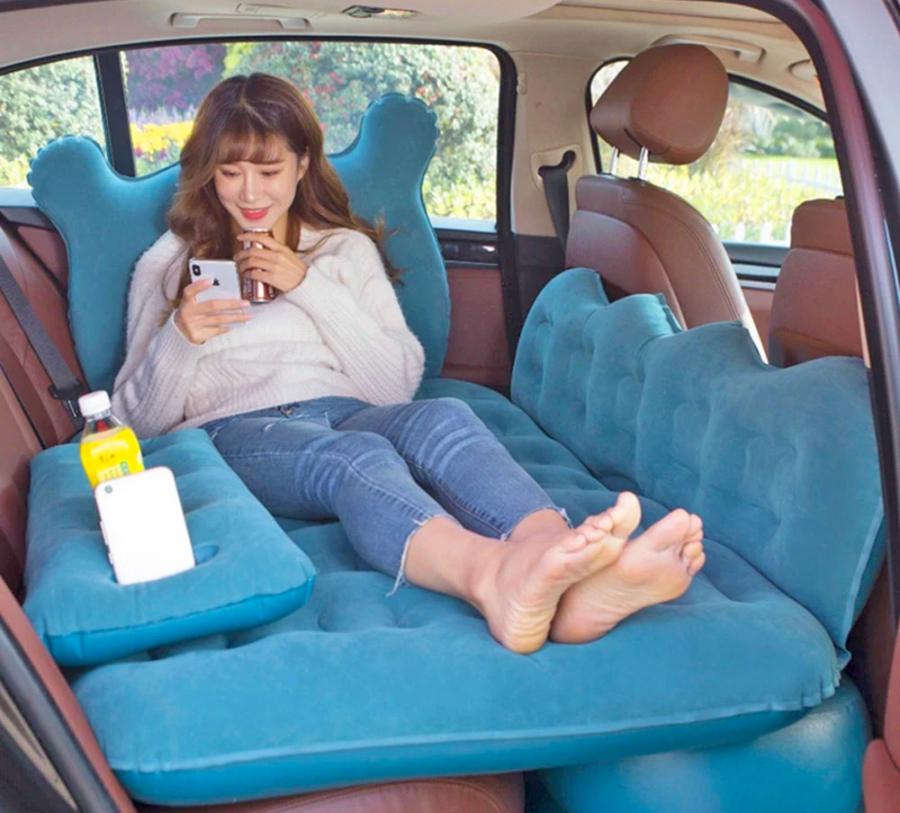 This nifty gadget can be used as a lounger with a soft backrest and cupholders, perfect for enjoying a refreshing beverage while you soak in the views from your car window.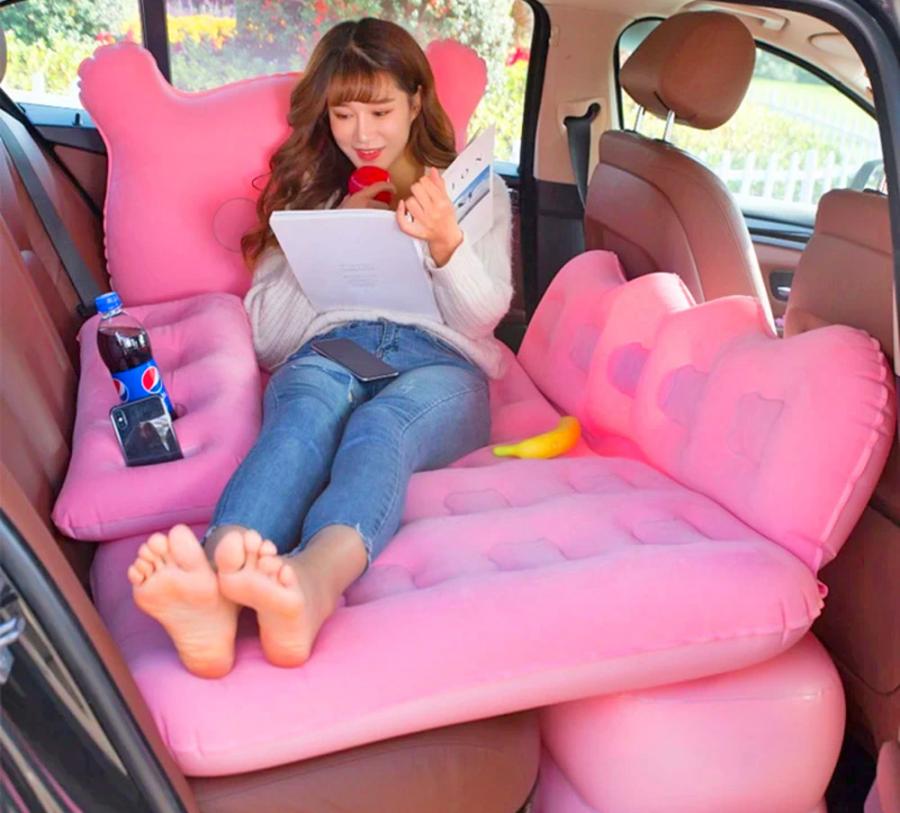 But wait, there's more! Tired eyes and sleepy heads have nothing to fear because this versatile companion can quickly convert into a bed. That's right – your very own snuggly oasis in the backseat of your car. Say goodbye to expensive hotel rooms and hello to sweet dreams under the stars. You can even take use it outside of the car on the ground, or even in a tent! Now, you might be wondering how you'll get this magic mattress inflated. Fear not! The Inflatable Car Backseat Lounger comes with a 12-volt DC power electric air pump that plugs right into your car's 12v electric port. In just a few seconds, you'll be ready to lounge or snooze in style. With its ability to fit into any standard car, truck, or SUV with a regular-sized backseat, this inflatable lounger is ready to accompany you on all your adventures – from camping and festivals to cross-country road trips. Choose from three fabulous colors: sleek black, sophisticated navy, or playful pink. There's a hue for every traveler's taste! What's more, the entire back area of your backseat transforms into an extra-large space for you to rest or relax. Gone are the days of cramped, uncomfortable car naps! The Inflatable Car Backseat Lounger package includes everything you need for your journey: 1 inflatable backseat mattress, 1 children/pet safety baffle, 1 inflatable pillow, 1 air nozzle, 2 inflatable supports for the leg area, 2 repair pads, 1 air pump, and 1 storage bag. Talk about a complete travel kit! And, just when you thought this couldn't get any better, feast your eyes on the adorable cartoon bear design on the back of the lounger/bed. This lovable creature not only adds a touch of whimsy to your travels but also protects your head and back area while you snooze or relax. But don't forget about those nifty leg supports! They double as storage or even a trash can to keep your car tidy during your epic adventures. So, fellow travelers, are you ready to revolutionize your on-the-go relaxation? The Inflatable Car Backseat Lounger is here to save the day – or rather, the night – and make every road trip a comfortable and memorable journey. Prepare to hit the road in style and comfort, and let the Inflatable Car Backseat Lounger turn your car into a luxurious haven for relaxation, rest, and sweet dreams. You can snag this inflatable backseat car lounger and bed from Amazon for around $50 bucks!