I'm Holding A Cup Of Coffee So, Yeah I'm Pretty Busy Mug
By Ryan on 07/16/2021 1:08 PM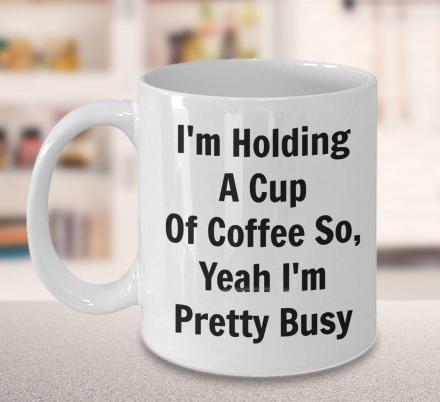 Handmade gifts are the best, they show how much appreciation and love you have for the recipient, and they are personal with an attachment to it. The organic and artistic feel of a hand-made mug will make your mornings brewtiful. This coffee mug is handmade with ceramic by top-notch artisans, it can hold 11 oz. and is a perfect gift or for personal use. It's written "I'm Holding A Cup of Coffee So, Yeah I'm Pretty Busy" which is a pretty sarcastic saying.
Your colleagues or friends will probably burst out laughing when they see it on your desk or when you gift it to them.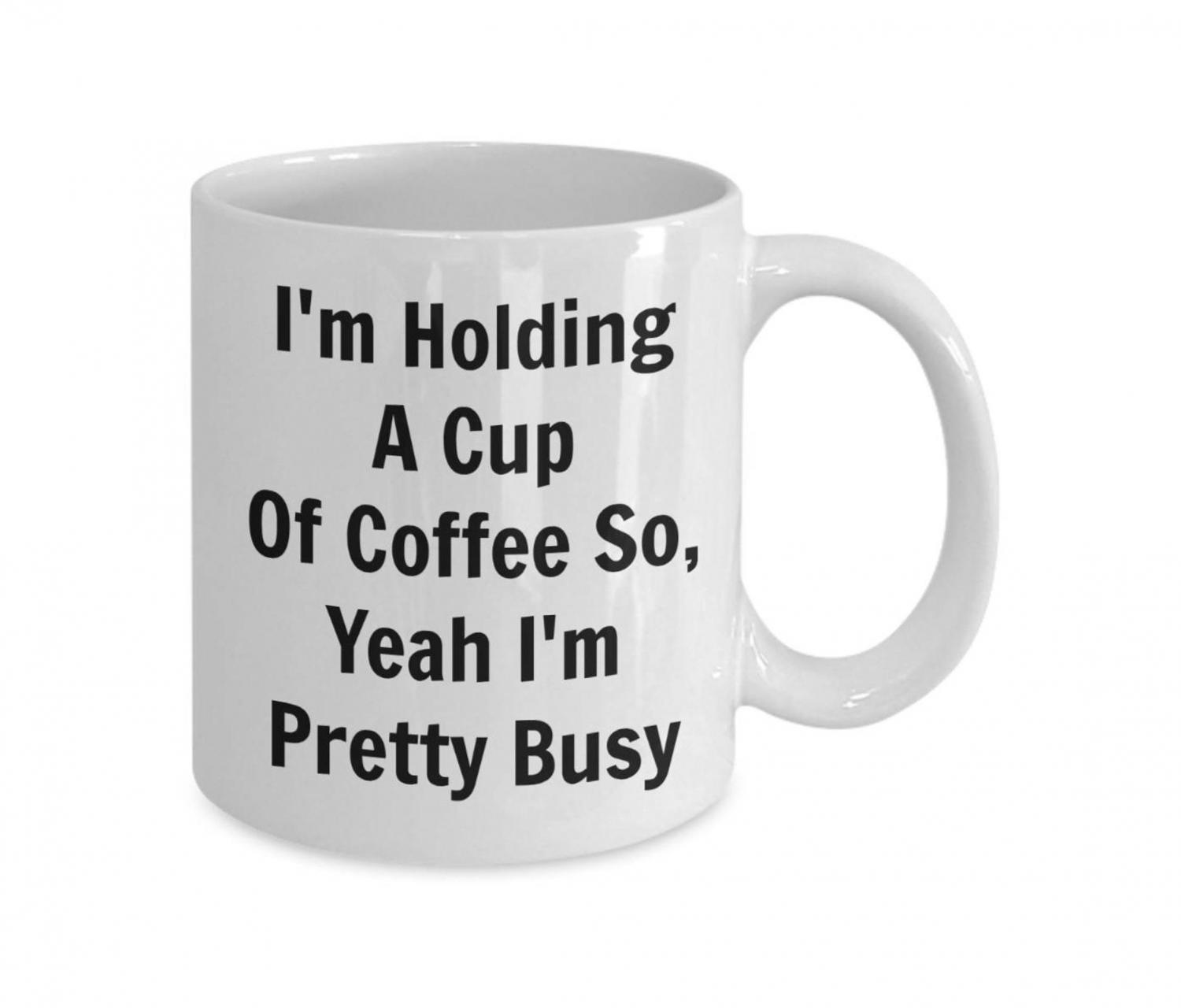 It's crafted with the highest grade of ceramic by brilliant artisans, the design and wording of the font are just fantastic. The handle is wide and thick to sit comfortably in your hand and allows for a good grip, you won't be spilling your beverages anytime soon and potentially ruin a beautiful morning.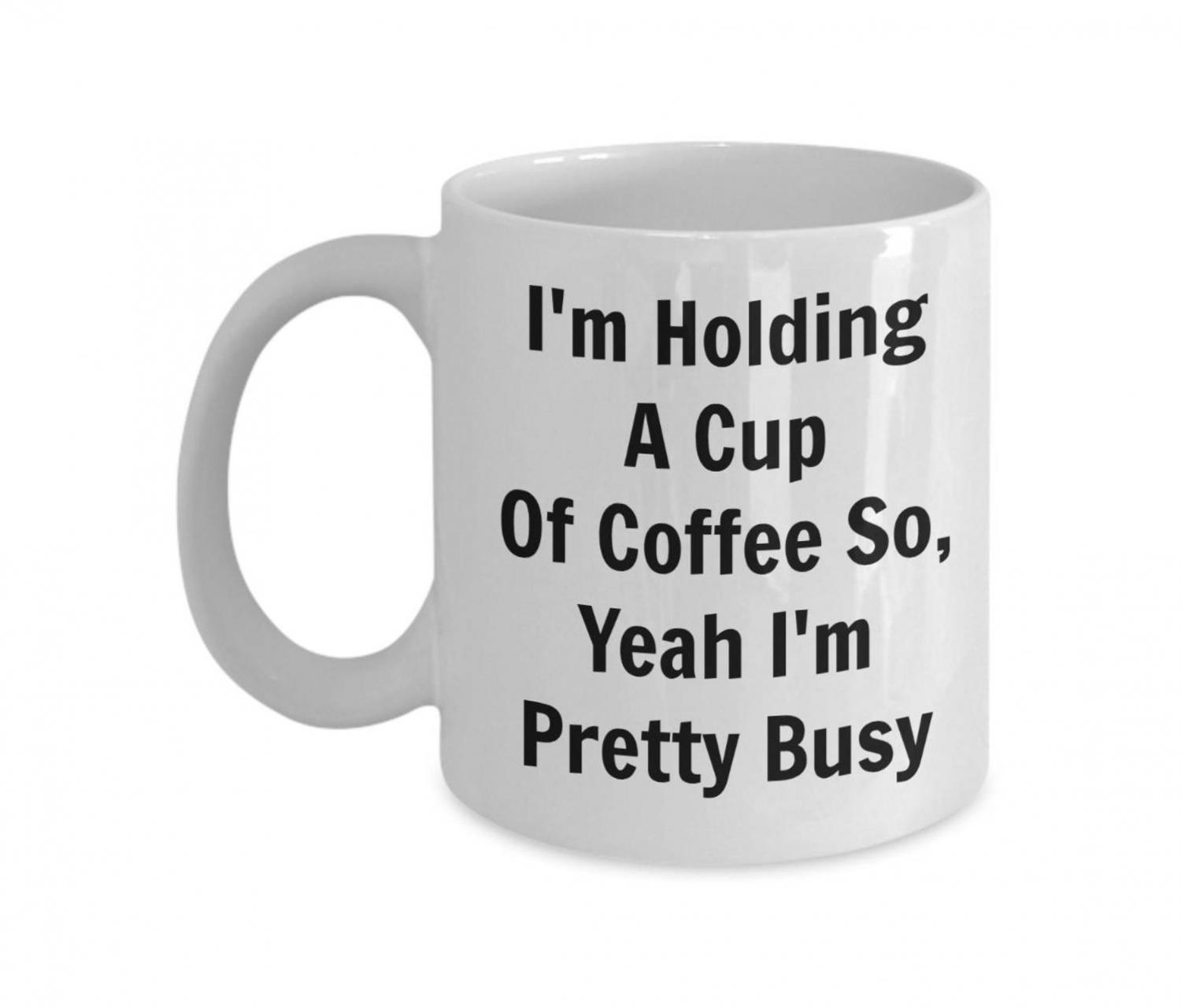 There's a few different versions of the I'm Holding a Cup Of Coffee mug that are also available on Amazon, which you can check out below.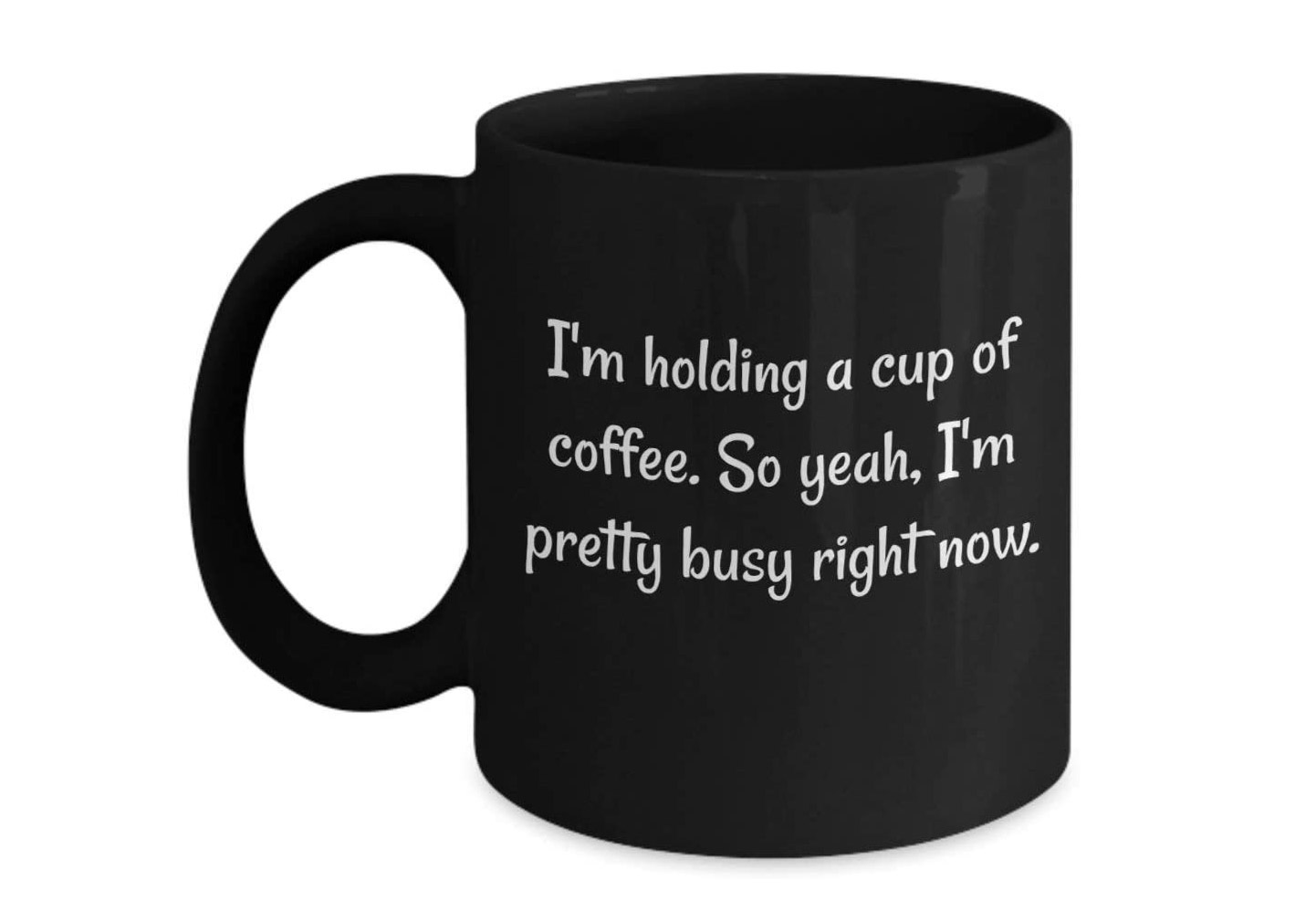 Get this version here
This tea or coffee mug is all white and the wording is in black. The choice of font is classic and amazing. These beautiful handcrafted mugs are the perfect choice for you to enjoy your cup of coffee every morning at home.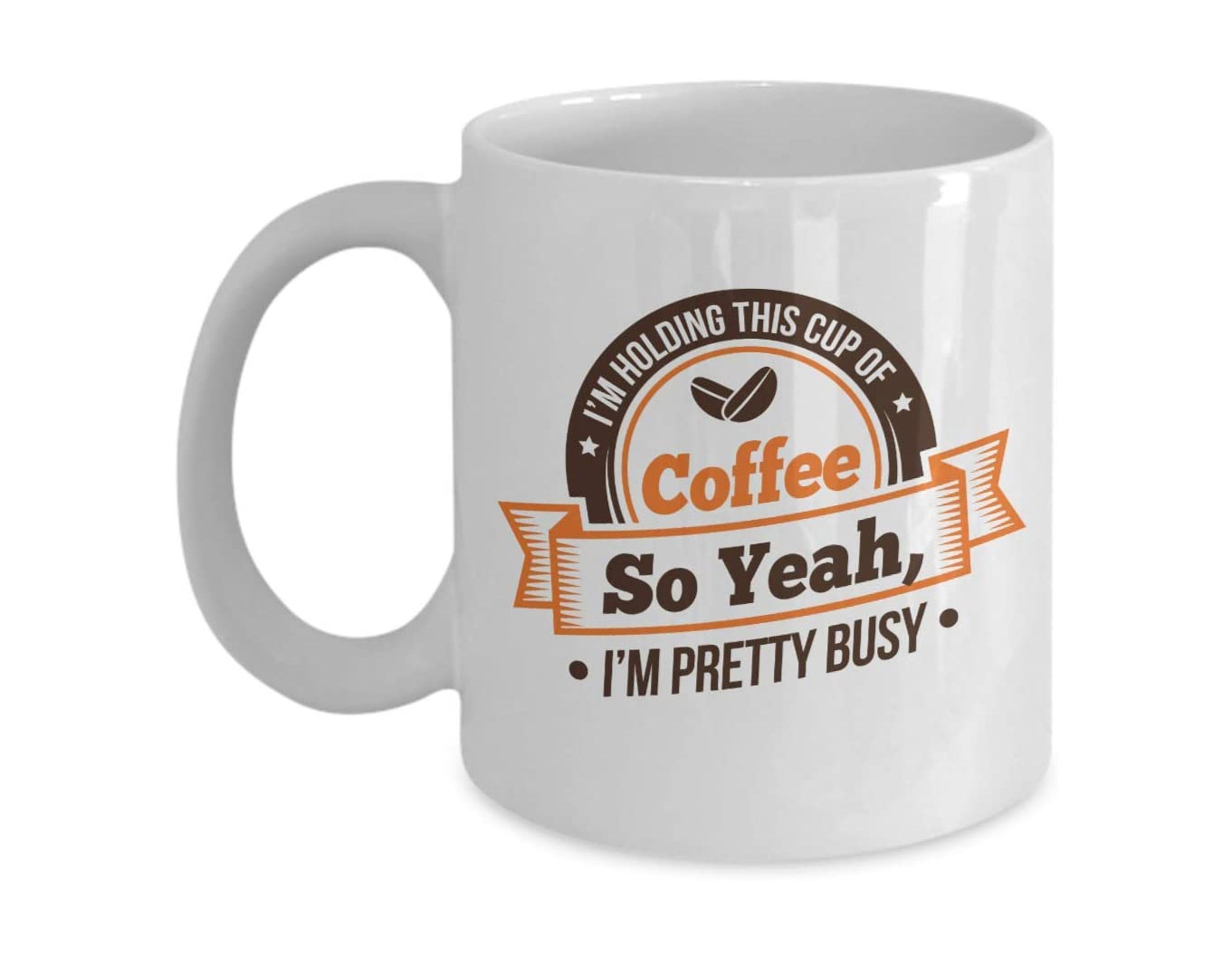 Get this version here
The mug is dishwasher and microwave safe so cleaning it should be a walk in the park. The design is printed and made in the United States, so quality is guaranteed. If you're taking it up as a gift, decorate the mug by dressing it up and placing more tiny and colorful gifts in it like stickers, candies, chocolates, and more. You could even throw a note in there and make this personal mug even a more personal gift.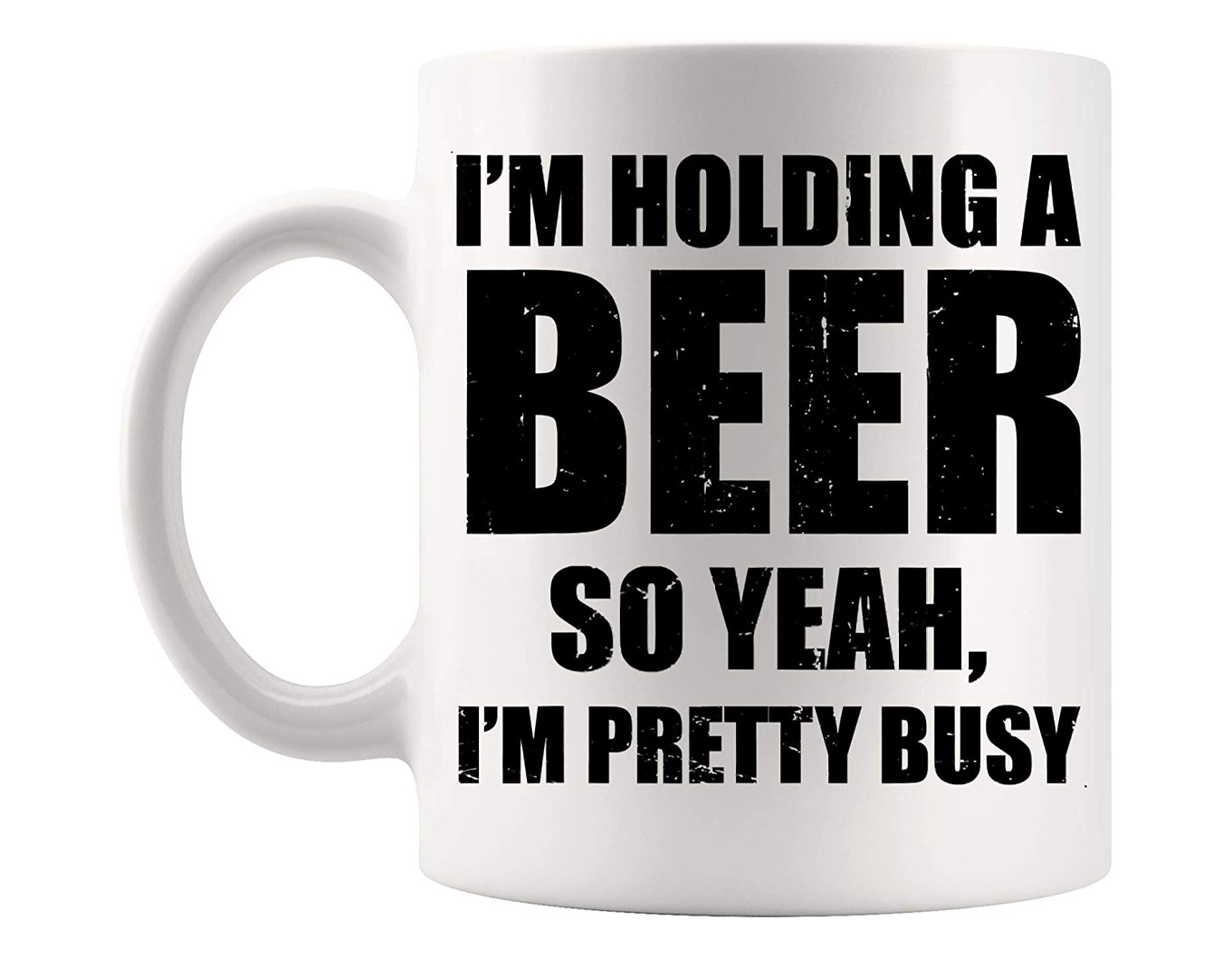 Get this version here
Settle into a mug of hot tea or coffee, depending on your taste, and start your day with this amazing piece of work. It's large and functional for everyday use at home or in the office. The best quality ceramic and the wording is beautifully sarcastic. If sarcasm had a font, this would be it.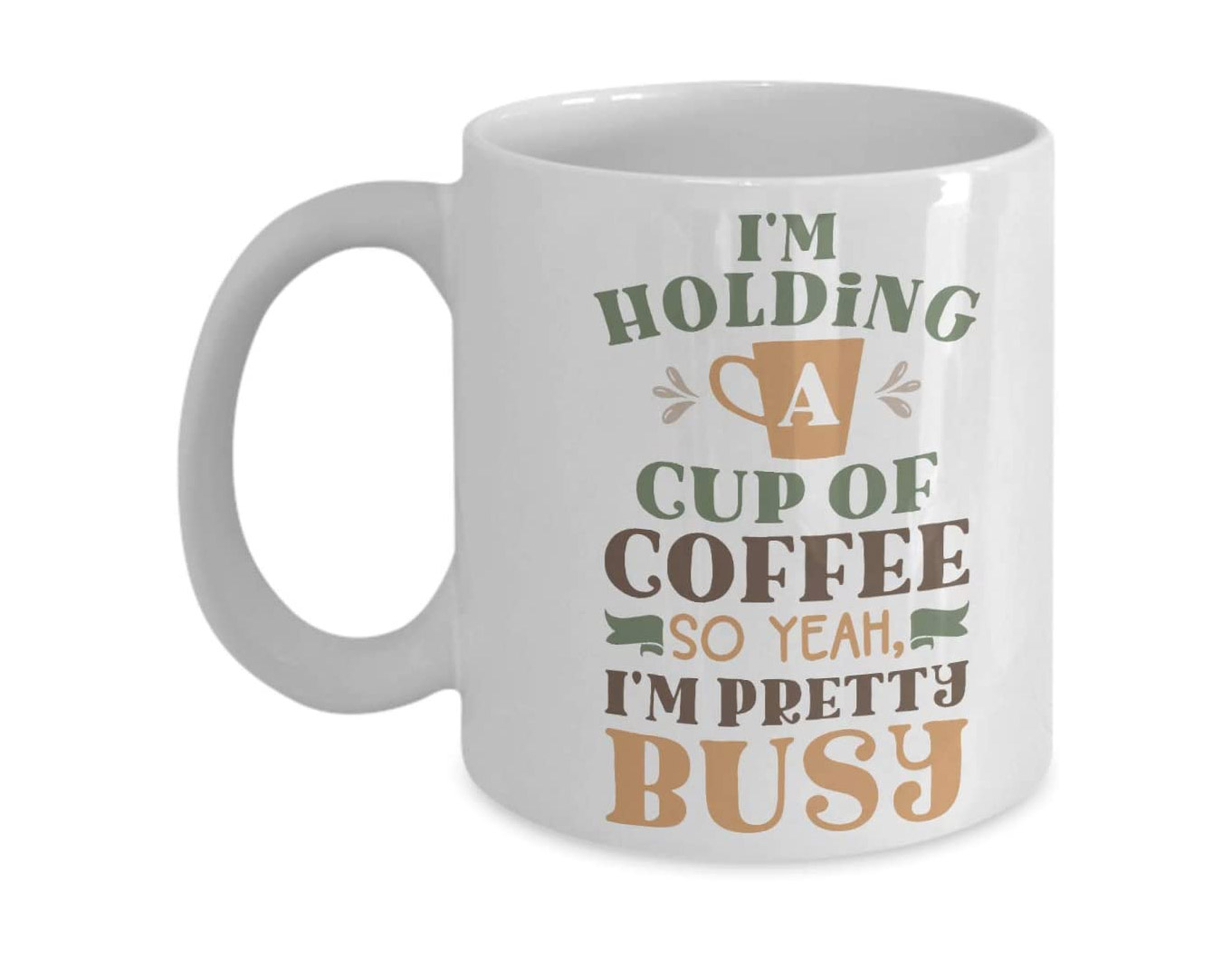 Get this version here
Unless you're dropping it down from the tenth floor, this coffee mug will be staying with you for a long time. The print is quality and won't be coming off after a few washes, and the ceramic is durable and will not crack easily. The mug is comfortable on your hands and lips as the finish was carefully applied. It's good enough, decent for a novelty cup, and it's really solid.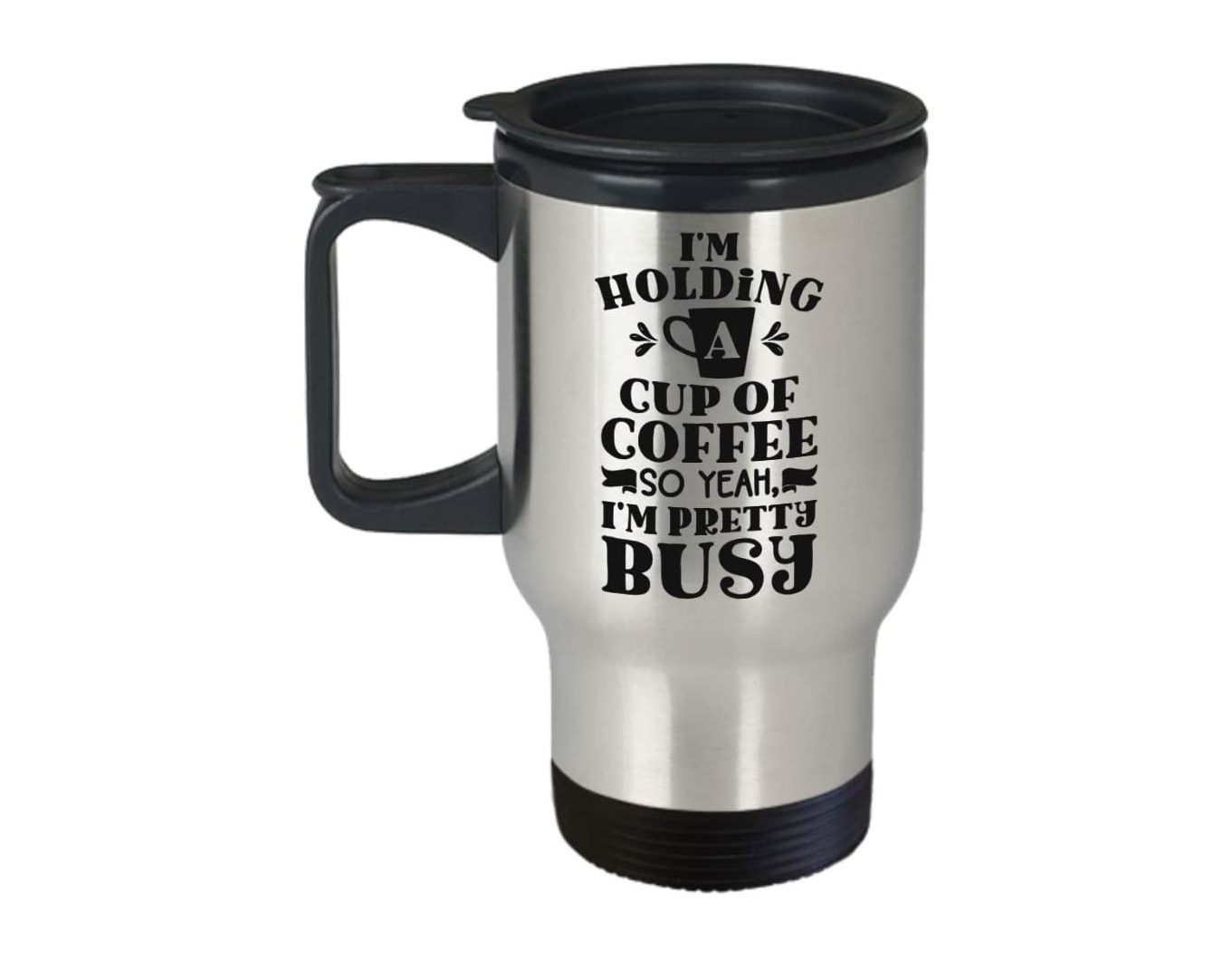 Get this version here
Make your friend, colleague, family crackle up a smile with this coffee mug by giving it to them as a gift, or you can keep the sarcasm to yourself and buy it for you. It's a great addition, and the coffee will taste great on it. The ceramic material is really good and durable.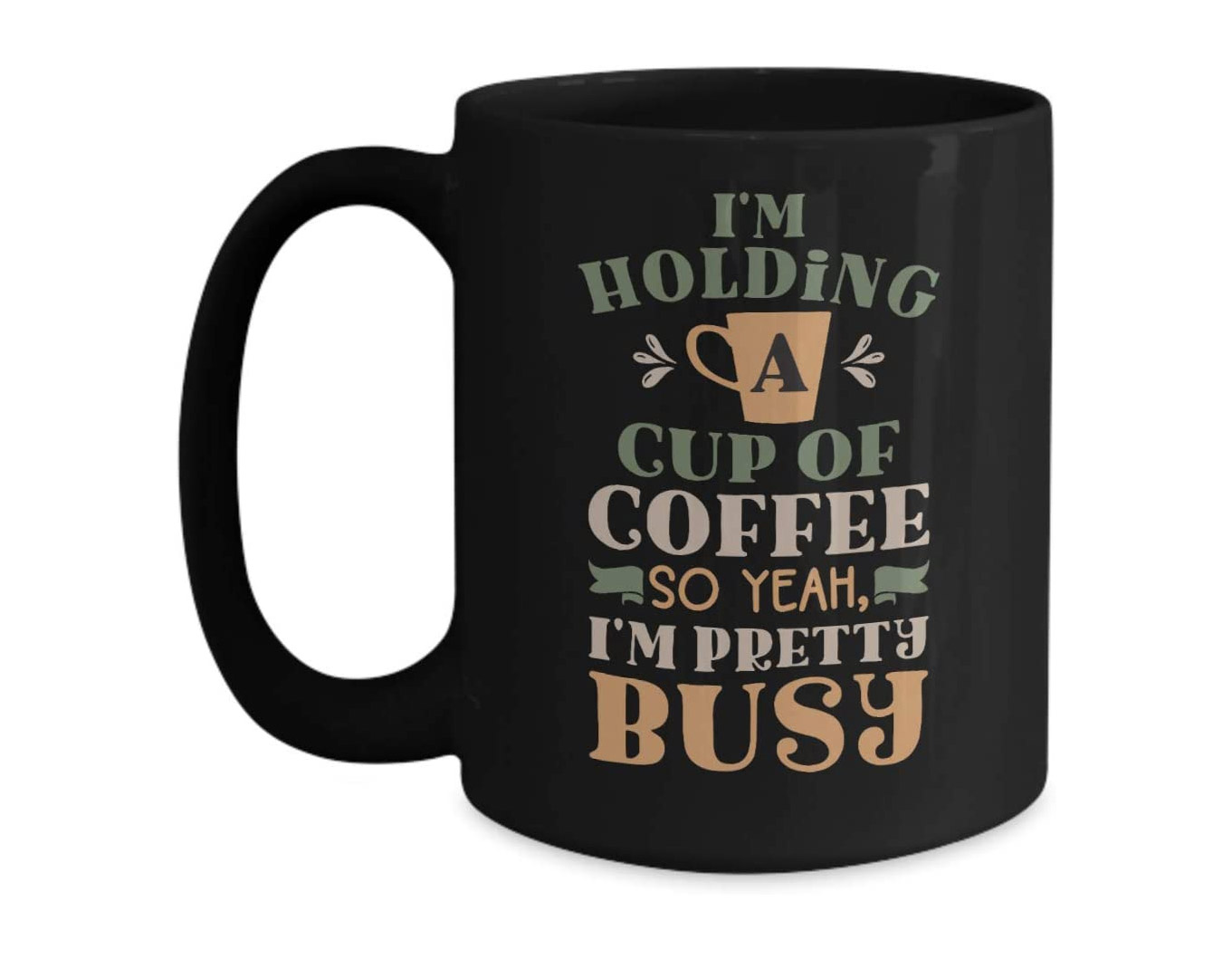 Get this version here
The sarcastic saying, "I'm Holding A Cup of Coffee So, Yeah I'm Pretty Busy" will do well to keep your colleagues or family at bay whenever you're using this mug at your work station. Start your day the sarcastic way with this handmade coffee mug.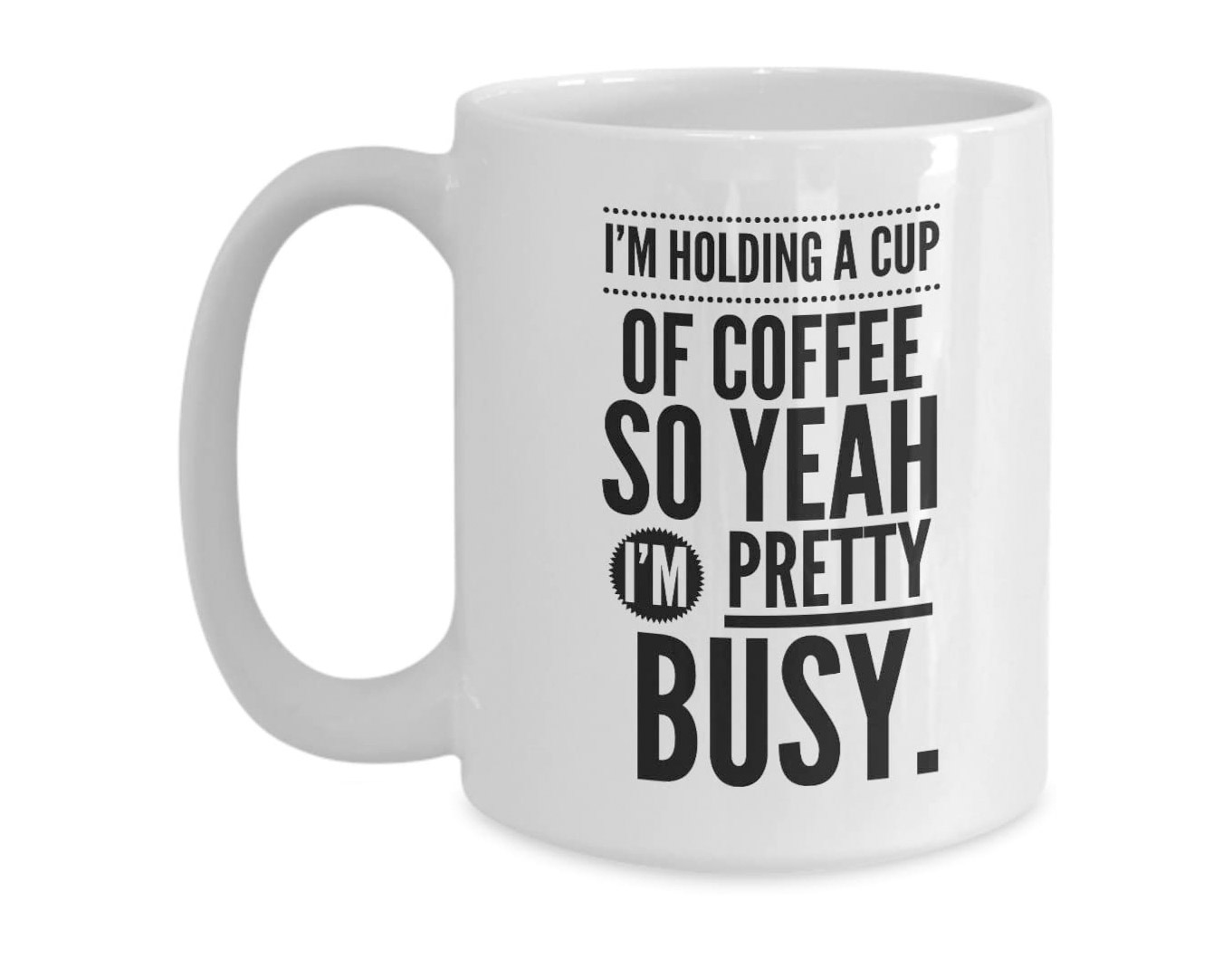 Get this version here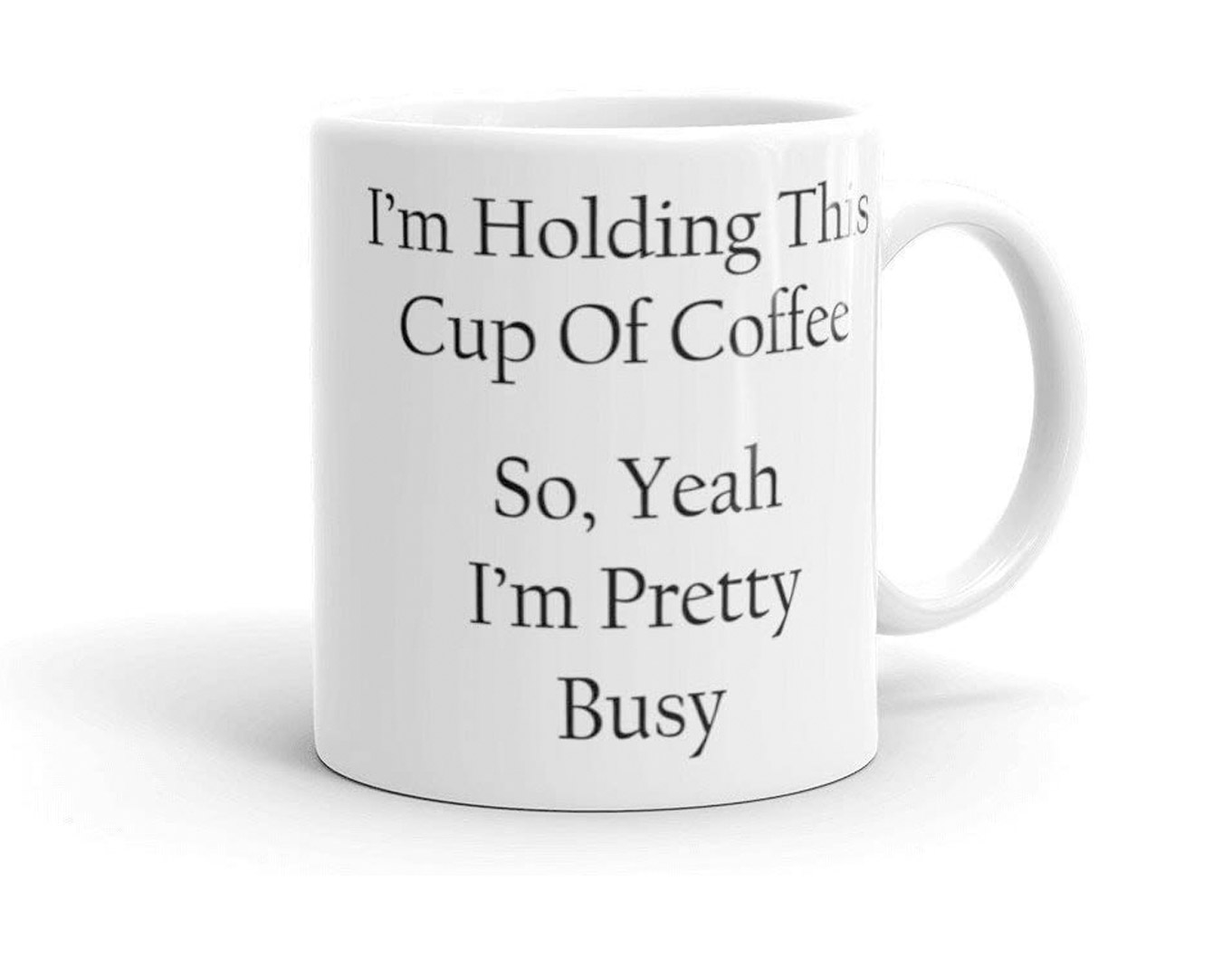 Get this version here