These Illuminating Outdoor Chairs Create The Ultimate Nighttime Poolside Experience
By Ryan on 06/17/2021 9:39 AM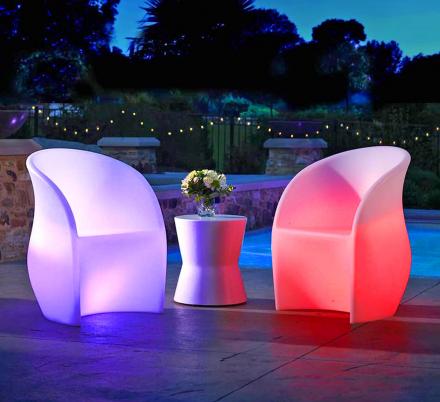 Imagine a date night in your backyard, with you and your partner sitting on illuminated chairs that can change colors. Be it poolside, or on a patio, illumination by different colors reflecting off the water will create quite the spectacle. There are other crafty ways to utilize a chair that lights up, the options are many, and will depend on your taste. The best part is all this is remote controlled and the colors can not only be changed but also give different shades of the same color.

Versions: Chair | Table
The illumichair is an outdoor chair with color-changing LEDs providing cool illumination effects in your backyard. It's a great lighting solution for that outdoor space if you want a modern finish and a sight to behold. Ideally, you can place two of these amazing pieces of outdoor furniture beside a small table for a conversational style. Or, if your needs are eating-oriented, set a dinner table and place the seats facing each other on opposite ends.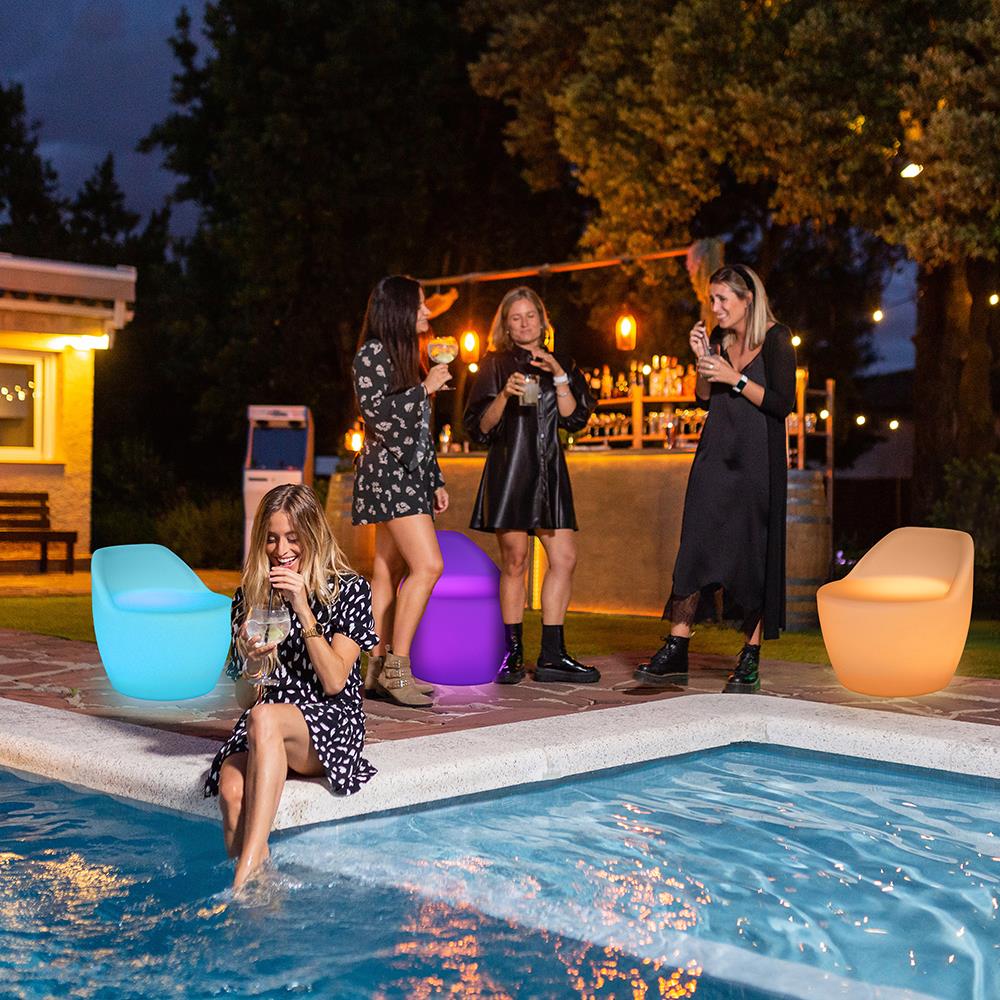 If you're yet to decide on a favorite color, the color-changing outdoor chair has a total of 16 different color combinations. Also, there are 4 changing modes for each color, to enjoy different shades of the same color. At night, with the right color combinations, you can create colorful memories with your partner that will live forever. You can flash different colors at different speeds just by pressing the remote.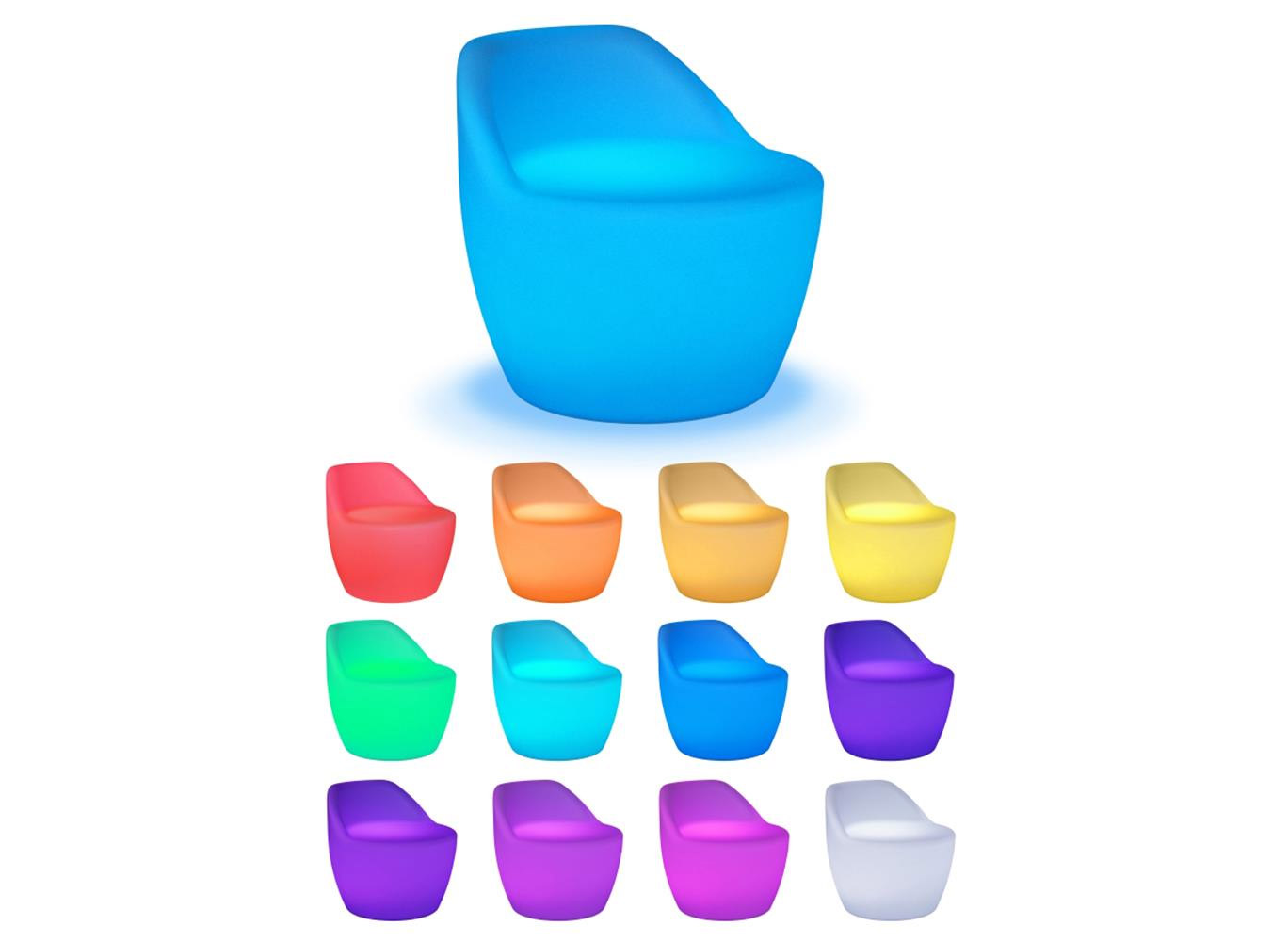 Use the remote to control the color, speed of transition, the brightness of color, and lighting effects. This is a modern chair and the neighbors plus your friends will definitely be asking you how to get it. The material covering the chair has an IP65 water-resistant rating, making it ideal for your poolside needs. It's also very durable, can withstand all types of weather, and resistant to the UV rays of the sun.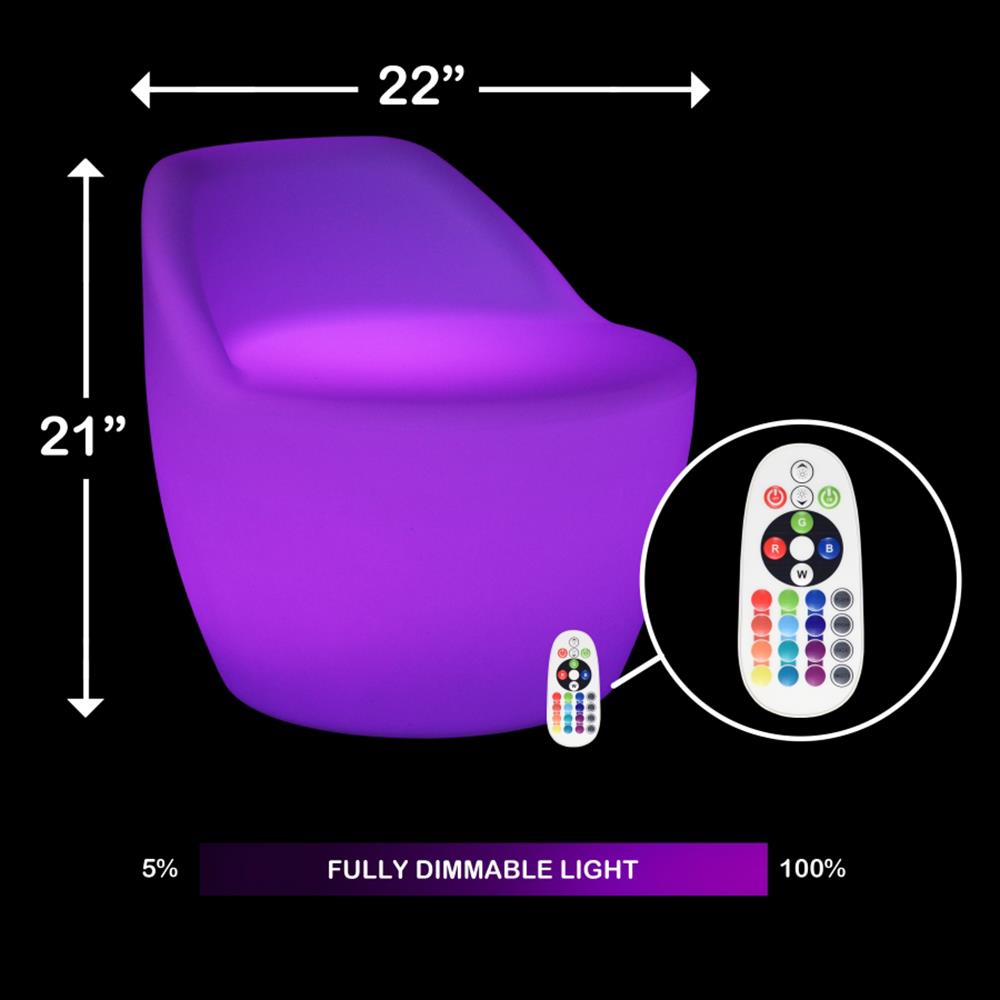 This illuminated chair weighs 13 lbs. and can support a weight of up to 300 lbs. It measures (21"*22"*22") inches, and can comfortably hold guys of all ages. There is an AC adapter for charging this outdoor marvel, and a single full charge can power up the outdoor chair for 24 hours. The rechargeable battery is that good. This removes unnecessary power chords in your dining setting, it's not even safe having power near something like a pool. This is a modern well-thought idea that changes your outdoors for good.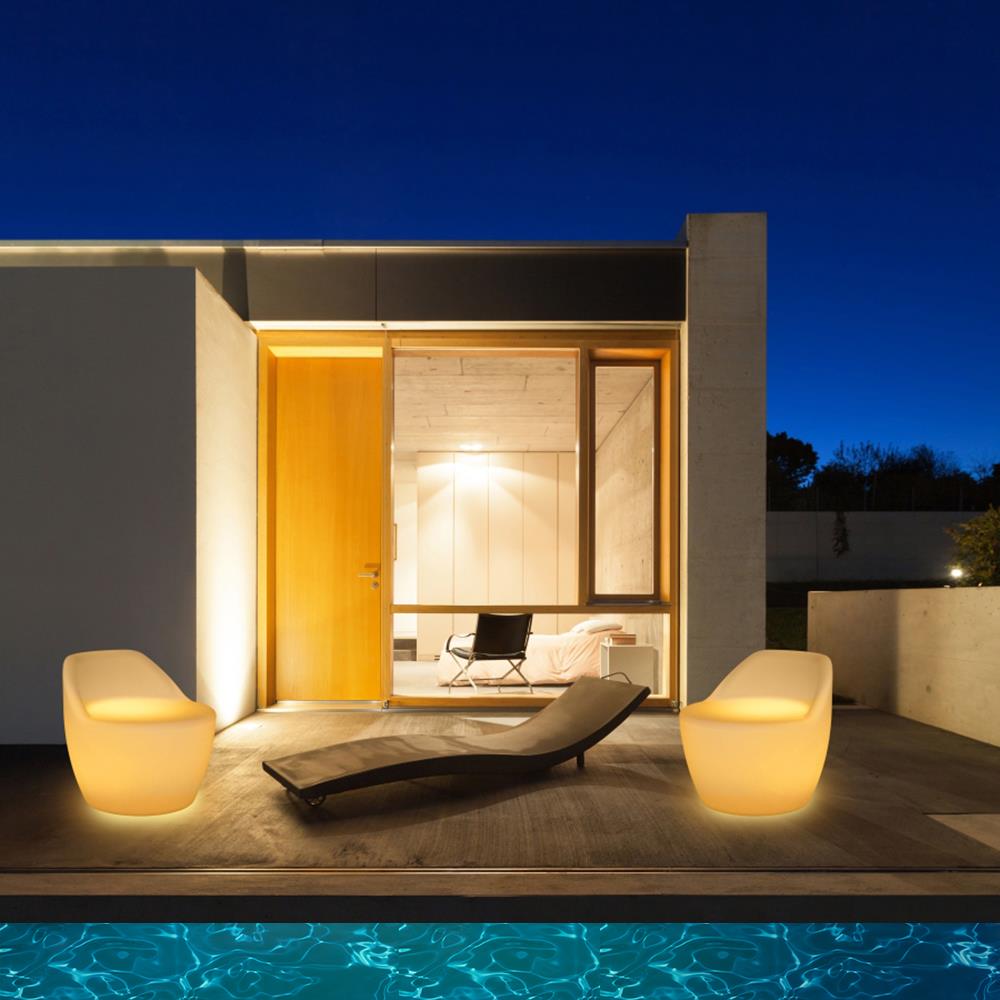 Use it to decorate your backyard and make it livelier again with bright flashy colors. At nighttime, the LED lights release a fine glow and make the place very ambient. Pool parties will never be the same again with these outdoor seats lighting up the place. Ambient atmosphere, cool LED illuminations, perfect for a date, party, or a hangout with friends.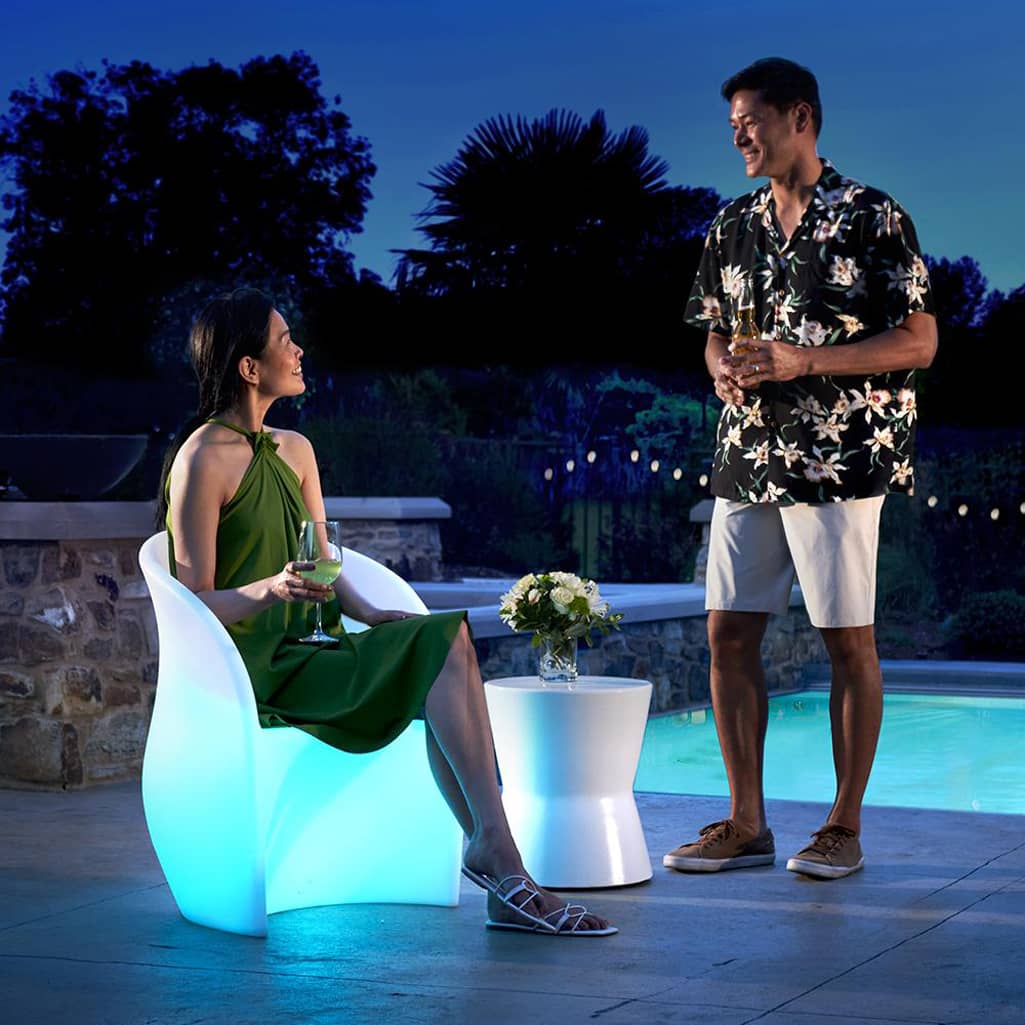 The chair is quite light and can be easily transported from place to place, if you organize a pool party for your friends, each can bring their illuminated chair, and set their own settings. Any accidental spilling of drinks on the chair won't have any effect because the material is water-proof. Not even the rain can affect this chair.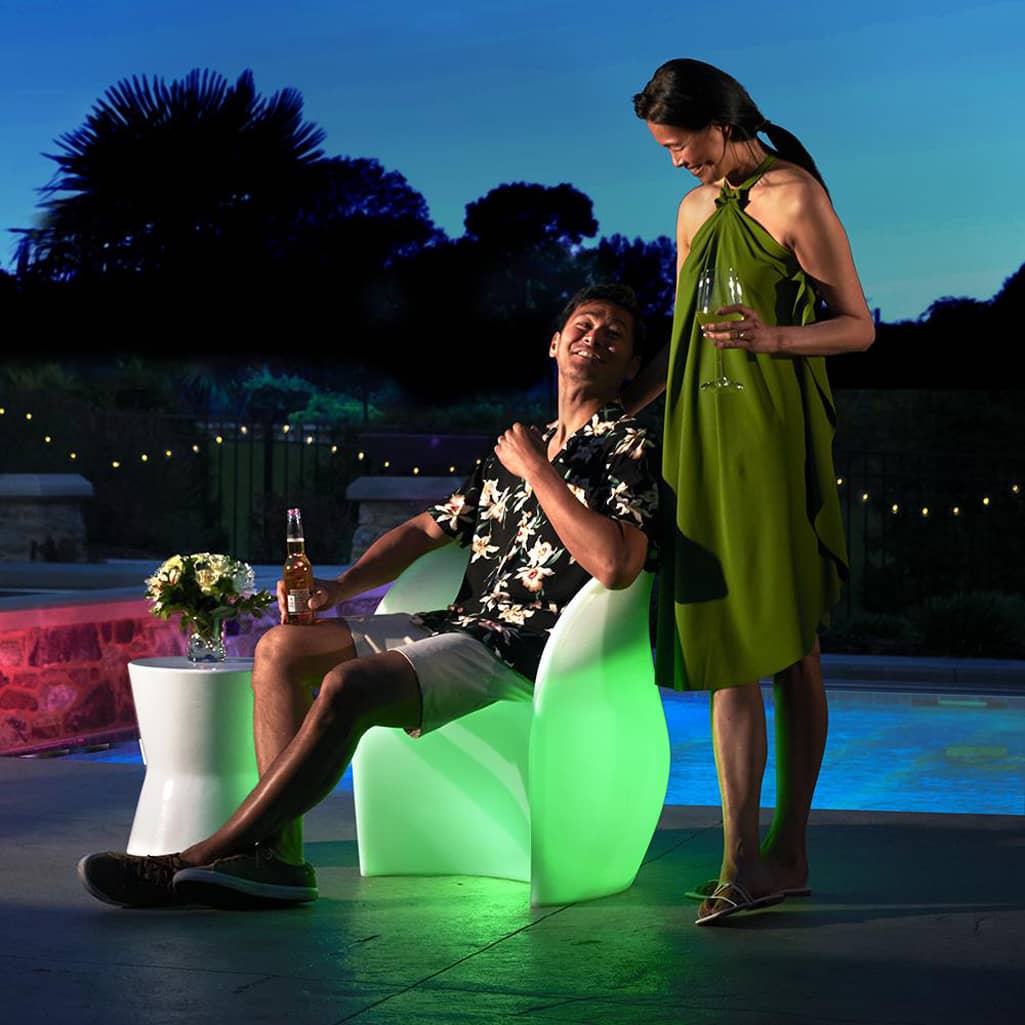 This glowing outdoor chair is value for money all while living in a futuristic world. It's comfortable, can hold people of all sizes and its seating is the perfect height. It changes your outdoor space for the better, and the evenings will never be the same again. You can even woo the girl of your dreams with a perfectly lit, and colorful poolside date. She will definitely see you in a different light (pun intended), and this can be the turning point for you two, thanks to this illuminated chair.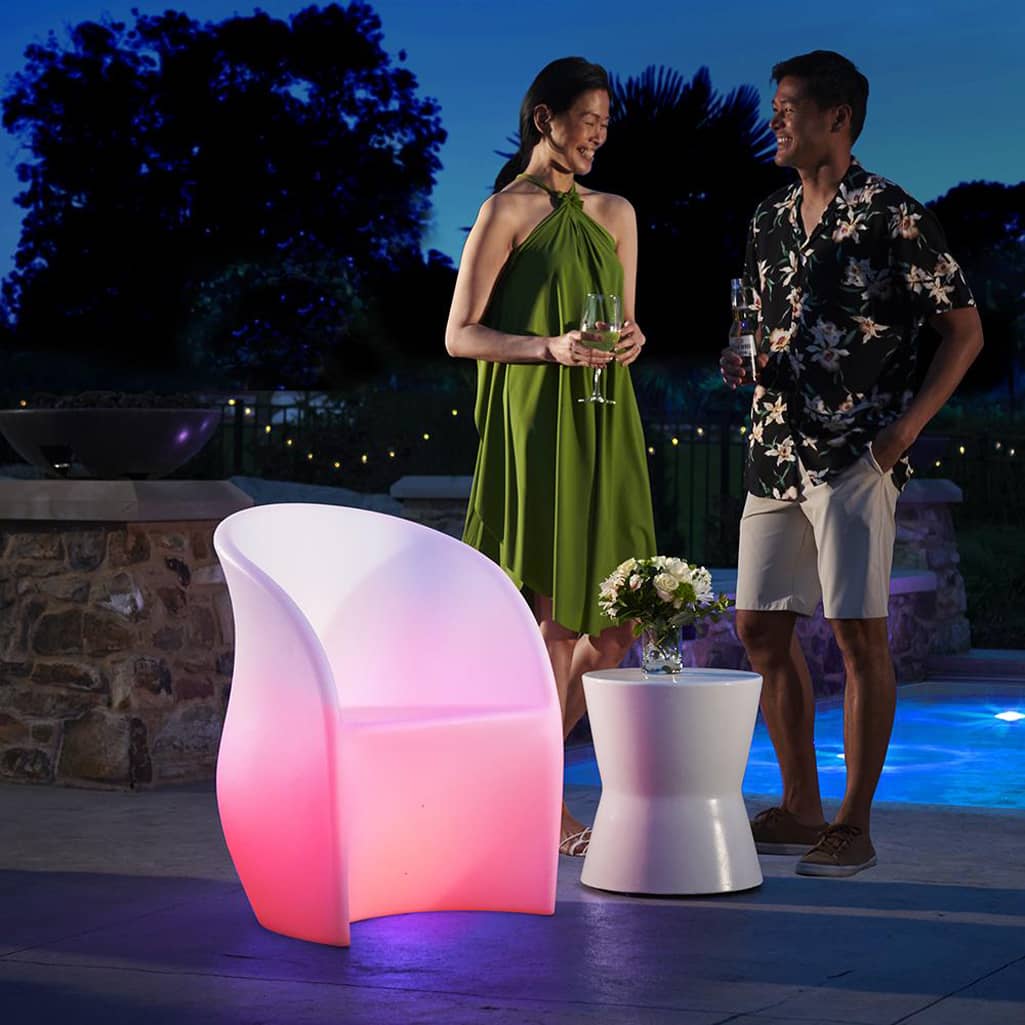 Each of the illuminating chairs are sold separately and measure 21 inches tall x 22 inches in diameter!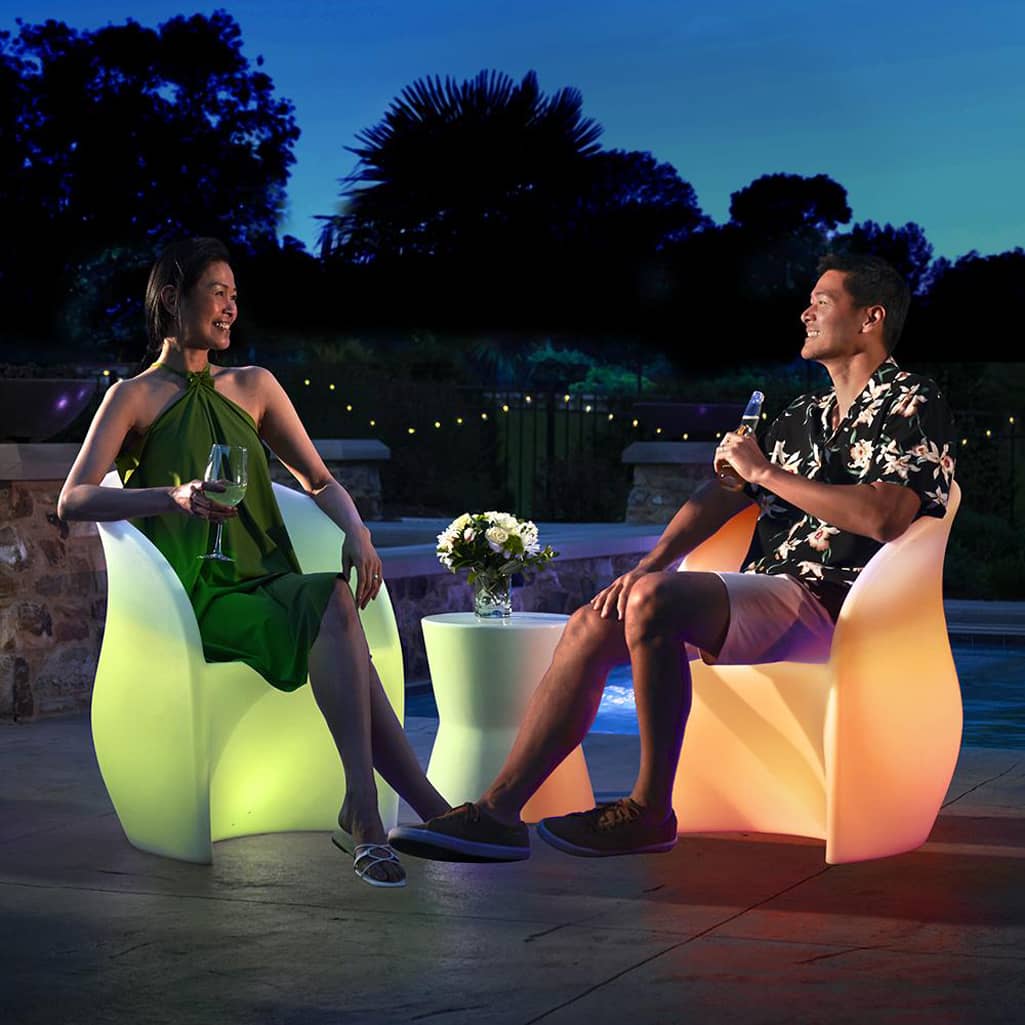 Each illuminating chair comes with a remote hat lets you control the colors and other settings!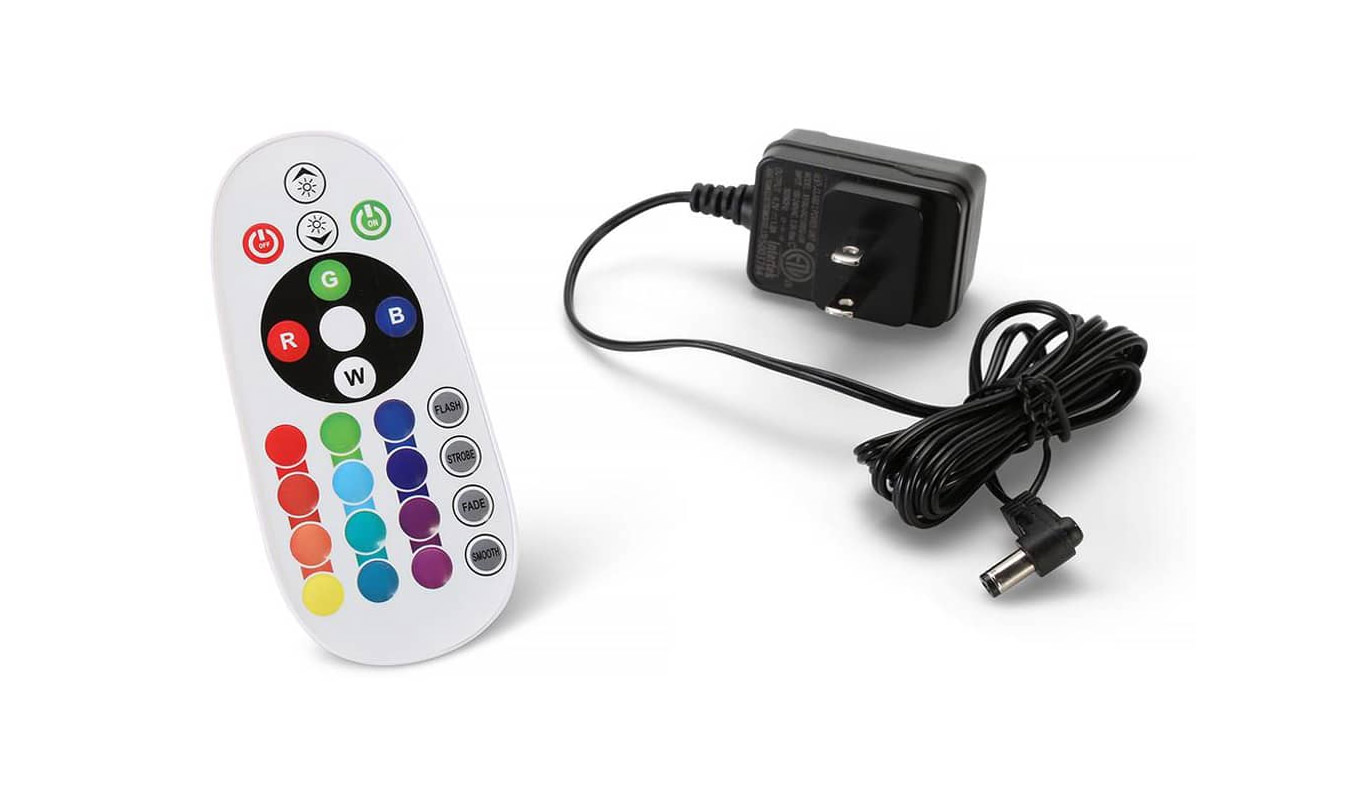 There's even an illuminating cocktail table that you can get to place in-between your illuminating chairs for the ultimate poolside experience!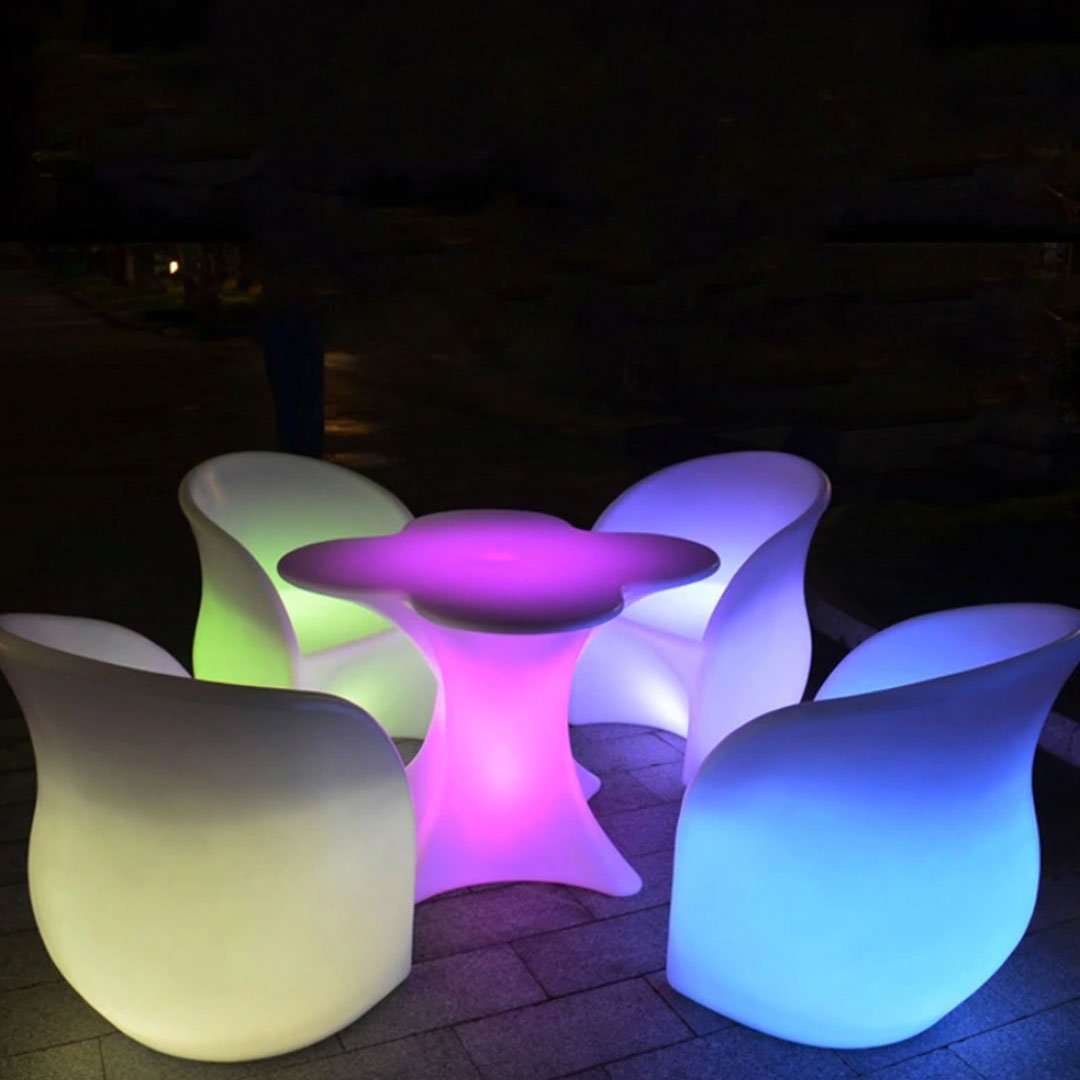 Get the table here
Each of the illuminating chairs can support up to 300 lbs and has an IP65 water-resistance rating!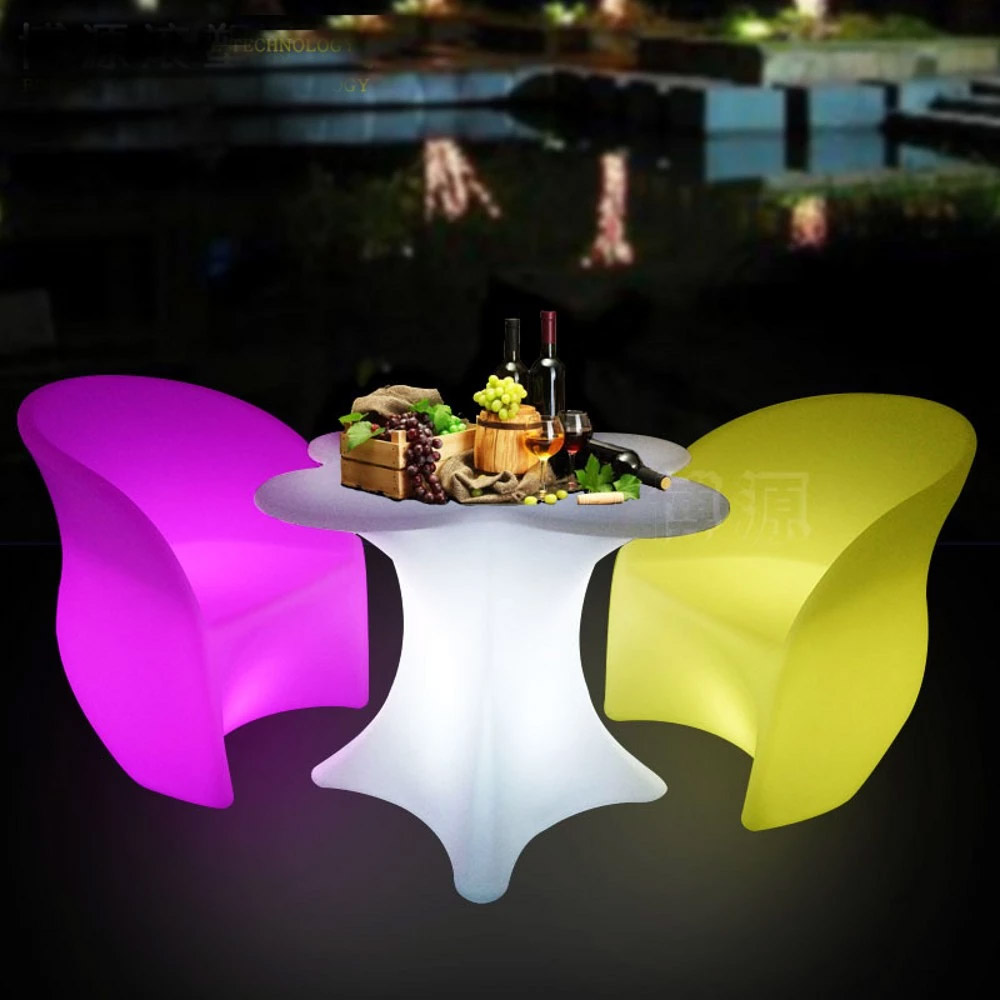 Both the illuminating chairs and table contain an internal battery that once is fully charged can be used wirelessly for up to 24 hours! Just charge it during the day for nighttime use!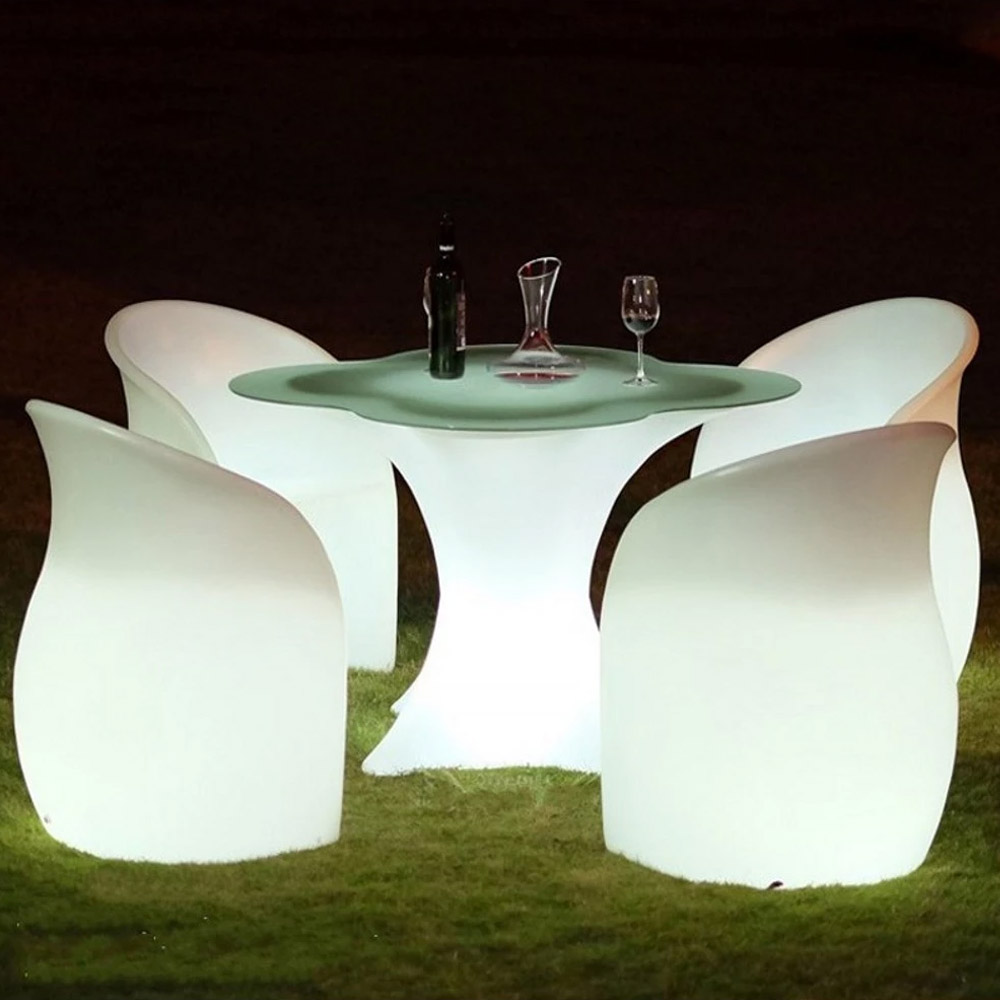 The illuminating cocktail table measures 37.5 inches tall x 30.7 inches in diameter!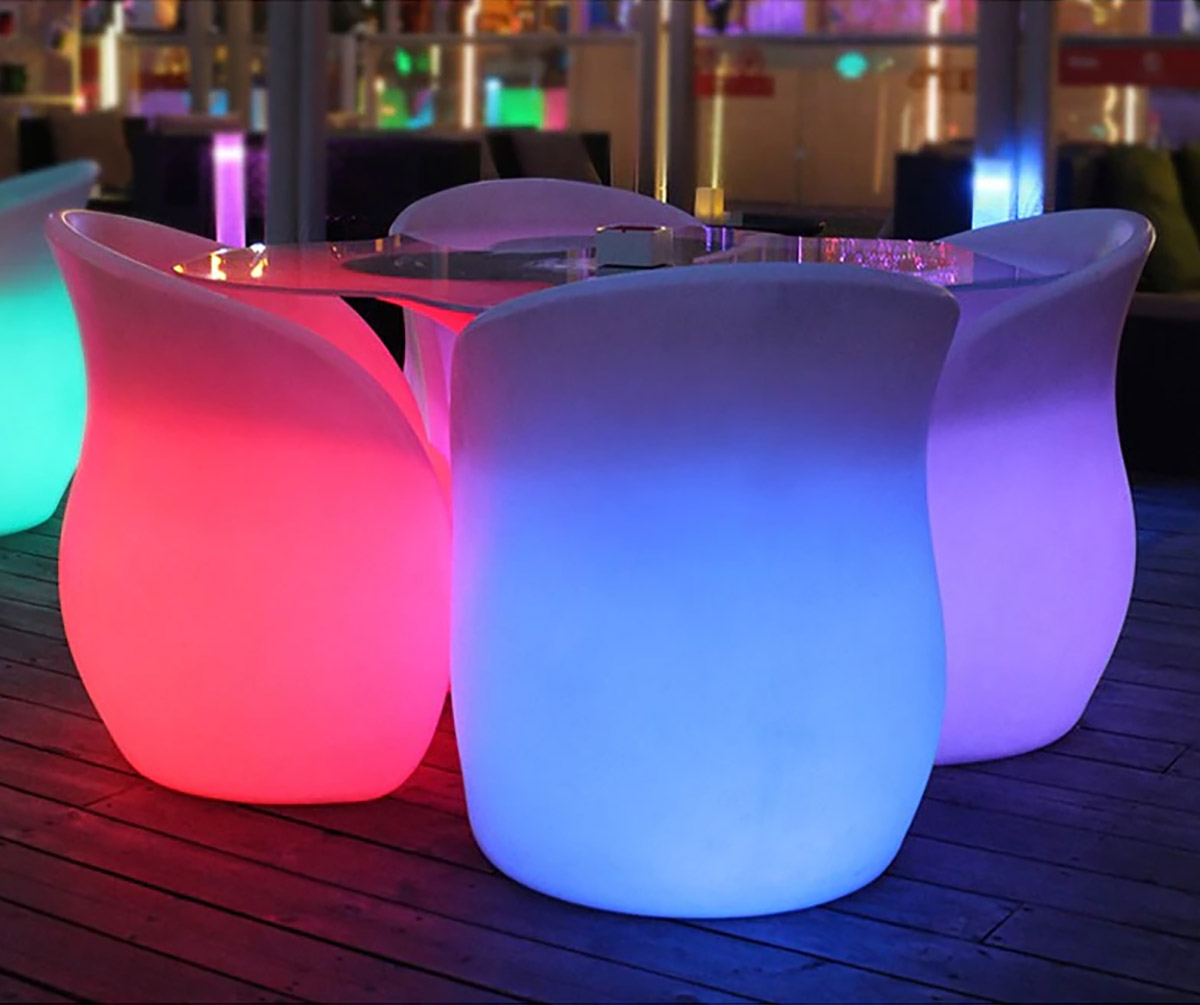 When fully placed together, the illuminating chairs and illuminating table makes a perfect addition to any poolside area, or for use in weddings, parties, and more!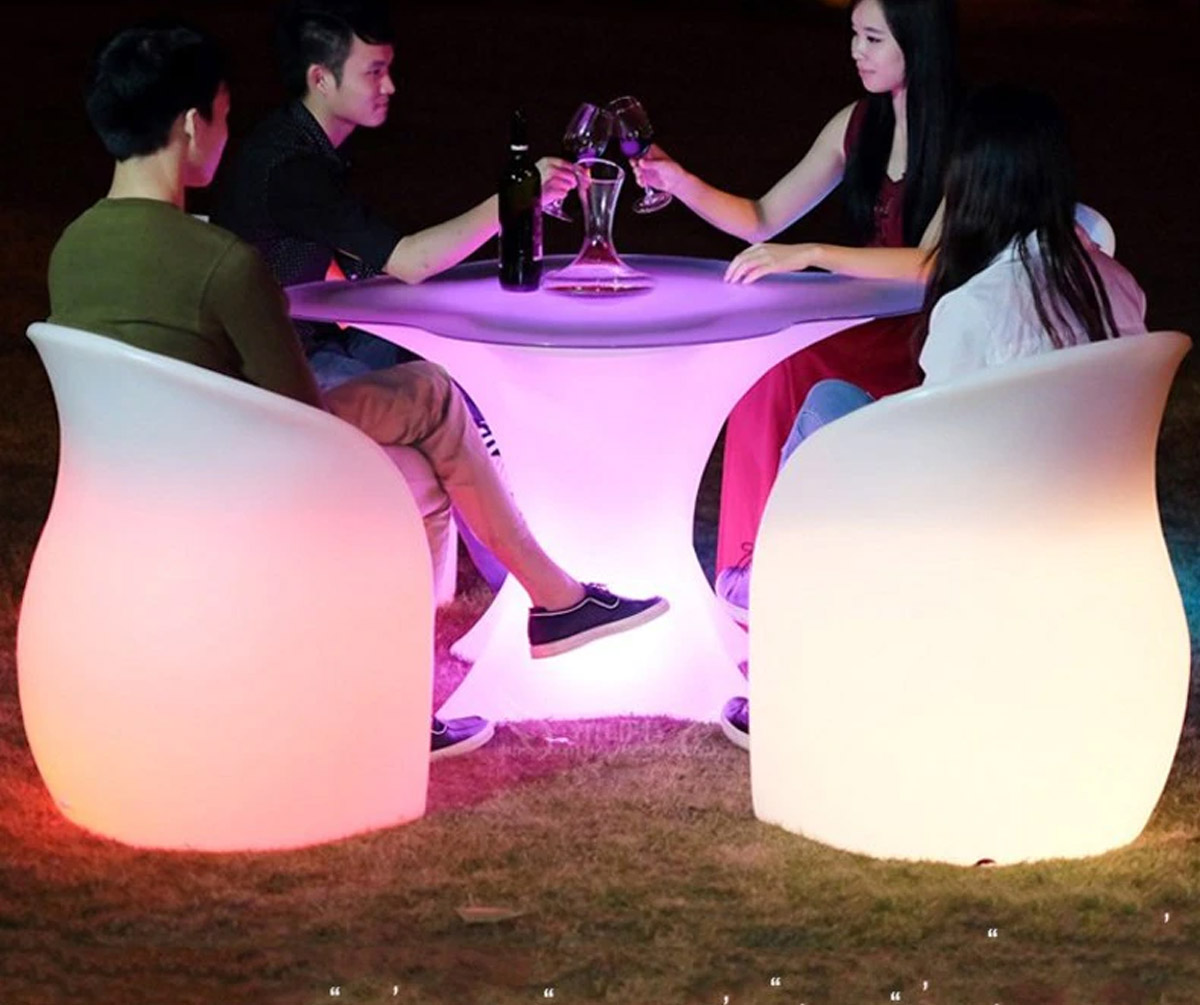 The colorful fluorescent outdoor chairs can be set to display a solid color, cycle through 16 different colors, as well as flash or fade colors at various speeds! All of which is controlled using the included remote control!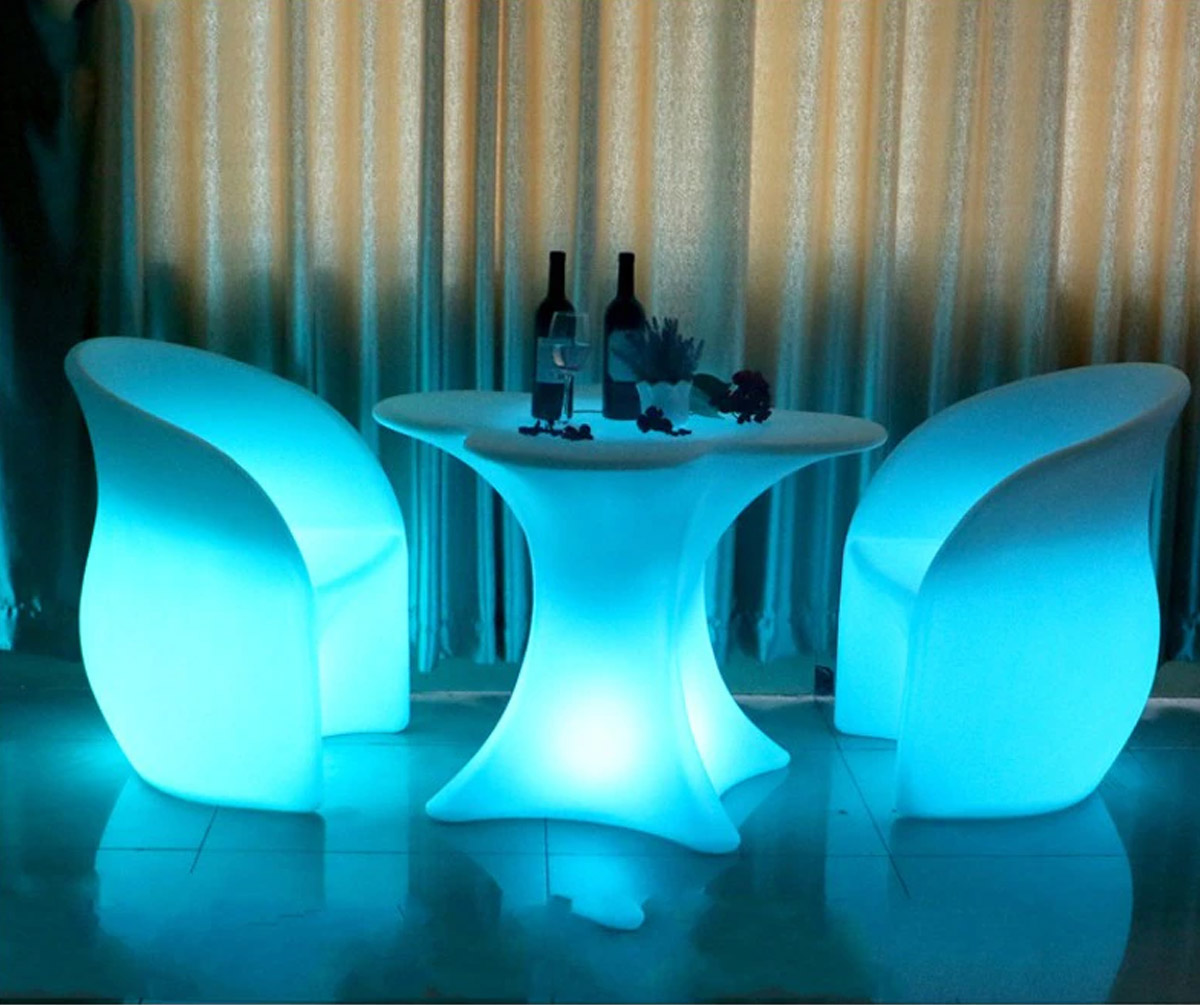 Check out the Illumichair color changing poolside chair in action via the video below.

Subscribe To Our YouTube Channel