This Human Body Lego Set is the Perfect Blend of Educational and Entertaining
By Ryan on 10/24/2023 9:10 AM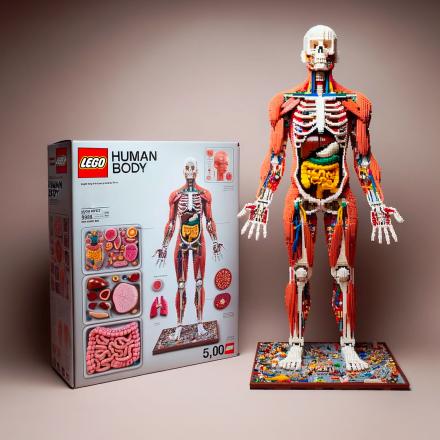 Imagine a world where biology class meets brick-building fun. This is exactly what the latest LEGO set, named the "Human Body", offers. A marvelous mashup of learning and laughter, let's dive into this fictional (but oh-so-desired) set!
If you've ever wondered, "How do my insides work?", LEGO's got your back, quite literally. Part of their educational series, the "Human Body" set allows you to deep-dive into the inner workings of, well, you! This set is recommended for those aged 14 and above, making it perfect for teenagers and adults alike.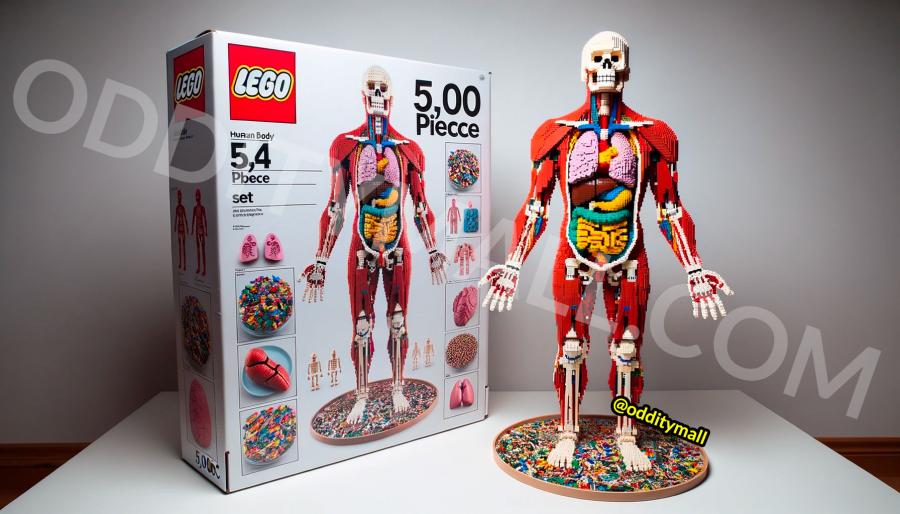 At the heart (pun intended) of the set is the articulated LEGO skeleton, featuring movable joints. Feeling it's a bone-chilling experience? Add some flesh to those bones! The separated muscle groups come in vivid colors, simplifying the process of identification. But wait, there's more! This set brings a smorgasbord of modular organs. Ever wanted to see what the liver does when you eat that extra piece of chocolate? Pop it in! Or maybe you're curious about how your lungs handle that morning jog? Slide them right into the chest cavity. One of the most jaw-dropping features? Clear outer "skin" bricks. These transparent wonders let you peek into the bustling metropolis of the human body. It's like having X-ray vision, minus the radiation! Sub-sets in the package cater to various body systems, from skeletal to digestive. Trust us; you'll be digesting a lot of cool facts! There's an educational booklet that's anything but boring. Page after page, it explains each tiny detail of human anatomy, all in relation to their LEGO doppelgangers. Size does matter! Standing proudly at 2 feet, this LEGO figure is not just any desk toy. It's a conversation starter! Ever wanted your veins to sparkle? With the transparent LEGO bricks that represent veins and arteries, they will! And the neural pathways? They glow in the dark. It's safe to say, this set sure knows how to shine! Getting hands-on with the interactive features is a blast. Pump the LEGO heart and watch as tiny balls (AKA blood) circulate. And that diaphragm? It moves up and down, just like when you're belting out those shower tunes. For the tech-savvy out there, there's a sprinkle of magic, AKA Augmented Reality (AR). Pair it with an app, and suddenly your LEGO human is alive, showcasing animated body functions. And if you're feeling smarty-pants, there are quizzes! This isn't just child's play. The build difficulty is labeled as 'Advanced', so expect to flex those brain muscles! The packaging is a sight for sore eyes. The box art is reminiscent of peel-back anatomy books, with layers unfolding to expose the wondrous world within. A nifty QR code ensures you're just a scan away from digital instructions and the AR app. For those wanting to immerse themselves even more, LEGO plans to host educational workshops worldwide. Imagine an evening of anatomical adventures, all in the company of fellow LEGO enthusiasts! Diversity is the spice of life, and this set knows it. Offering bricks in various skin-tones, builders can customize the model to mirror multiple ethnicities. For such a mammoth set, the price tag will likely be on the steeper side, reflecting its grandeur and stunning details of the human body. Hungry for more? Future expansion sets might take you deeper into uncharted territories like rare diseases and groundbreaking treatments, or perhaps dive deeper into certain organs like the brain or heart. Now, before you rush off to the nearest store for a Human Anatomy lego set, here's a little twist: This Human Body LEGO set is purely hypothetical. Yep, it doesn't exist (yet). But, oh, how we wish it did! If the images dancing in your mind are anything to go by, this would be a showstopper. So, here's hoping LEGO gets a whiff of this idea and makes our brick-building dreams come true! When the Human Body Lego set does become available in the future (hopefully), you'll definitely be able to find it on Amazon!