We Found The Coolest Giant Inflatable Games You Can Actually Buy
By Ryan on 05/29/2019 1:10 PM (Updated: 05/29/2019 3:17 PM)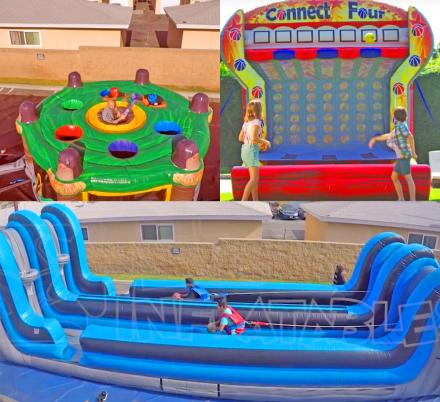 Does the phrase "jump house" or "jump jump" bring up fond memories for you? The world of inflatable toys has come a long way and now you can do pretty much anything you can imagine with an inflatable game. Batting and target practice, drum battles, human wak-a-mole...the possibilities are nearly endless.
Whether you're looking for a work out (like you get in a traditional jump house), wanting something musical, or something more subdued you're sure to find an inflatable version of it. Check out this list of fun inflatable games that will keep you bouncing for joy. All of these giant inflatable games are made by EZ Inflatables, check out their whole catalog here.
Human Wak-A-Mole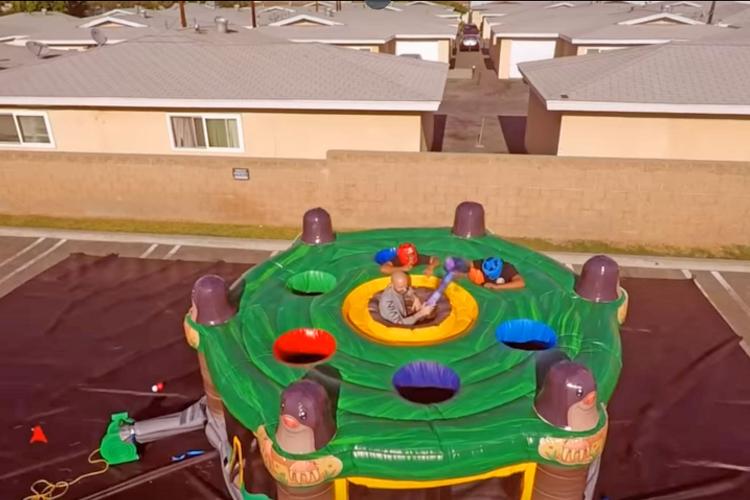 Who hasn't wanted to take a little aggression out on their friends? With this human Wak-A-Mole game the moles try to collect as many balls as they can while trying to avoid being whacked!
Zap-A-Mole Is Like a Light Up Version Of Wak-A-Mole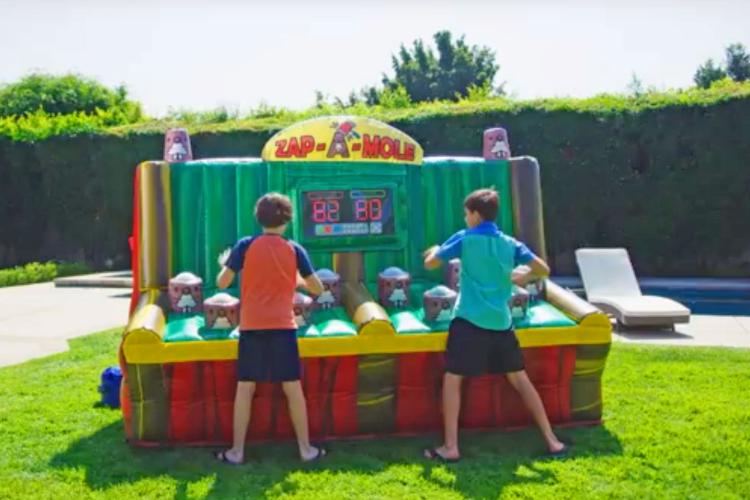 If you're too gentle to whack your friends, try Zap-A-Mole where the moles light up and you race against an opponent to zap as many moles as you can.
Human Hungry, Hungry Hippos Game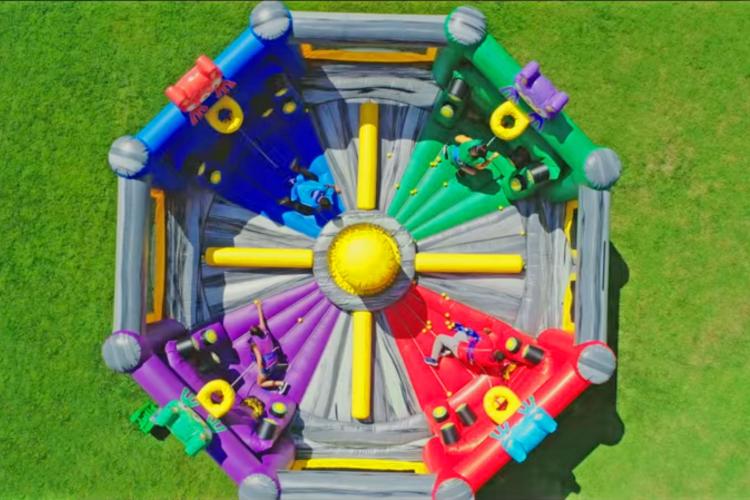 You can now play in a life-size game of Hungry Hungry Hippos. This game comes with two ways to play. First the original where you are tethered to the outside and you run and try to "eat" as many balls as possible. The other way is to tether yourself to the inside and try to dunk as many balls as you can.
Toxic Crush Obstacle Course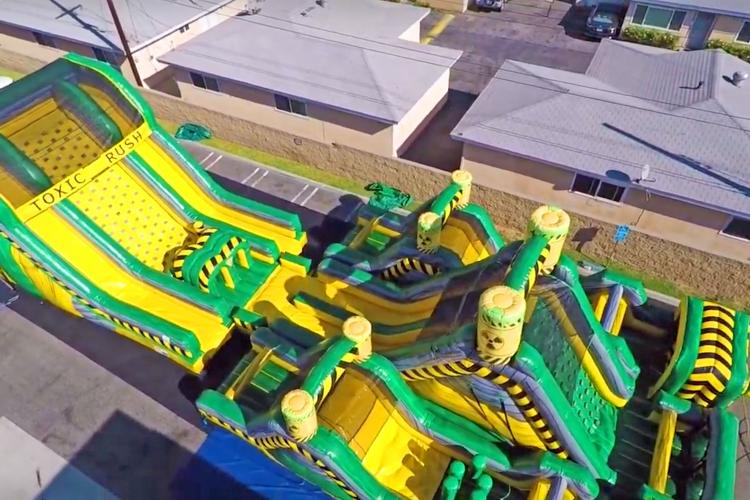 What better way to wear your kids (and yourself) out than with this obstacle course. You'll have to squeeze, jump, and dodge your way to the end while trying to beat the best time to win!
Inflatable Drum Set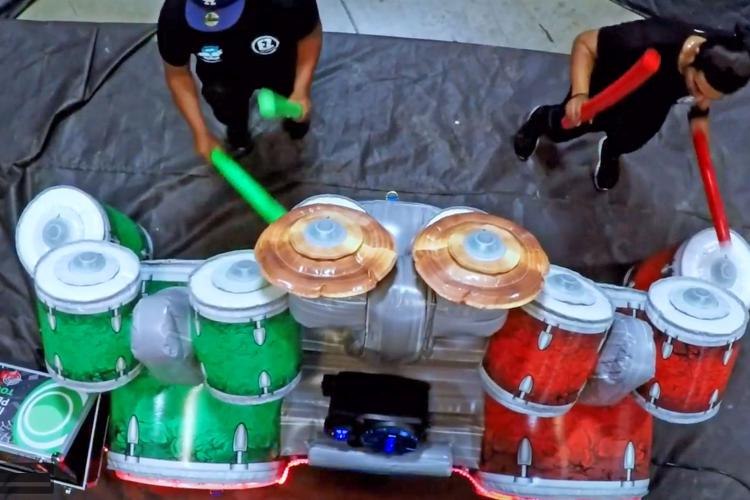 If one minute you want your DJ to bring those funky beats and then next you would like peace and quiet you need these drums in your life. Inflate and get playing, and when you need your sanity back, you just deflate and store away.
Football Pass Game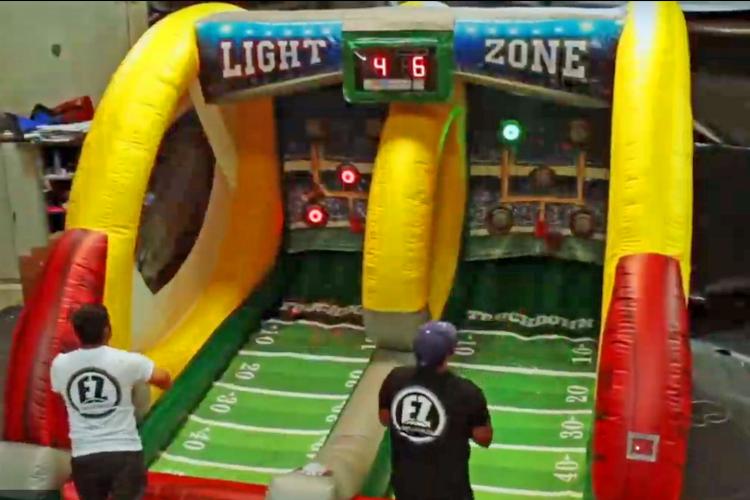 The pros will be calling after you've practiced with this game. The goal is to throw the football at the lights and score more points than your competitor. Winner will get to flaunt their end-zone dance so make sure it's a good one.
DJ Bounce Party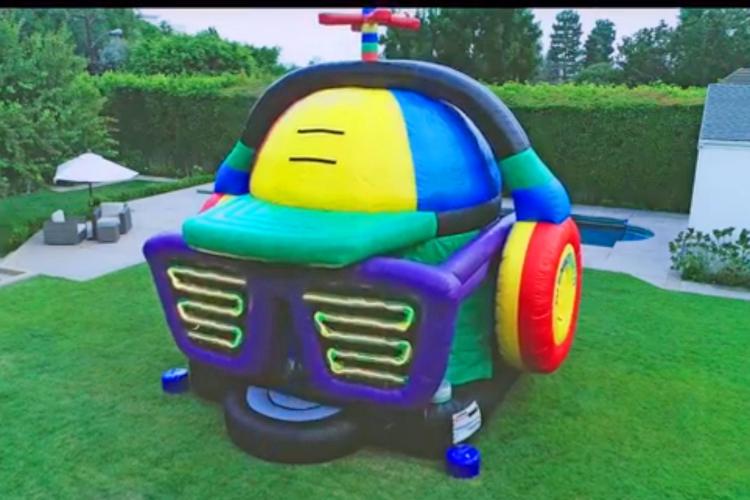 The traditional bounce house gets an upgrade with the DJ Bounce House. Notice the helicopter hat, sweet headphones and cool shades. On the inside your standard bounce house gets an upgrade with a basketball hoop.
Hamster Ball Race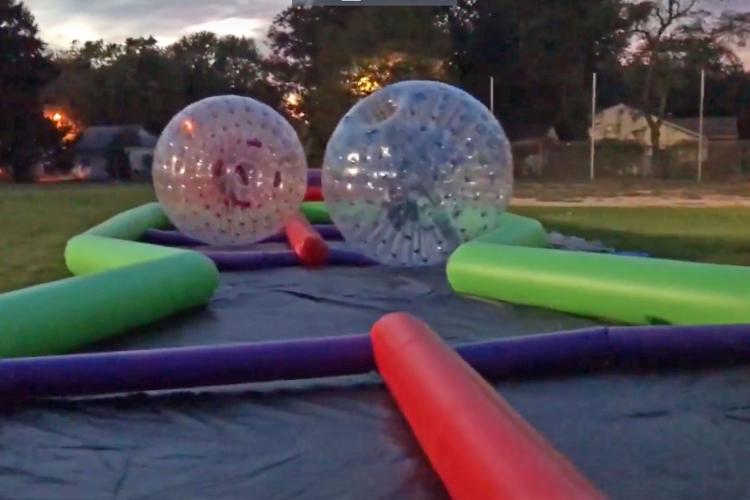 Get in your hamster ball and run against an opponent to see who can get to the finish line first!
Bungee Basketball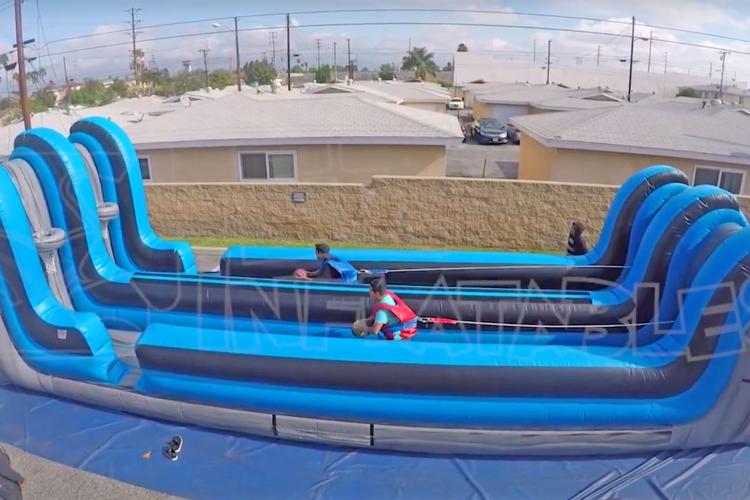 Race against your partner and against the bungee attached to you and try to make as many baskets as you can.
Basketball Shootout Challenge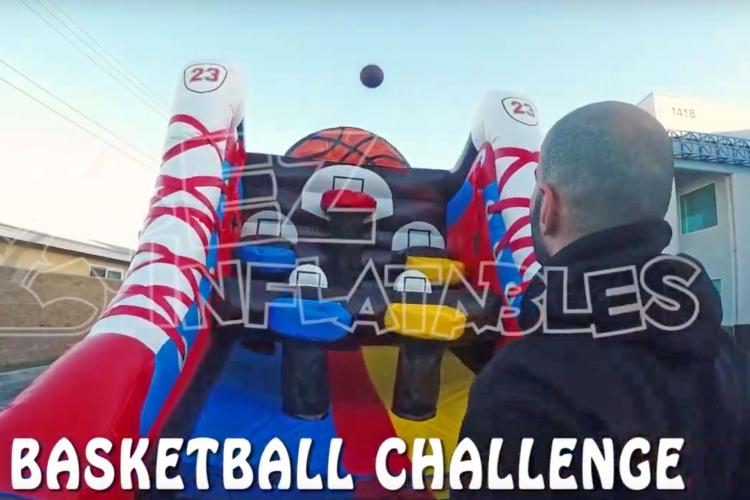 Challenge your friends to a shootout with this inflatable basketball game.
Basketball Connect Four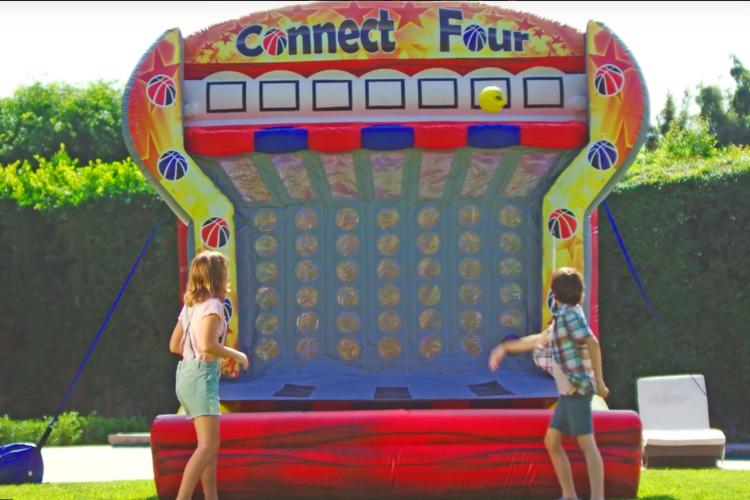 This game combines your basketball skills with your Connect 4 strategy skills!
Skee Ball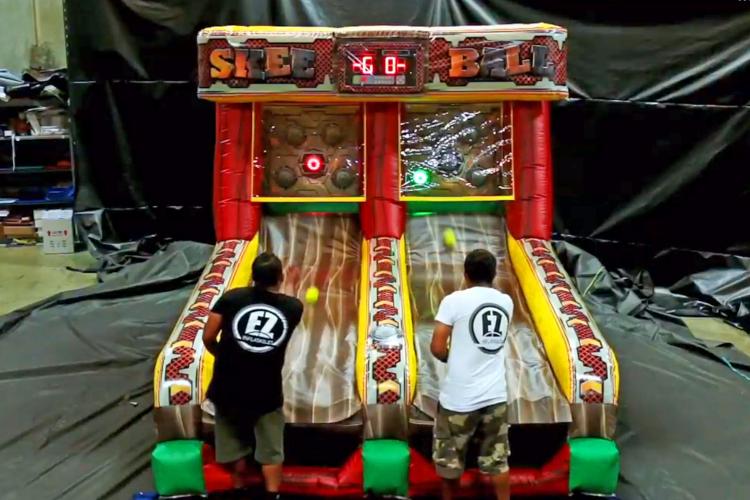 Become a Skee Ball champion by throwing your ball at the lighted target. The one with the most points at the end wins!
Human Foosball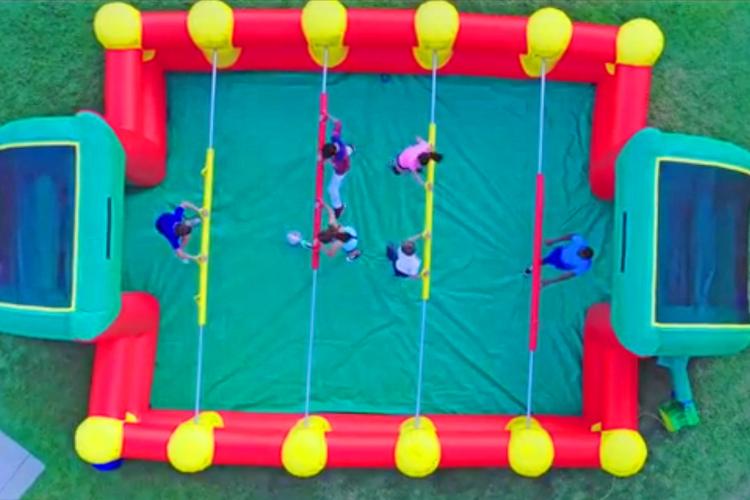 Why let a little wood man do the work you could do yourself. With this inflatable game you get to work as a team to dominate your opponent, foosball style.
Four Man Joust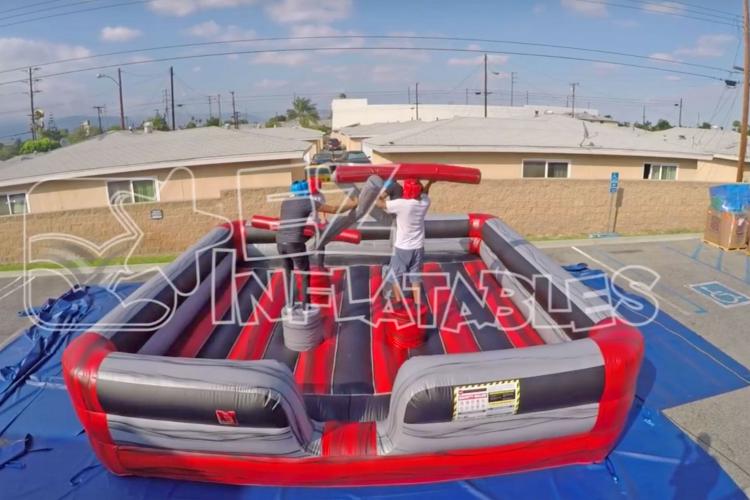 Jousting has gone to the next level with this inflatable game. Rather than a one-on-one match, this game lets you team up and fight your friends "to the death".
Target Nerf Wars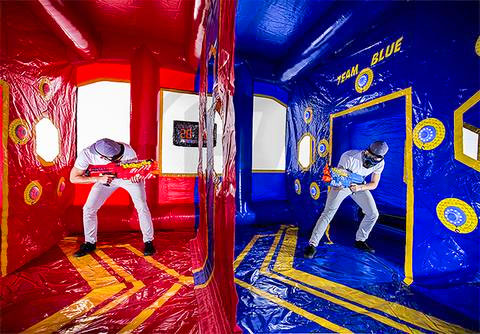 Use the Nerf-style guns to shoot your targets while trying to protect yours! This game can be played mano a mano or in teams.
Shooting Gallery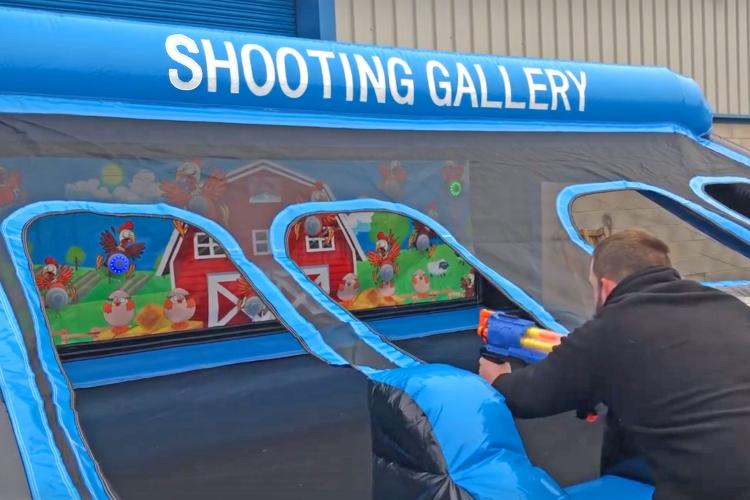 Who needs clay pigeons when you can practice your aim with this inflatable shooting game. Use a Nerf-like gun to shoot at targets as they light up. And what's better is you can compete against up to three friends to see who's the better aim. It comes with four backdrops so select the scene that works best for you!
Target Practice That Can Be Used With Any Kind Of Ball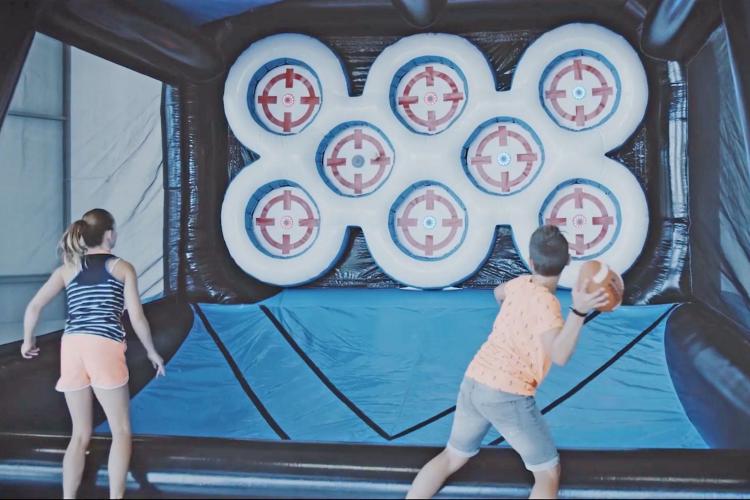 Practice your aim with anything that flies through the air - baseball, arrow, Nerf ball, soccer ball...the list can go on and on. Just get your projectile to hit the lighted target and rack up points.
Soccer Darts + Movie Screen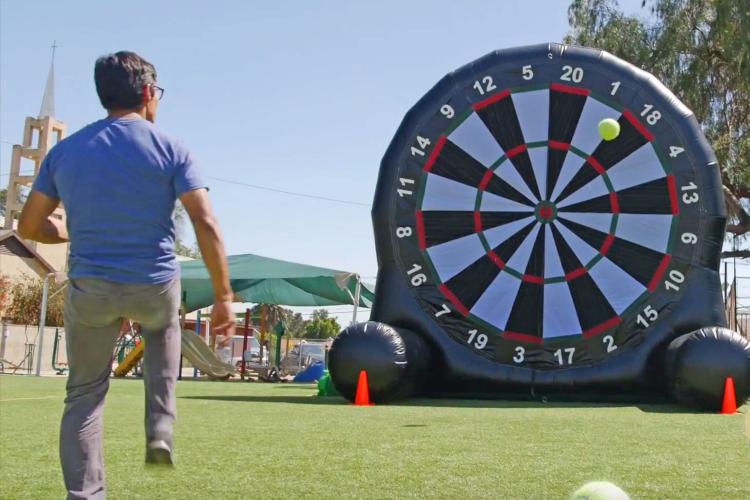 With this game you can combine darts and soccer...bring on the cricket and 501! But what's even more amazing is this game does double duty - on the back is a screen that will let you project and watch movies outside! What a great way to relax after you kick some soccer cricket butt.
Carnival Games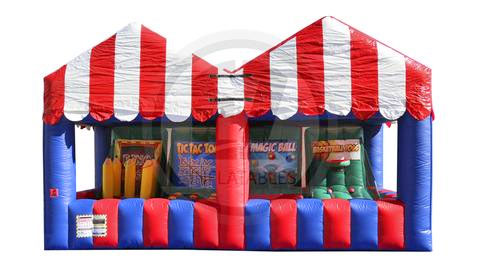 Create your own carnival in your backyard with this inflatable game. It comes with the following carnival games that you can switch in and out to create your own carnival booth...all you need now is the carnie to run it!
Magic Ball
Tic Tac Toe
Ring Toss
Roll Ball
Saloon Shootout
Snuffle Balls
Basketball Toss
Ball Toss
Pinko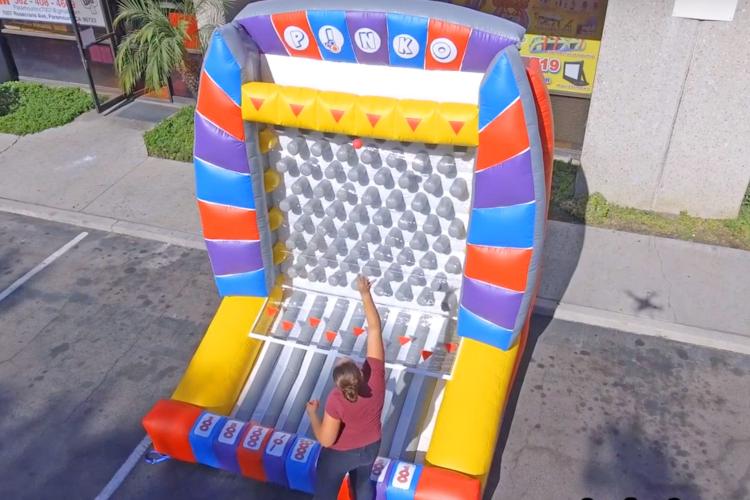 Who doesn't get satisfaction out of a good "plinko" run. With this inflatable "plinko" game you can lose hours tossing and watching your ball fall. Fun for one or fun for all!
Check out the rest of the giant inflatable games that we missed here.
Subscribe To Our YouTube Channel