These Floating Sports Stadium Concepts Can Move To Wherever They're Needed
By Ryan on 12/15/2022 10:32 AM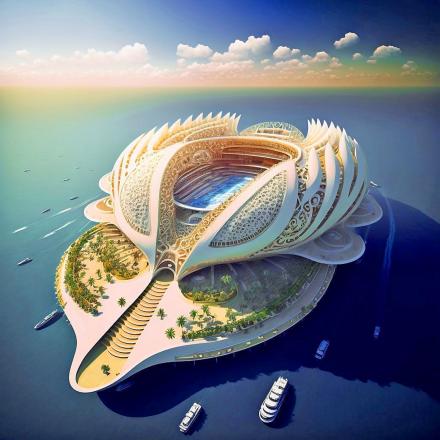 We've seen our fair share of floating cities, superyachts and other highly innovative marine concepts of the future here at Odditymall, but this next feature comes in a timely fashion with the 2022 Qatar World Cup in full swing. If you've ever wanted to take a cruise liner out to a giant aquamarine sports stadium to see the World Cup, well, these next floating city concepts could be your best bet.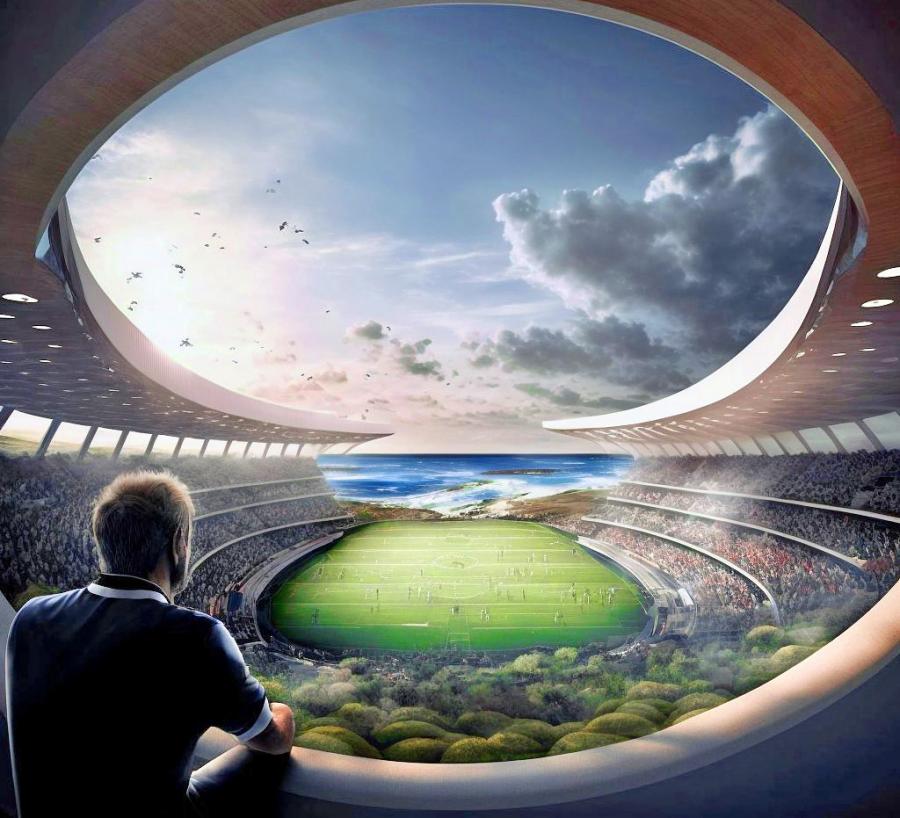 Credit: Vincent Callebaut
These floating sports stadium concepts from Vincent Callebaut Architecture were shared on Instagram, and they're all absolutely stunning.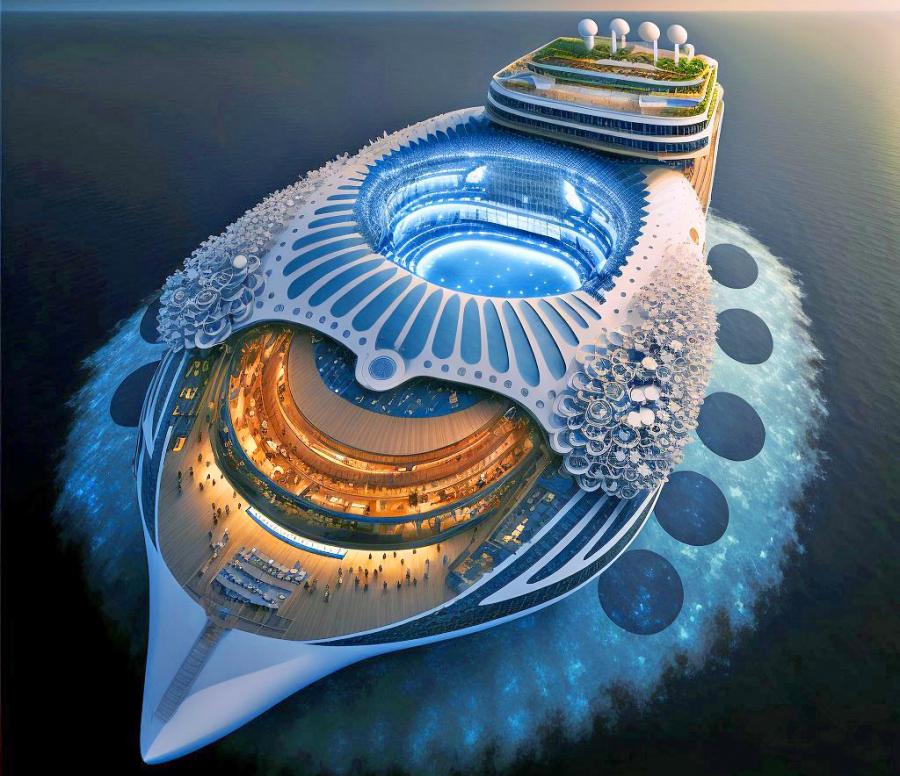 Credit: Vincent Callebaut
Dubbed "Oceanimus" by the architecture firm, the floating sports arenas look like massive yachts with several different decks and features, all surrounding open-top sports stadiums with enough bleachers for what appear to be tens of thousands of people. Credit: Vincent Callebaut
According to the post's caption, these floating sports stadium concepts were created to be completely nomadic at sea, and would be meant to offer low-carbon community hubs based on renewable energy.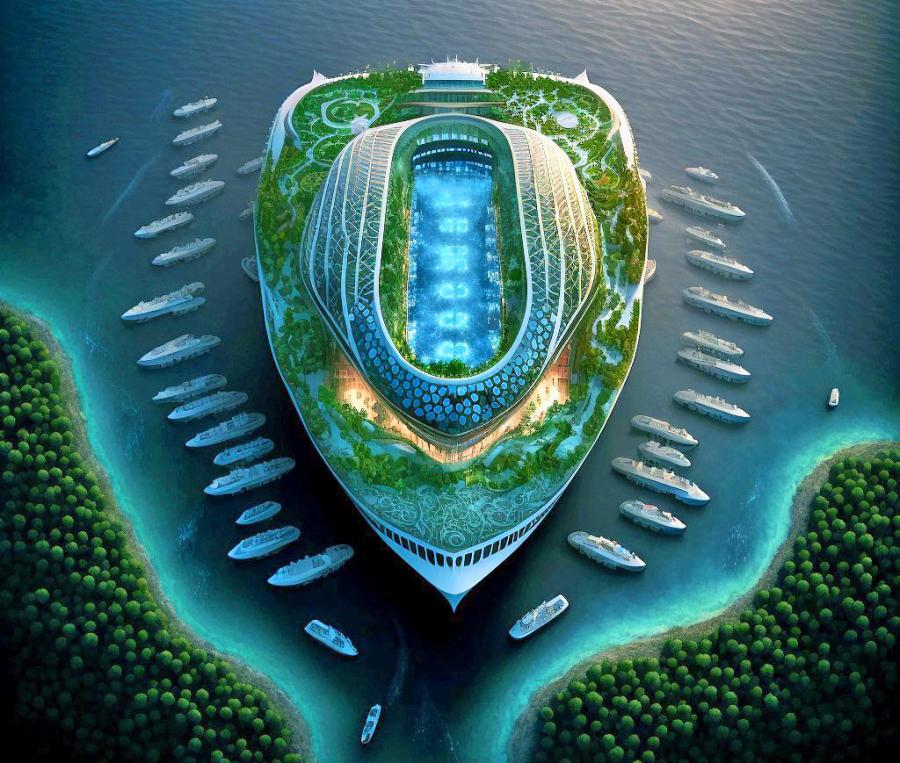 Credit: Vincent Callebaut
The designers write that the biomimetic generation of floating and sustainable sports stadiums were created as a potential alternative to "perpetually building new stadiums for each new World Cup and Olympic Games."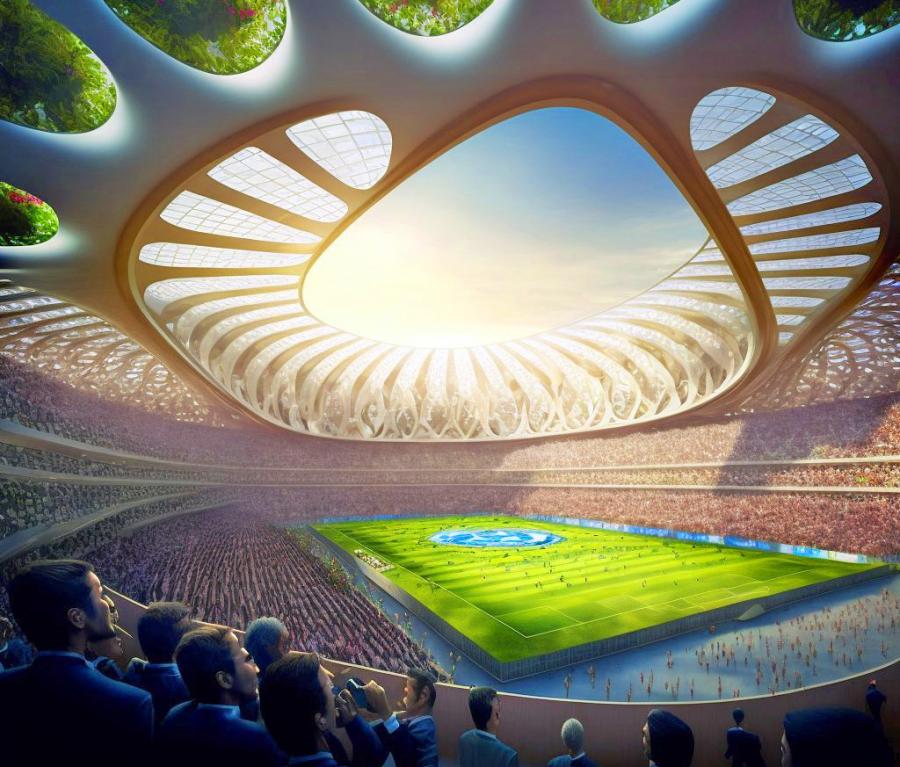 Credit: Vincent Callebaut
These floating sustainable city designs are considered half-boat, half-stadium by the firm, using renewable energy sources such as solar radiation energy, wind and natural ocean currents to be propelled around the Earth.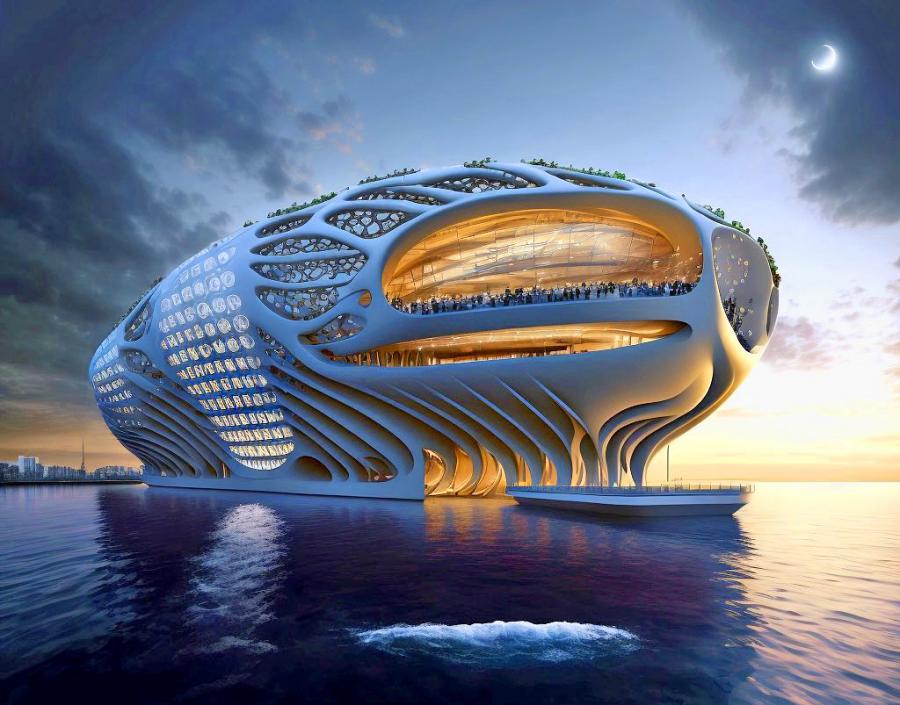 Credit: Vincent Callebaut
The company also says the sustainable floating stadiums would be built with only biosourced and recycled materials, some of which would include plastic waste from the ocean, solid wood, recycled aluminum, green algae.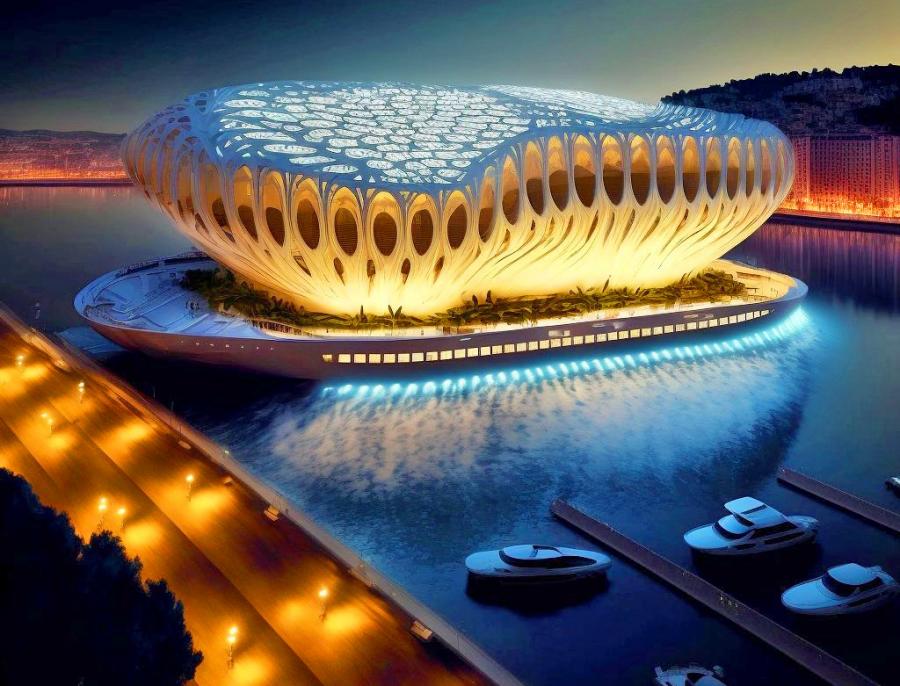 Credit: Vincent Callebaut
Using 3D printers, AI processors and enhanced predictive learning algorithms, the firm says it would produce the stadium out of the ocean-recycled plastic using new tools to limit human and environmental risks.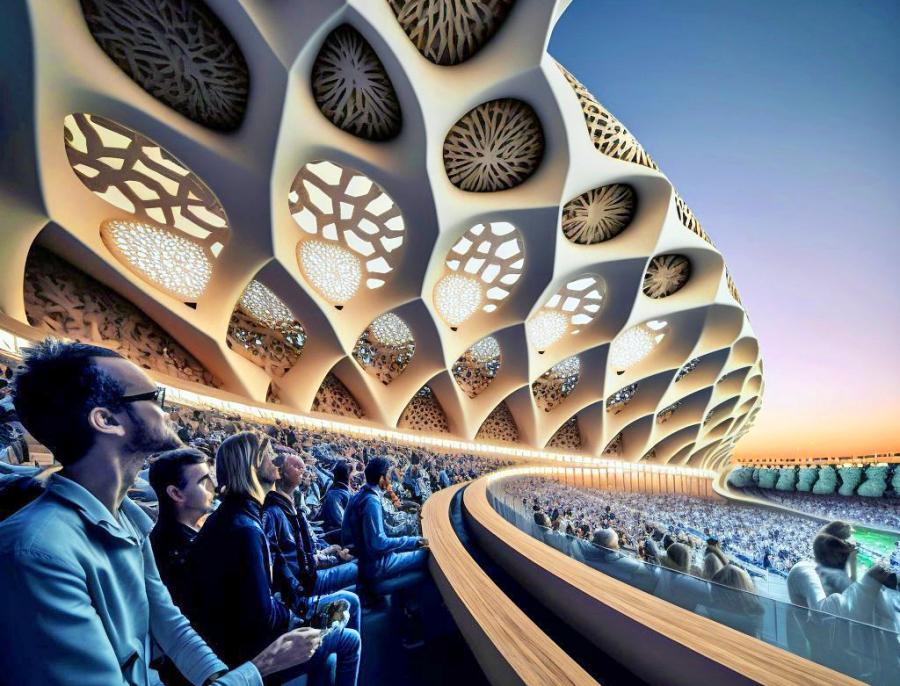 Credit: Vincent Callebaut
The photos of the various sustainable floating stadium design concepts show huge outer socializing decks away from the sports arena and near the ocean.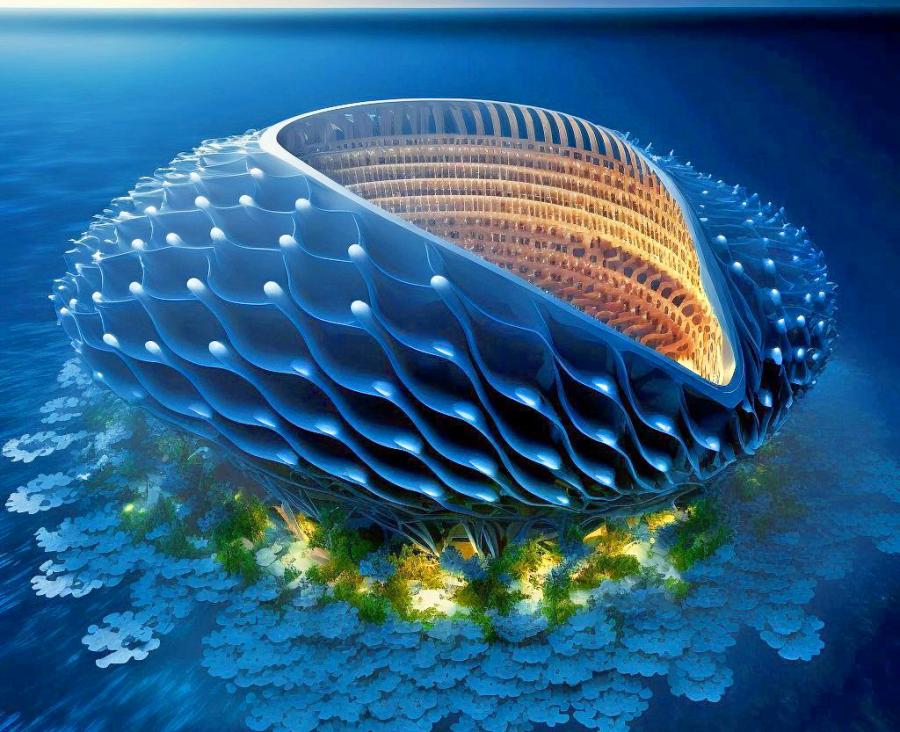 Credit: Vincent Callebaut
Some of the sustainable floating city designs also include huge upper decks seemingly dedicated to renewable energy, plant life and other related endeavors.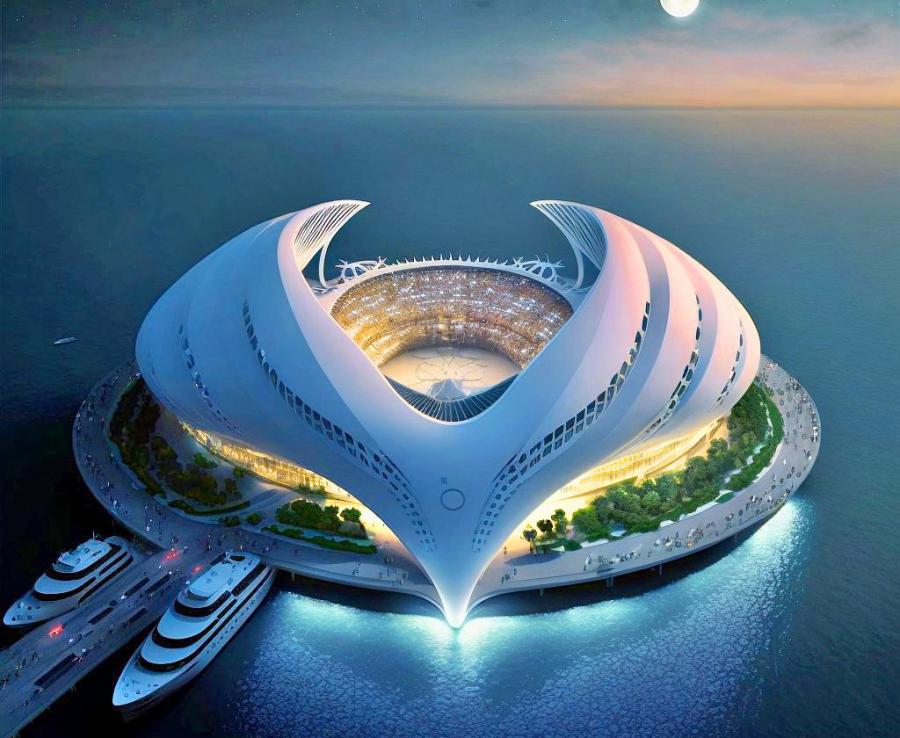 Credit: Vincent Callebaut
Interestingly, many of the designs also incorporate plant life throughout the stadium and hangout areas, with some of the digital drawings including seats near forested areas, huge plant life centers surrounding the sustainable stadiums, or incredible plant life roofing areas that look to provide ecological benefit, as well as a generally green aura of light throughout the arena.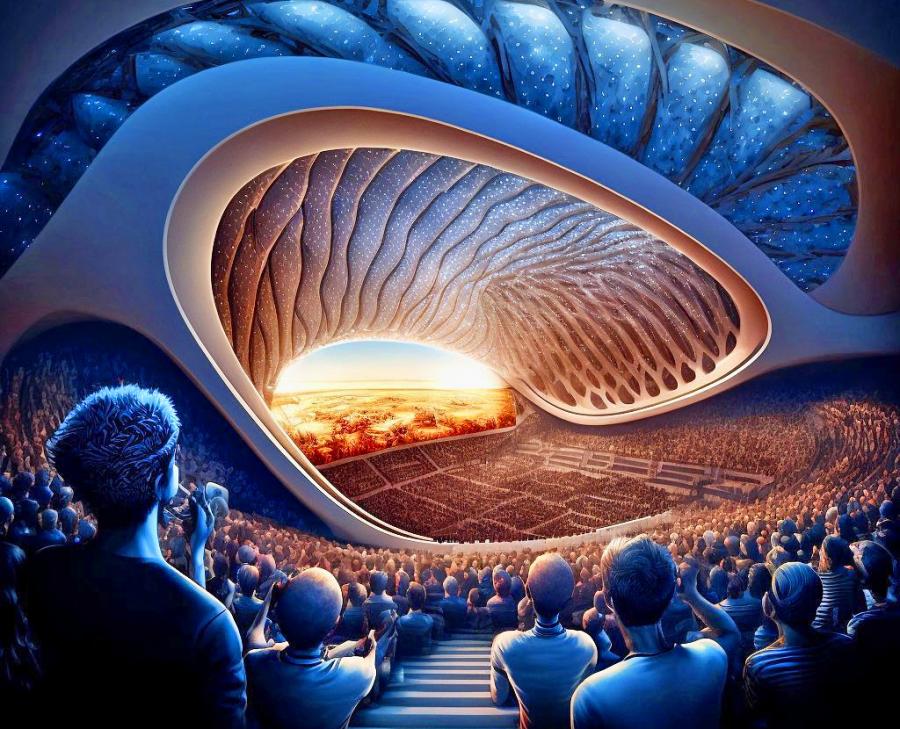 Credit: Vincent Callebaut
One of the floating stadium designs includes a beautiful, tentacle-like port area surrounding the stadium's exterior, with a number of boats cruising in at sea from all sides. This floating stadium design also appears to include a forested outer urban area, surrounding a marine sports arena of some sort in the middle.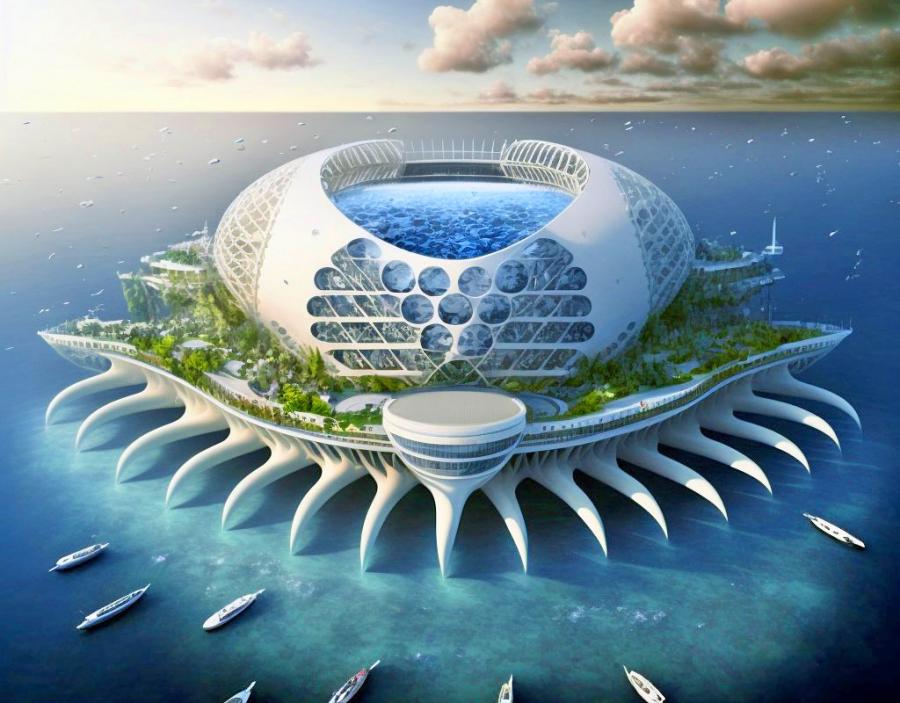 Credit: Vincent Callebaut
The post includes a few other futuristic, environmentally-friendly floating stadium ideas, all of which feature incredible mass-scale architecture concepts.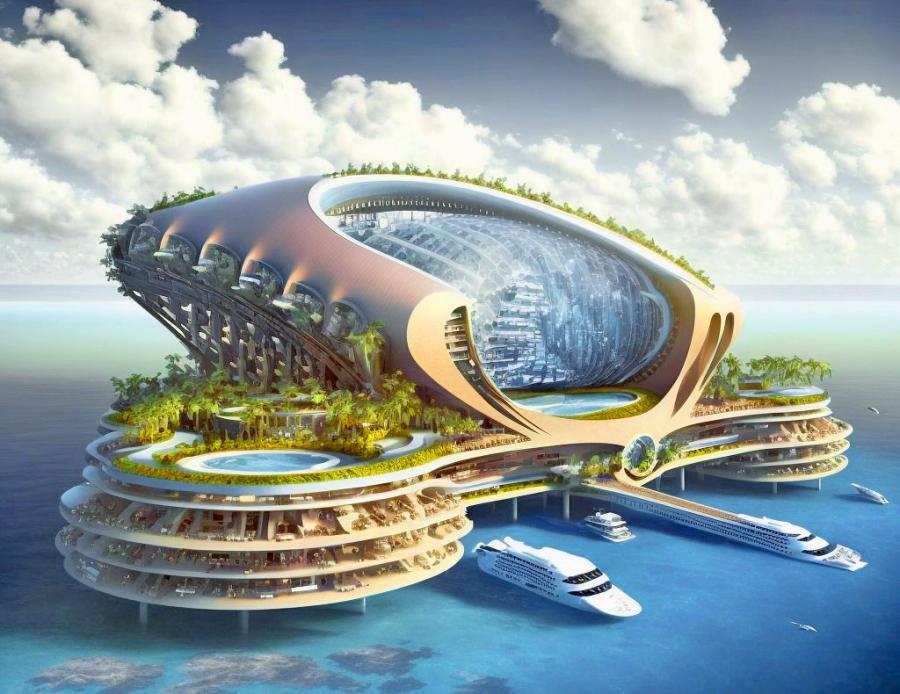 Credit: Vincent Callebaut
Scrolling through the architecture firm's Instagram page a little will yield several more designs and concepts, all centering around the idea of a giant, sustainable stadium at sea.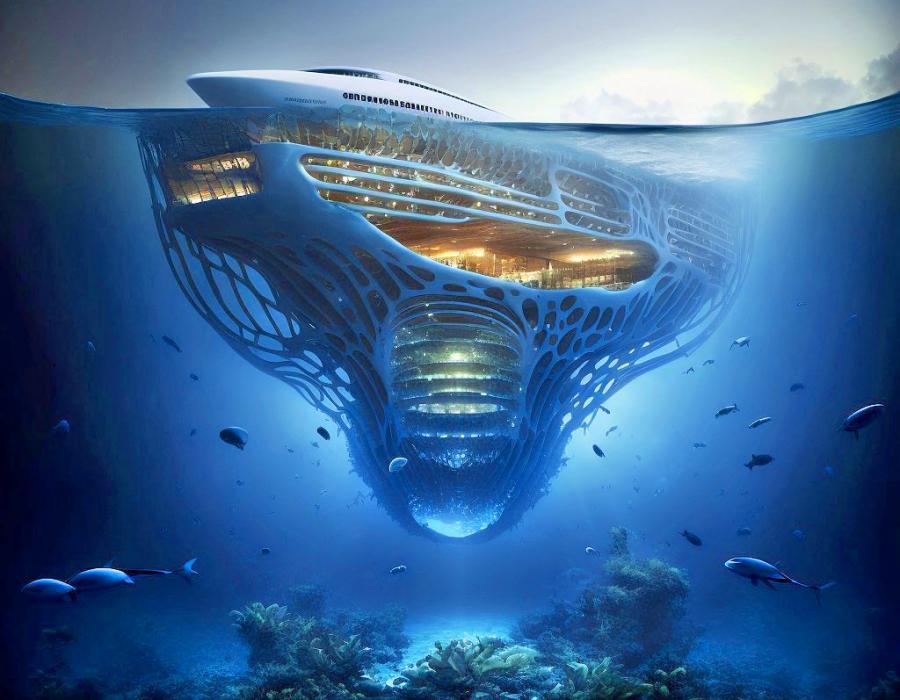 Credit: Vincent Callebaut
Should these floating eco-stadiums ever be built, it's tough to imagine how much labor they would require or how long they would take to build.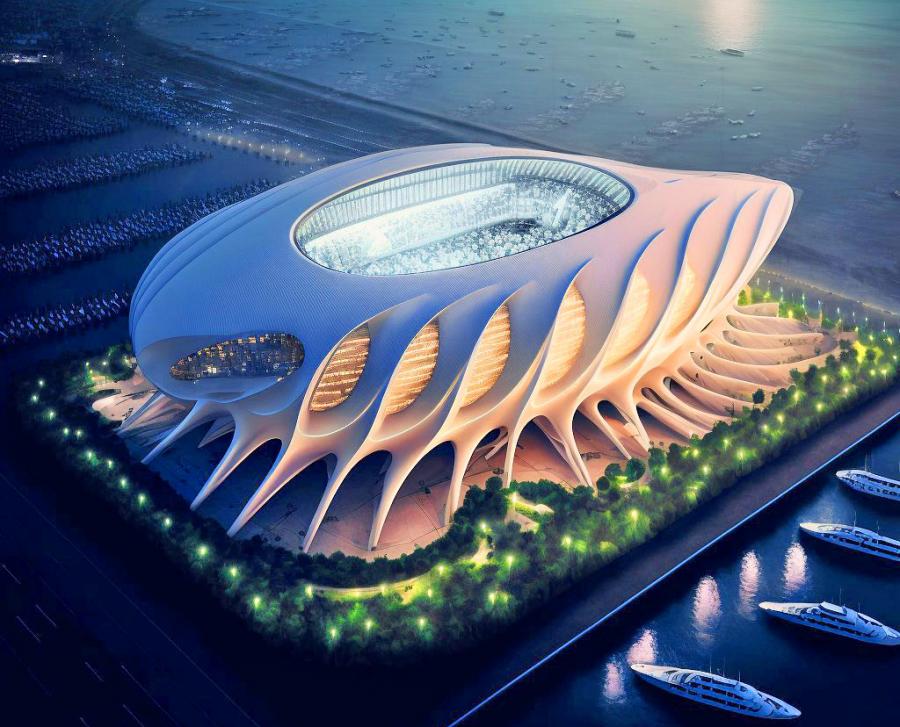 Credit: Vincent Callebaut
But it's hard to deny that if these factors could be fairly addressed and the materials could be as ethically and sustainably sourced as the creators intend for them to be, then these floating stadiums could easily become the future of World Cup and Olympic tournaments, with a more carbon-neutral effect on the planet.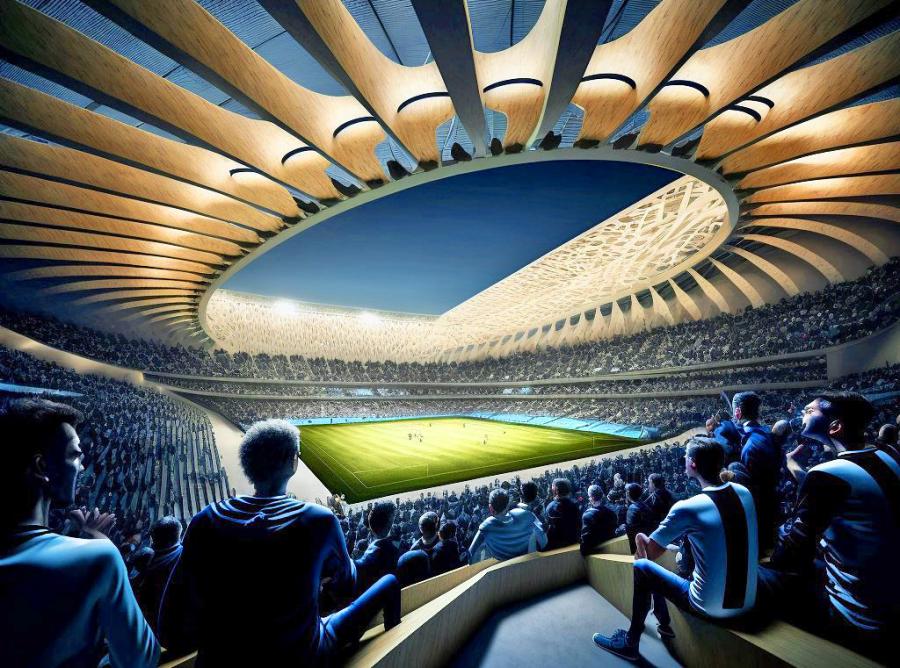 Credit: Vincent Callebaut
The cost of such a massive project to build a floating sports stadium would depend on a variety of factors, including the size and design of the stadium, the materials used, and the location. Additionally, building a superyacht sports stadium would likely require specialized engineering and construction expertise, which could add to the overall cost. You'd have to be looking at costs well over $100 billion!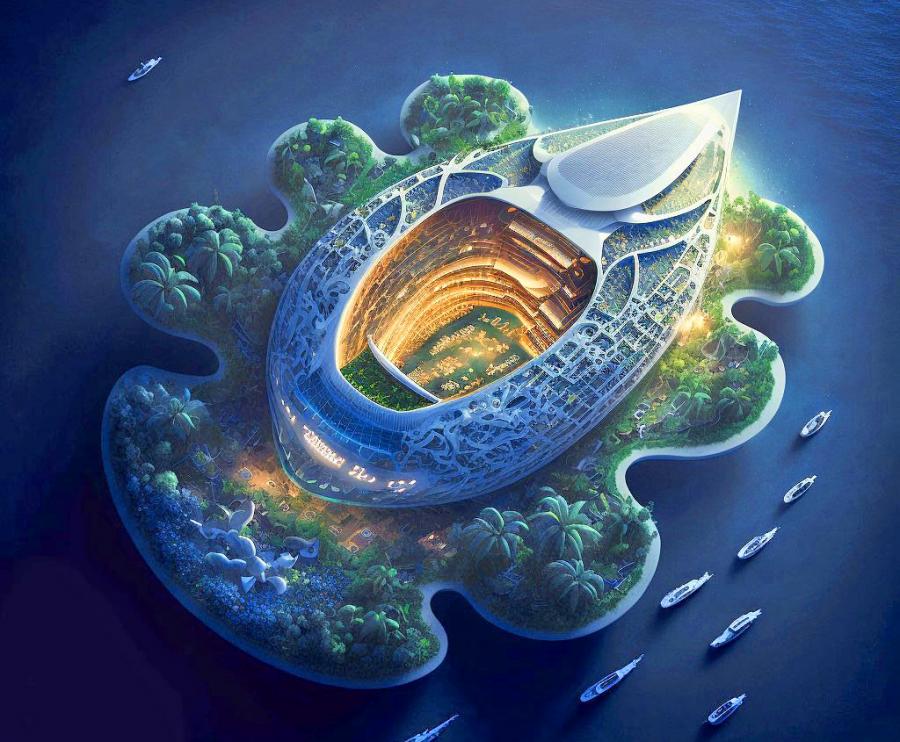 Credit: Vincent Callebaut
Be sure to check out more of the artists work both on their Instagram page as well as their website!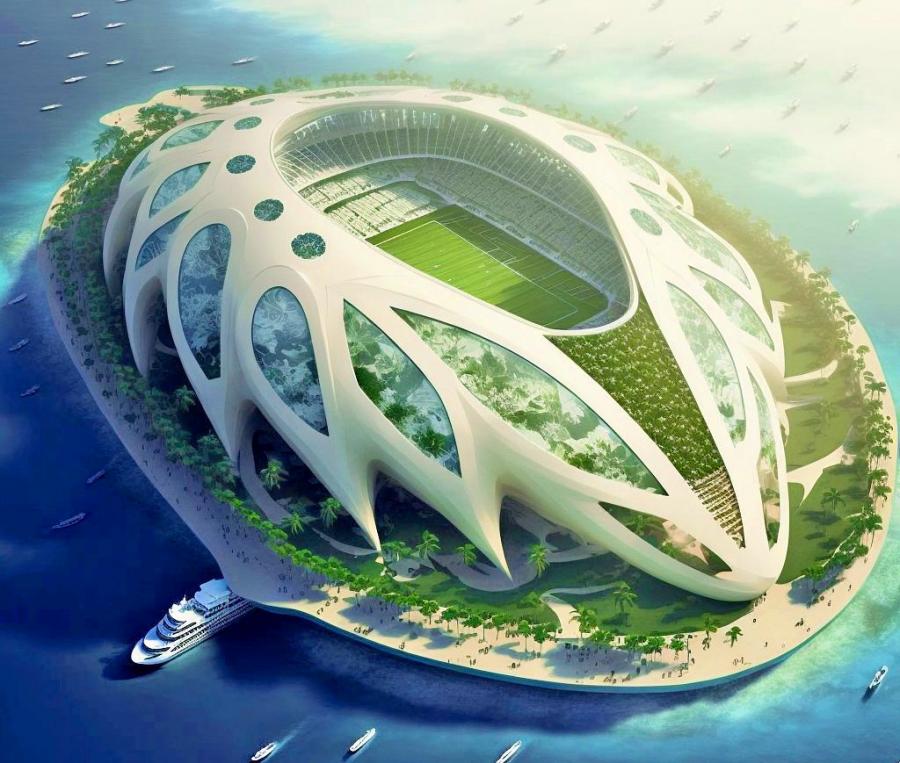 Credit: Vincent Callebaut