Face Coasters Attach To Your Nose, Gives You A Funny Face
Date Published: 02/09/2015 7:48 AM
Buy Now

@Amazon
Find on Ebay

The Gentleman's Club Face Coasters are a set of paper coasters that you can attach to your nose and will give you an awesomely handsome face. The face coasters are double sided so you can choose between 40 different images that give the lower half of your face a new unique look, including an old man, multiple choices of dirty mustaches, a goatee, a full beard, a baby face, sticking your tongue out, broken meth teeth, braces faces, a duck face, and many more. To use it, just simply clip it to the bottom of your nose, and if you like, flip it around for a totally new face.
SITE ANNOUNCEMENT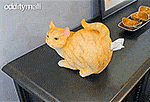 We Are Giving Away 6 Cat Butt Tissue Dispensers
A perfect birthday gift for Mom or Grandma or an excellent party gift, the Gentleman's Club Face Coasters come in a set of 20 reversible coasters, and each one will measure 5.8 inches x 5.8 inches. Check out the funny face coasters in action via the video below.
- Some Images via Reddit