This Funny Lying Down Duck Night-Light Might Make You Relate To It A Little Too Much
By Ryan on 02/03/2023 9:56 AM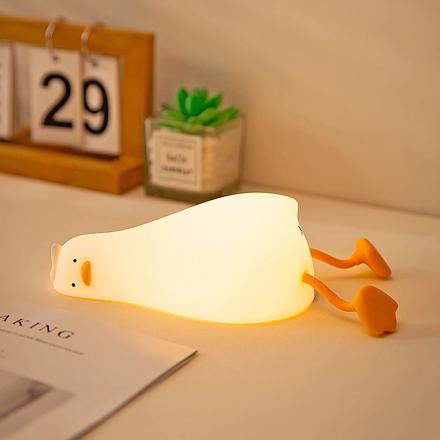 Are you tired of the same old boring night-lights? Well, look no further because this funny duck shaped lamp is here to brighten up your nights! This unique and playful lamp is perfect for those who love to add a touch of humor to their home decor, or for those that might also be going through an existential crisis!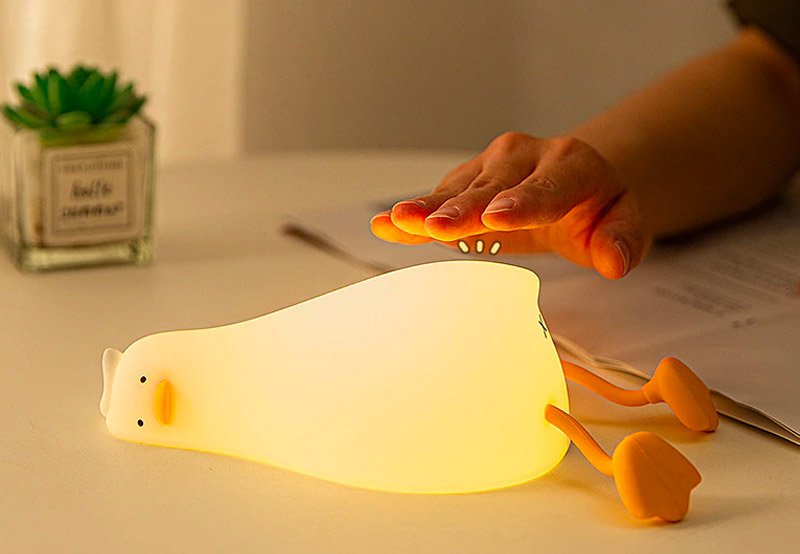 The funny lying down duck lamp is just the right size to sit on your bedside table, bathroom counter or kid's room. It's made from ABS plastic and silicone, making it both durable and soft to the touch. The silicone material also gives the lamp a realistic feel and texture, making it even more fun to use.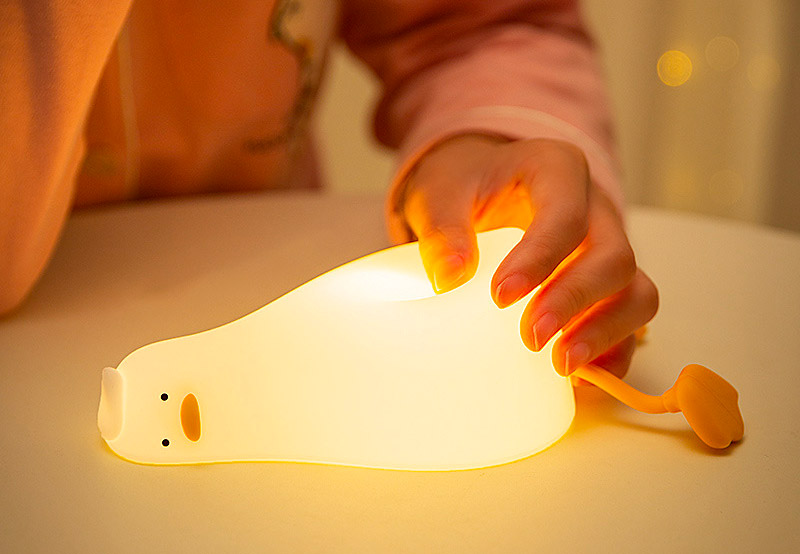 The best part about this lamp is how easy it is to turn on and off. Simply tap on the duck's butt and voila! You can adjust between 3 different brightness levels or turn it off completely by simply tapping that duck booty! With its rechargeable battery, you won't have to worry about constantly replacing batteries. The battery takes 2-3 hours to fully charge and will last for quite a while, especially if you use it mostly on it's low brightness setting. The funny defeated duck lamp uses an internal 1200 mAh lithium-ion battery and charges with a USB-C connection, making it both eco-friendly and convenient as that's what most smart phones use to charge. Measuring in at 6.6 inches long x 4.1 inches wide x 2.6 inches tall, it's the perfect sizes for pretty much anywhere you need a little bit of light an humor! Not only does the duck in crisis lamp brighten up your room, but it can also help you stay organized. Its legs and butt double as a phone holder, allowing you to keep your phone close by and within reach. This is perfect for those who like to keep their phone close by or when they need a phone holder to position their phone while they watch a video or play a game. This defeated duck lamp also has an automatic turn-off feature after 30 minutes, making it a great choice for a nursing night-light. The soft light will provide just enough illumination to soothe your baby and the automatic turn-off feature ensures that the lamp won't disturb your baby's sleep. The Funny Duck Shaped Lamp is not only functional but also has a great design. It's lying flat on its stomach, as if it's having an existential crisis, so you have some young kids in the house, you might just relate to it more than you think. In a world where technology is taking over, it's nice to have a simple and fun product like this funny duck lamp that's lying on it stomach. It's perfect for anyone looking to add a touch of humor and quirkiness to their home decor. So, why not bring one home today and see how it can brighten up your nights? You can snag this funny duck in crisis mode night-light lamp from Amazon for around $20 bucks! Check out this funny lying on stomach duck lamp in action via the video below!
Subscribe To Our YouTube Channel