Star Wars Darth Vader Silicone Oven Mitt
Date Published: 10/30/2015 4:42 AM
Looking like it came straight out of a Wallace and Gromit movie, this Darth Vader oven mitt will protect your hands from the treacherous voids of space, battles to the death, plus it will protect your hand from getting a nasty blister from gripping your light saber too tightly... Well, no not really, the most it's going to do is protect your hand from getting burned as you take your casserole, cake, or muffins out of the oven that you're baking with Aunt Kathy. A perfect fit for most human's right hand, the Darth Vader oven mitt looks just like a glove you'd find on the big D-Vades, plus hopefully the cookies you take out of the oven will help you persuade people to come to the dark side.
SITE ANNOUNCEMENT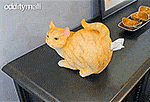 We Are Giving Away 6 Cat Butt Tissue Dispensers
Officially licensed from Disney, the Star Wars Darth Vader oven mitt is exclusively created and sold by Thinkgeek. The oven mitt is made from silicone, is a right-handed glove, contains ridges on the inside of the fingers to better help you grip those trays of cookies, has an imperial logo on the palm, contains a built-in hole on the end of it for hanging, and measures 13.5 inches long x 6 inches wide x 1.75 inches deep. To make sure your hand will for sure fit in the oven mitt, the length of the middle finger from the tip of the glove to the webbing is 4 inches long.