Kitchen Roll-Top Butcher Shop Paper Message Board
Date Published: 01/14/2016 8:02 AM
This kitchen roll-top message board is made to look like a paper dispenser from a butcher shop in which they roll your meat up in. Perfect to write today's specials on in the kitchen for the kids to see, write some notes or reminders for the family, or maybe you just murdered a few animals and would like to wrap the meat up in a true butcher-like fashion. Not only that but the paper roll can also be used to write down recipes, write down a list of cocktails available at a party or get together, or just for games and drawings with the family. The butcher shop paper dispenser is sure to add a bit of a rustic touch to your kitchen or living room or wherever you decide to place it, and its unique design is sure to catch the eye of any guests that come to your home.
SITE ANNOUNCEMENT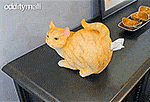 We Are Giving Away 6 Cat Butt Tissue Dispensers
The roll-top butcher shop paper dispenser comes with a wall bracket to attach it to your wall, a wooden dowel to hold the paper roll in place, 1 paper roll, and 2 clips to weigh down the paper so that it doesn't fold back up into the roll when you write a message on it. You can also purchase an extra 3 rolls of paper for just $16.99 in case you think you'll run out quickly. The paper roll dispenser measures 36 inches long x 4 inches tall x 4 inches deep, and each paper roll measures 30 inches wide and offers 30 feet of paper.