A Bottle Opener That Attaches To Your Bike's Handlebars
By Ryan on 06/22/2015 3:31 AM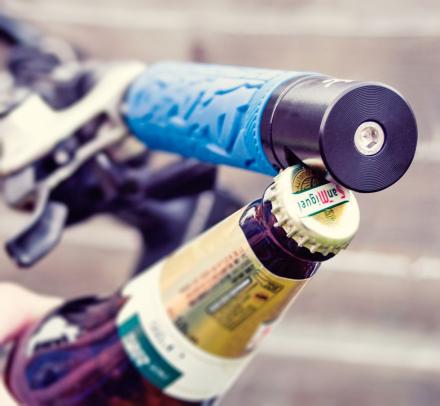 The Nub-Nub is a bottle opener that attaches to the end of your bike's hand grip so that while you're riding your bike you can crack open a beer without the need to dig in your pocket or stop to get a bottle opener out of your backpack. You've lost your license for drinking while driving and have to now resort to a bicycle, and since riding a bike while drunk can only really get you a misdemeanor, why not chance it by exercising your body while drinking poison at the same time. Perfect for the drunkard on the go, the bike mounted bottle opener slides into the end of your existing hand grip on your bike and just adds a few more inches on to the length of your hand grip and in doing-so adds one of the greatest inventions known to man to your bicycle, the bottle opener.
Probably one of the better gift ideas for a biker, that is assuming you've gotten them the banana holder for you bike, and the deer antler bike handlebars, the bottle opener bike grip is not only great for having a beer while riding your bike, but it's also great to know you will always have a bottle opener nearby if you're biking somewhere in case you find your self in some sort of beermergency.
The hand grip bottle opener is made from aluminum, rubber, and stainless steel, comes in either matte black or matte grey colors to choose from, and measures 3.5 inches wide x 3.14 inches tall x 1.4 inches deep.
Alternate Purchase Links [1] [2]