Balcony Railing Tray Table
By Ryan on 05/04/2015 2:01 AM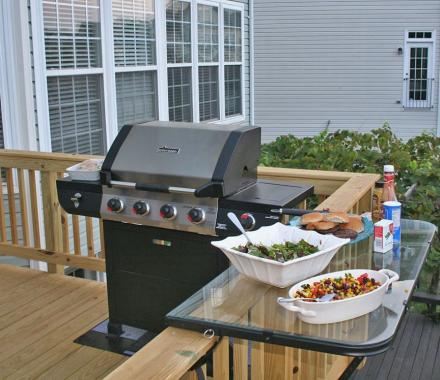 Much like the balkonzept is a balcony attachment that you can use as a desk to work on outside, the DeckMate balcony tray is a table that you can attach to your railing to give you an area to set food, drinks, plates, or to help you cook food on the grill when you have a limited area to set things down on while you're out on your deck. Perfect for setting an array of foods on while having company over, or just to set some drinks onto while out getting some sun, the balcony tray table is adjustable so that it can attach to your railing while facing outward away from your deck, or you can attach it so it faces inwards so that it lays over your deck.
The balcony tray table is able to fit onto railings ranging from 1 inch to 8 inches thick, and is easily installed within seconds using a fully adjustable telescoping arm that reaches from the edge of the tray to the floor of your deck, along with an "Easy On, Easy Off" attachment system.
The balcony railing tray table is made from tempered glass along with a frame that's made using UV-resistant powder-coated aircraft-grade aluminum, can support up to 100 lbs of weight on it, comes in both white or black framed colors to choose from, and measures 44 inches wide x 22 inches long.