These Bacon Band-Aids Might Make You Want To Get a Paper Cut
By Ryan on 05/09/2022 10:40 AM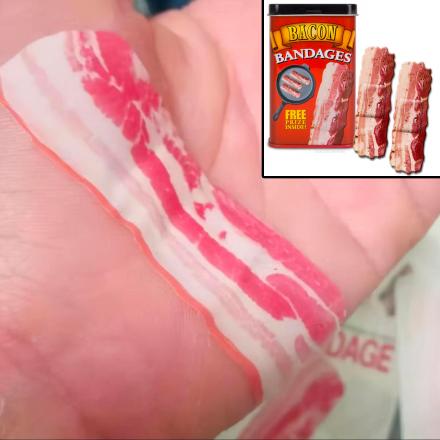 No matter what your ailments are, there are very few things that a good solid breakfast with some bacon can't heal. Bacon and breakfast alike are best consumed by mouth, but if you want to slap some meat on your wounds like the good old days, there are a few great modern options for that too that will quite literally heal minor cuts, scrapes and burns.

Size: Large | Small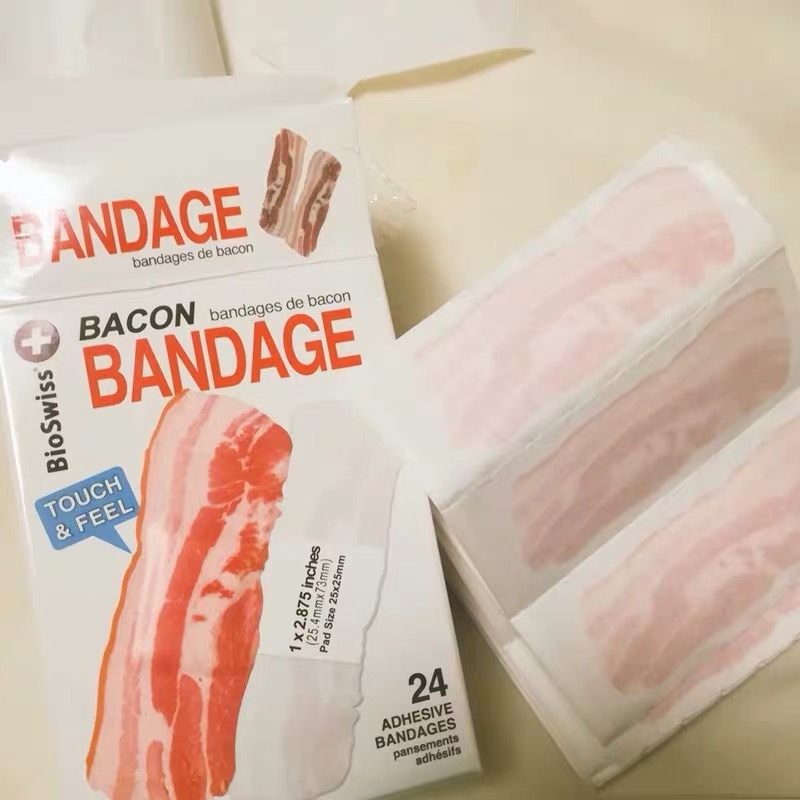 Credit: BioSwiss
Oink oink! Introducing the bacon strips bandage set from Archie McPhee via Accoutrements/Buckeye Trading on Amazon, a tin box set of completely sterile, realistic-looking bacon band-aid strips.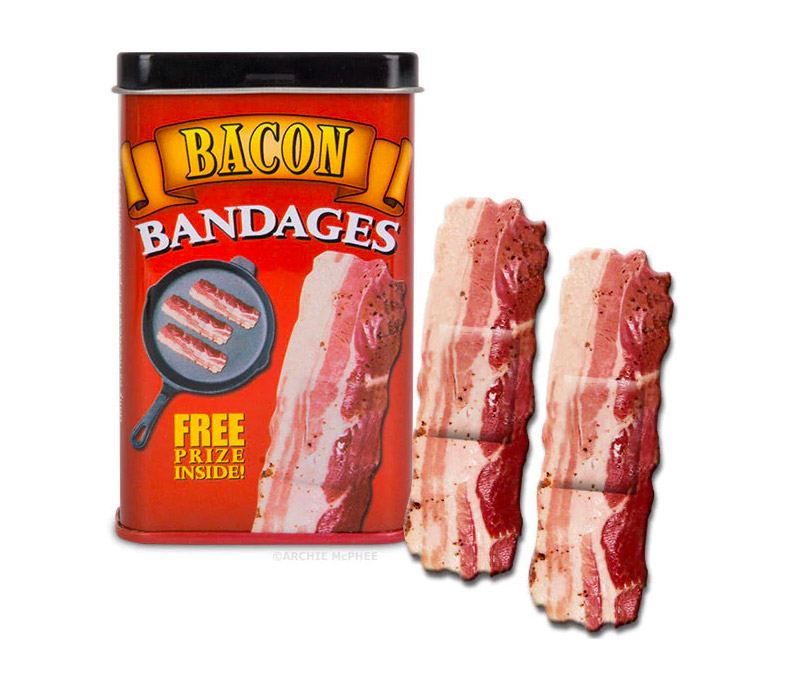 Credit: Accoutrements
These Bacon Band-Aids have a realistic bacon look that'll have your meat-loving friends laughing and your cut-having friends healing.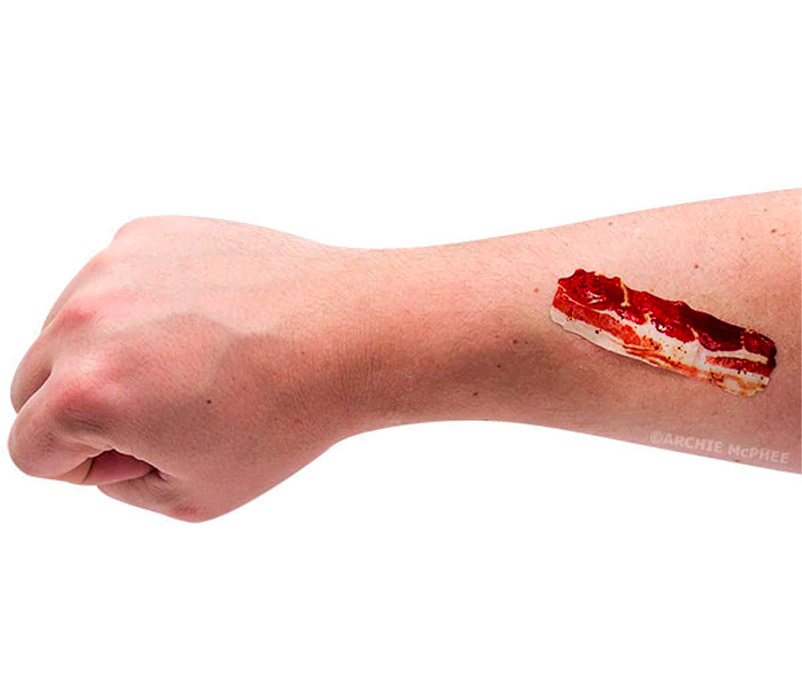 Credit: Accoutrements
These realistic bacon bandages are perfect for anyone, and they work just like regular bandages to keep small injuries clean and safe during the healing process.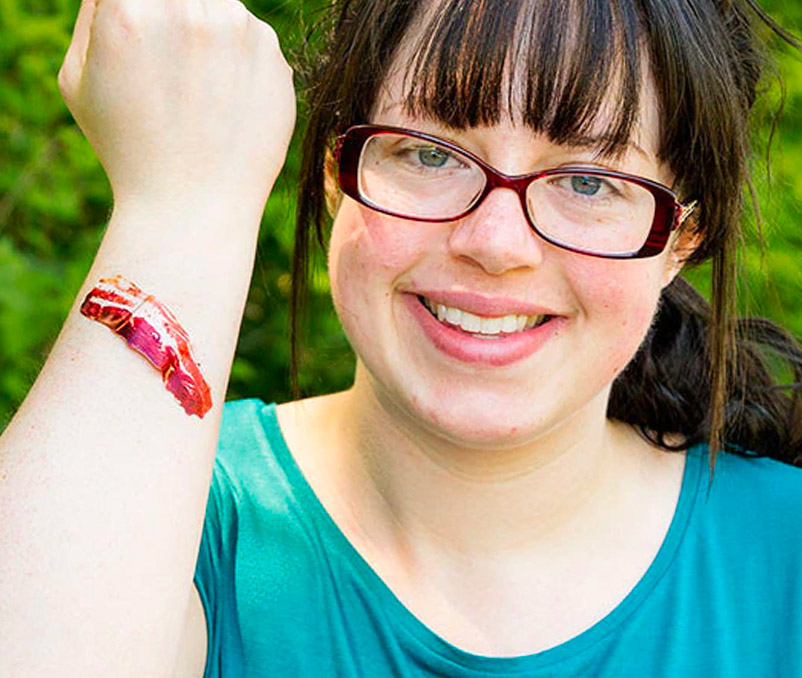 Credit: Accoutrements
The bacon bandages include an absorbent, non-stick sterile gauze pad in the center just like most band-aids, with a realistic bacon design including meaty parts, fatty parts and an authentically imperfect edge to increase the realism.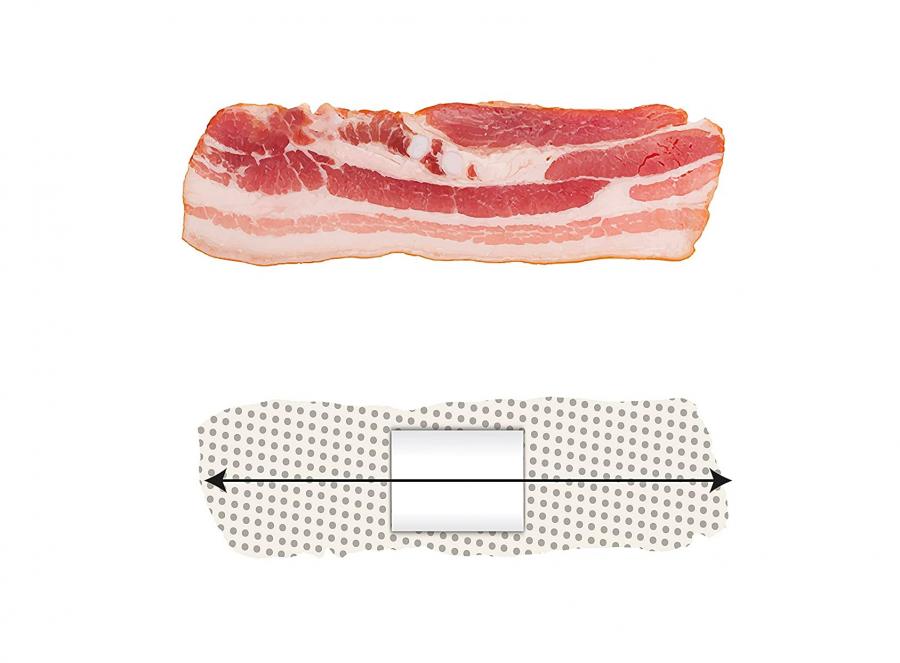 Credit: BioSwiss
These bacon bandage strips are 3 inches long by 1 inch thick, and they come in a 3 ¾-inch metal tin with 15 total bacon strip band-aids. The manufacturer recommends the bacon band-aids be used on individuals 36 months and up, and while they don't say it explicitly in the product description, you probably shouldn't eat this bacon.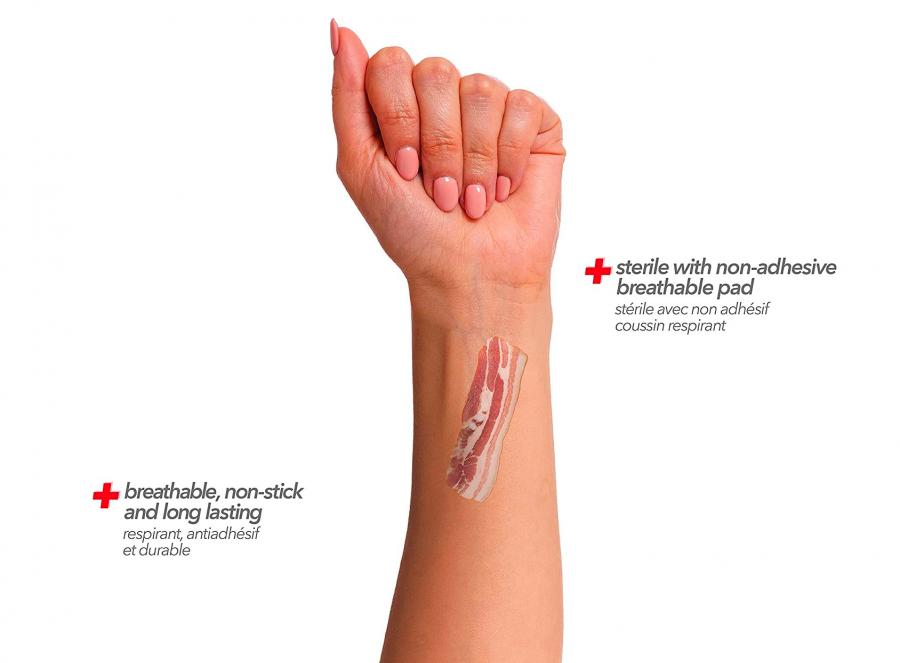 Credit: BioSwiss
The bacon band-aids listing also says in the description that the bandages come with a secret, surprise "bonus trinket." For one buyer, the bacon bandage tin also included a temporary tattoo of Edgar Allan Poe, though it's not clear if that's the same gift that's included with every package.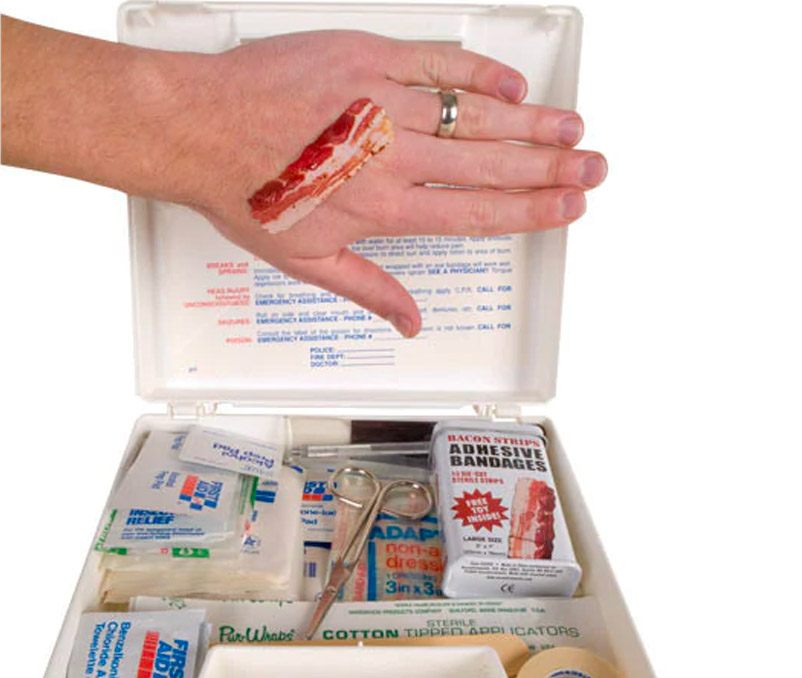 One review from Bob entitled "It is a band aid" says the packages also still work well as bandages, easily covering small cuts like a bandage is supposed to.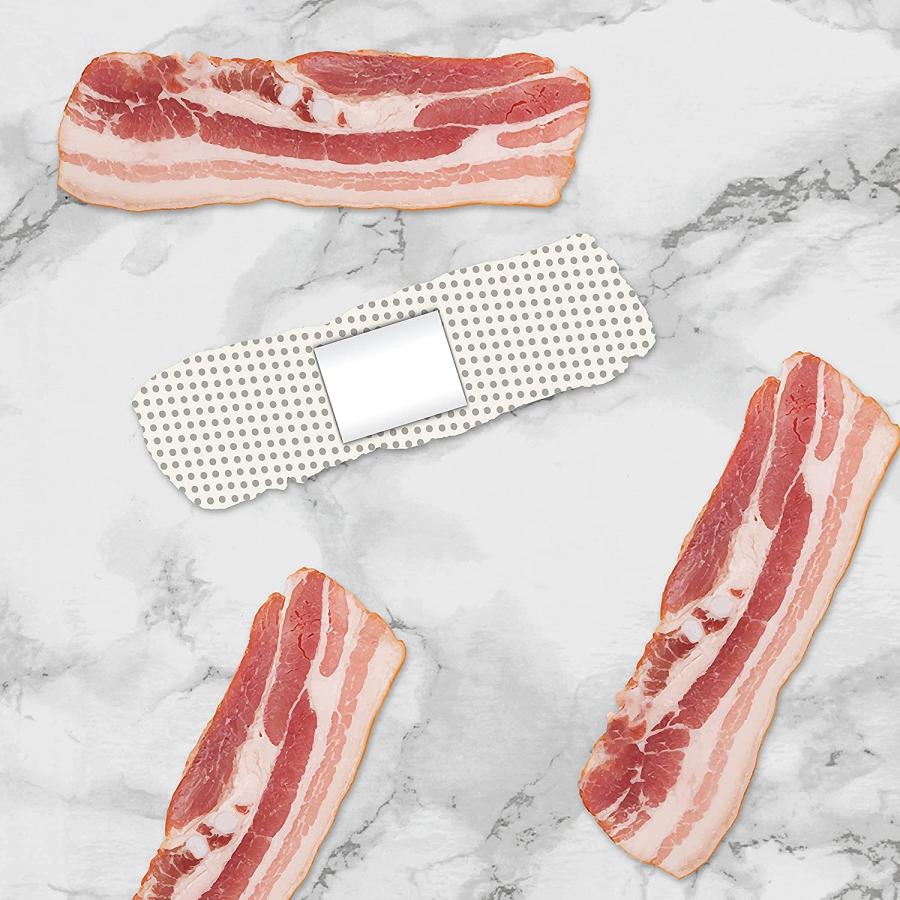 Credit: BioSwiss
In the five-star review, Bob wrote, "This was a stocking stuffier for a retired nurse/wife. It had the desired effect of humor. The imprints do not detract from the intended use. It does offer protection for small cuts effectively." Credit: BioSwiss
It's worth noting that these bacon strip band-aids are not latex-free, as noted by some buyers and prospective buyers in the Q&A and reviews sections.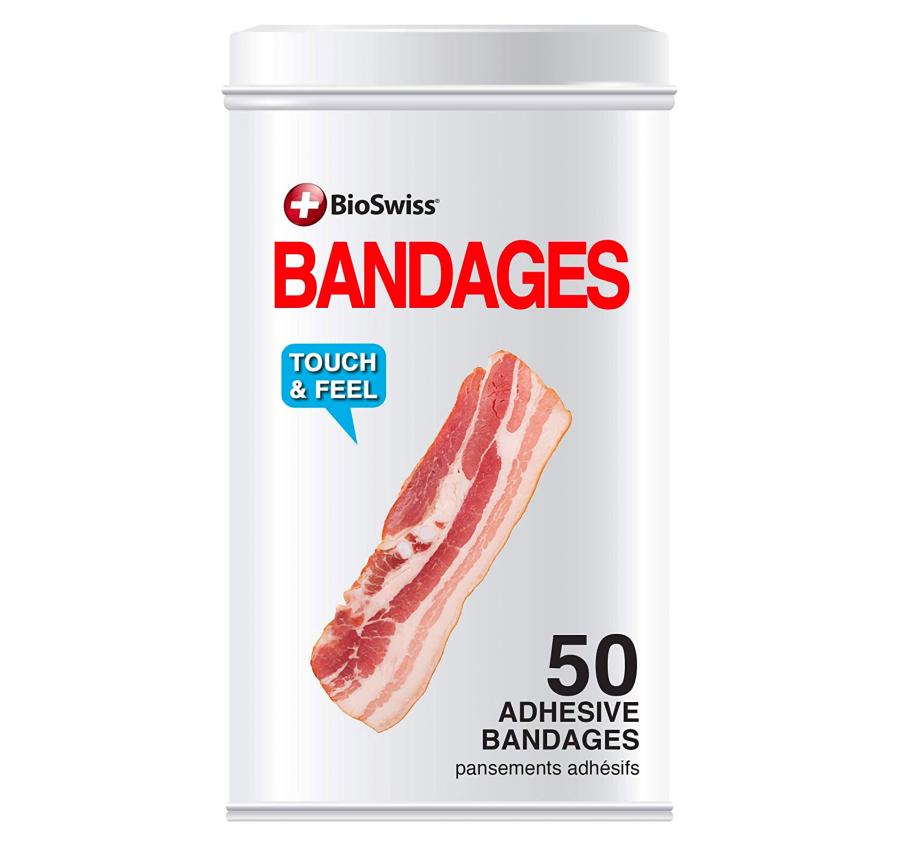 Credit: BioSwiss
You can also double-down on the healing power of breakfast by pairing your bacon bandages with this bacon and eggs pillow and blanket set and the 1,000-piece bacon jigsaw puzzle — all of which will provide you some comfort through sweet, sizzling bacon in your time of need. Credit: BioSwiss
The bacon bandage strips are super affordable for being a fun item, and the overwhelmingly positive reviews and their sheer volume make the product seem like a safe bet.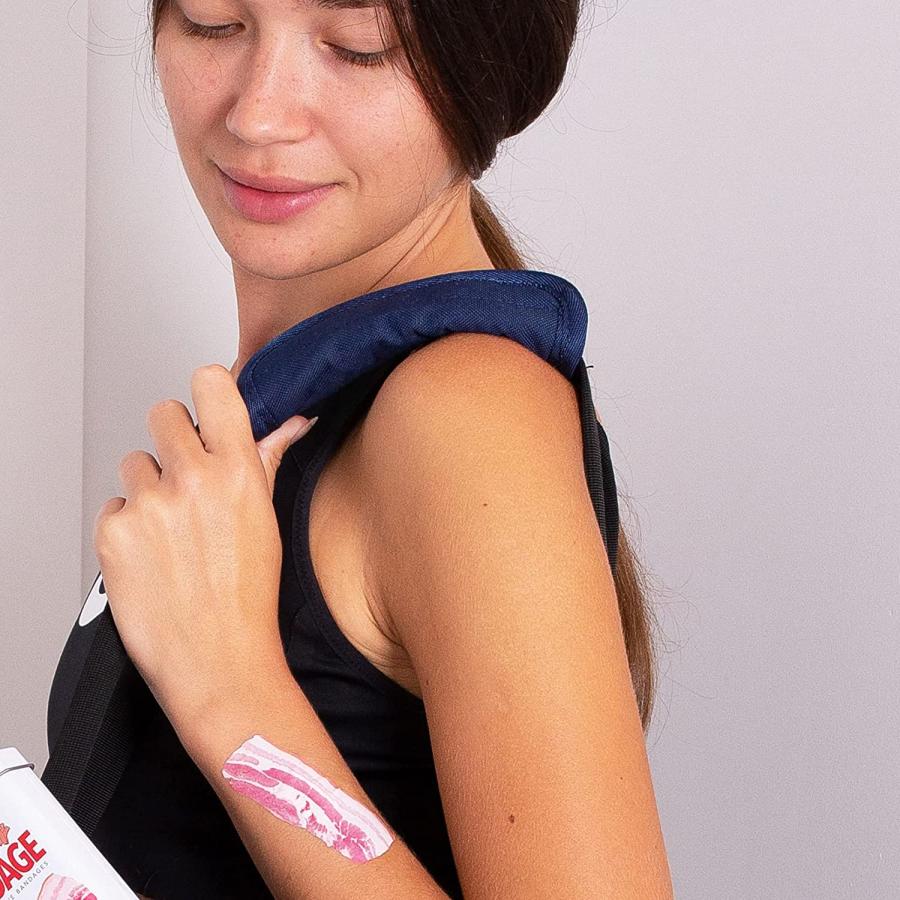 Whether you're a hog farmer, a breakfast lover, a gift-giver, or just plain hilarious, these bacon bandages are a surefire way to get a laugh every time, bringing a little extra levity to your everyday injuries.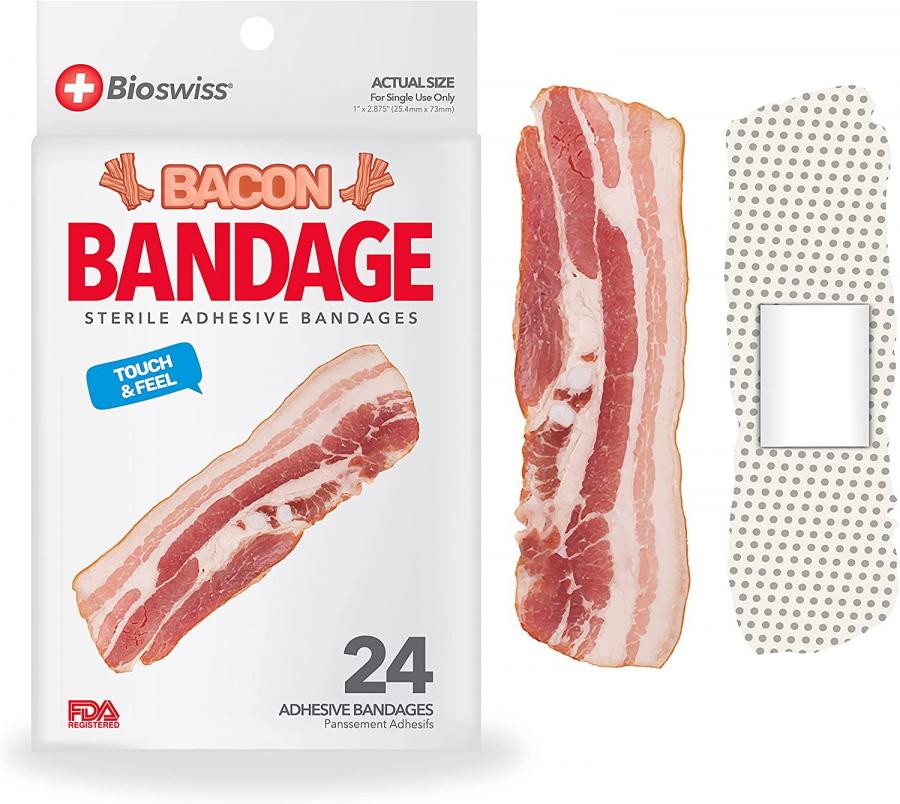 Credit: BioSwiss
You can snag the smaller bacon bandages from Amazon for around 6 bucks, whereas the larger bacon bandages will run you around 7 bucks on Amazon!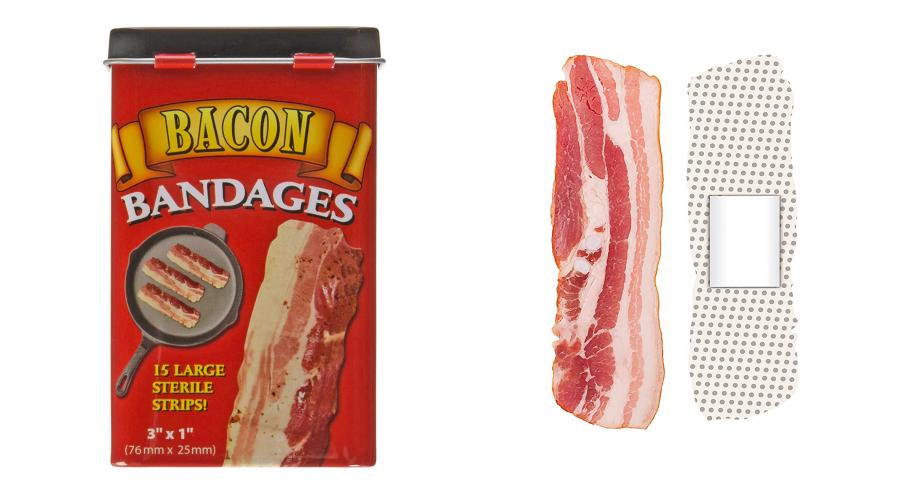 Credit: Accoutrements/BioSwiss