Funny Audacity Doormat
By Ryan on 10/07/2021 10:10 AM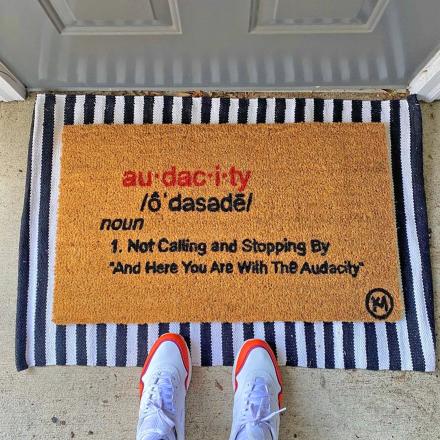 Unexpected guests can be a bummer, no matter how much of a friend or family they are. I'm talking about those guys who show up unannounced at your doorstep without regard to your personal space. Nowadays, it isn't just because of the inconvenience but also for health reasons. According to the World Health Organization, the need for proper personal space has gone up since the onset of the pandemic to keep ourselves safe. Therefore guests calling upfront is not only a courtesy call but also a time to enquire about their whereabouts. You don't want someone to bring the virus right to your doorstep. This sarcastic doormat will serve as a reminder to your unexpected guests why they should call first.
This audacity doormat is the ultimate gift for a housewarming, birthdays, Christmas, anniversary, and even for your front porch. The doormat is handmade and hand-painted with industrial paint, just perfect for the harsh and changing weather conditions outside. A UV-resistant spray is then used for the coating to provide that extra layer of protection.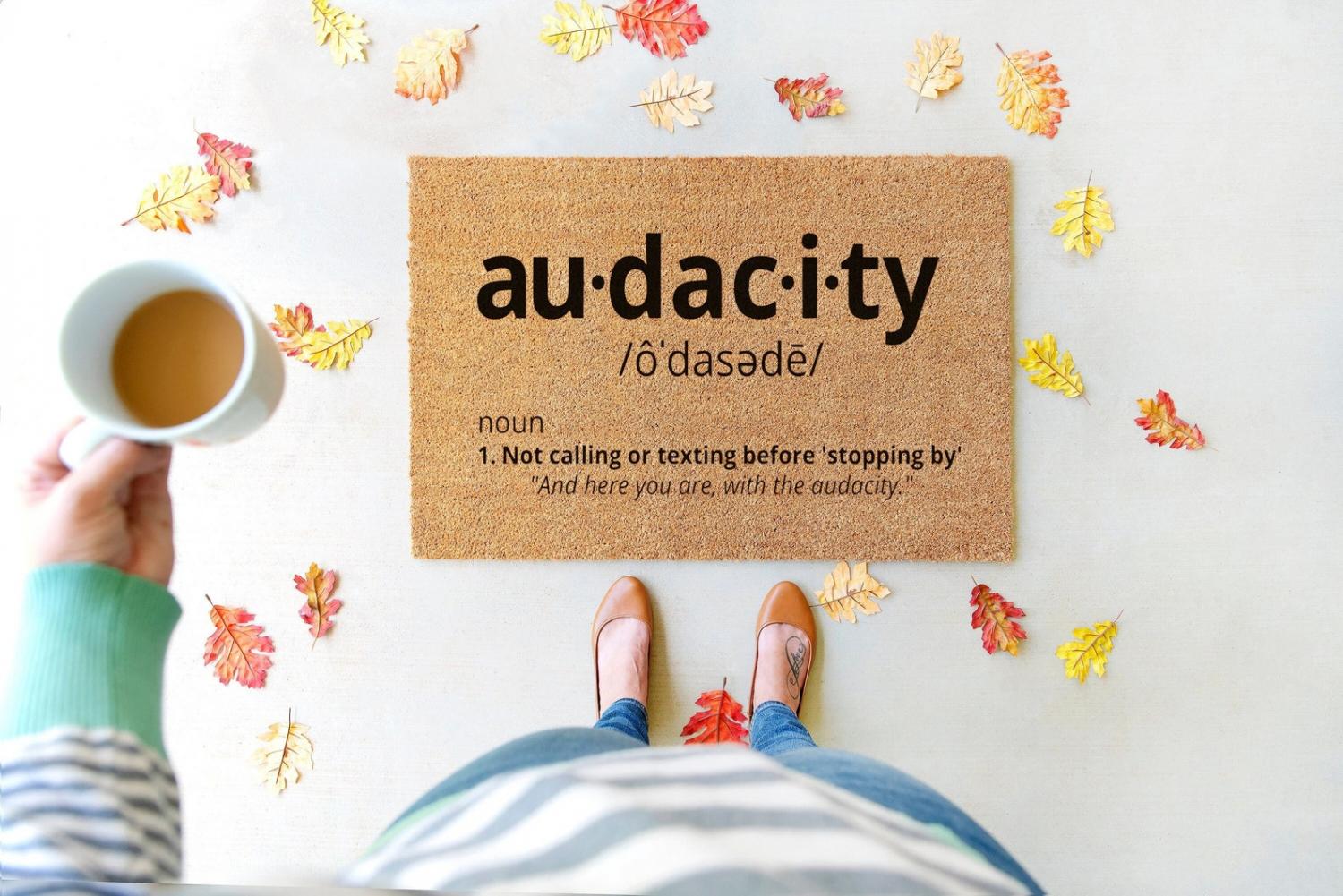 Source
This mat will add a bit of character and style to your doorway in an effortless manner. There is a small, medium, and large version of this doormat with each measuring 16 x 24 inches, 18 x 30 inches, and 24 x 36 inches respectively.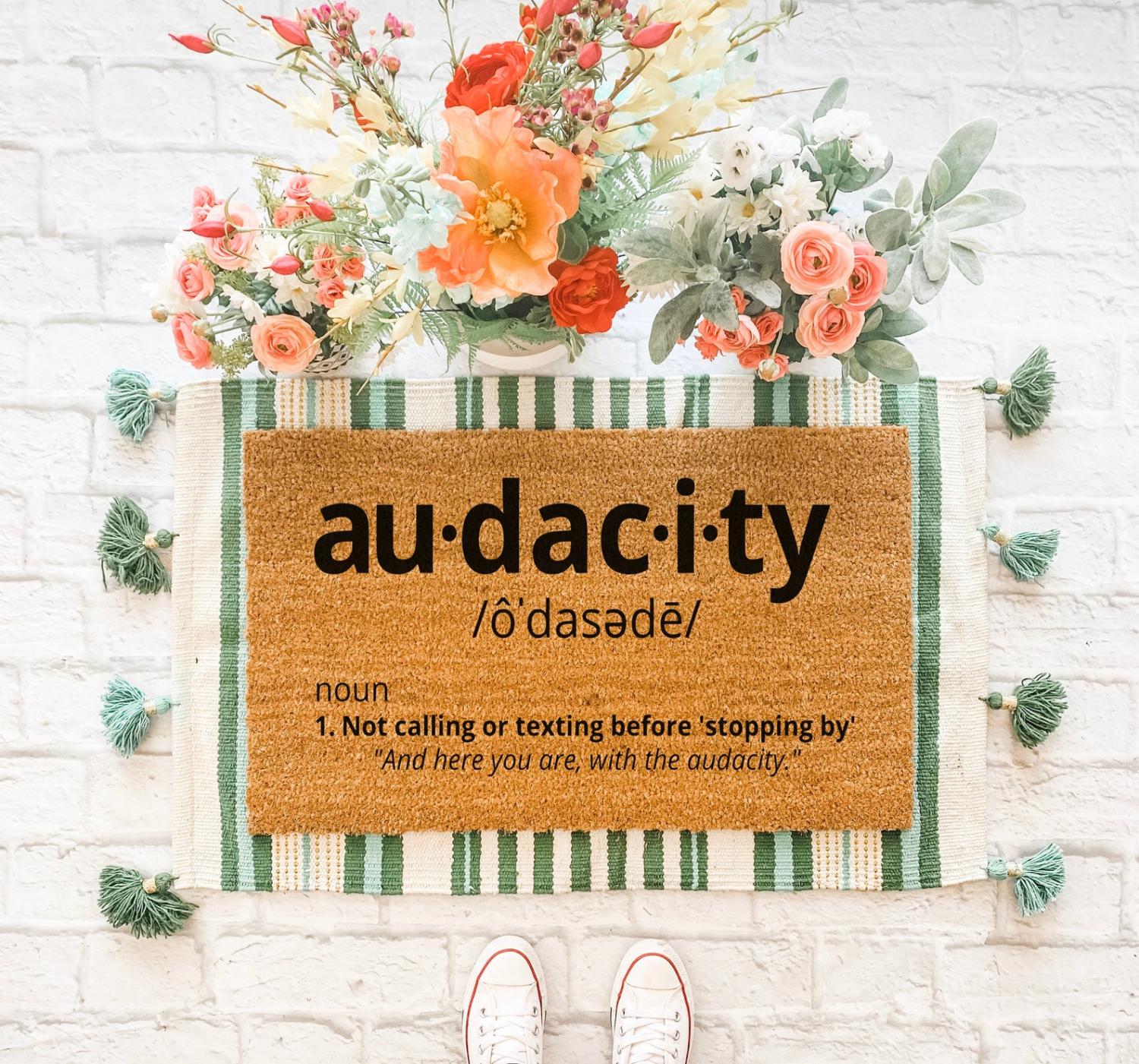 Source
The funny audacity definition doormat comes in a bunch of different versions on both Amazon and Etsy, so be sure to check them all out to see which one you like best!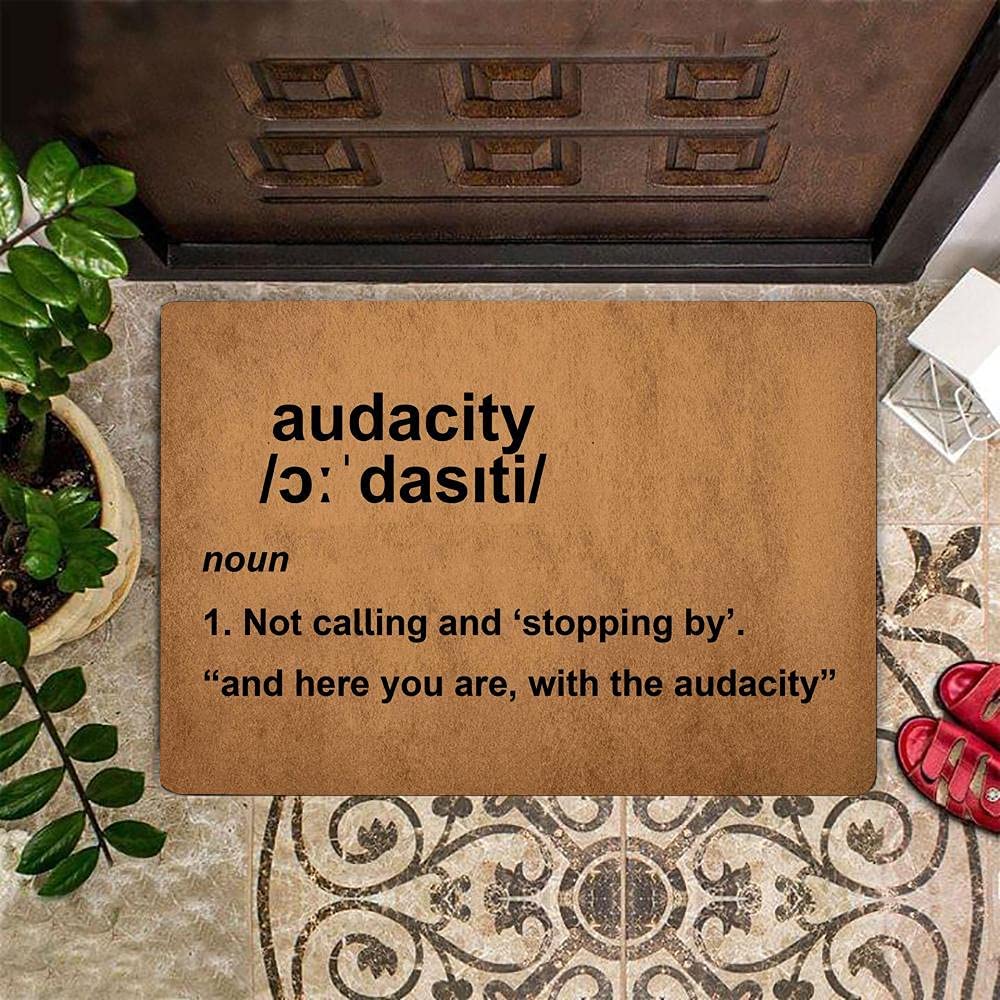 Source
We've posted some of our favorite designs of audacity definition doormat, and you can find a link to get each one with the link below each image!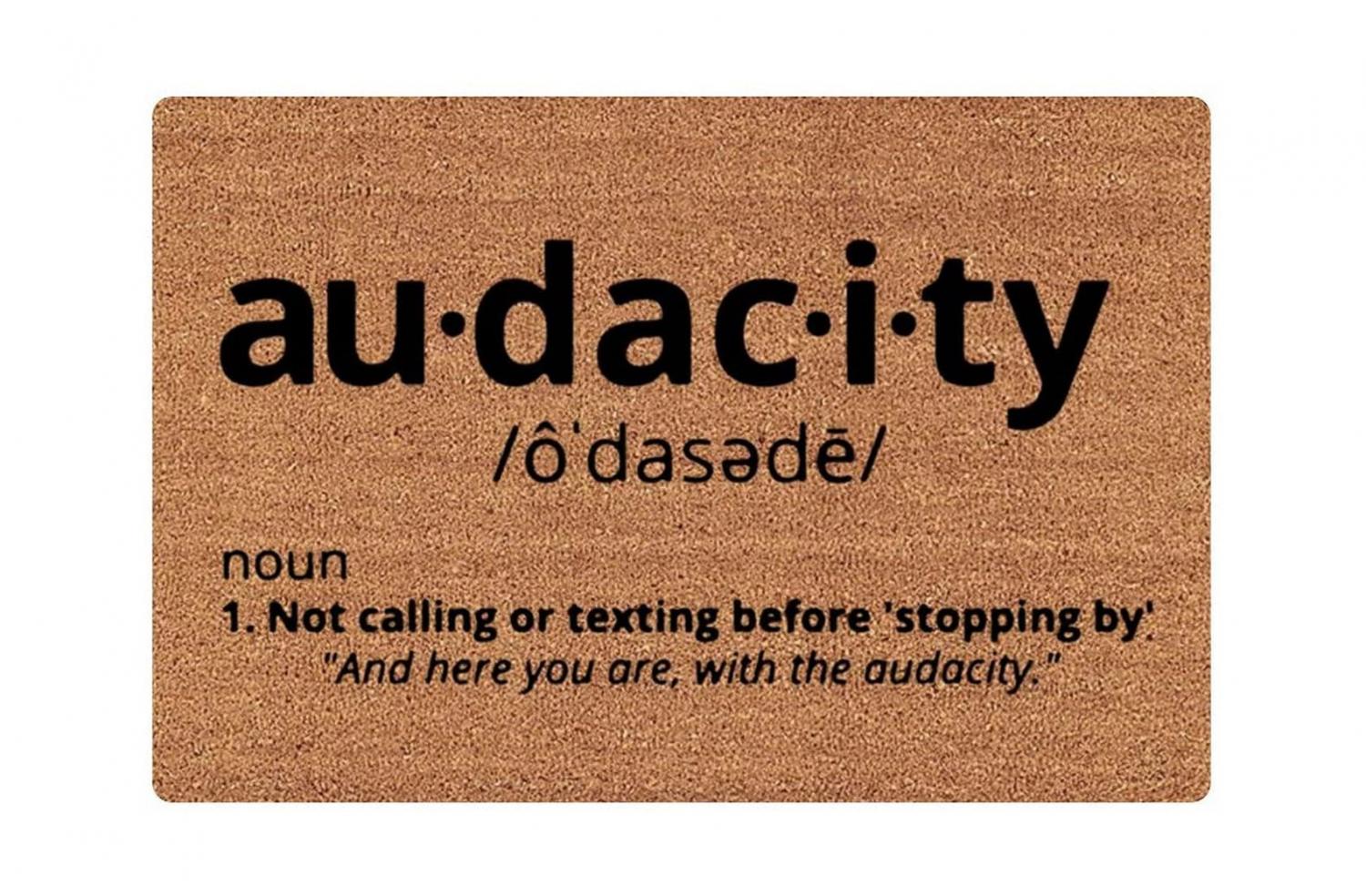 Source
The doormat has the word audacity printed in a subtle red color onto the brown mat, a definition of the word is also printed plus the correct pronunciation. In classic Miriam Webster fashion, an example of how the word audacity is used in a sentence is provided.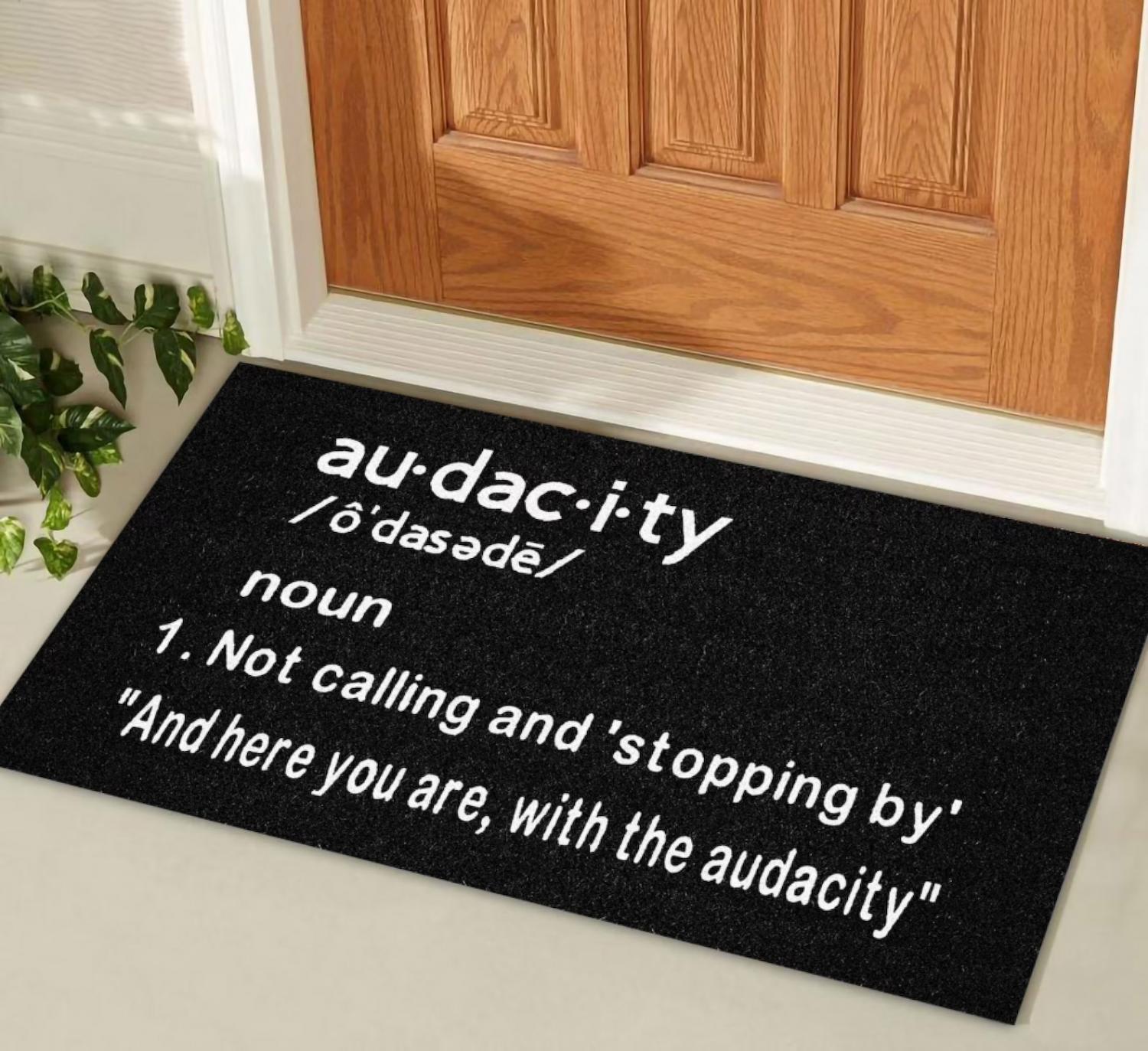 Source
Audacity – Not calling and Stopping By. 'And Here You Are With The Audacity'. The words are inscribed with high-quality industrial paint and no amount of washing will get them off. The mat will be decorating your doorway for a very long time, not to mention the sarcasm to your uninvited guests.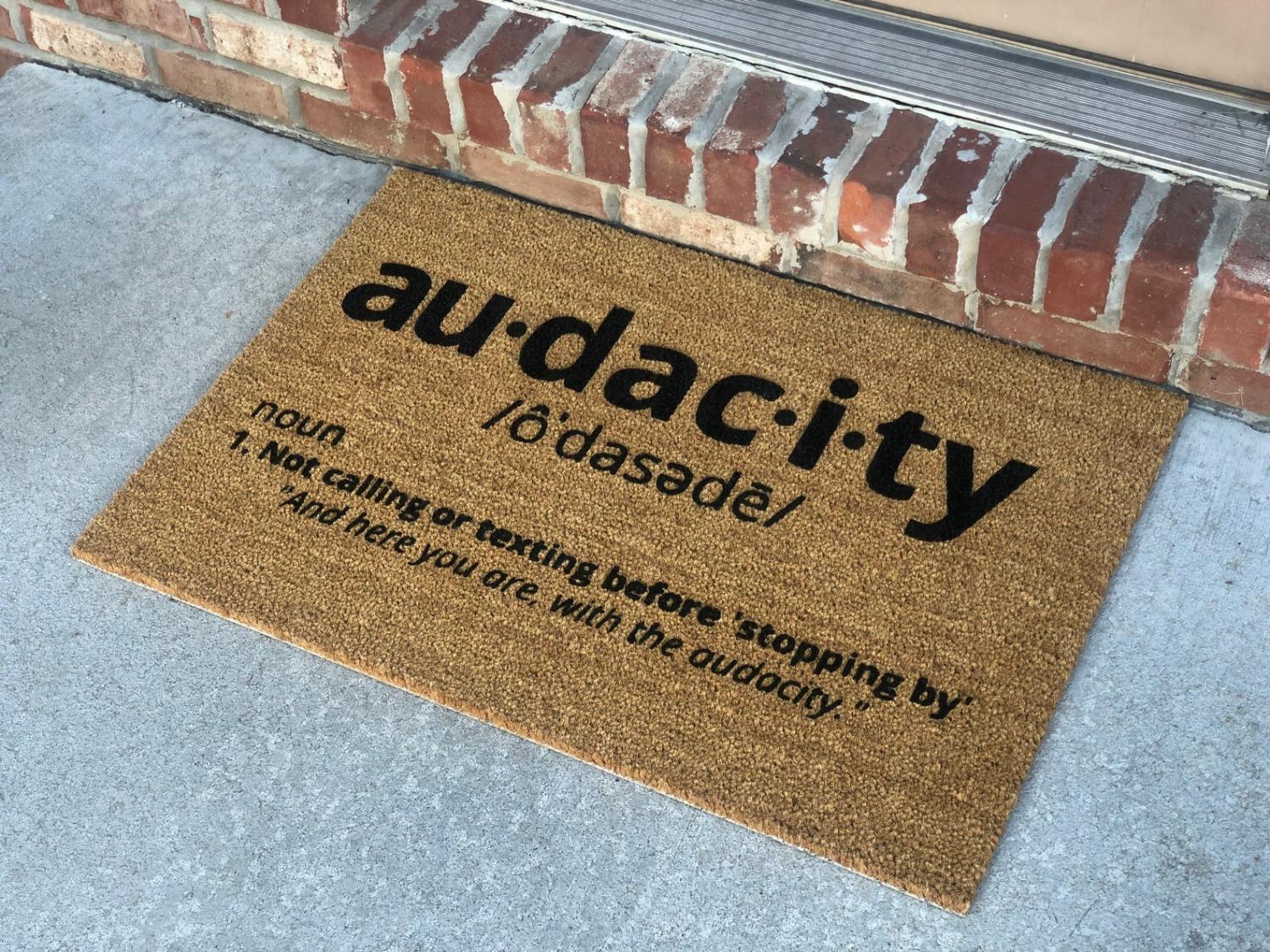 Source
Under a covered porch, away from the direct sunlight and water, this doormat will be with you for quite a long time. It's super cute and the materials used to make them are of high quality. Even just by feeling it, you'll be amazed by the quality of the doormat. There is a PVC backing on the underside to help keep the mat in place on your doorway.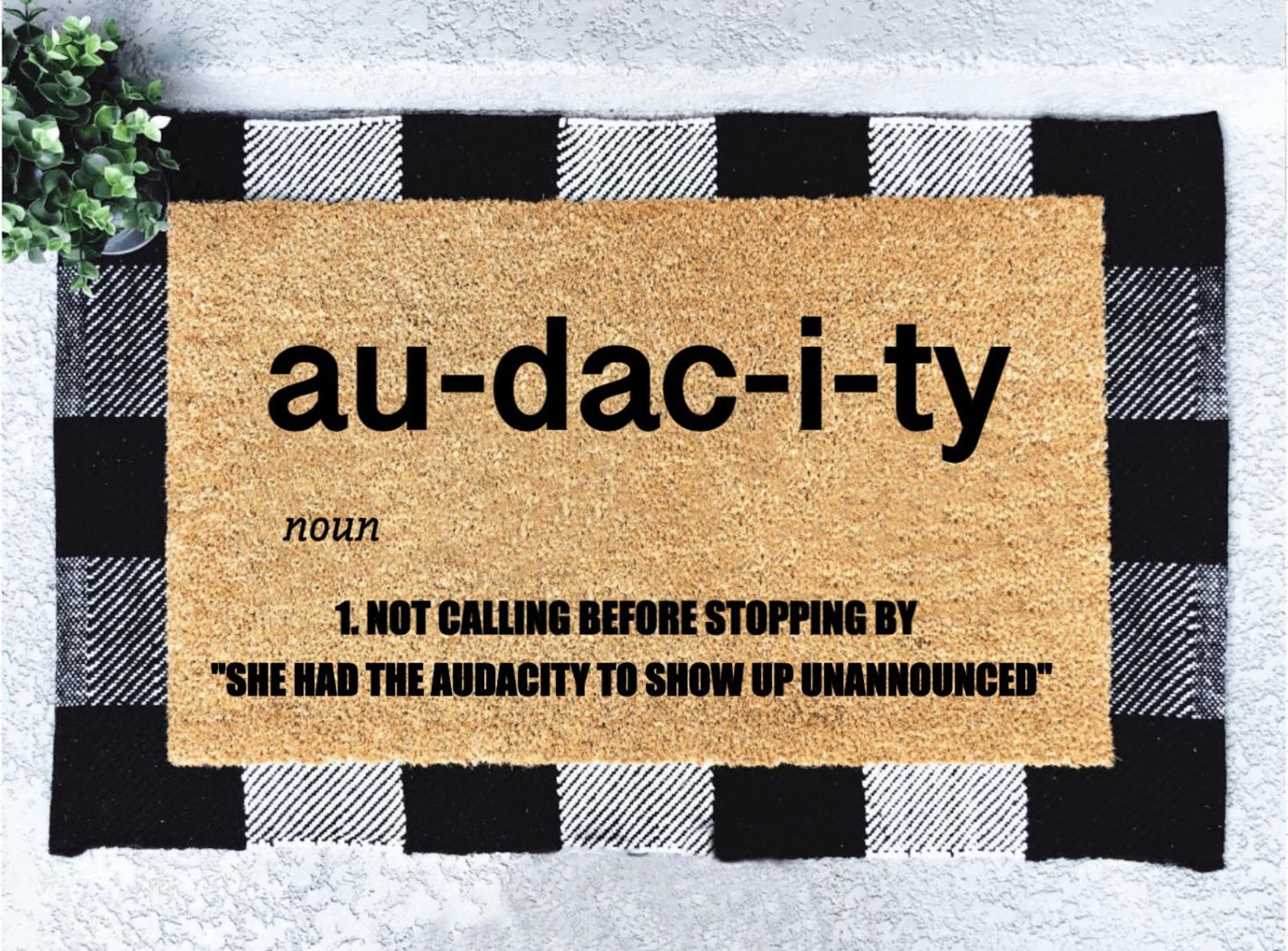 Source
It's also a great way of preventing dirt, and mud from getting inside your house. To clean the doormat, just give it a good shake and you'll be good to go. Always ensure that the doormat is kept as dry as possible to prevent the fibers from getting darkened. Cleaning the doormat can also be done by vacuuming it.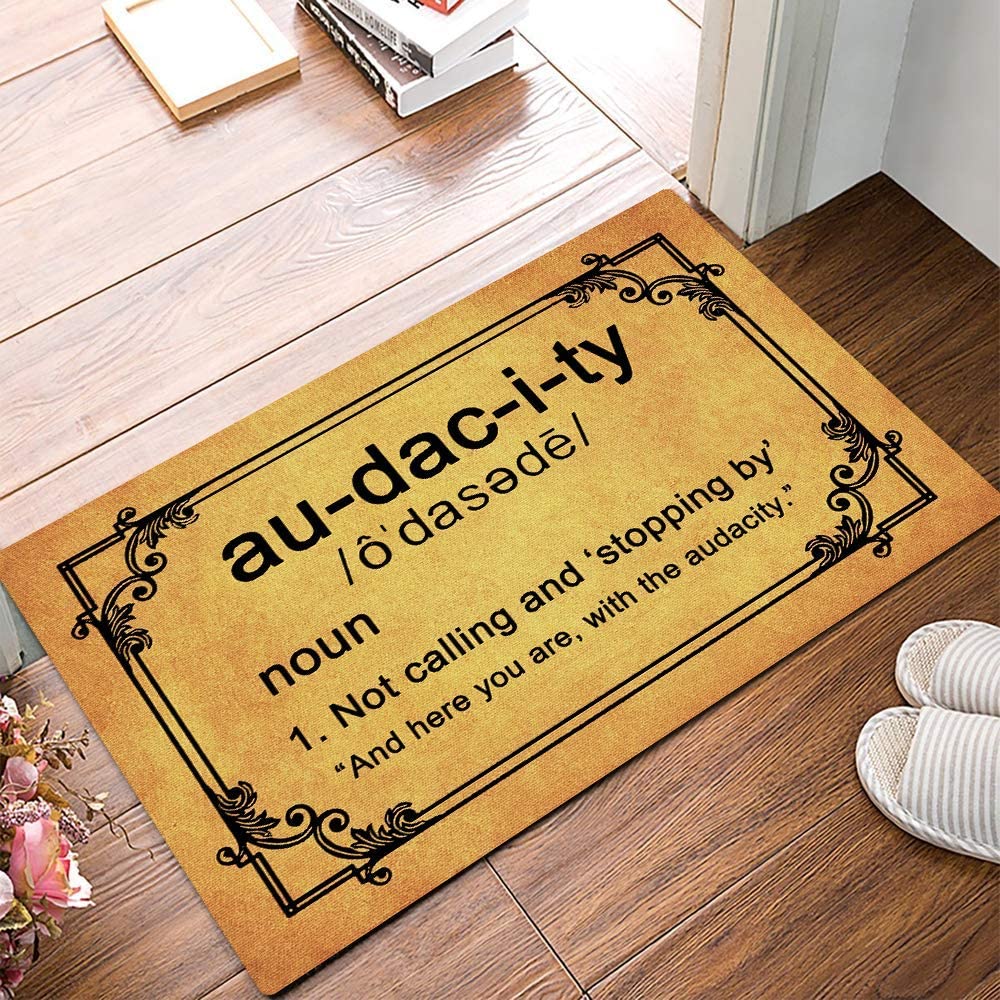 Source
If you're a generally sarcastic person at home, the audacity doormat will match your personality and give your guests a taste of the medicine to come once they get inside. The doormats are handmade and after ordering you'll need to give it a week before they get shipped. It's good to understand that the doormat isn't weatherproof and won't last forever.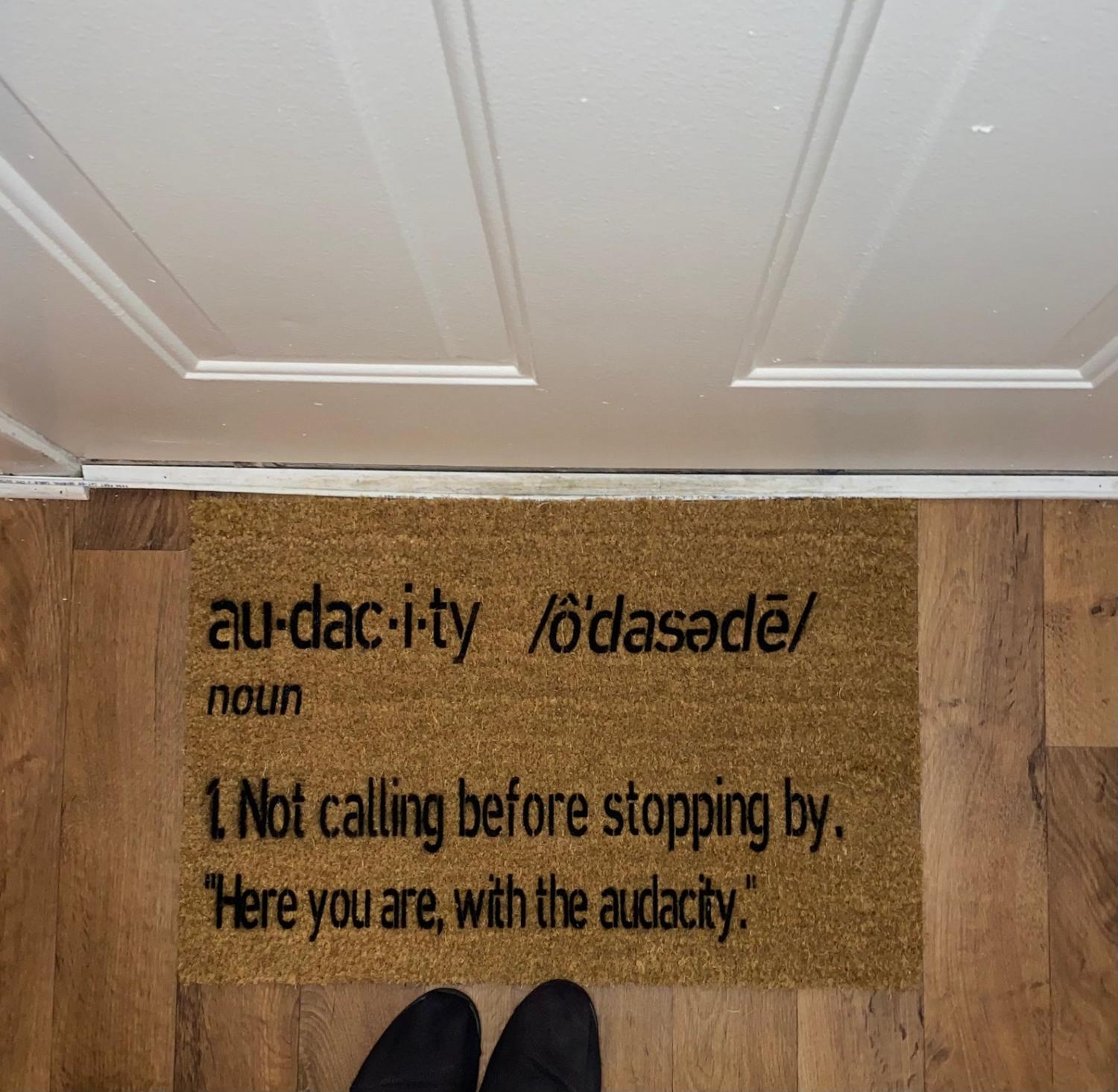 Source
Wear and tear can be expected with normal everyday use, although if the mat is kept away from direct sunlight and water it will last longer. Everyone who steps foot on your doorstep will be left with a good impression and they will surely call every time they are passing by.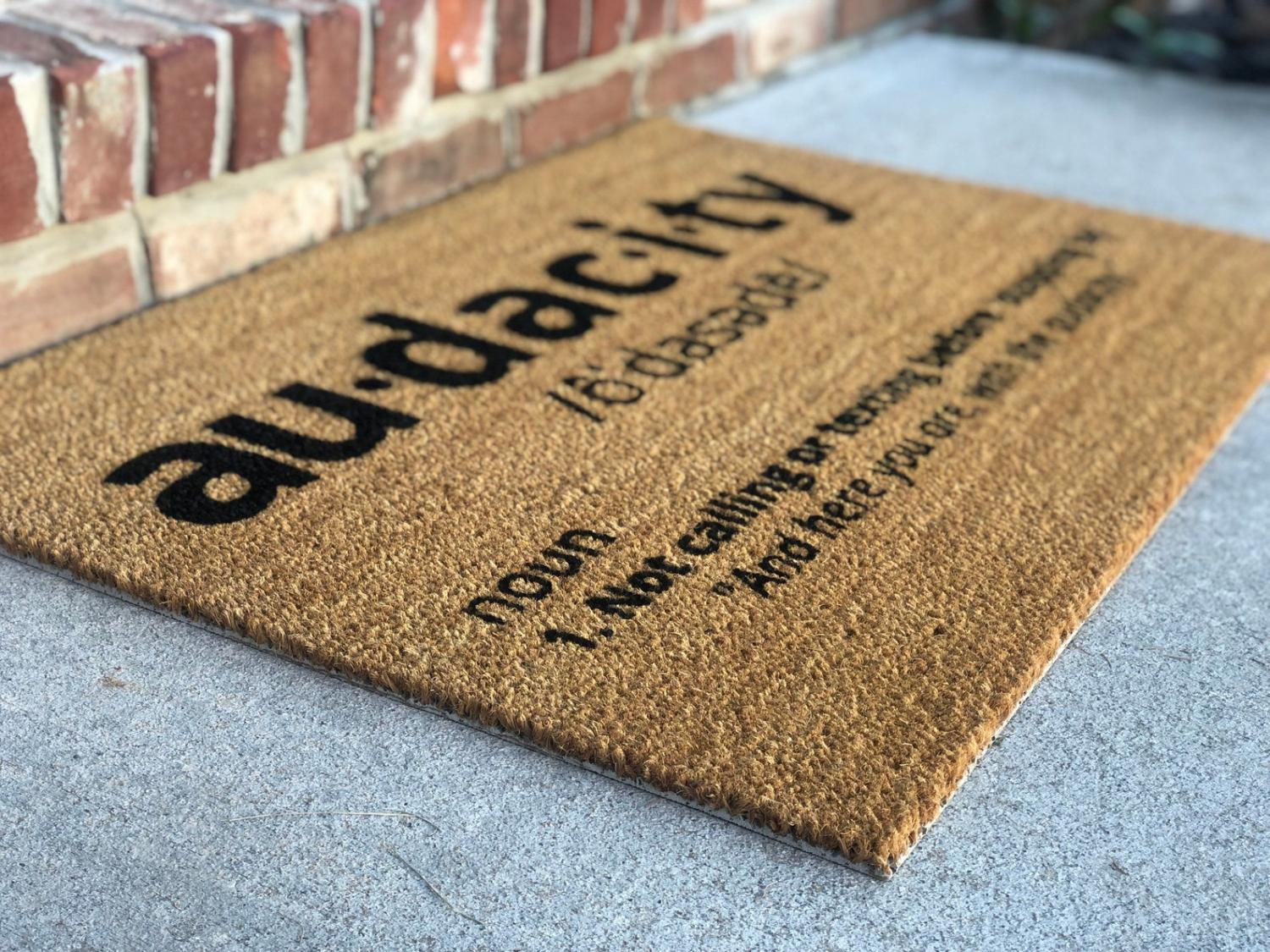 Source
Each doormat is unique and handmade to perfection, as a gift, anyone with a housewarming party will love it. The mat improves the doorway décor of any door out there, and you'll be getting a handcrafted piece of magic. It's plush, smooth, and reeks of luxury, plus your visitors will never forget to make that call whenever they are coming over to your house.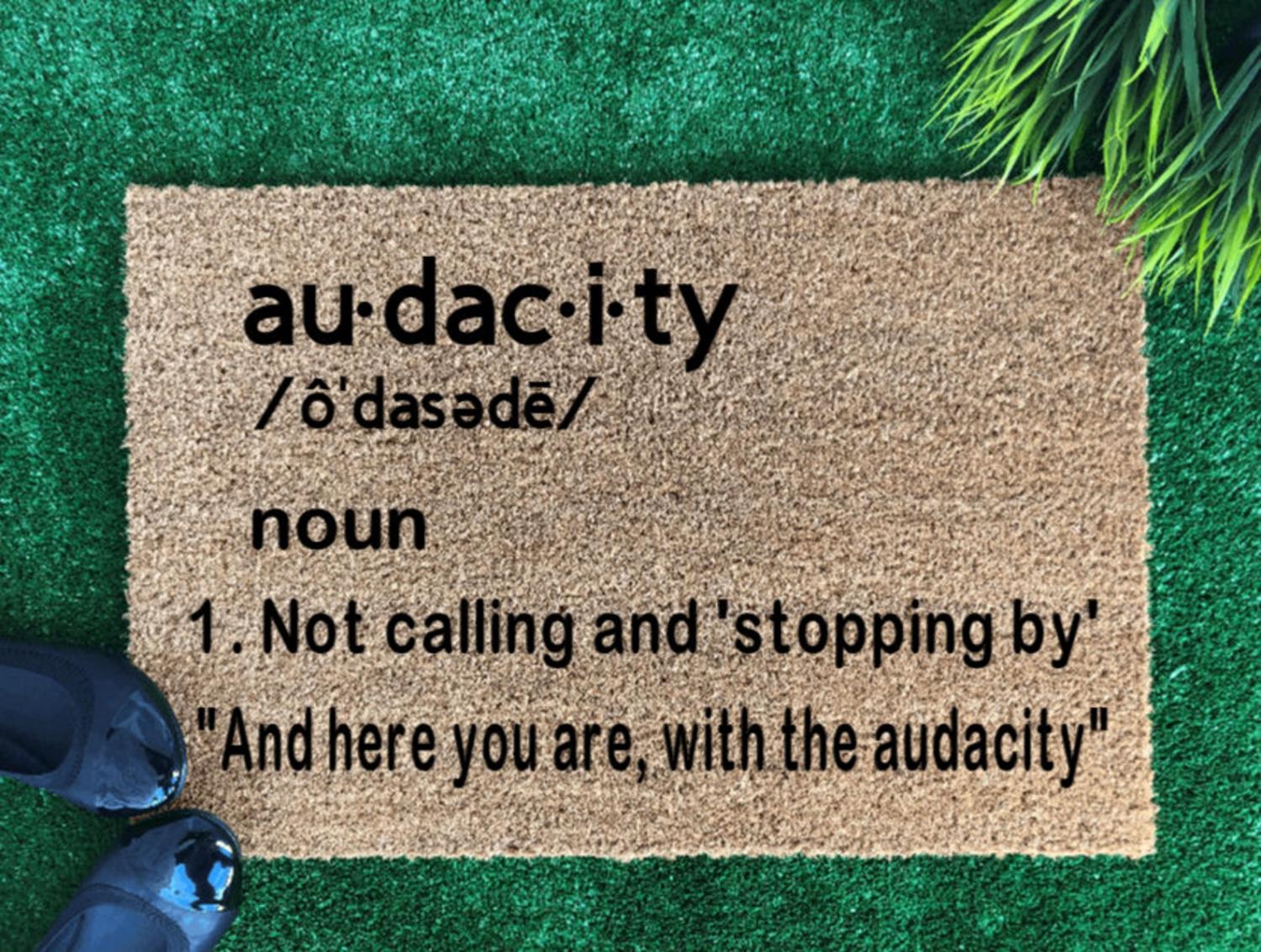 Source
Or perhaps some of these other hilarious doormats that are basically telling anyone who comes to your door to go away, may peak your interest! Once again you can find a link to get each doormat with the link below each image.
There is no reason for your to be here doormat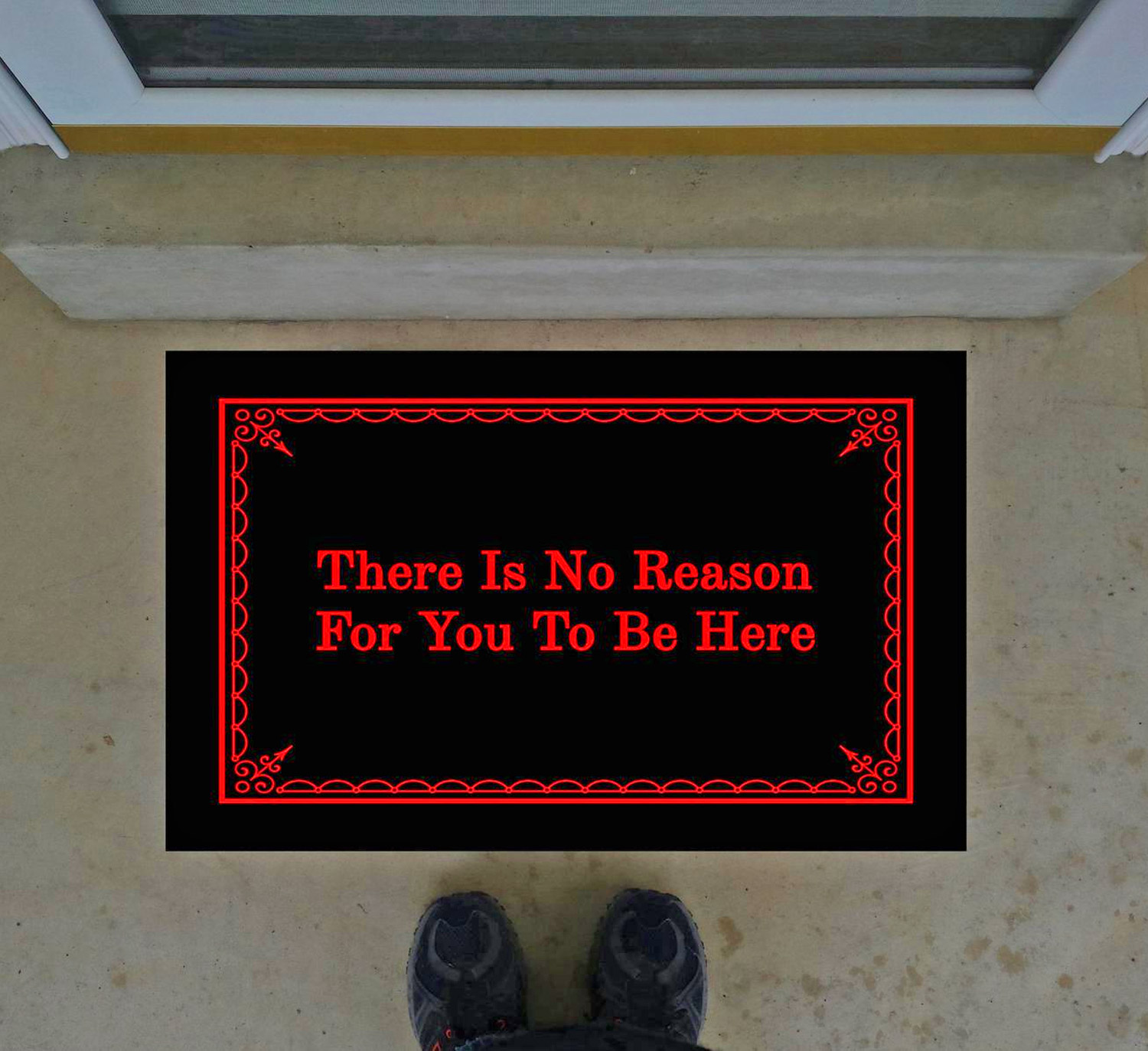 Source
Monty Python Bridge Troll 3 Questions Doormat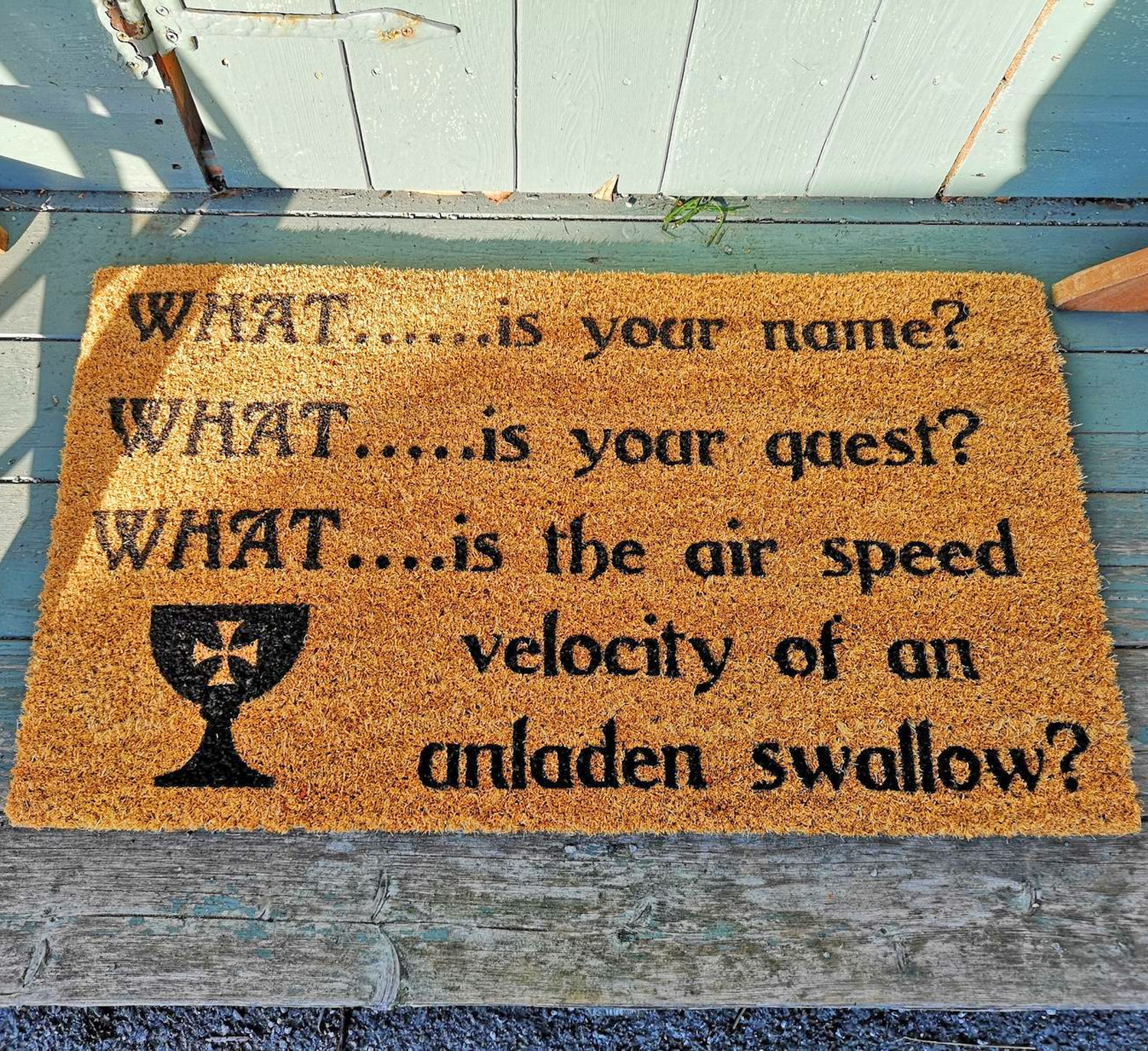 Source
Don't Knock Unless I Married You, Birthed You, Or Ordered Food From You Doormat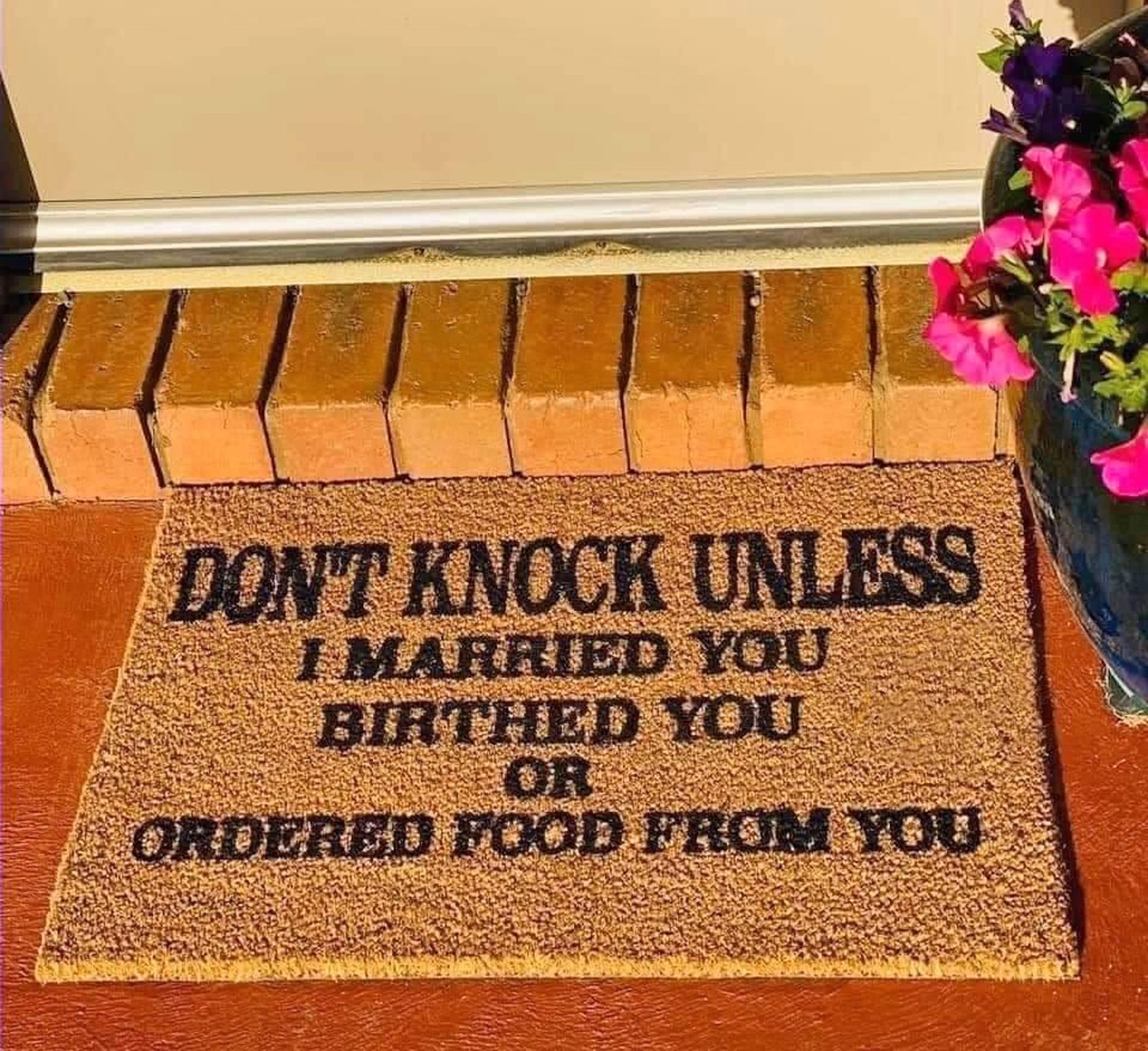 Source
Like a Good Neighbor, Stay Over There Doormat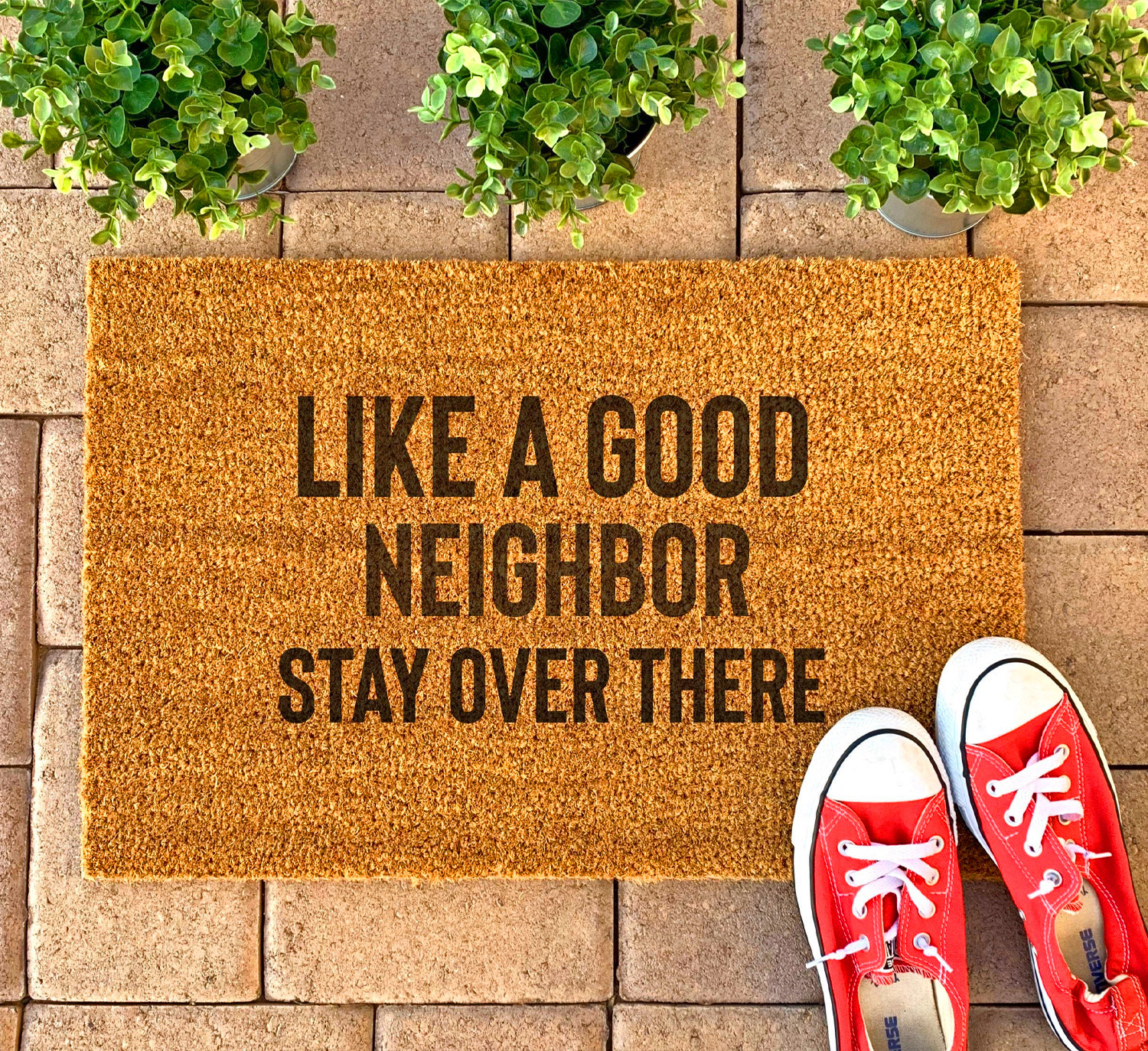 Source