Analogue Neo: Arcade Style Gaming Without The Size
Date Published: 11/26/2014 7:53 AM
The Analogue Neo is an arcade board that allows you to play old school NeoGeo games using the old arcade style with massive arcade buttons that your greasy little fingers can pound on, as well as genuine Seimitsu Joysticks to play with. The Analogue Neo comes with two sets of buttons on the board to allow you to play with a buddy, and will connect to any TV your heart desires between an old as sin CRT TV, or a newer LED television. Perfect for the mobile nerd, the Analogue Neo is a perfect way to carry around an arcade system without looking like George Costanza crossing the street with a Frogger machine. But you better hurry if you want it before the Holiday season, as the company who is creating them only made 20 signed editions as a trial run.
SITE ANNOUNCEMENT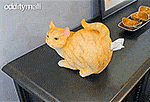 We Are Giving Away 6 Cat Butt Tissue Dispensers
The Analogue Neo system is hand-crafted from 100% ash wood, was designed to have all the features as the SNK Big Red MVS cabinet arcade system as it has the ability to use the original memory card, comes with an A/V cable of your choice (composite, s-video, component, RGB/SCART), measures 26 inches long x 10 inches wide x 2.75 inches deep, and weighs 11 lbs.
- via GearHungry