90's Jazzy Solo Cup Design Short Shorts Boat Shorts
Date Published: 11/06/2015 4:00 AM
There's two things that remind me most of the 90's, and that is super short shorts on men that make me hope that something doesn't fall out somewhere, and the jazzy solo cups we all drank out of at school. So why not combine the two together and make the ultimate 90's piece of clothing? The 90's jazz cup design is now available on a pair of super-short boat shorts that you can freely sport out on your boat where no one has to look at you. Best of all the 90's jazz design boat shorts offer the quintessential elastic waist-band of the 90's so no one will dare take your for a 90's fraud.
SITE ANNOUNCEMENT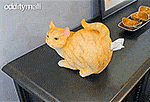 We Are Giving Away 6 Cat Butt Tissue Dispensers
Aptly named "The Free Refills" the short-shorts boat shorts offer a generous 5.5 inch inseam which allows for all sorts of activities, are made from 100% polyester along with tortoise shell buttons to top it off, and has a back pocket with contrasting fabrics for storing boat keys or your Tamagotchi pet.