These Luxury Bathroom Faucets Create a Beautiful Optical Illusion
By Ryan on 03/29/2023 8:05 AM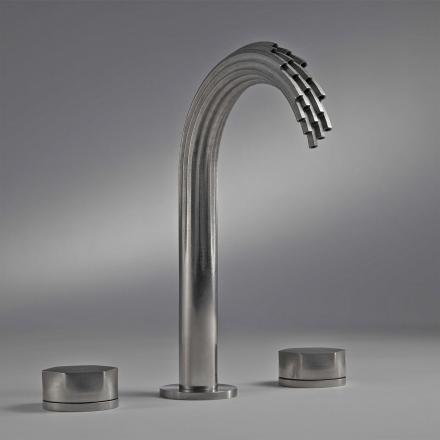 Those who are in the market for a new bathroom fixture might just be in luck, especially if they're looking for a true luxury look. In the modern age, you can find some truly incredible 3D-printed faucets that will accentuate the style of your bathroom, including this next faucet feature.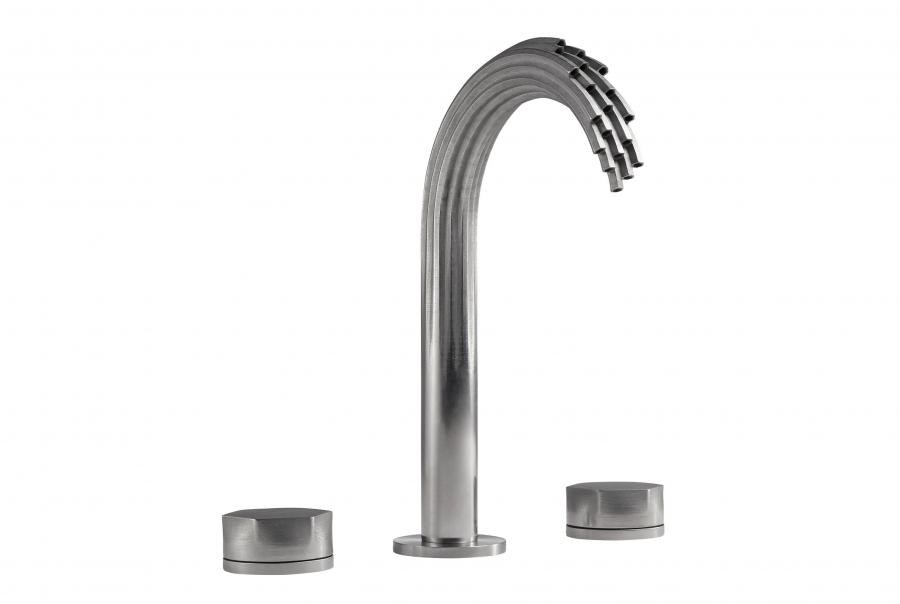 Credit: DXV
Check out this beautiful 3D-printed luxury faucet from DXV, which is designed with multiple converging beams to create a stunning, natural cascade when it's in use. This "minimalist, stoic body design," as the company calls it, offers a very aesthetically pleasing shape that emulates natural streams themselves.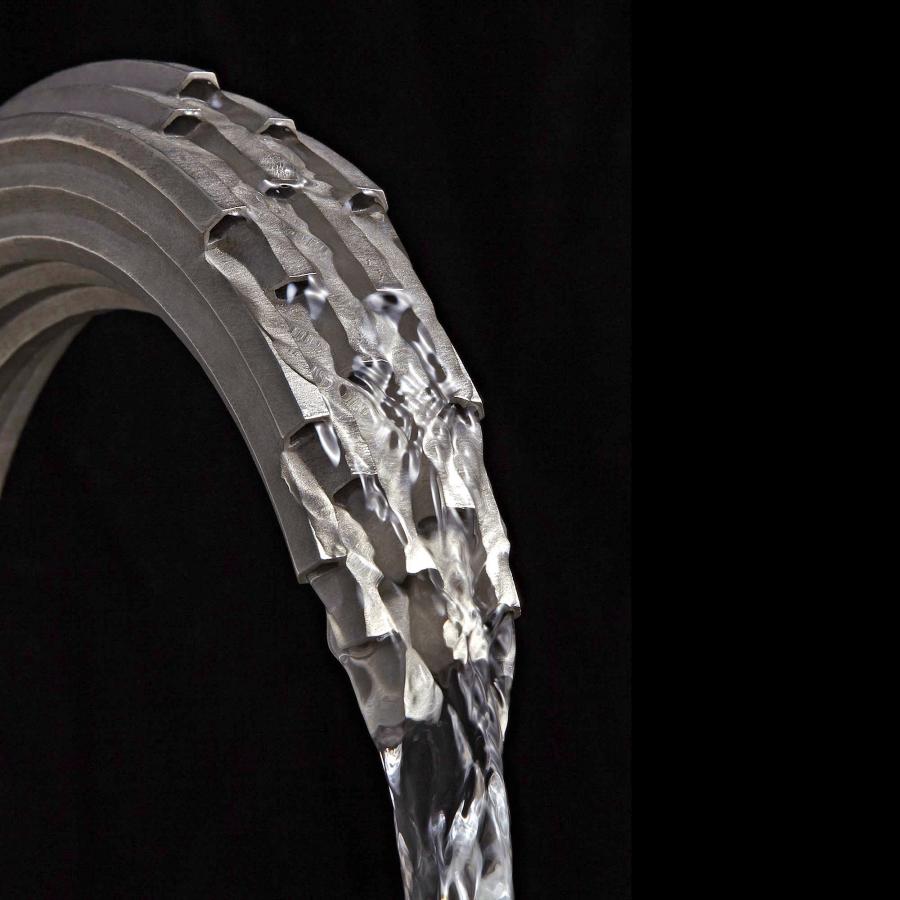 Credit: DXV
Featuring at least 19 different exit ports for the water, which are staggered around the end of the faucet, this bathroom fixture creates a unique, multi-layered stream of water that users could spend hours looking at. The individual streams lead back to the faucet's stem, creating an interesting geometric look that blends seamlessly into a cylindrical base. Credit: DXV
This minimalist faucet comes with two knob handles that are meant to be embedded into the countertop, and a tall stem that's ideal for washing your hands. The bathroom faucet's handles include ceramic disc valve cartridges for regulating water flow. All three pieces of the bathroom faucet set come in an elegant, brushed butler finish, made with the company's lead-free metals. Credit: DXV
The luxury bathroom faucet also offers a flexible installation size ranging from 6 to 12 inches, with 8-inch centers for installation. The faucet itself has a maximum flow rate of 1.2 gpm (4.5 L/min), and it has also been certified by the California Energy Commission and WaterSense — both of which rate the faucet for its water reduction engineering. Credit: DXV
These luxury faucets work with standard ½-inch supply line fittings, and they work with countertops of up to 1 ⅜-inches thick. Users are also encouraged to install the faucet themselves, with the company offering installation sheets downloaded directly from its website. As can be seen in the listing's photos, the faucet requires three countertop holes — one for the faucet, one for the hot handle, and one for the cold handle. Credit: DXV
While the item doesn't have any reviews yet, it seems hard to go wrong with such a simple and beautiful design, especially if it goes well with the rest of your bathroom fixtures. Purchase of the faucet from DXV also comes with a limited lifetime warranty, so you can reach out to DXV with any issues. Credit: DXV
The DXV luxury cascading faucet is right up there with some of our favorite high-end faucets featured in the past. These include this LED temperature-indicating faucet, this 98-percent water conserving faucet. Or, for those who need a kitchen faucet or bathroom showerhead, this waterfall kitchen sink and this modern halo showerhead are both great options. So whether you're updating, renovating, or building a bathroom from scratch, you might consider this artistic cascading faucet as a beautiful piece for guests to enjoy after using the restroom. Credit: DXV
The same company also offers two different models of 3D printed luxury bath faucets, both of which have an incredible design where the center base of the faucet is empty with space, making you wonder where the water source is really coming from! Credit: DXV Credit: DXV Credit: DXV Credit: DXV
You can snag these designer 3D-printed bathroom faucets from their website for anywhere between $18-21k bucks depending on which version you select! Credit: DXV
Check out these incredible 3D printed luxury designer bath faucets in action via the video below.
Subscribe To Our YouTube Channel