Wish You Were Beer Pink Floyd T-Shirt
By Ryan on 10/12/2015 9:14 AM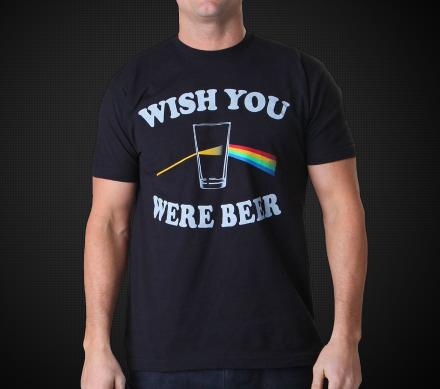 Parodying Pink Floyd, arguably the best band ever, this t-shirt reads "Wish You Were Beer", of course taken from the famous song "Wish You Were Here". Perfect for beer lovers who also enjoy the sweet cradling indulgences of Pink Floyd, the Wish You Were Beer T-Shirt tells the person reading the shirt just how you feel, which is, if you're not beer that I can consume, you don't really matter to me. The Wish You Were Beer shirt takes the design of the iconic prism rainbow imagery from the Dark Side Of The Moon album and replaces the triangle with a beer. The Wish You Were Beer design also comes in a printed version that you can hang on your wall if you feel like classing up your dingy apartment.
The Wish You Were Beer t-shirt is made from 100% pre-shrunk ringspun cotton, is black in color, comes in a plethora of different sizes to fit any sized human, and is perfect for any classic rock loving beer drinker.
Click here for the printed version.