Antique Beer Bottle Lamp
By Ryan on 02/09/2016 4:44 AM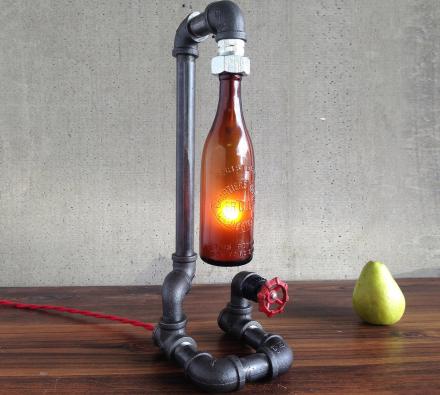 This vintage lamp is made using an old antique beer bottle along with some industrial piping and is illuminated by a low-wattage bulb that is placed inside the old bottle. Although the bottle is not completely transparent and won't give off a whole lot of light, it does give off a warm ambient light that is sure to add to the rustic design of your home. The beer bottle is an actual bottle from the Chartiers Valley Brewing Co. of Carnegie and dates back to 1890-1920. The vintage bottle is firmly secured in place using custom rubber gaskets that grasp the bottle without damaging it. The best feature in my opinion is the bright red rotating valve that is used to turn the antique light on and off. Simply rotate the valve right to turn it on, and rotate it left to turn it off.
Designed and created by Peared Creation, the vintage beer bottle lamp actually comes in a plethora of different styles to choose from that you can find both on Amazon, or their website pearedcreation.com. Some of their designs use Edison bulbs, others use the same type of antique beer bottle, whereas others use old liquor bottles.
The antique beer bottle lamp uses retro styles cord that is covered in red cloth, is assembled using heavy-duty black iron pipe fittings, is made using an authentic pre-prohibition beer bottle, is handmade in the USA, and measures 18 inches tall x 6 inches wide x 7.5 inches deep.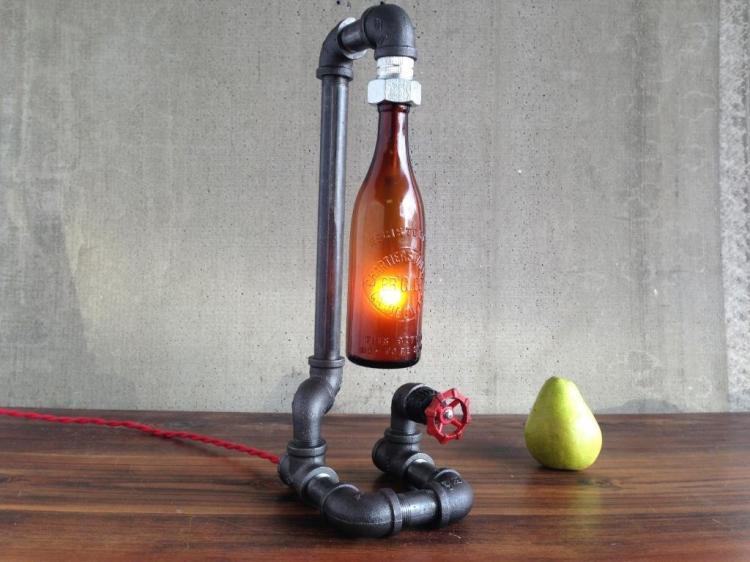 The beer bottle lamp comes with 2 incandescent bulbs, one of which is a backup bulb, that you can easily replace by simply unscrewing the beer bottle from the lamp to reveal the bulb. Additional bulbs can be found at your local hardware store, whereas if you break a beer bottle or just happen to want a different style you can purchase them on their website here. In fact you're even able to choose which state the antique beer bottle comes from in case you wanted one from your home state.