Venn Diagram Chip and Dip Bowl
Date Published: 03/10/2016 1:57 AM
This chip and dip bowl is shaped like a Venn diagram, so that you can have two types of chips on both sides of the bowl, and then have your chip dip in the middle. Or if you really want to get technical with the diagram you can put onions and spices on one side, with mayonnaise and sour cream on the other side, which when combined makes a French Onion chip dip in the center. Although doing that doesn't make much sesnse... A perfect gift idea for any science or diagram loving nerd, the Venn Diagram chip and dip bowl will work great for any party you might have, and will certainly be a conversation piece for anyone who sees it.
SITE ANNOUNCEMENT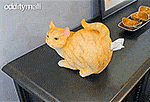 We Are Giving Away 6 Cat Butt Tissue Dispensers
The Venn Diagram chip and dip bowl was originally created for a design collaboration with students where they asked them "What does live well mean?", in the context of home design. Designed by student Chin Hua Lin, the Venn Diagram bowl is hand made from porcelain, is white in color, is microwave and dishwasher safe, and measures 9 inches wide x 6 inches wide x 2 inches deep.