These Trucks and Tractors Made From Diapers Make For The Cutest Gift To New Parents
By Ryan on 09/01/2020 8:59 AM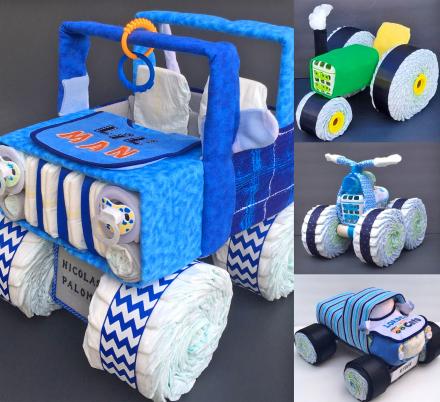 If you're going to a baby shower and are gifting the soon to be mother some diapers for the new arrival, you have two different ways of going about it. You can either dump a box of diapers on her couch and say "there you go". Or you can get creative with your diaper-gifting, and give her one of these incredible truck shaped diaper package. It's not only filled with 85 size 1 diapers, but it also gets creative with the design of it, by incorporating a baby bib, pacifiers, baby blankets, infant socks, teethers, and more.
The unique diaper package Jeep truck is made and sold by Etsy store OBabyDiaperCakesCo, and not only do they sell Jeeps made from diapers, but they also offer a slew of other cute ideas for baby showers, including a tractor made from diapers, a four-wheeler diaper gift, a boat shaped diaper gift, a Chevy truck diaper package, and more.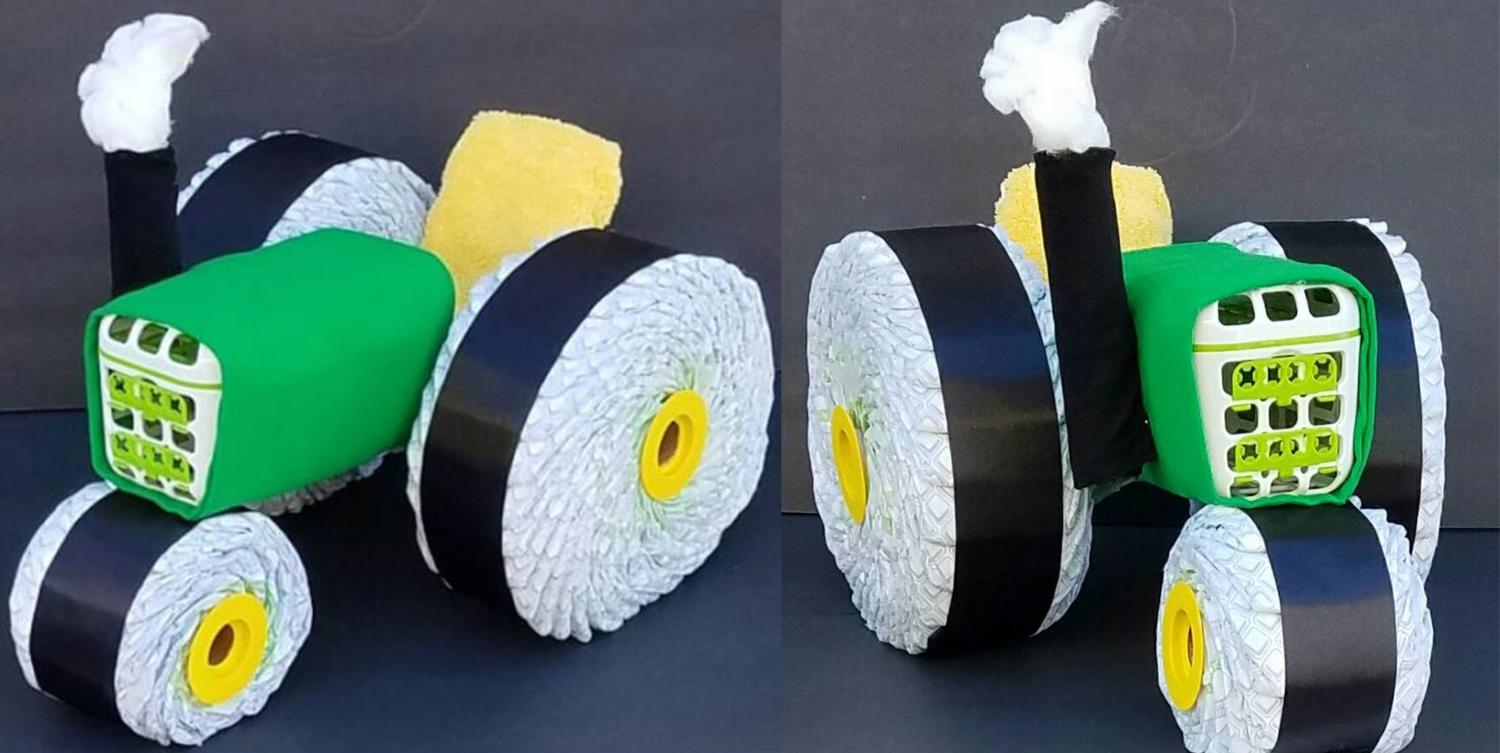 Sure, you could probably make one of these super cute baby shower diaper gifts for slightly cheaper, but do you really want to take the time to learn how to do it, buy all of the items necessary, and then probably end up on a Pinterest fails list somewhere? Probably not.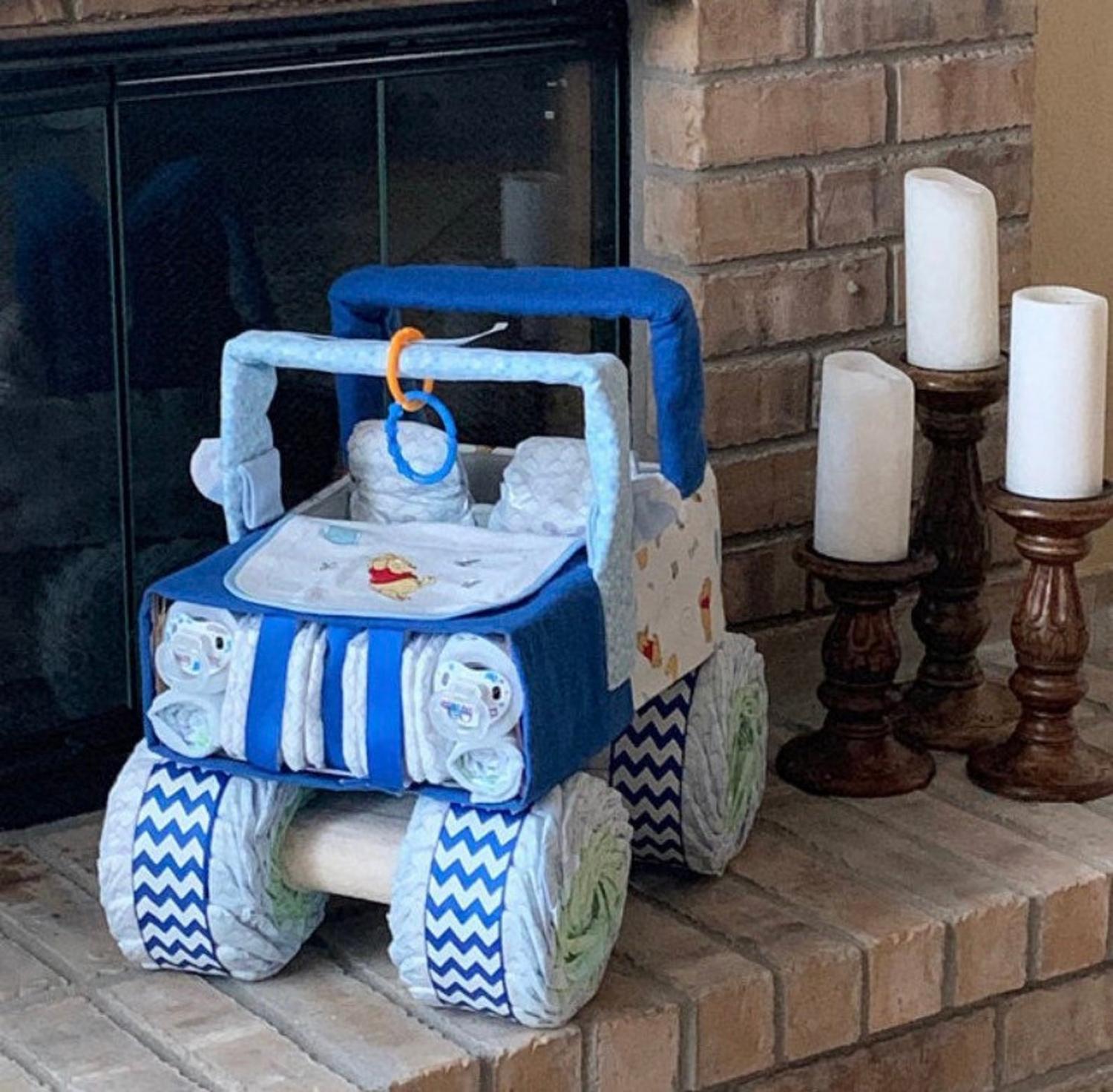 The Jeep shaped diaper gift, along with all of the other diaper packages the sell come with all the diapers and everything else already included, so you wont' need to put anything together or buy separate items. You simply purchase the Jeep diaper truck, or the four-wheeler diaper package, and it arrives fully intact and ready to gift to the new mother.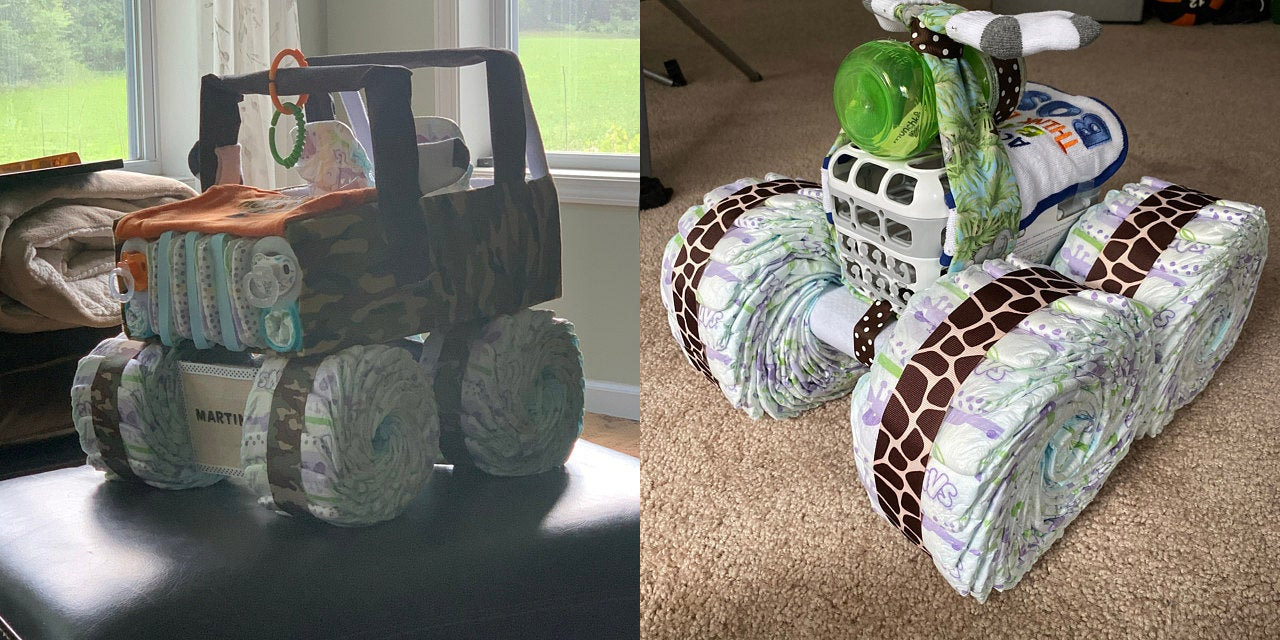 You can also customize parts of the truck shaped diaper gift, including a personalized license plate with the baby's name if you know it already, you can customize what type of diaper you'd like it made with, and you can also customize the color schemes depending on if you know if it's for a baby boy or baby girl. Depending on if you get the diaper Jeep, diaper four-wheeler, diaper tractor, or any of the other versions they have, it'll come with a variety of different newborn baby products integrated right into the design of the diaper vehicle. Though the diaper Jeep comes with the following items: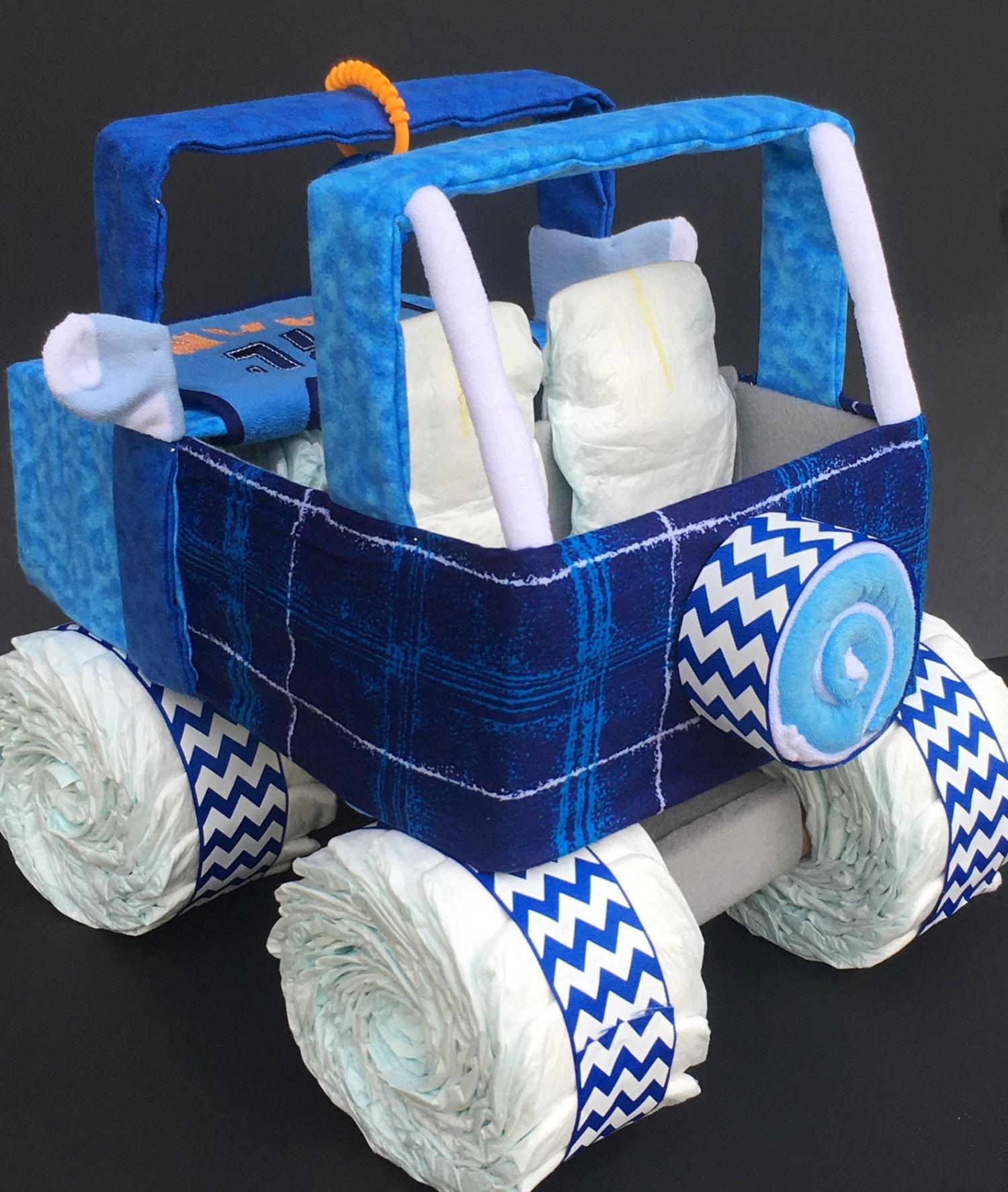 85 size 1 diapers
8 washcloths
4 receiving blankets
2 pacifiers
1 bib
1 pair of infant socks
1 teether
2 ring length toys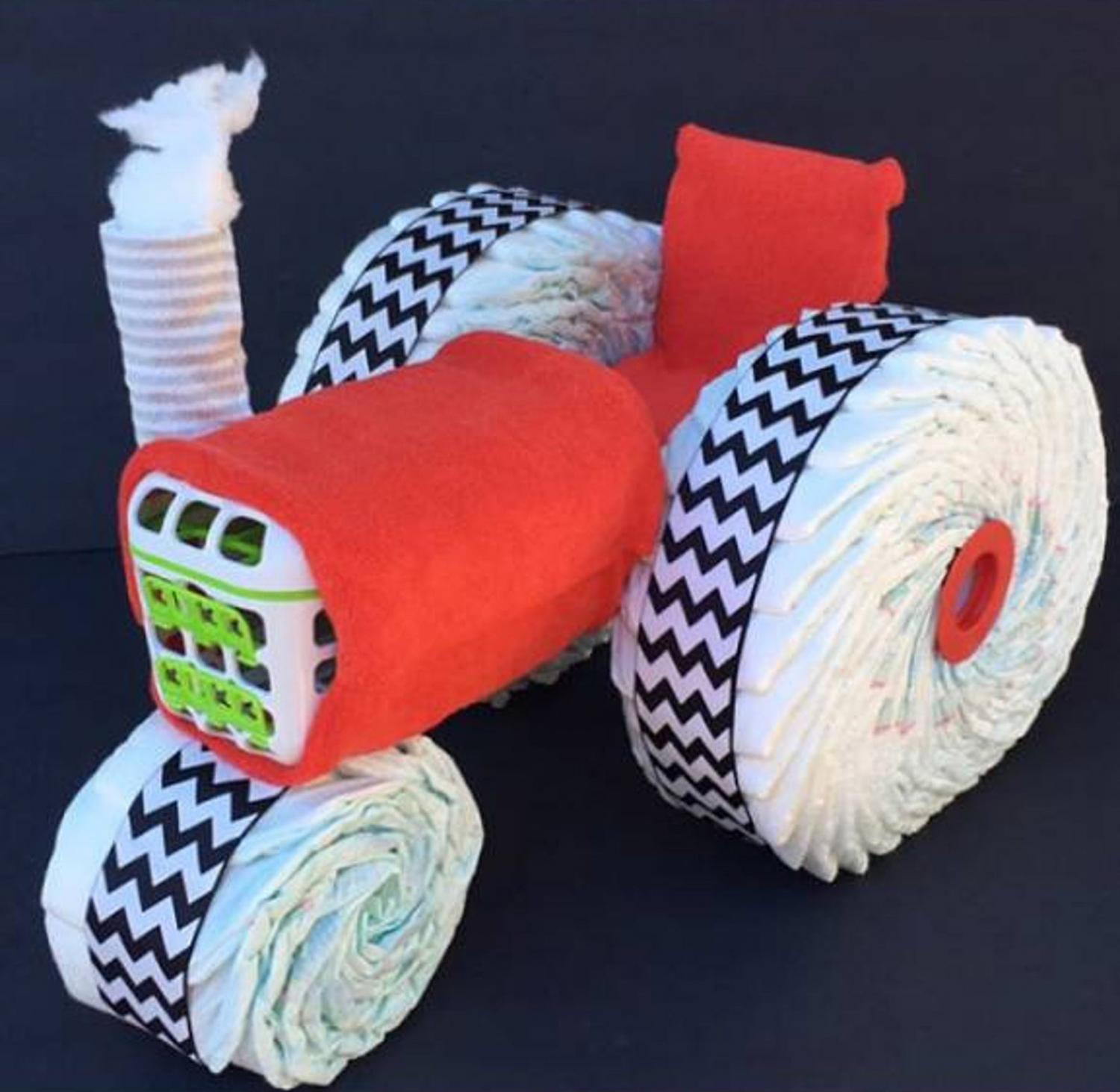 The total size of the completed diaper jeep truck will be 19 inches long x 15 inches wide x 17.5 inches tall. The other models will of course vary in size depending on which one you choose. They ship the unique truck shaped diaper gifts according to the date of the event you'll be attending, so you'll want to message the seller and coordinate with them before or after making the purchase. Though, since each diaper gift is handmade to order, you can expect around 2-3 weeks for delivery. So order early!