This Tie Tea Cup Gives You A Notch To Tie Your Tea Bag Around
Date Published: 10/21/2015 8:13 AM
Buy Now

@Amazon
Find on Ebay

Here's another round of "Why Didn't I think Of That?". The tie tea cup is an idea that's so simple, and so useful, which makes you think you're on the borderline of a mental illness just for not thinking of it yourself. The tie tea cup is just a pretty standard white coffee/tea cup with the simple difference of having a tiny notch cut into the top brim of the cup which gives you a little area to tie your tea bag off so it doesn't fall all the way in, or slide around when you go to take a sip. Designed by George Lee, the tie tea cup even comes both a right handed version and a left handed version, so no matter what hand is your dominant one, you will have a place to tie your tea bag that's not in your way.
SITE ANNOUNCEMENT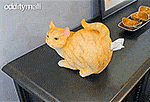 We Are Giving Away 6 Cat Butt Tissue Dispensers
The Tie Tea Cup holds about 12 ounces of liquid, is made from ceramic, is designed like a boat dock cleat, is microwave safe, and measures 4.18 inches tall x 3.5 inches in diameter.