This Bomb T-Shirt Makes It Look Like You're Wearing Dynamite Around Your Body
By Ryan on 04/05/2016 5:27 AM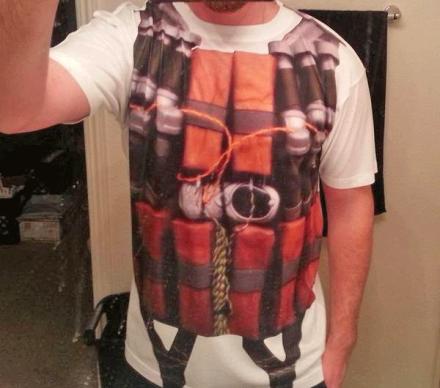 If there was ever a t-shirt that you'd never want to wear to an airport, train station, or wedding, it would probably be this one. Made to look like you're wearing dynamite around your body, this bomb shirt is definitely not recommended to wear pretty much anywhere, not even in your own yard, and definitely not under a trench-coat that's half-way buttoned up while you walk into a bank with a trivia buzzer in you hand as you approach the teller while dripping sweat. The store selling the bomb shirt even offers you a "bravery discount" just for purchasing it.
The bomb shirt is created and sold by ShirtWasCash, an online clothing store that offers user-submitted designs from 4Chan, Reddit, and the internet to put on their shirts. Other shirts of theirs that we've featured in the past include the Dear Leader Kim Jong Il Glorious T-Shirt, and the Hank Hill Tripping Balls T-Shirt.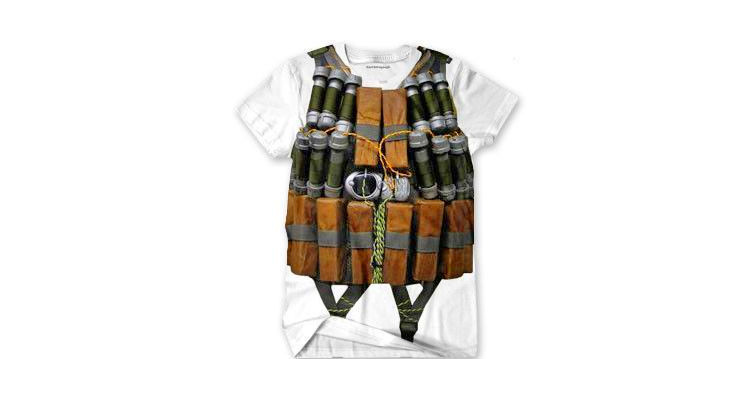 The terrorist-like dynamite t-shirt is made from ultra soft 100% spun polyester, and is created using a dye-sublimation printing technique that produces super-soft, vibrant, and permanent prints that are guaranteed to never flake crack, or peel. The terrorist t-shirt comes in sizes ranging from XS to XXXL, and even has a premium version in each size that prints the same dynamite pattern on both the front and the back of the t-shirt.