This Abducted By An Alien In UFO Costume Might Be The Greatest Halloween Idea Ever
By Ryan on 10/12/2021 7:48 AM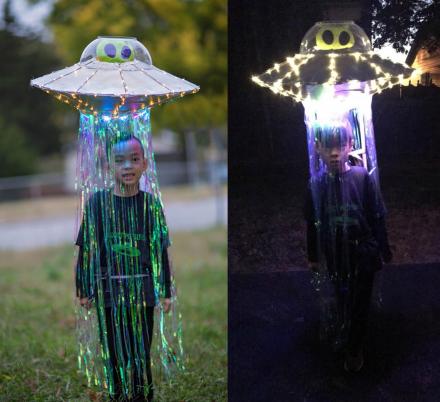 Whether you like to admit it or not, Halloween is just 96 days away (at the time of this article), so if you're someone who likes to plan intricate and outlandish Halloween costumes, the time for preparation is now. We might have found one of the coolest DIY costume ideas for either kids or adults, and it's made to make you look like you're being abducted by an alien in a UFO that's hovering above you. It was submitted to the Halloween costume website Costume Works, and was part of their 2019 Halloween costume contest.
The UFO aliean abduction Halloween costume was made by a mother named Duong for her son Milo who recently started having an interest in aliens and UFOs after watching videos on the subject matter on YouTube. They were looking for alien and UFO costumes on Pinterest and came across a similar one that caught their eye so they decided to build their own version of it so Milo can trick-or-treat while looking like he's being abducted by aliens.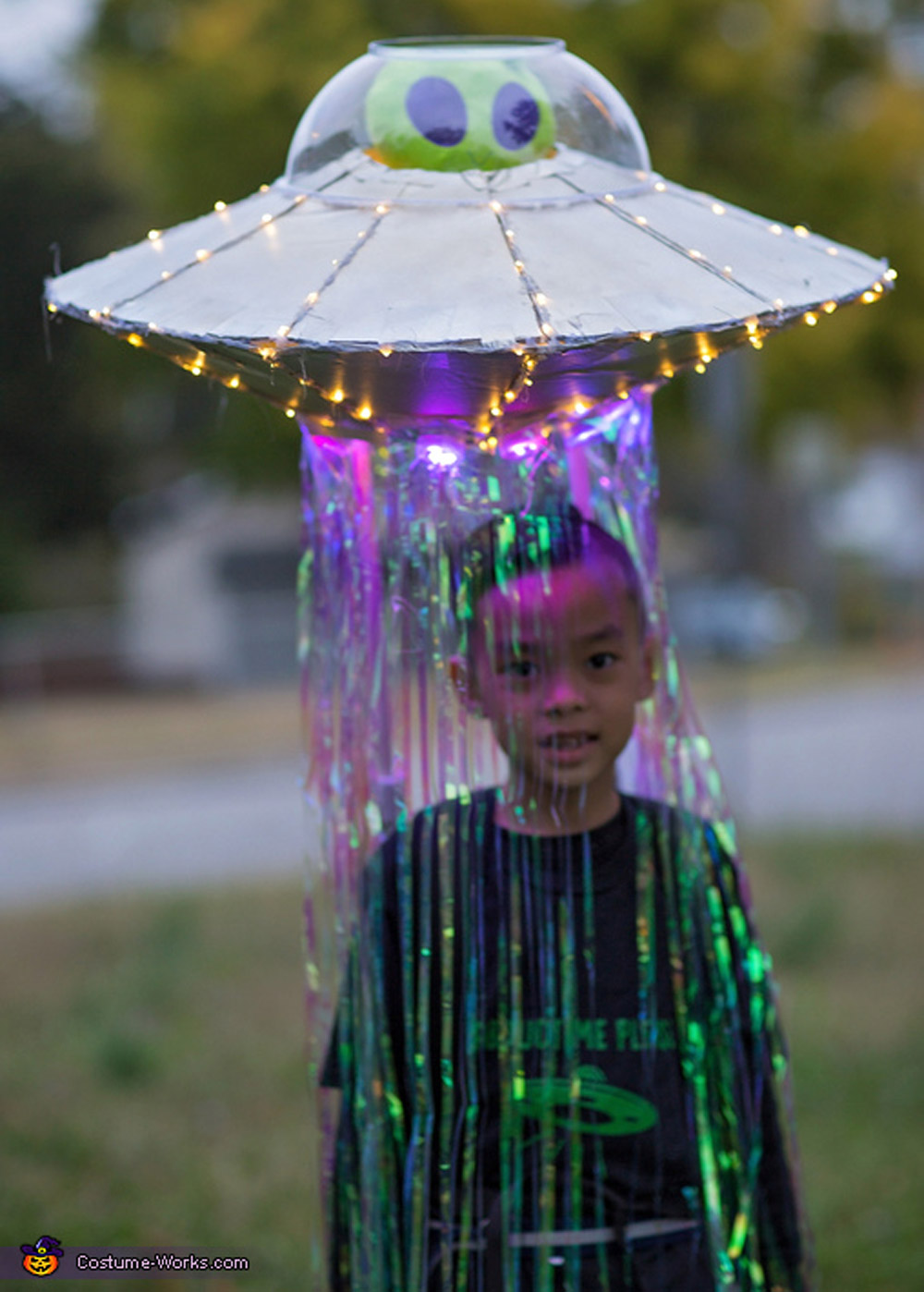 Duong states that she used "8 pieces of foam boards from Dollar General" to make the body of the hovering UFO, and then says she "placed 4 foam boards together and drew a circle and divided each part of the foam board into three sections, making 12 pieces". Duong goes on to say "I did that twice for the top and bottom of the UFO. I cut each pieces out and took out one piece from the top and bottom. I then used duct tape to tape the 11 pieces together. I did that twice for the top and bottom."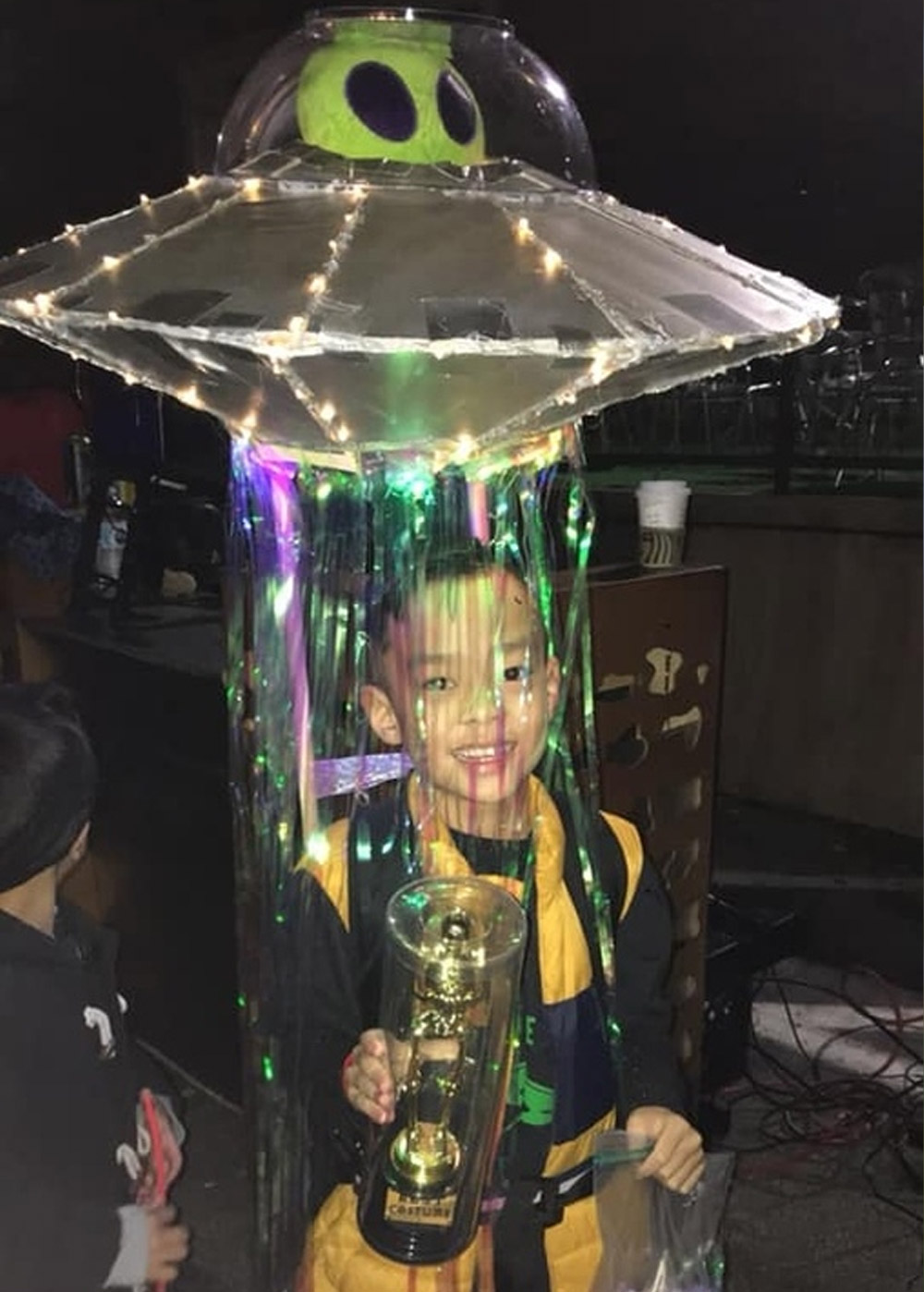 Check out further instructions on how to create your own DIY abducted by an alien in a UFO costume below:
"Then I cut a big hole for where the alien will sit for the top and bottom. After that, I spray painted the UFO body with spray paint (in gold then in silver.) I used big, clear, punch bowl for the top of the UFO. I hot glued the alien to the top of the punch bowl and then hot glued the punch bowl to the UFO. After all that is done, I hot glued on the fairy lights to the top and bottom of the UFO. I then hot glued circular lights to the bottom of the UFO."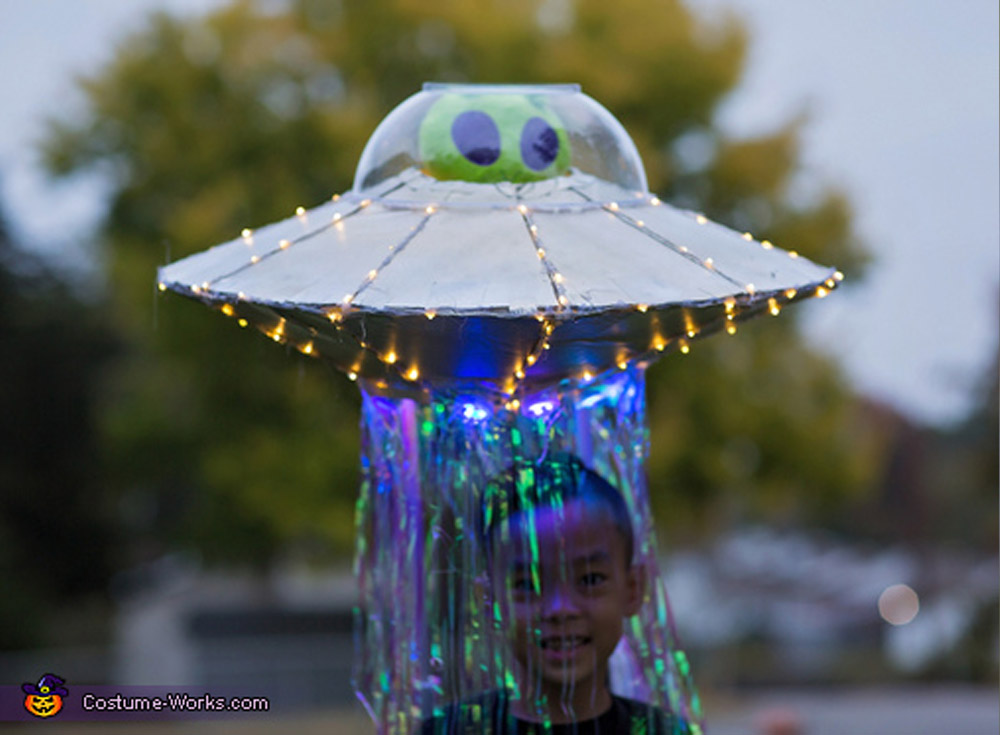 "Lastly, I glued on iridescent streamers around the bottom of the UFO to make them look like rays. To hold up the UFO, I used two strong PVC pipes and made holes to the UFO and spray foamed it in place. I then pray foamed the other ends to a box. I put the box into his book bag so he can wear it and hold it up. To complete the look, I bought Milo a T-shirt that says 'Abduct, me, please!.'"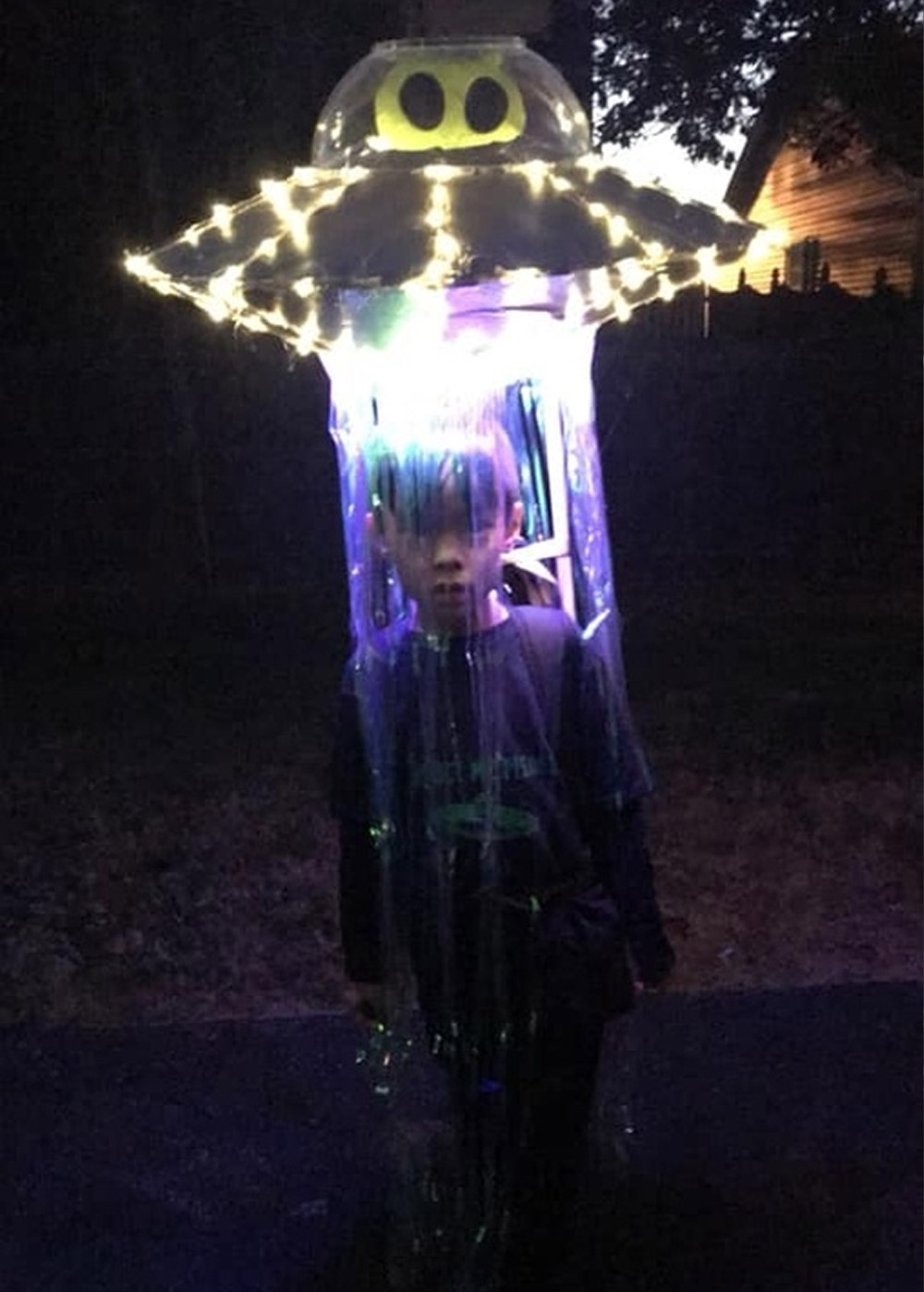 "This costume was a hit at Trunk-or-treats. We won 'Best Costume!' Milo was super excited about it. All through the night, people kept asking to take pictures of the costume and complimenting. Milo was super proud of his bright costume."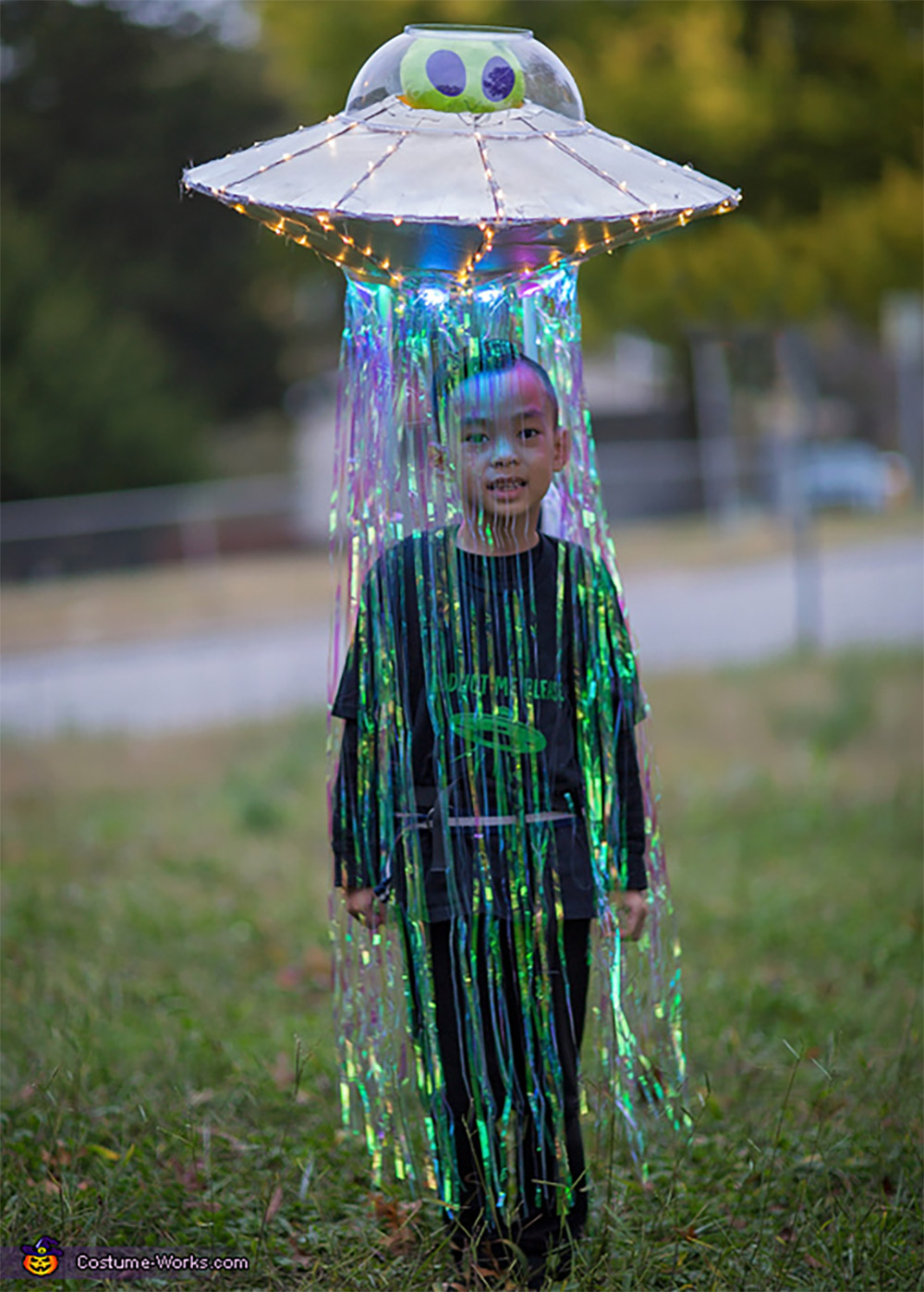 Check out some other similar abducted by UFO aliens that we found across the web that might just help inspire you to make your own version of the funny Halloween costume.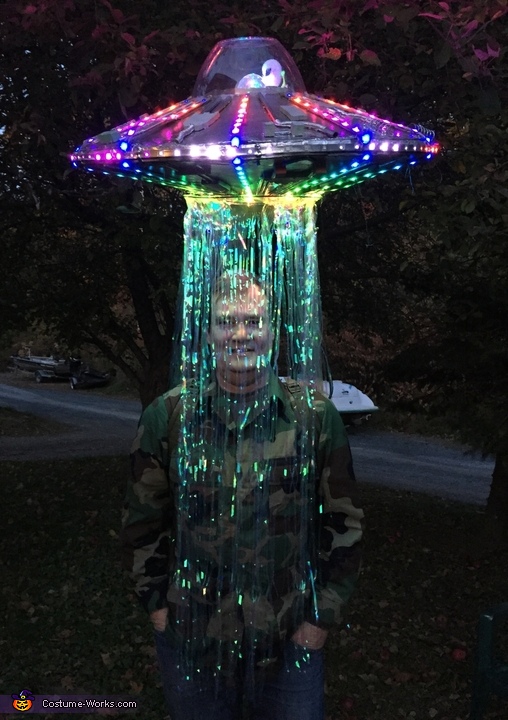 Source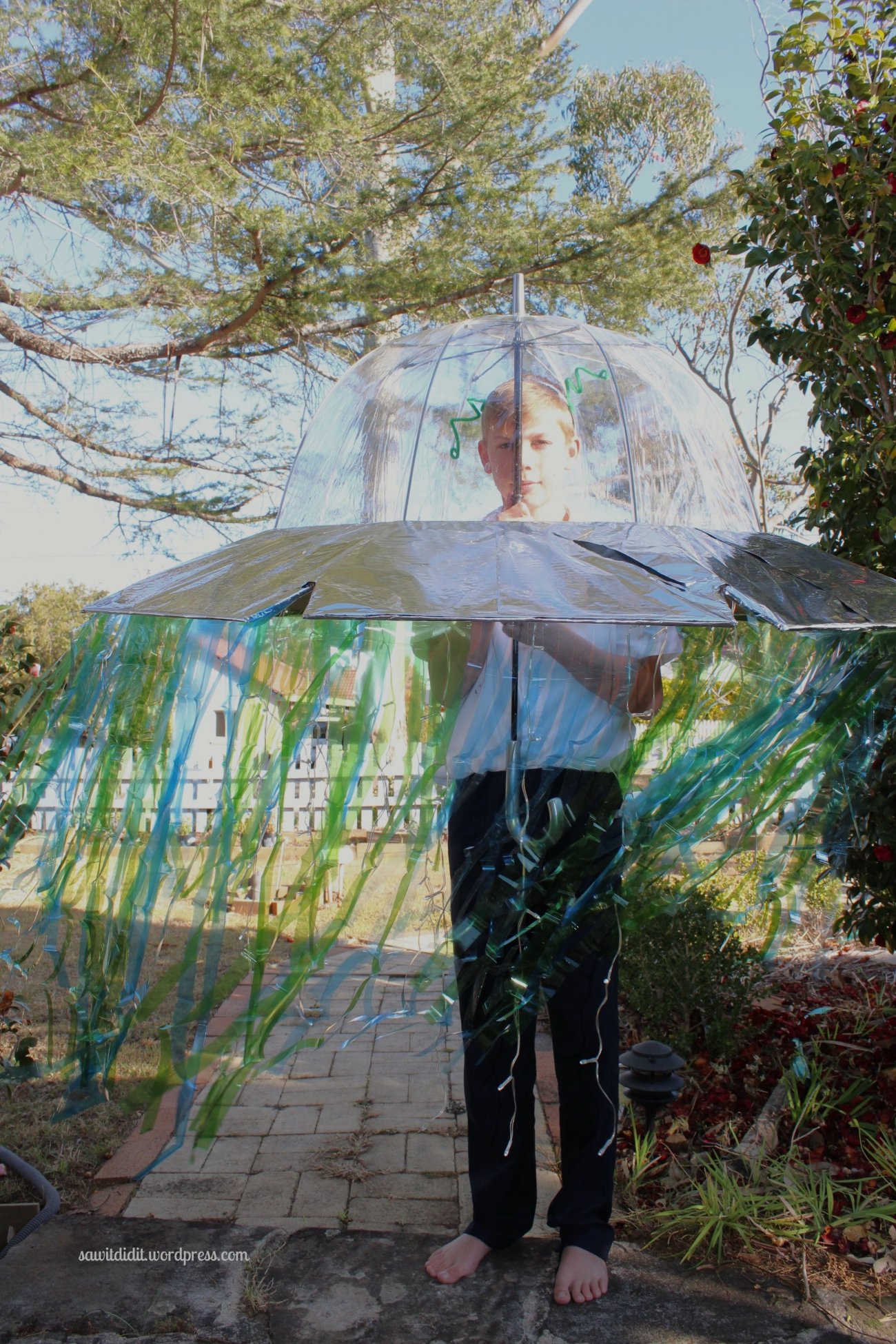 Source
And of course there's always this classic abducted by alien costume available on Amazon that's a much easier option that making one yourself!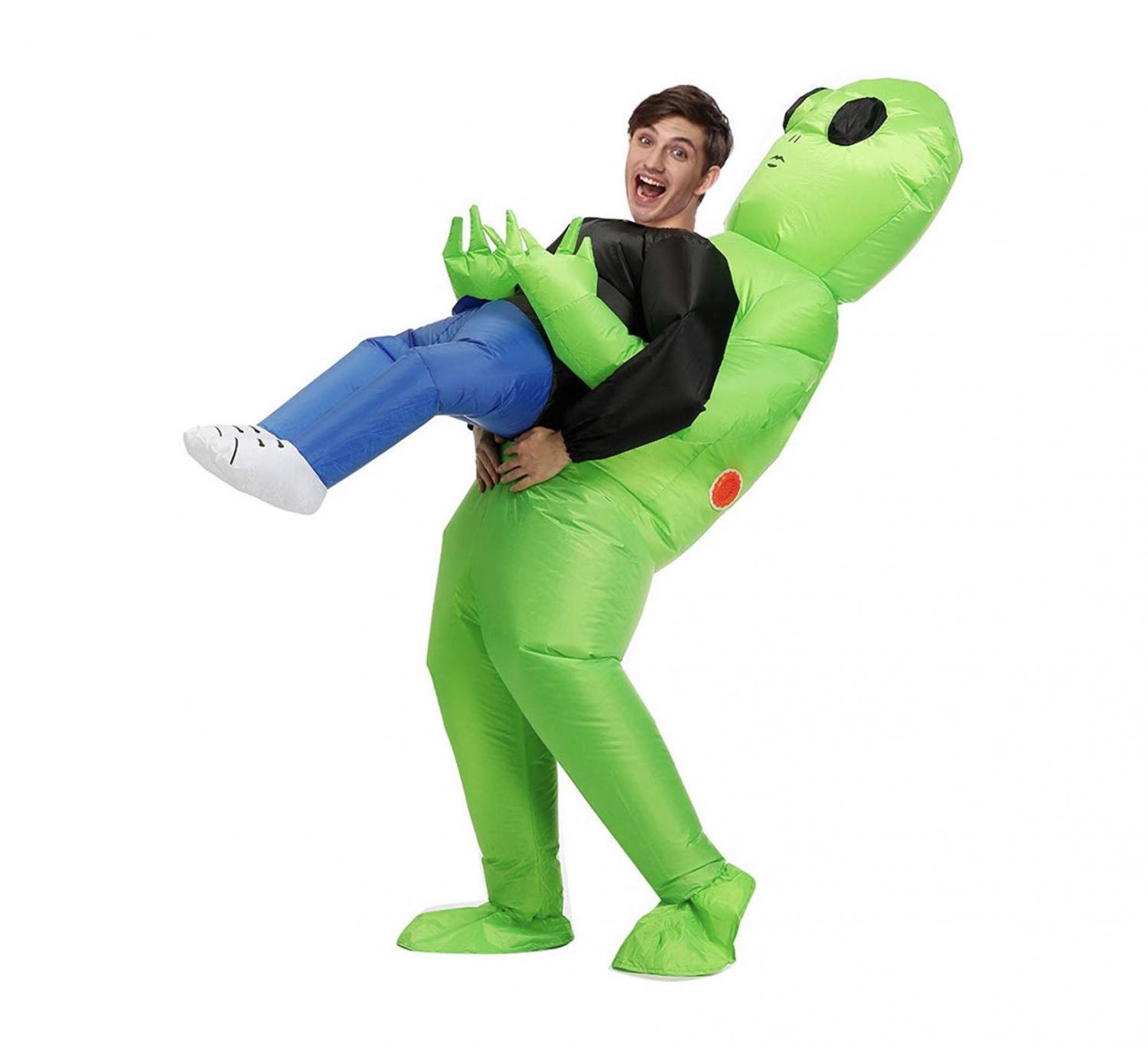 Get this one here
Check out a similar UFO alien abduction Halloween costume in action via the video below.
Subscribe To Our YouTube Channel