This Tiny LapDesk Holds Your Tablet and Has a Whiteboard
By Ryan on 09/25/2015 5:55 AM (Updated: 06/04/2018 8:11 PM)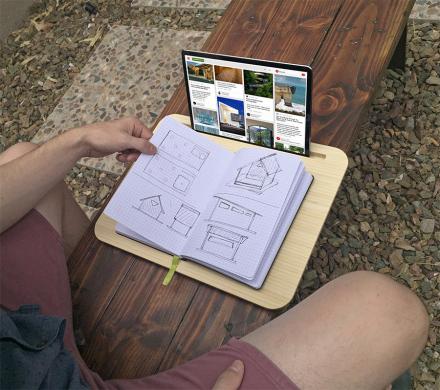 The Tab Lap Desk is a tiny minimalist desk that sits in your lap to hold your tablet and give you a proper work space while you're on the go, and is the next generation of iSkelter's unique line of desks. It started with the Slate, a wider lap desk that gave you a mouse-pad, a place to set a phone or small tablet, and had holes throughout the wood to keep your laptop from overheating.
They they came out with the SlatePro, a full desk that had everything a tech geek would want in a desk, including a tablet holder, phone holder, cup holder, ventilation holes, a magazine rack, a pen holder, and more. With the Tab Lap Desk they slim it down to be quite minimal to a smaller work area with a dock built in to hold your tablet, along with an optional white board to easily take notes.
The tablet lap desk is made by iSkelter, a Phoenix based company that makes desks, lap desks, device docks, and accessories tailored specifically to techie people. The lap desk offers an easy to use work space that sits right on your lap and is perfect for getting some quick work done while on the bus, on the subway, in the car, or just at the park if you just want to work outside. The Tablet Lap Desk is made from natural hand-finished bamboo along with durable acrylic whiteboard, has a display dock that is compatible with all sizes of iPads, most tablets of all sizes, and pretty much any smart phone. Plus the lap desk has an optional whiteboard that you can get integrated on either the right or left side of the board for easy note taking. The lap desk weighs 2.4 lbs, and measures 15 inches wide x 11.5 inches long x 0.75 inches thick.