Steak iPhone Case
Date Published: 09/14/2015 4:34 AM
Sometimes it's nice to just look at beef and admire the shape and color of it along with the lines separating the beef from the fat. Sometimes I think I should have been a beef photographer in another life, assuming that's a thing... This iPhone case makes your phone look like a big juicy steak. Whether you're looking for a smaller steak to cover your iPhone 5 or 5s, or you're looking for a big manly steak to cover your iPhone 6 or 6 Plus, this beef iPhone case encompasses them all. Although inedible and made from plastic, this steak iPhone case is printed using a high definition photo of a piece of beef and covers the back and all the sides of the phone, and is perfect for any cowboy or beef lover.
SITE ANNOUNCEMENT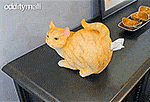 We Are Giving Away 6 Cat Butt Tissue Dispensers
The Beef iPhone Case is compatible with the iPhone 5, 5s, 6, and 6 Plus, and leaves openings for the charging port, audio port, power buttons, and volume buttons.