These Stanley Mug Snack Bowls Transform Your Tumbler into a Snack Haven
By Ryan on 11/09/2023 11:57 AM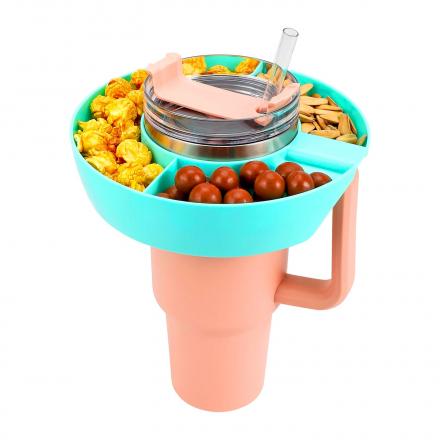 Oh, snack enthusiasts and sippers of the world, unite and marvel at the genius of Stanley mug snack holder bowls, the latest craze to hit the munching scene. You see, these nifty gadgets are not your run-of-the-mill snack containers; they are the Swiss Army knife of the snack world, the loyal sidekick to your beloved Stanley mug.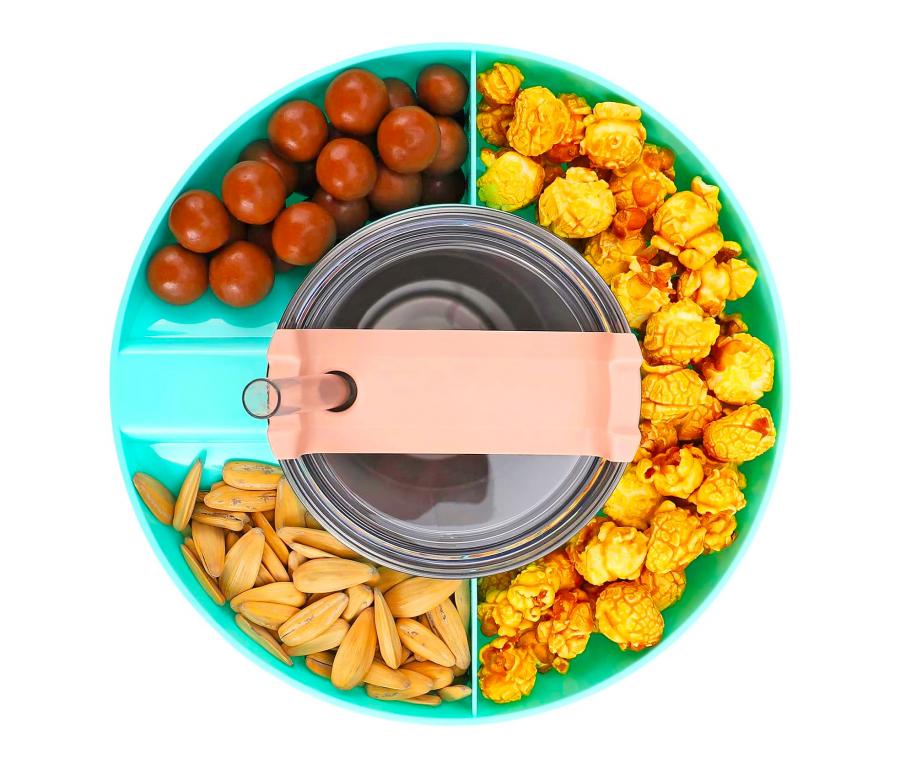 Picture this: you're cozily ensconced in your favorite armchair, Stanley mug in hand, brimming with your preferred beverage. But wait, there's more! Perched atop your mug is a triumvirate of snack compartments, an arena for your pretzels, nuts, and chocolate chips to coexist in harmony.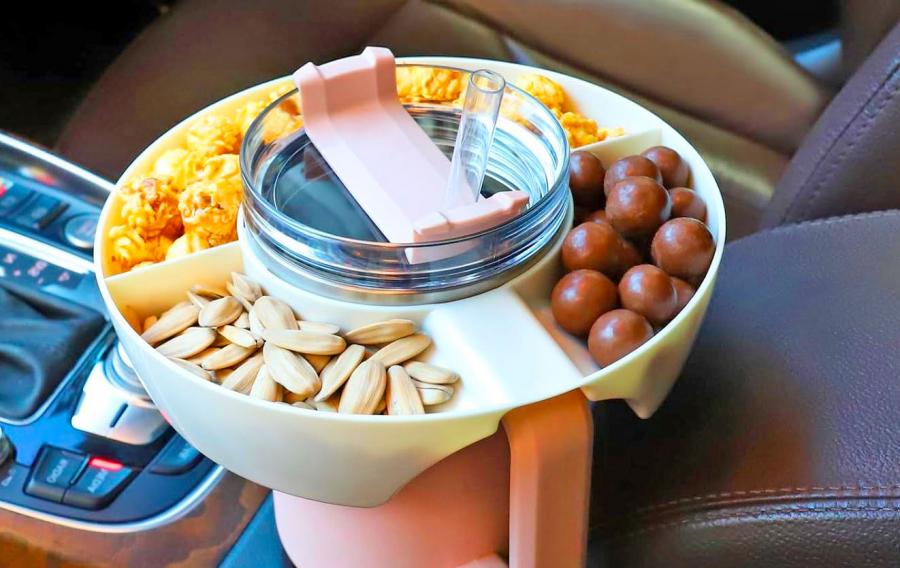 All this without compromising your access to the life-giving straw that connects you to your drink. Yes, this is no snack fantasy; this is the Stanley mug snack holder bowl. Let's talk about utility, shall we? Ever found yourself in a pickle, juggling a drink in one hand and a plate of snacks in the other? The inventors of this snack holder bowl must've had an epiphany because it allows you to hold your snacks and drink with one hand. That's right, no more snack-related gymnastics. Your other hand? Free to high-five, wave, or engage in wild gesticulation, should the need arise. Now, the aesthetic crowd will be pleased to know that these snack holder bowls come in not one, not two, but three different colors. Choose the one that matches your mood, your outfit, or your mug; the possibilities are as endless as your snack choices. Stanley mug fanatics, you've been seen, you've been heard, and now you've been given a gift that keeps on giving. Moving on to the snack compartments, we have a trio of sections that bring order to the chaos of your snacking. No more shall your raisins fraternize with your wasabi peas. Separate but accessible, this is compartmentalization at its finest. And for those who like living on the edge, flip your world upside down by attaching this snack haven to the bottom of your mug. Just remember, with great snacking comes great responsibility. Handle with care, or your snacks might just stage a coup. But how does it attach, you ask? It clips, dear reader, it clips. With the finesse of a ballet dancer and the security of a bank vault, this snack holder bowl affixes itself to any standard Stanley 40oz tumbler with the ease of a seasoned pro. It's like it was meant to be, a perfect fit, a match made in snack heaven. Ease of use? Check. This isn't rocket science; it's snack science. Your Stanley tumbler and this snack ring are like two peas in a pod, except those peas are actually in separate compartments because remember, we're not savages. We separate our snacks here. And for those who tread the earth with a conscious step, fear not. The materials are top-notch, BPA-free, and as safe as a hug from your grandmother. Durable, reusable, and ready for action—whether you're scaling a mountain or scaling the stairs to your bedroom. Dust and splash-proof, it's like a shield for your snacks, protecting them from the elements as you venture into the great outdoors. Let's not forget the gift-giving potential here. Imagine the look on your friend's face as they unwrap this marvel of snack storage. The joy, the gratitude, the instant craving for snacks—it's all part of the experience. But remember, the Stanley tumbler is not included; it's like Batman without Robin, so make sure your giftee is equipped. In a world where multitasking is king, and snacks are the fuel that powers us through our daily quests, the Stanley mug snack holder bowl is the unsung hero we never knew we needed. So go forth, sip, snack, and be merry, for the age of snack enlightenment is upon us. You can snag the Stanley tumbler mug snack bowl from Amazon for around $16 bucks!