Slice Of Pizza Pool Float
By Ryan on 04/20/2015 2:01 AM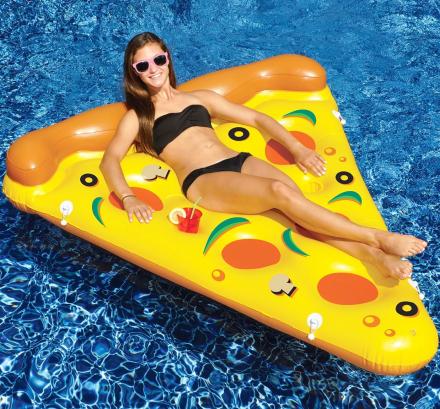 On today's edition of ' Because Why Not', we have the pizza slice pool float, because why float on a regular rectangular shaped pool floaty when you can be floating on top of a slice of pizza. Simply lie down on the cheesy goodness of the pizza and use the crust as a head rest. Use either of the two integrated drink holders located towards the sides of the pizza, and maybe use your free hands to applaud yourself for winning at life, hold hands with your lover on the slice of pizza next to you, or even down some pizza (assuming you've designated your old pool float to support your box of pizza).
The slice of pizza pool float comes in supreme flavors only, comes with a bungee that allows you to connect to other slices to make a whole pizza made with human meat, is suitable for ages 7 and up, and measures 72 inches long x 60 inches wide.
Rather take a nap? Maybe the slice of pizza sleeping bag is more-so up your alley.