There Are Now Skull Shaped Slide Sandals, and We Need Them Immediately
By Ryan on 04/18/2023 3:17 PM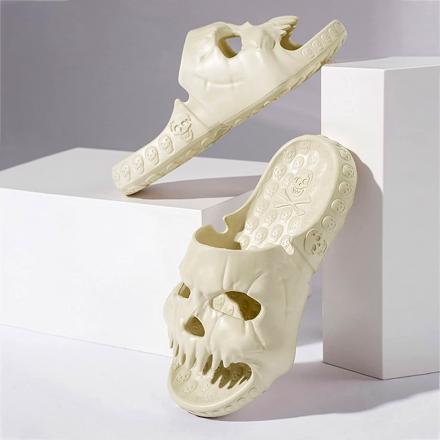 Ahoy there mateys! Are you ready to walk the plank in style? Look no further than these skull-shaped slide sandals! These bad boys are sure to make a statement wherever you go. Let's take a closer look at these unique and spooky sandals.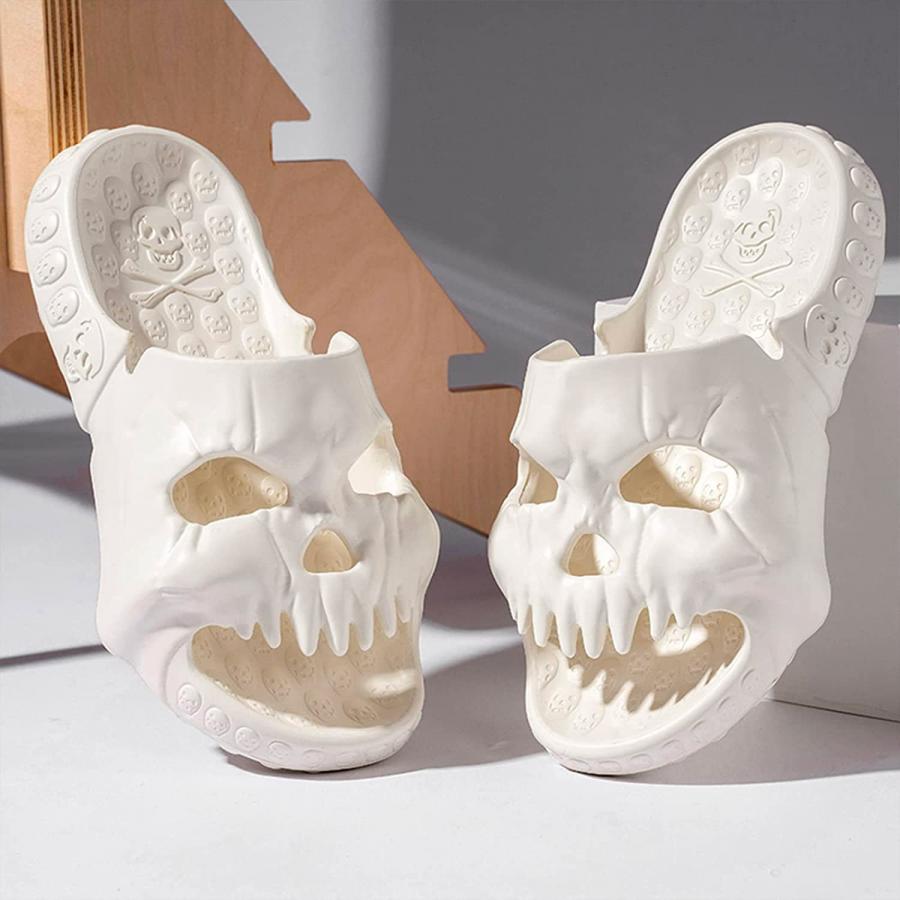 The skull design on the strap of the slide is the star of the show. Your feet come through the mouth of the skull, making it look like your feet are sitting inside of a skull. It's like having a little Halloween party on your feet every day!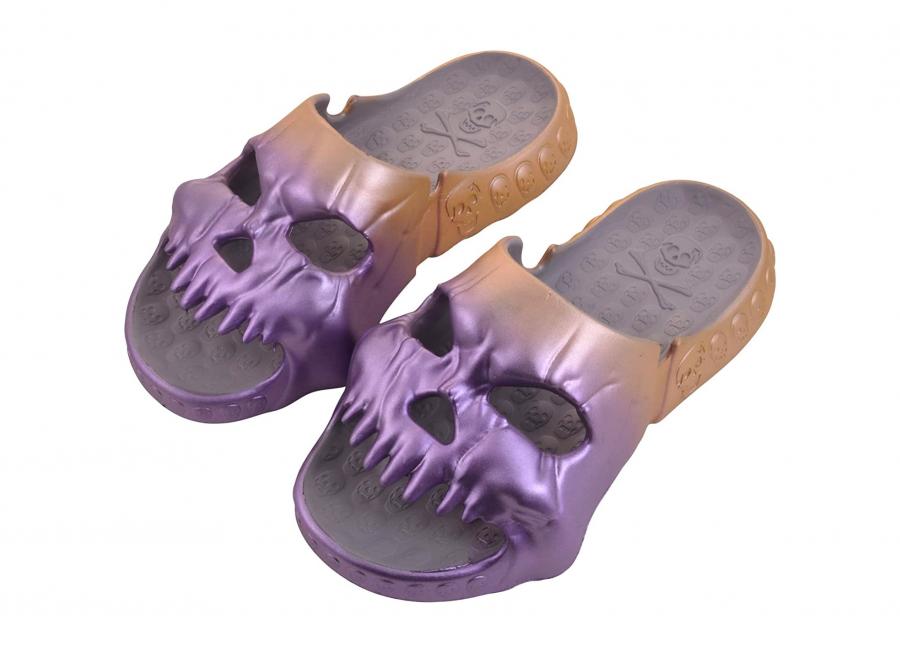 And let's not forget about the rest of the sandal, which is also filled with mini skull designs. This is definitely not your average sandal. But just because they're quirky doesn't mean they're not versatile. With a range of color options to choose from, including beige, black, grey, purple-gold, dark blue, white, and light grey, there's a pair to match any outfit. They're also available in a range of sizes, from a U.S. men's 4.5 up to U.S. men's 11.5, so you can find the perfect fit for your feet. Whether you're a dark arts lover, Halloween enthusiast, or just a pirate fan, these sandals are perfect for you. The large skull and crossbones design on the heel of each slide is a nod to classic pirate imagery. You'll feel like you're ready to set sail on the high seas every time you slip these sandals on. But they're not just cool to look at - they're also made from high elastic molded Non-slip EVA material. This means they're durable and will last you a long time, even with regular wear. They're also very breathable and lightweight, making them comfortable to wear even on hot summer days. Ahoy mateys, there's more to these skull-shaped slide sandals than meets the eye! In addition to the fun and quirky design, the bottom of the sandals is filled with tiny skulls that help with traction. That's right, these sandals are not just cool to look at, they're also practical. The tiny skulls on the bottom of the sandals provide extra grip and help prevent slipping, making them perfect for outdoor activities. Whether you're hiking, walking on slippery rocks, or just running errands around town, these sandals will keep you steady on your feet. So what are some ways you can wear these skull-shaped slide sandals? Here are a few ideas:
Dress them up with a cute sundress. The skull design adds a touch of edge to an otherwise girly outfit.
Pair them with denim shorts and a band t-shirt for a casual look. These sandals add a fun element to any outfit, no matter how simple.
Wear them with black skinny jeans and a leather jacket for a rocker look. These sandals are perfect for anyone who wants to add a touch of attitude to their outfit.
Pair them with a costume for Halloween. These sandals are the perfect finishing touch to any spooky outfit.
Wear them to the beach or pool. The non-slip material means you won't have to worry about slipping and sliding on wet surfaces. Overall, these skull-shaped slide sandals are a must-have for anyone who wants to add a touch of fun and quirkiness to their wardrobe. They're versatile, comfortable, and sure to turn heads wherever you go. So why not give them a try? Your feet will thank you! The black version of the skull sandals even comes with an attached chain for extra effect! You can snag these skull shaped slide sandals from Amazon for around $16 bucks!