Shipping Container Storage Cabinet
Date Published: 03/21/2016 6:09 AM
Similar to the shipping container coffee table we posted a while back, this storage cabinet is made to look like a shipping container, and is even made out of industrial corrugated iron. Perfect for kids to store their toys inside of, or adults to use as a liquor cabinet, the shipping container storage cabinet makes for a great addition to the retro, urban or industrial interior design for your home. The shipping container storage cabinet comes with 1 inner shelf that sits half way up the container to give a bit more storage, which is also removable in case you need the extra space for larger items. Plus, the industrial cabinet would also make for a great side table next to a couch or chair in your living room.
SITE ANNOUNCEMENT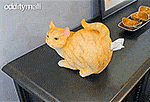 We Are Giving Away 6 Cat Butt Tissue Dispensers
The shipping container storage cabinet/side table is made from industrial corrugated iron, is maroon in color, has a latch on the front of the container to secure both the front doors shut, weighs 22 lbs, and measures 2 feet tall x 1.5 feet wide x 1.4 feet deep.