Ship Porthole Shower Curtain
Date Published: 10/09/2015 5:01 AM
Buy Now

@Amazon
Find on Ebay

This shower curtain has a realistic photo on the outside of it that makes it look like your in a ship and looking out the window on a large ship on the ocean, either that or your on the outside of the ship looking in (depending on what way you position the shower curtain). Sick of looking at giant sloths climbing the side of a building, creepy figures that scare the ever-living-shit out of you every time you wake up to take a shower, Bill Murray dressed up as an old Civil War General, or pretending your inside a Facebook profile? Well the ship porthole window shower curtain is a lighthearted alternative than the previous mentioned shower curtains that will brighten up your day each morning as you walk into the bathroom. Plus it will give you an nice beautiful view of the ocean each day, when in reality you're in a dirty apartment that smells of 3 month old roast beef.
SITE ANNOUNCEMENT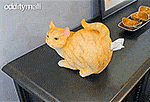 We Are Giving Away 6 Cat Butt Tissue Dispensers
The ship porthole window shower curtain is made from 100% polyester fabric, and does not need an inner liner as it is waterproof, mold, mildew, and soap resistant. The ship window shower curtain is printed using a high-definition bold and realistic photo with no dyes, includes plastic hooks that easily attach to any shower pole, is machine washable, and measures 69 inches wide x 70 inches long.