Self-Turning Takoyaki Machine Automatically Flips Food While Cooking
By Ryan on 11/16/2018 3:40 PM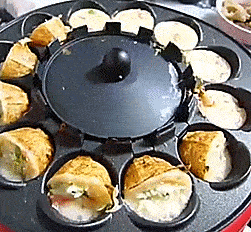 I don't know much of anything about Japanese cooking, nor have I ever even heard of Takoyaki, but I surely want this amazing cooking machine that automatically turns each item being cooked. It looks as though there's a cat in the middle that's slowly pawing at each item being cooked to slowly turn it over to be thoroughly cooked on every side.
How it works is, you just turn it on and get it pre-heated to the correct temperature, then pour in the batter into each cooking slot. The center lid turning area will then pop upward on each slot to turn it around 1/4 of the way around. Then after a few rotations the Takoyaki will be done cooking perfectly on all sides without any need for you to do any manual turning.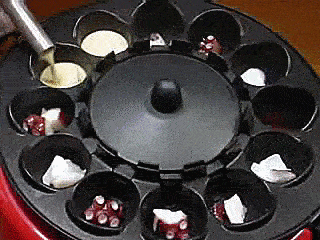 The automatic electronic Japanese Takoyaki cooking machine will grill a total of 12 Takoyaki balls at a time, takes about 3 minutes to fully cook all octopus ball, and you'll need to manually shut it off when you think the Takoyakis are done cooking or will continue to turn them.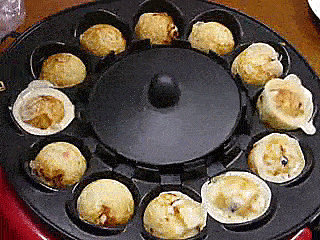 The self-turning Takoyaki grilling machine is made in Japan, is 100 volts though works just fine on 110 volts, can cook essentially in ball form (pancakes balls, doughnut balls, etc), it weighs 8.33 lbs, and measures 13.3 x 12.6 x 11.7 inches.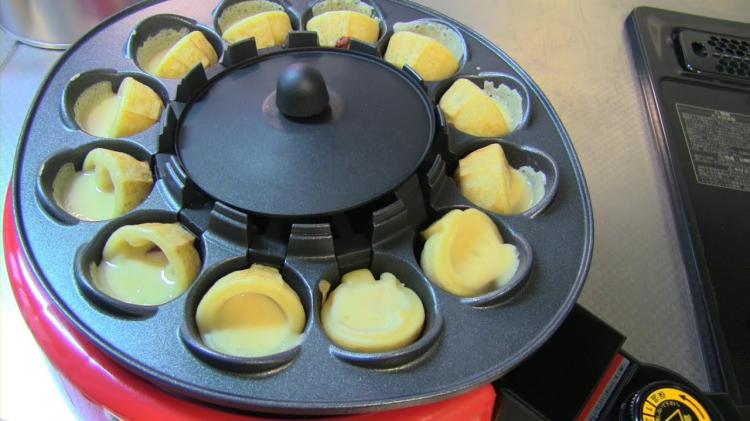 Check out the automatic flipping Takoyaki cooking machine in action via the video below.