The Rocks Cube Glass: A Whiskey Glass With a Solid Glass Cube In It
By Ryan on 07/16/2015 8:42 AM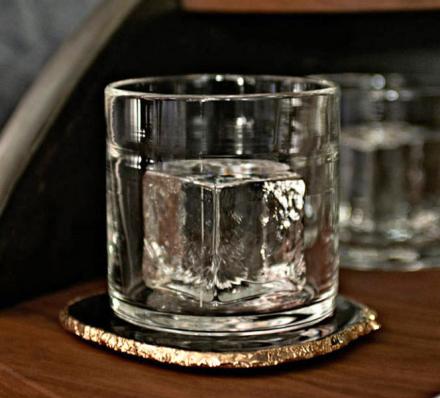 The Rocks Cube Glass is a lowball whiskey glass that has a solid glass cube fused in the center of the glass. Why you ask? Here's why... When you put ice into a glass of whiskey, the melted ice then dilutes the whiskey which makes it quite undesirable to put ice in your glass. With this cube glass, you're supposed to put the glass in the freezer before using it, and since the center cube is solid glass, once frozen it will keep your drink cold for around 20 minutes without the need for ice. No longer will you find yourself hydrating yourself with the tiny amount of melted ice in your glass of whiskey.
Designed and created by Nate Cotterman, a glass designer from LA, for Westin Mitchell, the Cubes Glasses come in two different styles, the Rocks cube glass, which is a lowball glass that features 1 large fake ice cube in the center of the glass, and another version called the Highball cube glass, which is a little bit taller and features 2 stacked fake ice cubes in the center of the glass. Cotterman also offers a decanter that features a solid glass cube on the top of the cap for $198.
The Rocks glass measures 3.5 inches tall x 3.5 inches in diameter and the Highball glass measures 4.75 inches tall x 3 inches in diameter.
- via GearHungry