Put Me Down Toilet Seat Decal Sticker
By Ryan on 06/23/2015 2:01 AM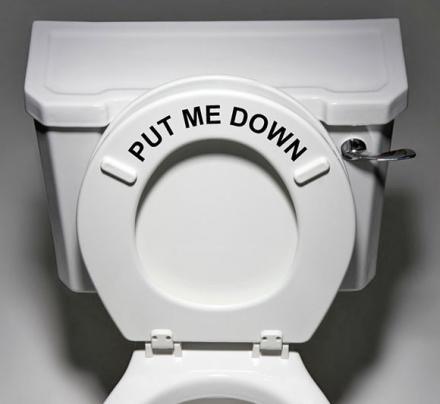 Sometimes us guys need a little reminder to put the toilet seat down when we're done peeing so that you when you come to the toilet and sit down mindlessly without looking, you won't fall straight into the toilet. On the other hand, us men could ask you to put the toilet seat up when you're done using the toilet seat so that we don't piss all over the seat. I'm not sure why this responsibility rests on the men of the house and not the woman. Maybe we could make some sort of agreement that we will put the toilet seat down when we are done using it, and you will put the toilet seat up when you're done using it.
This toilet decal features the words 'PUT ME DOWN' so that you can place it on the inside of your toilet seat so that whenever the man in your house goes to the bathroom, he can read words that nag him instead of your actual voice. Plus it features a little hand that points down as if you could actually hear your fingers snapping as you said it as if he was a dog that just pooped in the hallway.
The 'Put Me Down' toilet seat decal is made from high quality outdoor avery vinyl, is die cut, comes in three parts to easily apply to your toilet seat, comes with backing paper, the sticker itself, as well as clear transfer tape, and the sticker measures 8 inches wide x 3 inches tall.
The toilet seat decal also comes with a free glow-in-the-dark light switch decal that features a monster that makes it look like a monster is hiding out in the corner of your light switch.