These Stockings Come With Pre-Painted Toenails For The Lazy
Date Published: 05/04/2016 5:47 AM
Japan is at it again with their weirdness, and this time around they're on your feet! These stockings are made with pre-painted toenails, so that if you're too lazy to actually paint your toenails and you're going to be wearing open-toed shoes, you can just slip on these stockings to instantly give yourself painted toenails. The fake toenail stockings comes in a plethora of different styles and colors to choose from, with some that come all with the same color on each toe, and others that have various colors for each toe.
SITE ANNOUNCEMENT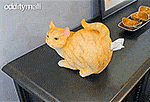 We Are Giving Away 6 Cat Butt Tissue Dispensers
Created and sold by a Japanese company called Belle Maison, the fake painted toenail stockings are sure to help you out when you'r running late and forgot to paint your toenails. Then again you could always just wear shoes that cover up your feet.