This Paw Patrol Kids Bed Has a Massive Tower and Slide
By Ryan on 10/17/2023 3:35 PM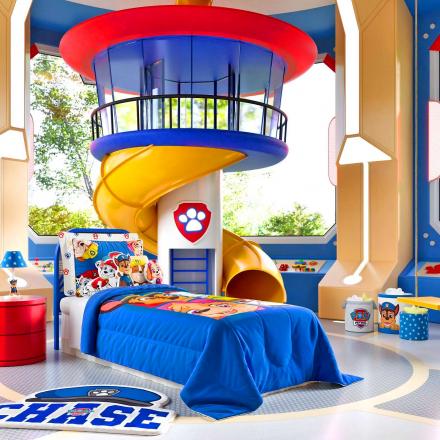 Imagine the exhilaration of sliding down a tower every morning to start the day! That's the dream that Grão de Gente is bringing to children's bedrooms with their Paw Patrol-themed bed.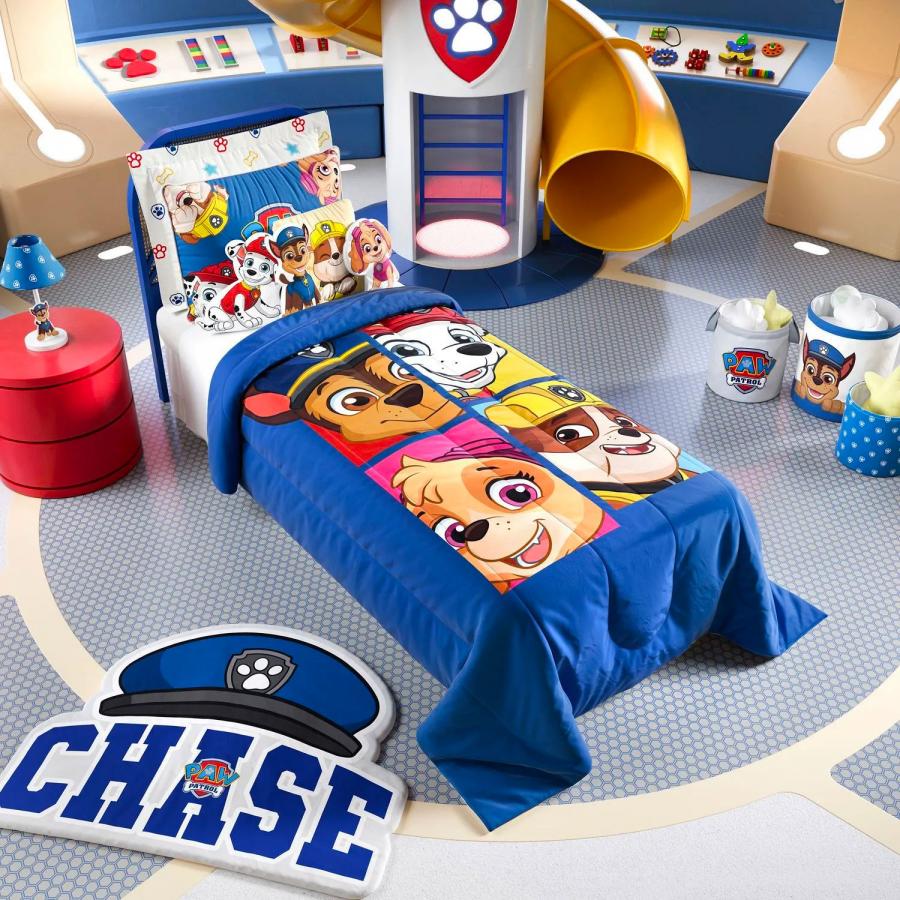 Credit: graodegente
What steals the show is the awe-inspiring tower and slide attached to the bed, which replicates the very iconic look from the hit children's TV show, "Paw Patrol." Every fan knows the thrill of watching the Paw Patrol team leap into action from their tower. Now, youngsters can mimic their adventurous escapades, zooming down their very own slide!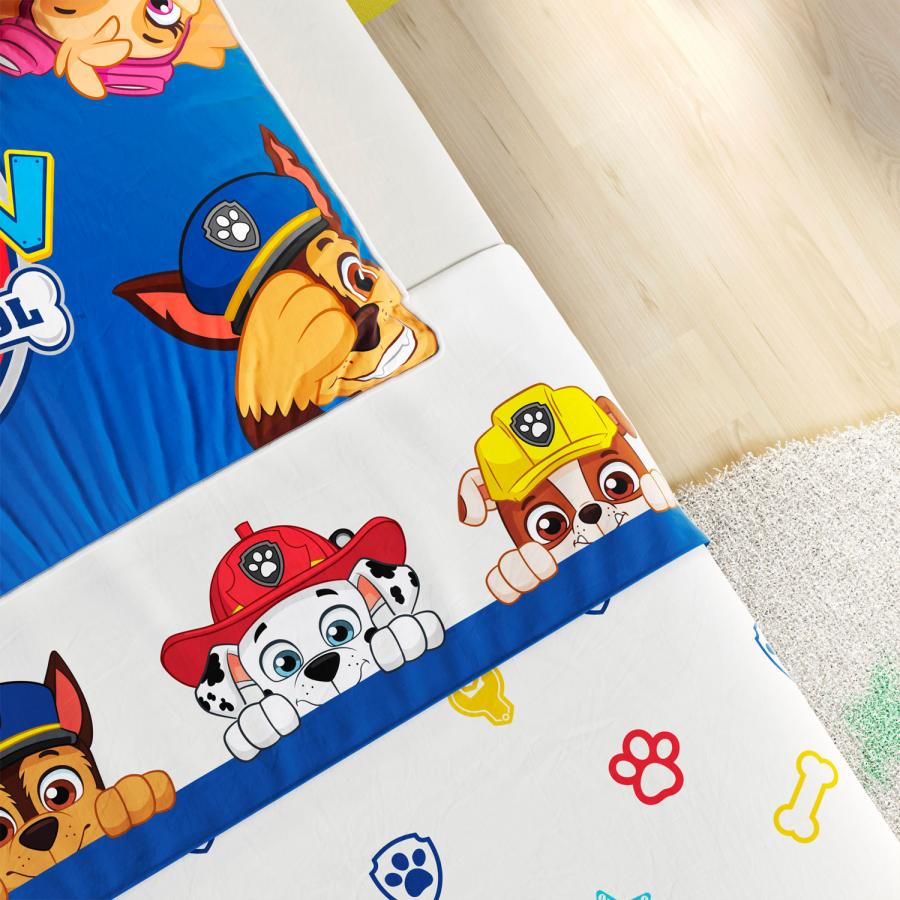 Credit: graodegente
Now, there's a slight catch. While the bedspread and pillowcases are undoubtedly part of the package, due to a little translation hiccup, we're still sleuthing out if the majestic tower and slide come with the bed or if it's just a stellar showpiece. But let's dive into this puppy play paradise! Credit: graodegente
The bed itself, a creation of the renowned Brazilian company Grão de Gente, is a blend of comfort and style. Available in both blue and pink options, it caters to every child's preference. Credit: graodegente
The soft-touch fabric ensures that the little rescuers will have a comfy landing post-slide. The designs, awash in vibrant colors and playful prints, feature the beloved pups: Marshall, Skye, Chase, Rubble, Rocky, and Zuma. Adding a sprinkle of Brazilian flair, the Patrulha Canina Collection from Grão de Gente is a confluence of originality and nostalgia. Credit: graodegente
Nestled in the heart of the Paw Patrol-themed bed lies its crown jewel - the grand tower and slide combination that promises endless hours of fun. Not just an ordinary slide, this is an architectural masterpiece that perfectly marries function and imagination. Credit: graodegente
The tower itself stands tall, echoing the very essence of the show's command center. It beckons every little adventurer to climb up and play the role of their favorite pup, scanning the horizon for those in need. The ascent is made easy and exciting with a unique ladder tube, an innovative feature that adds an element of intrigue to the climb. It's not just about getting to the top; it's about the journey and the anticipation of what awaits above. Credit: graodegente
Reaching the pinnacle, children find themselves in a lookout area that's nothing short of magical. This isn't just a platform; it's a panoramic viewing deck! Encased in clear windows, it offers an unobstructed 360-degree view of their bedroom kingdom. From this vantage point, kids can oversee their domain, whether it's spotting a toy in distress or simply daydreaming of their next grand adventure. Credit: graodegente
But what's a tower without its grand descent? Attached to this majestic watchtower is a beautifully curved slide that gracefully wraps around the structure. This isn't a straight, predictable slide. It's a thrilling spiral descent that adds a touch of adrenaline to the experience. The curve ensures that as children glide down, they experience a mix of speed and gentle turns, making every slide down feel like a mini-adventure. Credit: graodegente
While the bed, with its soft-touch fabrics and vibrant prints, promises comfort and dreams filled with canine escapades, it's this tower-slide centerpiece that transforms a bedroom into a playground. It's where stories come alive, where kids don't just imagine being a part of the Paw Patrol world; they truly live it. From the climb up the ladder tube, the imaginary surveillance from the lookout point, to the exhilarating slide down, this tower is more than a piece of furniture; it's an experience. Credit: graodegente
Every piece in the collection, from the bed to the decorative items, speaks of creativity and a keen understanding of what makes children's hearts race with excitement. Credit: graodegente
For those who adore details, the bed kit boasts of sublimated prints that are not only high in detail but also made with non-toxic, water-based paint. So, not only does it look good, but it also ensures your child's safety – just like the Paw Patrol team! Credit: graodegente
And for the little aficionados who crave even more of this theme, there's the Patrulha Canina Single Children's Duvet. It perfectly complements the bed, adding an extra layer of canine fun. Credit: graodegente
The collection doesn't stop there! Delightful organizing baskets, adorned with prints of Chase, the German shepherd, and his gang, promise to keep toys and trinkets in order. Credit: graodegente
And for those walls screaming for some canine action, the self-adhesive Chase and Friends Paw Patrol Wallpaper promises to transform any room into Adventure Bay. Credit: graodegente
Speaking of decor, the pillows, with their soft touch and charming prints, are the ideal companions for a snug nap or an afternoon of play. They capture the essence of Chase, Skye, Marshall, Zuma, and Rubble, making every cuddle a paw-tastic experience. Credit: graodegente
But Grão de Gente's genius doesn't end there. The Montessori Kit, inspired by the same theme, is a treat for parents wishing to encourage independence and autonomy in their kids from a tender age. Credit: graodegente
With its protective side straps and unique designs, the kit ensures that as children dive into the world of dreams, they are guarded by their favorite Paw Patrol members. Credit: graodegente
With such a collection, bedtime won't just be a routine; it will be an adventure. Every night, kids can dream alongside Ryder and his team of pups, ready to save the day and slide into new escapades at dawn! Credit: graodegente
You can snag the Paw Patrol bedroom set from their website for just over $100 bucks (at least for the bedspread and pillowcases, as the tower, slide and other items is another question...) Credit: graodegente