Non-Slip Serving Tray Has Grips That Keeps Things From Sliding Off
By Ryan on 06/07/2016 5:53 AM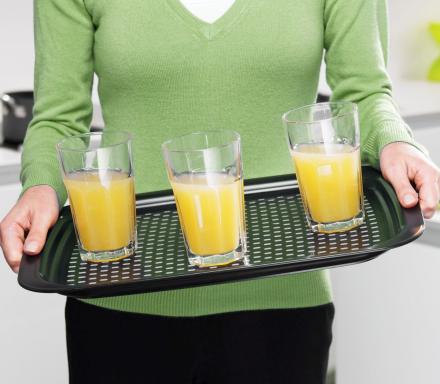 Often times I find myself attempting to carry 8-9 cocktails to a group of friends on a greased-up cookie baking sheet, only to have them slip off moments before I reach the group and have everyone laugh in my face. Not only is this a waste of the precious nectar of the gods that just got spilt onto the ground, but it's also a large moral hit having everyone laugh at you while you're forced to go make them more drinks. This non-slip serving tray looks similar to a baking sheet, but actually features little grips scattered onto the top of the tray so that your drinks or whatever your serving will never fall off.
Perfect for indoor or outdoor dining, the non-slip serving tray is made with extra tall sides and extra long handles to make it super easy to haul around a bunch of drinks or food without making a fool of yourself. Rubber studs are molded all the way through the tray to make it almost impossible to spill anything while carrying it using this tray, unless of course you hit your foot on a rock and throw the tray in front of you while you fall to the ground.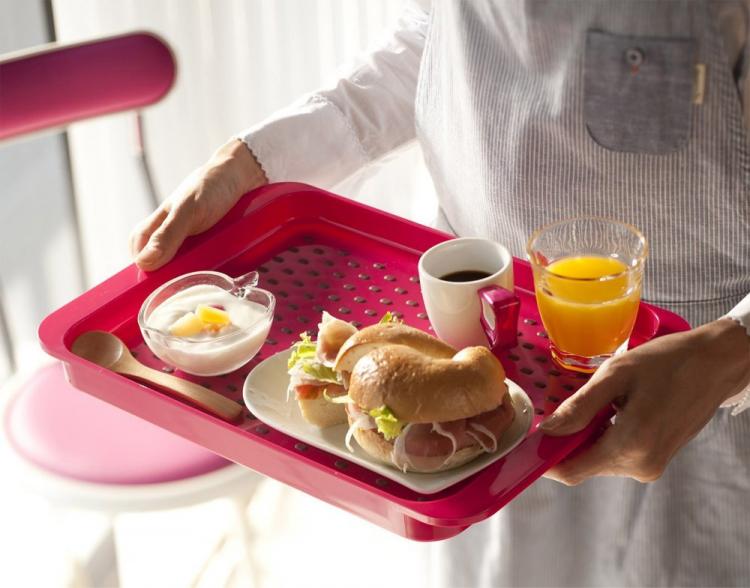 Created and designed by Joseph Joseph, the non-slip serving tray is made from a strong but light plastic, features rubber grips on the bottom as well that make it great for using as a lap tray, comes in a few different colors to choose from, weighs 1.6 lbs, is best cleaned by using a damp cloth, and measures 17.8 inches long x 13.8 inches wide x 1 inch thick.