Fancy Butler Broom and Dustpan Holder
Date Published: 01/28/2016 10:15 AM
Buy Now

@Amazon
Find on Ebay

Mr. Brooman is a small device that attaches to the end of your broom and turns your broom stick into a fancy butler with a fancy jacket that holds your dustpan to the side of him. I can't think of a classier way you could possible hang your dustpan up other than maybe having a real live servant holding it 24 hours a day on the off chance that you'll use it for a few seconds that day. The Mr. Brooman simply snaps onto any broom handle and grips onto the broom to stay in place, then just place your dustpan onto the broom servant man's hand and you're good to go.
SITE ANNOUNCEMENT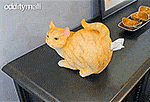 We Are Giving Away 6 Cat Butt Tissue Dispensers
Best of all, the butler broom holder man can easily hang onto a hook or wall using the back of his jacket. The Mr. Brooman broom and dustpan holder comes in black, red, or white colors to choose from, is made from plastic, and measures 4.4 inches long x 2.9 inches tall x 1.1 inches thick.