This Intimate 2-Person Hot Tub Saves Tons Of Space On Your Patio or Deck
By Ryan on 04/05/2023 8:32 AM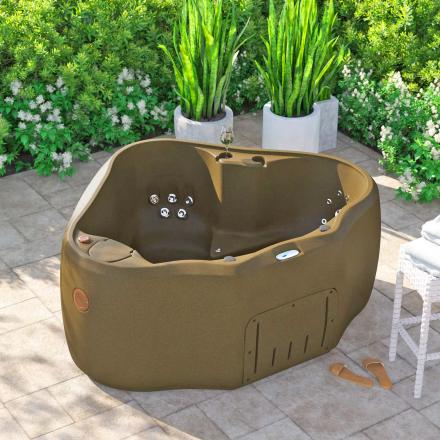 You and your significant other are looking for a cozy, intimate way to unwind after a long day. But you don't have a ton of space for a full-sized hot tub. That's where the Aquarest 2-person Spa comes in! This compact and convenient hot tub is the perfect size for two, making it an ideal addition to any small patio or deck. So grab a bottle of wine and get ready to relax in style!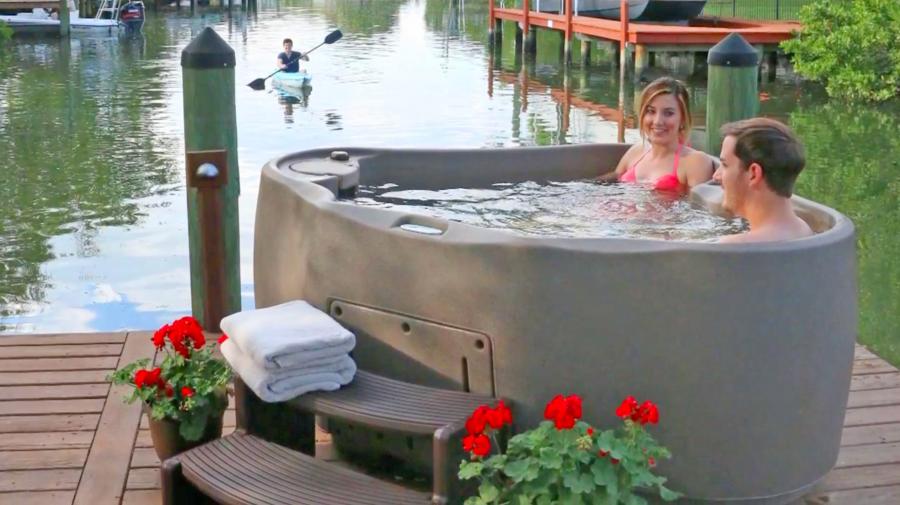 First of all, let's talk about the size. Measuring just 68" x 67" x 31", this little guy is the perfect size for two people to snuggle up comfortably. It's great for small patios or decks, so you can enjoy your relaxation time without having to move to a different location.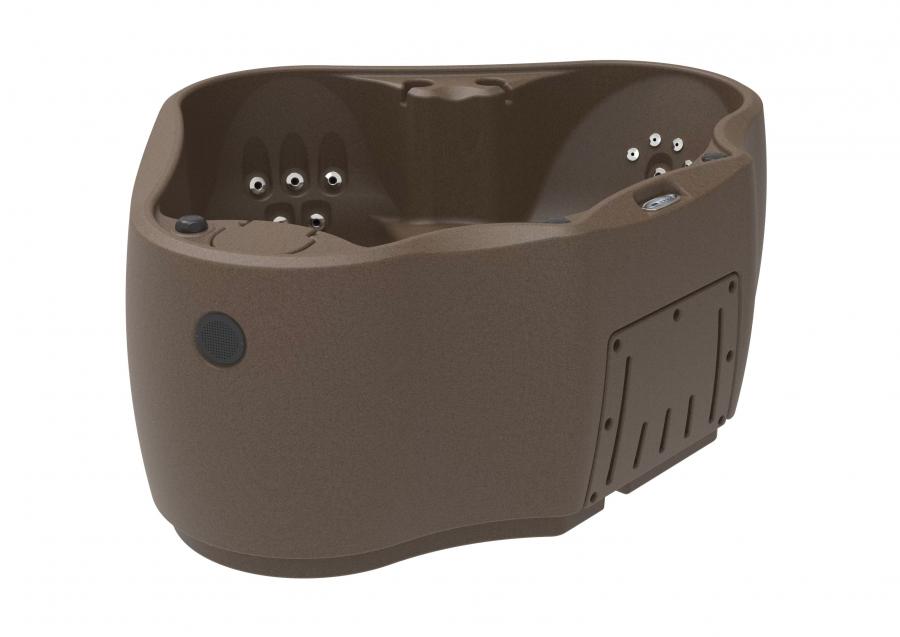 The Aquarest 2-person Spa comes in three different colors: Brownstone, Graystone, and Keystone. So, you can pick the one that matches your personal style and aesthetic. And let's be real, who doesn't love having options? Now, let's talk about the jets. This tiny hot tub may be small, but it sure is mighty. It comes with a total of 20 jets, all strategically placed to provide maximum relaxation for your muscles. These stainless steel self-controlled hydrotherapy waterway jets deliver soothing water pressure that massages your muscles into a state of pure bliss. But wait, it gets even better. The Aquarest 2-person Spa features a multi-color LED backlit cascading waterfall in the corner, with 9 different color settings. So, you can set the mood and create the perfect ambiance for your soak session. One of the best things about this little hot tub is its energy efficiency. It has a sealing spa cover that locks in the heat, so you don't have to worry about wasting energy or running up your electricity bill. Plus, it plugs into any 120 volt outlet, so there's no need for costly electric installation. And let's not forget about the Easy Klean Filtration System. It provides 100% water filtration, keeping the water crisp and clean. And when it's time to change the filter, it's easy to do so. No more struggling to keep your hot tub water clean and clear. The Aquarest 2-person Spa also uses an Ozone feature to keep your spa clean. It destroys organic and inorganic contaminants, which reduces the need to use chemicals that can dry out your skin. You can use the power of natural Oxygen to keep your spa clean and healthy. And for those worried about stubbing their toes on pesky footwell water returns, fear not! The Aquarest 2-person Spa has no footwell water returns, so you can relax in peace without worrying about injuring your toes. Now, let's talk durability. This little hot tub is built to last. It's made with rotational molding technology using a tough, recyclable thermal plastic. The cabinet can withstand all types of weather without cracking, peeling, rotting or fading. So, you can enjoy your hot tub for years to come. Last but not least, let's talk about the digital control screen. It's easy to use and allows you to adjust the temperature and jets to your liking. Plus, it's conveniently located right on the edge of the hot tub, so you don't have to get out of the water to make changes. If you're looking for a tiny hot tub that's big on features, the Aquarest 2-person Spa is the perfect choice for you. It's compact, energy-efficient, and comes with all the features you need to relax and unwind. Plus, with its durability and easy-to-use features, you can enjoy your hot tub for years to come. And of course what would an intimate 2-person spa be without a few cupholders to hold your wine, cocktails, beers, etc... You can snag this space-saving 2 person spa from Wayfair for just over $3k bucks! Check out the mini 2-person hot tub that saves on space in action via the video below!
Subscribe To Our YouTube Channel