Mario Match Game Wall Art
Date Published: 07/23/2014 2:01 AM
The Mario Match Game wall art is an art piece that will certainly bring back some nostalgia, and most likely make you cry out of frustration by bringing back the memories of never being able to connect the last piece of the match game. You're supposed to hit the button right as the piece you want is directly before where you want it right? Well clearly I was terribly misinformed because that never worked, and I ended up with a little piece of everything and it was bullshit! Most of the time I had better luck just mashing buttons. It's a conspiracy I tell you! The Mario Match Game art piece is a set of 9 canvases representing the same pieces from the actual Mario match game, a flower, a mushroom, and a star. Set them up to have them all match completely like a winner, or set them up randomly to look like a losing round, it's your art, what do I care what you do with it.
SITE ANNOUNCEMENT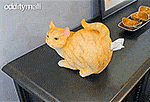 We Are Giving Away 6 Cat Butt Tissue Dispensers
The Mario match game art piece comes in two different sizes, a smaller set where each of the nine canvases measure 8 inches wide x 10 inches tall, or a larger set where each canvas measures 11 inches wide x 14 inches tall. The prints are made from high quality archival inks printed on fine art papers using a high resolution printer, and come in two different mounting options, a loose unstretched canvas which is less expensive, or a the canvas gallery wrap option as seen in the photos.