Star Wars Lightsaber Through The Wall - Wall Hooks
Date Published: 07/21/2016 5:04 AM
Buy Now

@Amazon
Find on Ebay

Looking for a unique and fun way to hang some crap on your wall? Are you also a huge Star Wars nerd who doesn't leave the house other than to watch new Star Wars films and go to Comic Con? Well this product might be for you. Made to look like a Lightsaber that has been stabbed through your wall, these wall hooks allow you to hang your jedi/sith robes, your purses, your Ewok scarves, or your Chewbacca bandoliers on your wall in a unique Star Wars themed fashion.
SITE ANNOUNCEMENT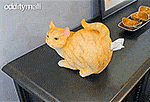 We Are Giving Away 6 Cat Butt Tissue Dispensers
The Lightsaber wall hooks come in a two-pack which are made to look like Luke Skywalker's and Darth Vader's Lightsabers, and are a ThinkGeek creation and exclusive. The Lightsaber wall hooks are made from ABS plastic and steel, includes 2 Lightsaber hooks, 2 burning stickers, and 2 metal mounting plates, and each hook measures approximately 11 inches tall x 2 inches wide, and the saber extends 6 inches out from the wall and measures 7.5 inches long.