Star Wars Chewbacca Bandolier Camera Strap
Date Published: 10/08/2015 6:43 AM
Another day, another Star Wars product. It's as if there's a new Star Wars film coming out soon or something and Disney's trying to do what they do best, milk it for all it's worth. This time around it's a camera strap that when wrapped around your body, makes it look like you're wearing Chewbacca's bandolier. Similar to the Chewbacca bandolier seat belt cover we posted in the past, this camera strap sports the same white squared design that our old friend Chewie wears. No longer will people wonder what level of geekiness you sit at, now that you're sporting a Chewbacca bandolier everywhere you go, they'll know just where you stand.
SITE ANNOUNCEMENT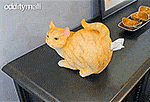 We Are Giving Away 6 Cat Butt Tissue Dispensers
Created and sold exclusively by Thinkgeek, the Chewbacca bandolier camera strap is officially licensed from Star Wars, and is fully adjustable to work with short people or people as tall as Chewbacca with lengths that range from 32.5 inches to 50 inches in length. The Chewbacca camera strap is made from seat belt webbing, is compatible with any camera that supports a camera strap, weighs just 1.5 oz, and measures 1.5 inches wide.