Light Switch Salt and Pepper Shaker
Date Published: 09/08/2015 5:55 AM
Buy Now

@Amazon
Find on Ebay

Who can ever remember how many holes the salt shaker has and how many holes the pepper shaker has when their containers are opaque. Whichever one I pick up and start to sprinkle onto my food, it's always the opposite one that I wanted. Sure I could take a few moments to figure out which one is which by dabbling a few sprinkles into my hand, but I'm a busy man, and a hungry man for that matter, and I can't be wasting time on non-sense like this. This duo salt and pepper shaker is shaped like a light switch so that if you want salt, simply press the light switch button on the 'S' and start shaking, if you want pepper, press the switch on the 'P' and start shaking. ...simple as that.
SITE ANNOUNCEMENT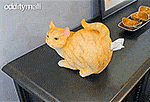 We Are Giving Away 6 Cat Butt Tissue Dispensers
Made by Fred and Friends, a unique gift design company, the duo salt and pepper shaker light switch has openings on the back to refill both the salt and the pepper, is made from ABS plastic, comes packaged in a clear display box, and measures 3.5 inches long x 2 inches wide x 2 inches deep.