Coffee Scoop That Doubles as a Bag Sealer
Date Published: 06/25/2015 4:19 AM
The Kapu Coffee Scoop is a coffee scooper that you can also use to keep your coffee bag sealed shut as it has a slot running through it that allows you to slip the end of your coffee bag into. Similar to the coffee scoop bag clip that we posted a while ago, the Kapu Coffee Spoon doesn't actually use a clip but uses the slot in the body of the spoon to keep the bag shut. Designed by Teemu Karhunen a designer from Finland, and manufactured by Hile, the Kapu coffee scoop and bag sealer combines both functionality and a modern design which is something everyone needs in their early morning coffee scooping duties.
SITE ANNOUNCEMENT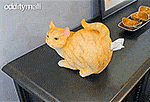 We Are Giving Away 6 Cat Butt Tissue Dispensers
The Kapu coffee scoop is made from birch plywood, was made using modern and traditional handcrafting techniques, is cleaned by simply wiping clean, can be renewed every few years by simply adding a new layer of food grade wood oil, and is not dishwasher safe.