This Mini Inflatable Pool Has a Bench, And Backrest And Is Perfect For Summer Lounging
By Ryan on 07/05/2022 2:58 PM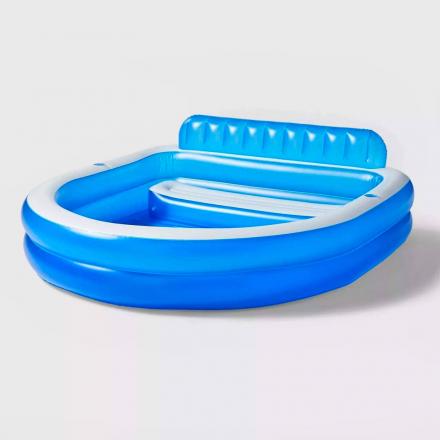 Many people enjoy taking a dip in cold and relaxing water regardless if it's summer or not. It's one of the most chill and simple ways to stay refreshed in the scorching heat. But we all know the struggle of not having enough time to go to the ocean or resort. Luckily, we found an amazing and handy inflatable pool that might have you using it everyday this Summer!

Versions: SunSquad | Intex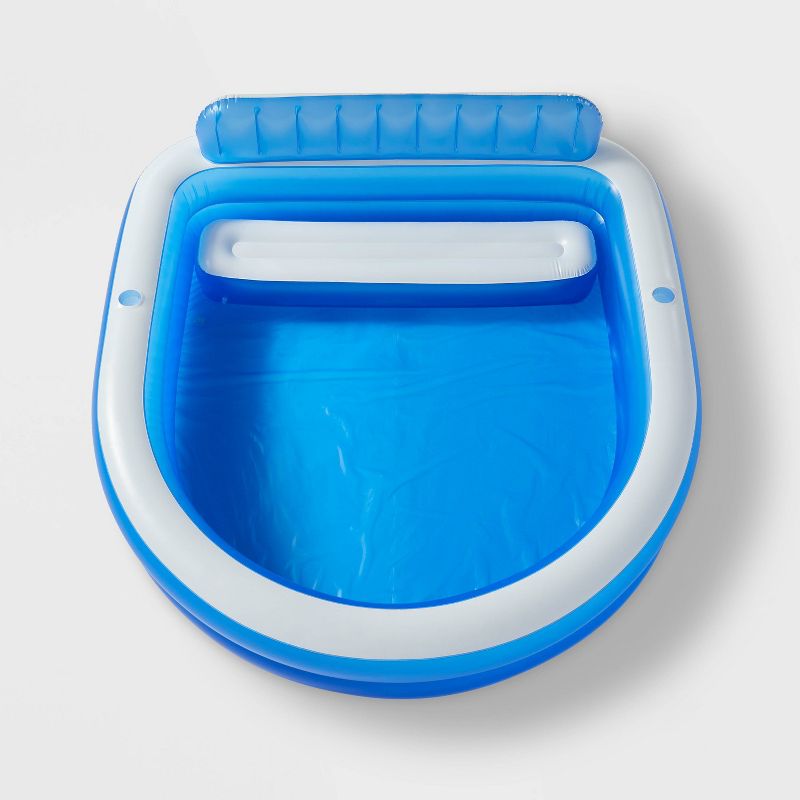 Credit: SunSquad
Unlike the usual in-ground pools, the above-ground inflatable pool we discovered can save you space in your yard, and it even has a handy bench where you can park your behind and relax in the nice cool water on a hot summer day!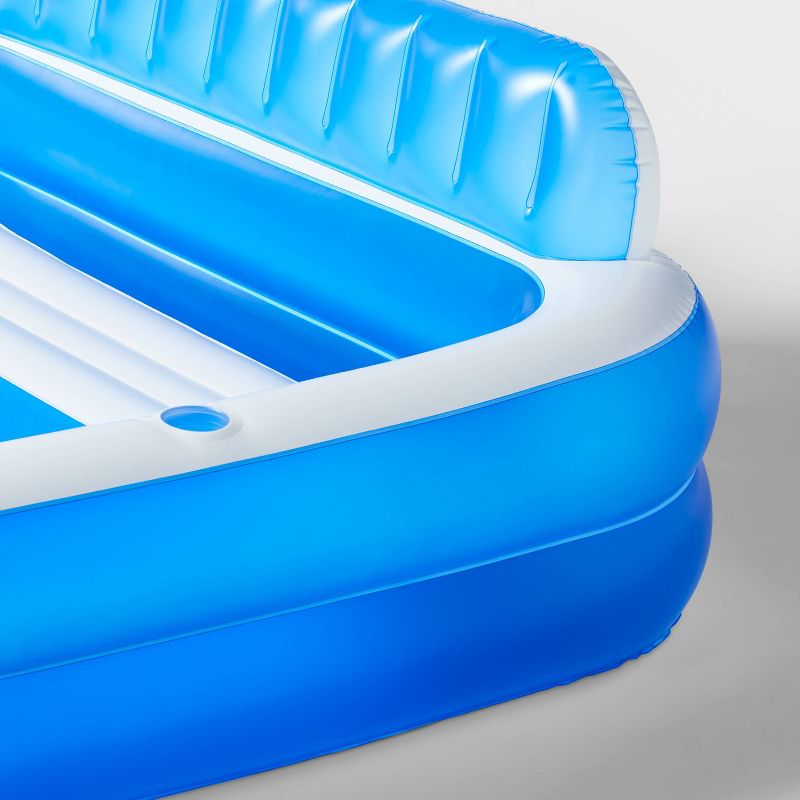 Credit: SunSquad
You can set it up anytime you want and bring it wherever you go because of its efficient 2-in-1 valve for easy inflation and deflation.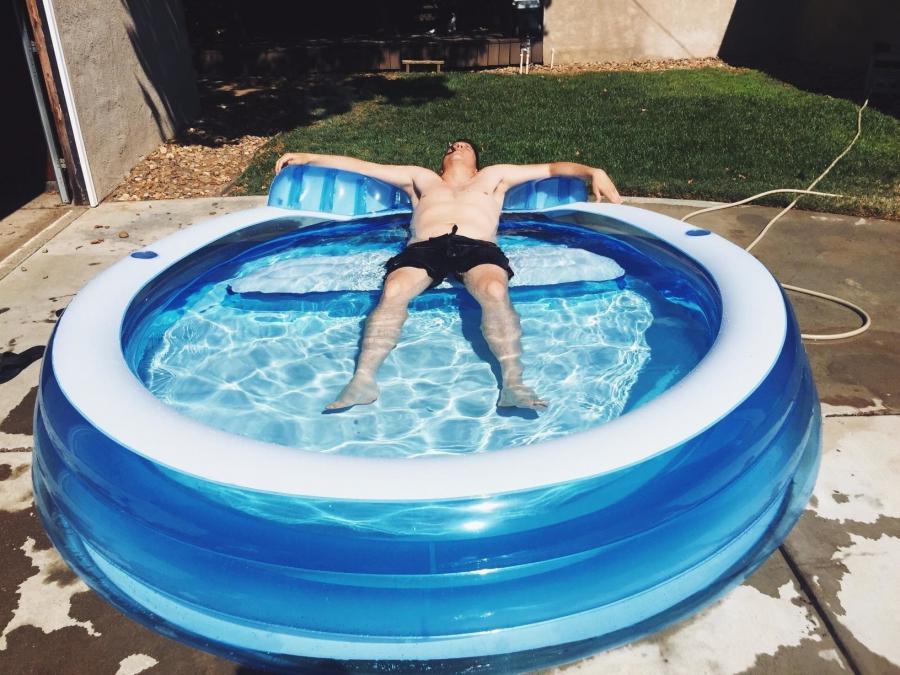 Credit: Intex
This inflatable pool also measures 7 feet (W) x 7.5 feet (D) x 27 inches (H) which is enough room to house three people at once. But chances are you could fit a few adults on the bench, along with plenty of space for a group of kids to play in the larger swimming area.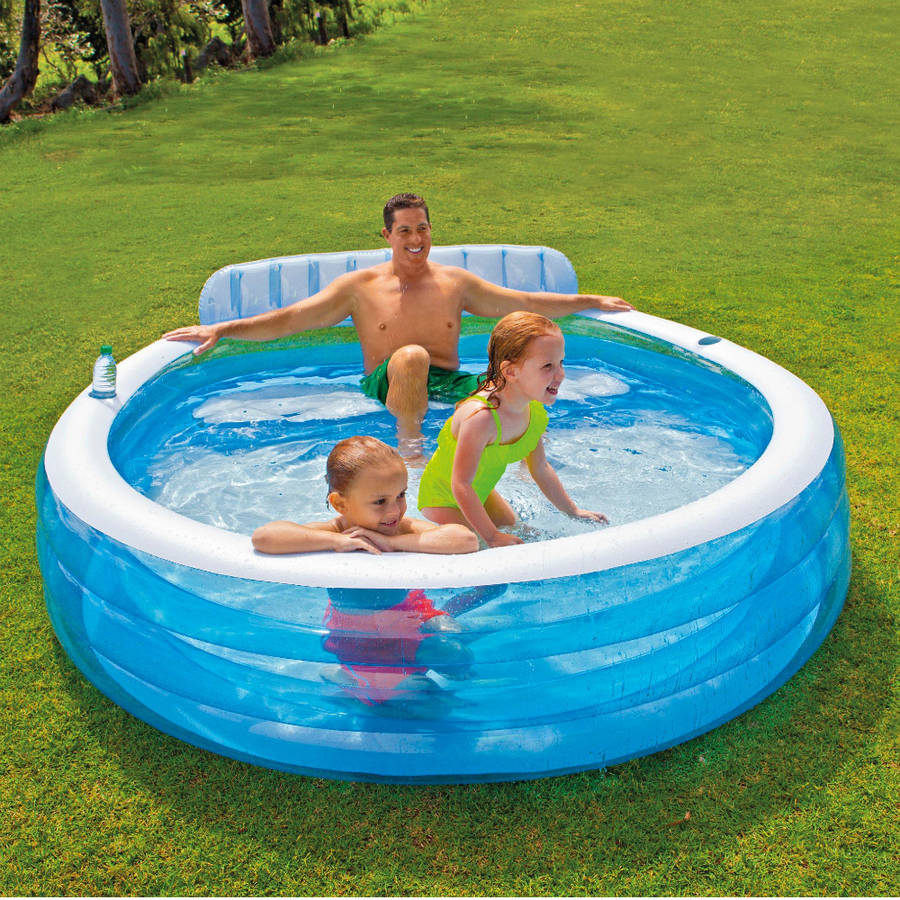 Credit: Intex
Compared to other inflatable pools, Sun Squad's inflatable pool with bench is excellent for kids and adults looking for a relaxing way to spend their free time.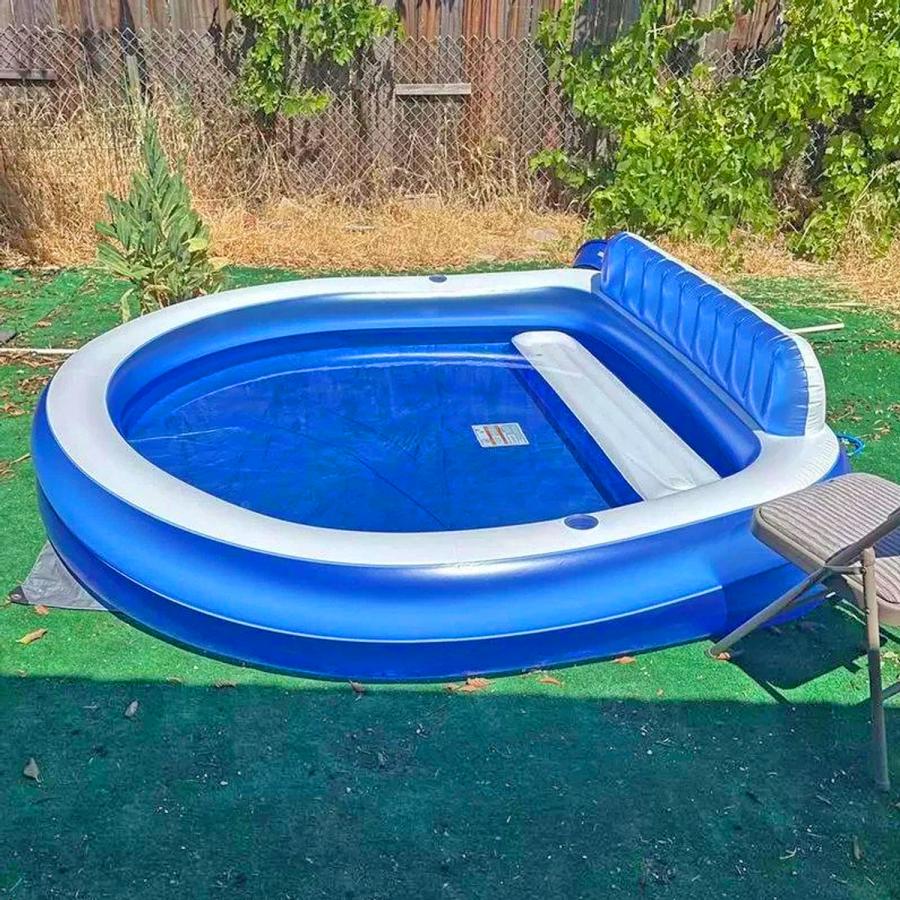 Credit: SunSquad
It carries 204 gallons of water with a depth of 12 inches that isn't too deep for kids and too shallow for adults to enjoy.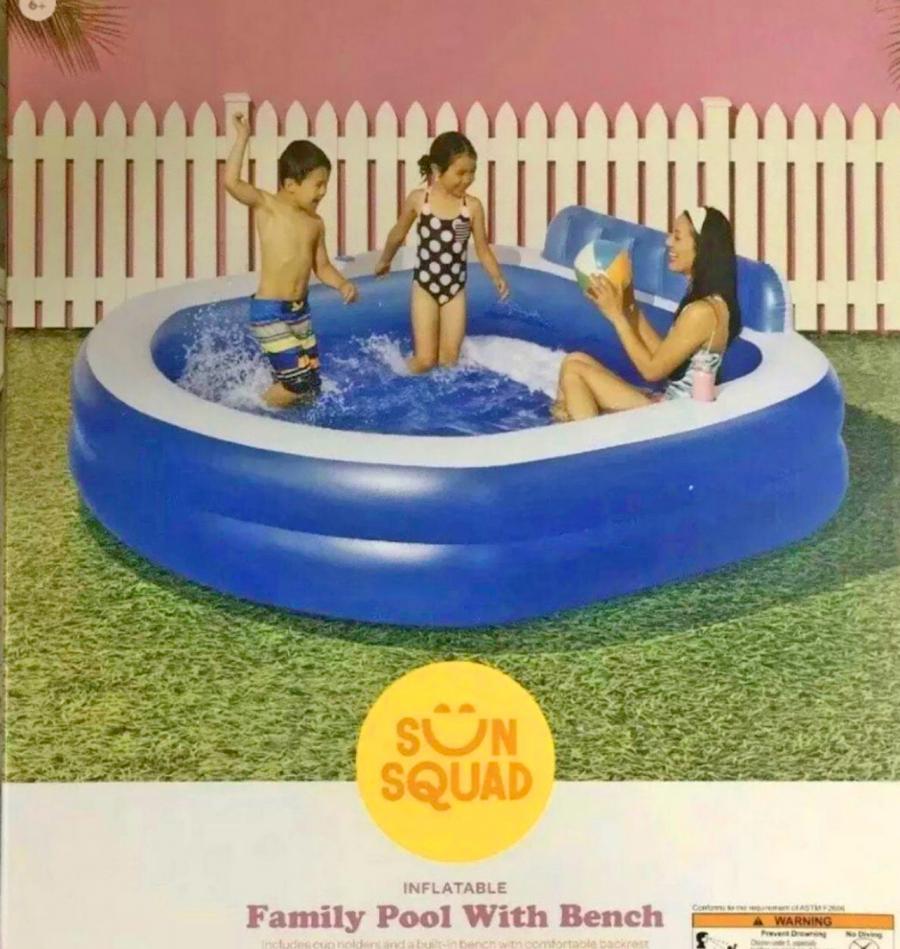 Credit: SunSquad
The inflatable pool with bench we discovered is rectangular with a curved shape on one side for added space to swim in and chill around.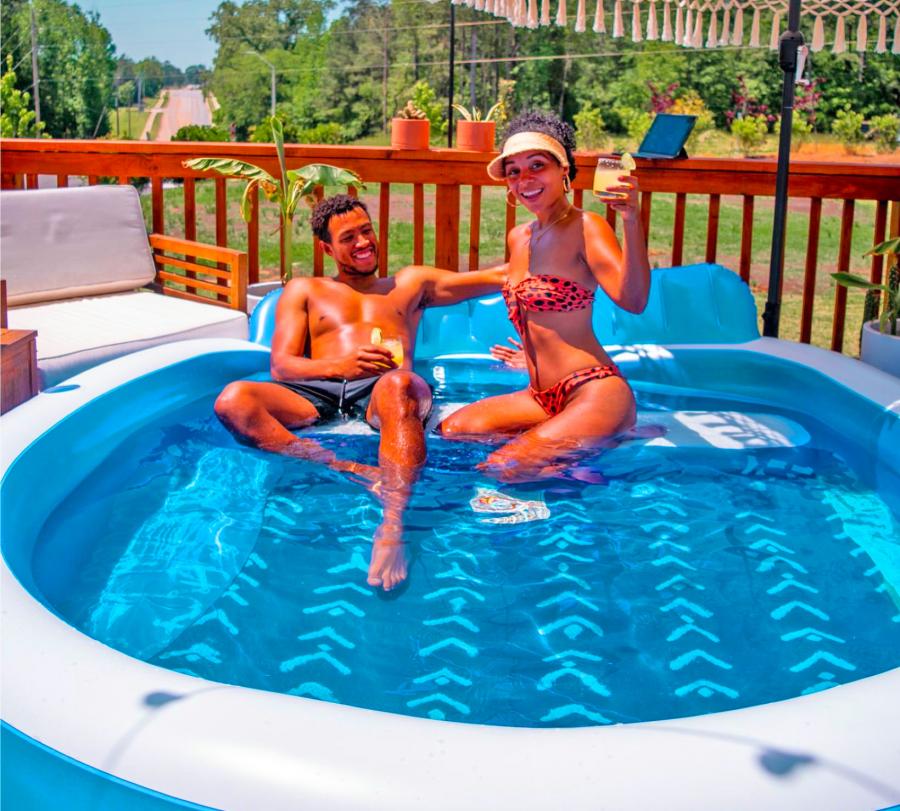 Credit: Intex
Now, picture adding a bench to this inflatable pool. You'll be able to sit back and relax with your family or friends without hurting your back.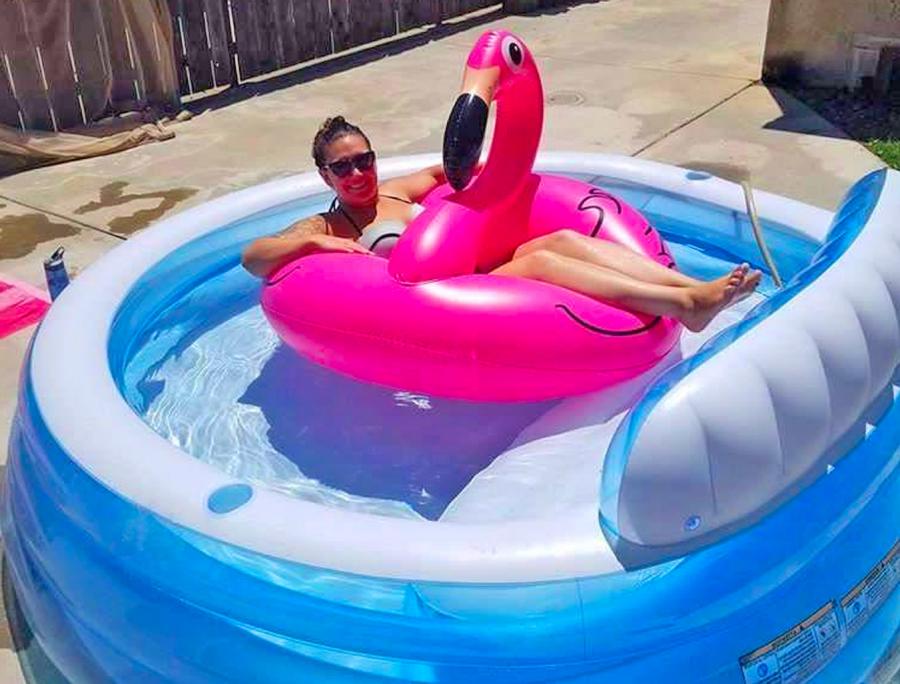 Credit: Intex
Contrary to regular inflatable pools, this mini inflatable pool has one large built-in cushioned seat where you and your family or friends can lounge while chilling with one another.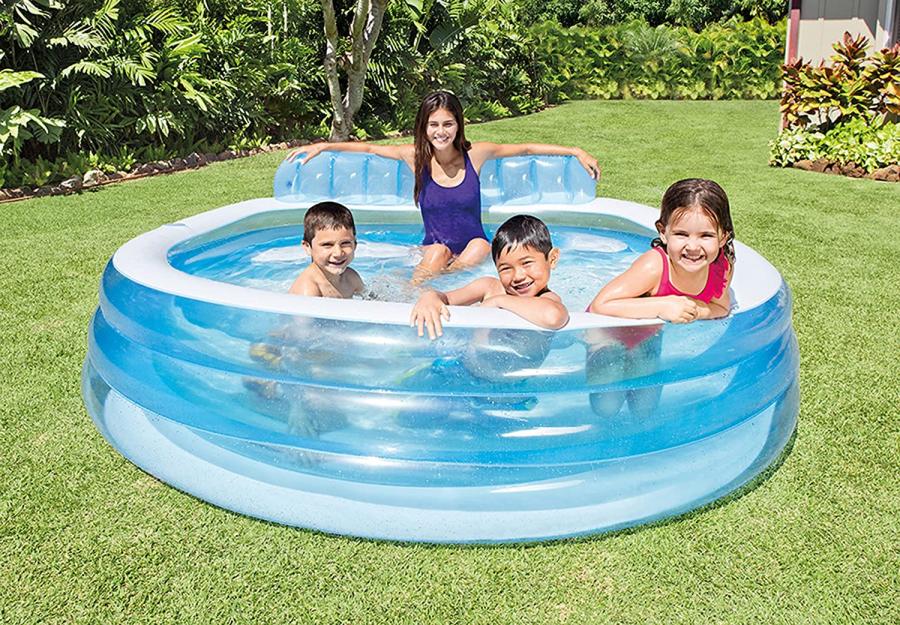 Credit: Intex
While this large cushioned seat is already a nice addition to your inflatable pool, you'll find many reasons to be happy with having a backrest.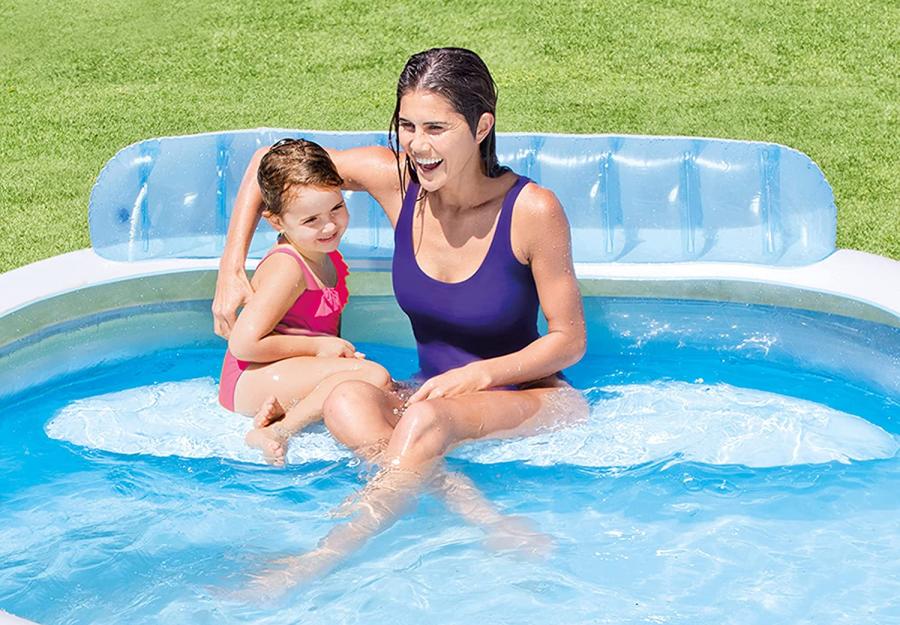 Credit: Intex
You can lean on the pool while talking to other people and protect your back and head from getting kicked or hit by flying objects.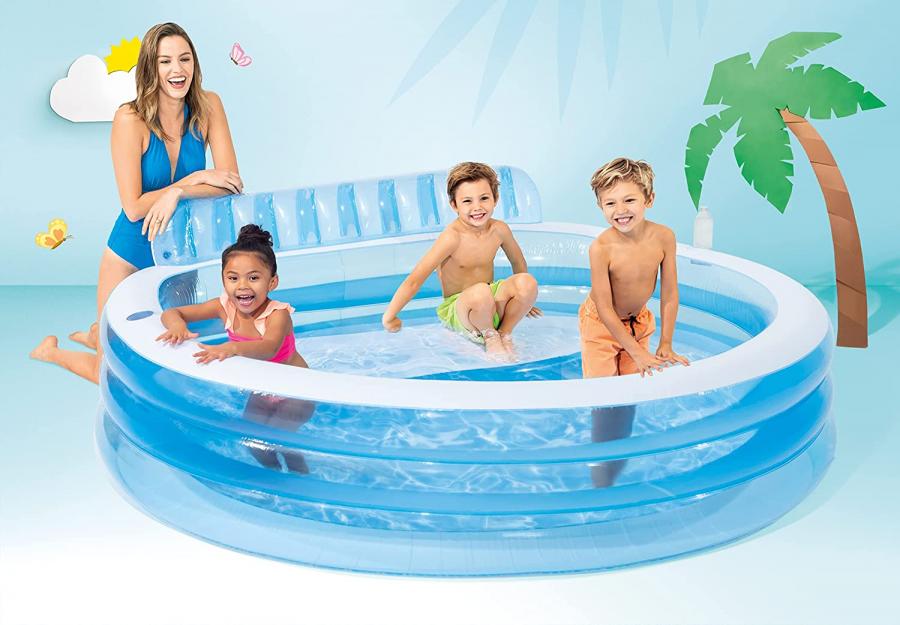 Credit: Intex
Of course, relaxing in the pool won't be complete without your favorite refreshments by your side. It's one of the best ways to stay refreshed and relaxed without getting up.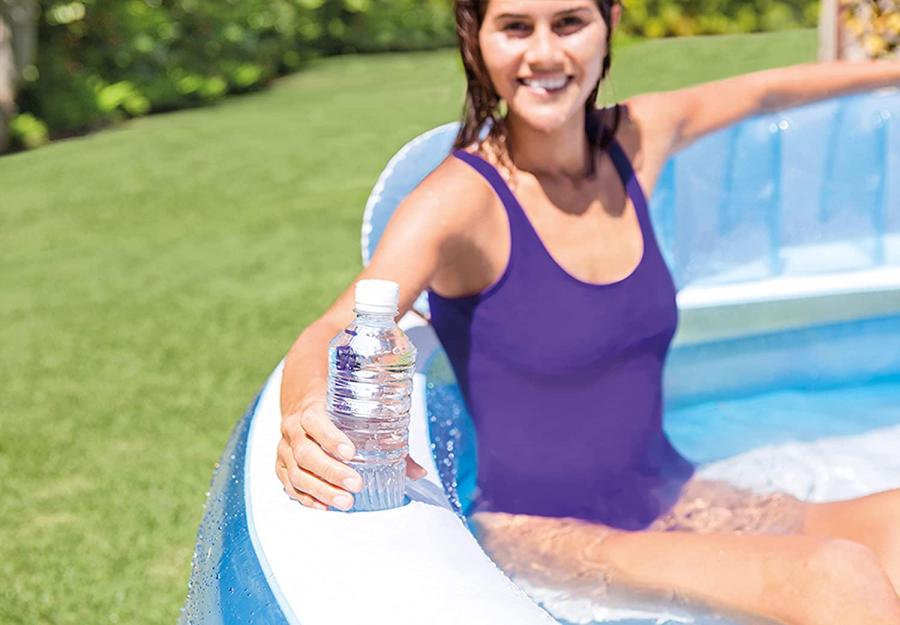 Credit: Intex
But holding your drinks in the pool can be a bit of a hassle. Most inflatable pools also don't have a compartment where you can place your beverage.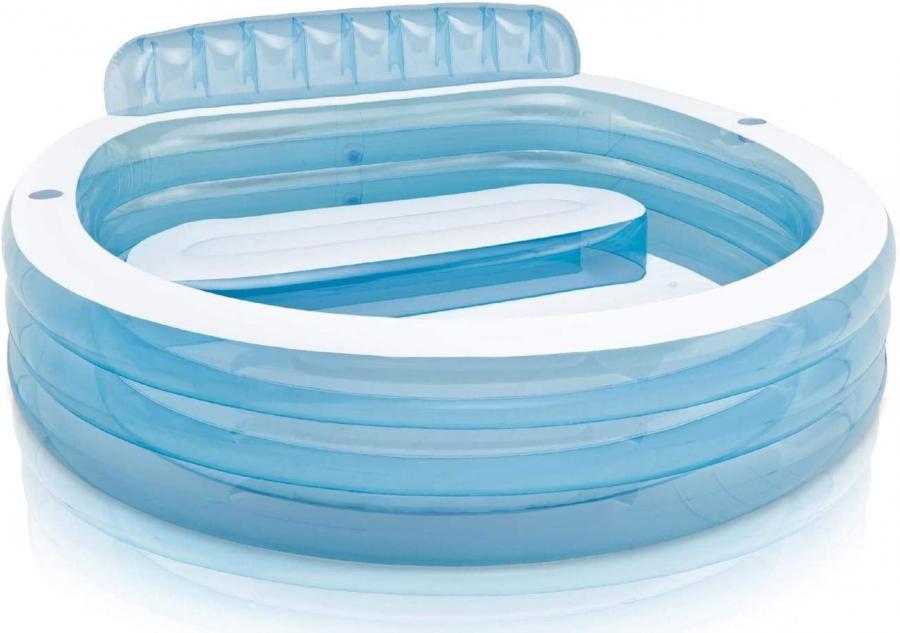 Credit: Intex
The inflatable pool with bench doesn't only come with a large cushioned seat and backrest. It also has two built-in cup holders.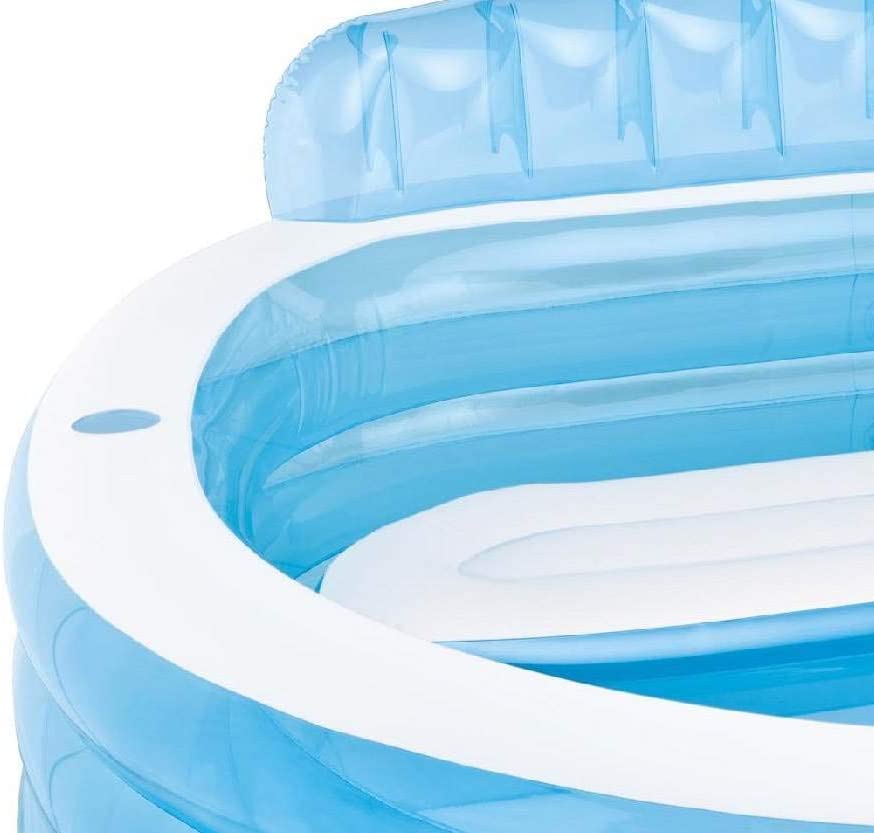 Credit: Intex
You can place your cans or bottles in these holders and get them anytime you want without needing to get up from the pool. It also prevents your drinks from getting kicked, hit, or flown away by the wind.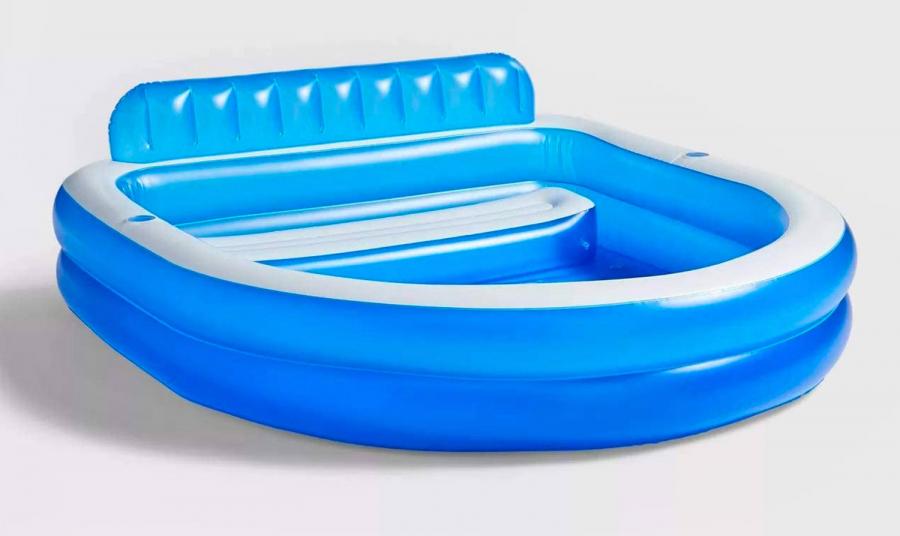 Credit: SunSquad
To top it off, you won't have to flip this inflatable pool with bench to remove its water. Unlike other inflatable pools in the market, it has a drain plug on the floor so you can drain its water easily without having to step on the side to let the water out.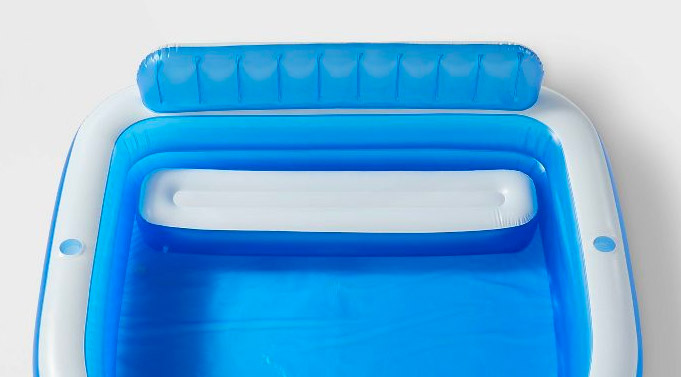 Credit: SunSquad
The inflatable pool with a bench inside comes in two different versions, one of which is made by SunSquad which sells on Target for around $45 bucks! The other version is sold by Intex on Amazon for around $54 bucks!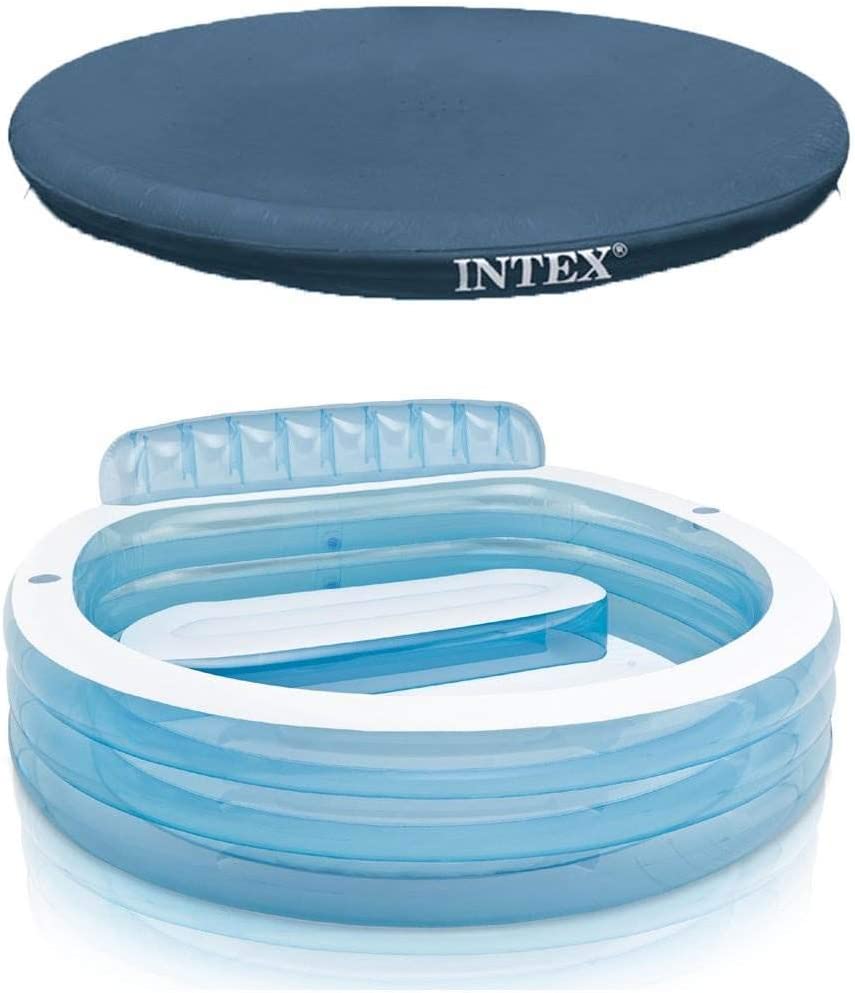 Credit: Intex
One version of the Intex inflatable pool with bench even comes with a cover that you can use to keep the water clean when not in use!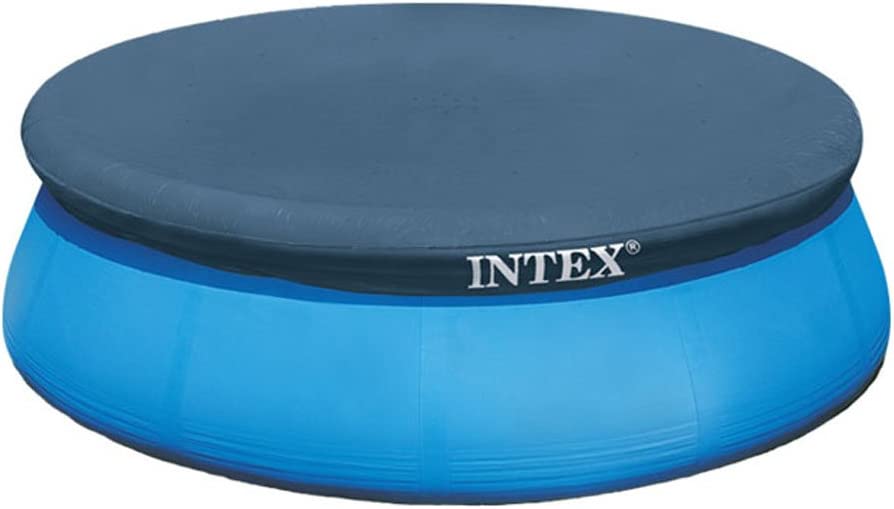 Credit: Intex